Dándole continuidad a este maravillosa iniciativa "Siete Días de Amor Propio" de la querida @danielapevs, hoy les traigo mi escrito sobre el segundo día y el segundo reto que es tener una cita de desayuno conmigo, así que me tomé el atrevimiento de invitarme a desayunar y estos fueron los resultados.
Continuing with this wonderful initiative "Seven Days of Self Love" from dear @danielapevs, today I bring you my writing about the second day and the second challenge which is to have a breakfast date with me, so I took the boldness to invite myself to breakfast and these were the results.
---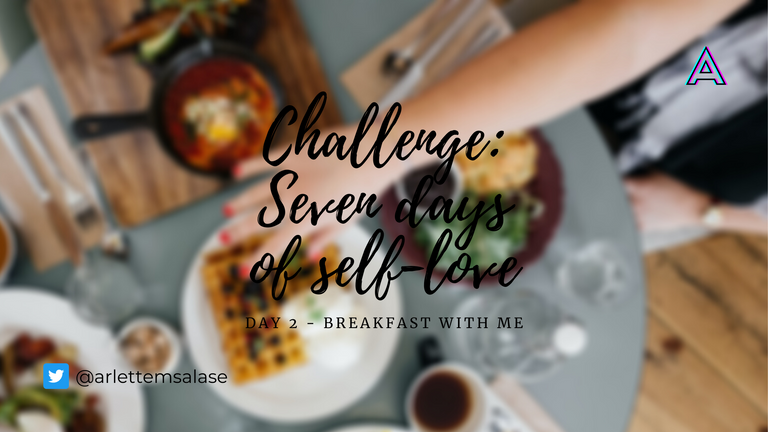 Photo by Ali Inay on Unsplash | Photo edited in Canva
---
Mi día no terminó en la noche, como le sucede a la mayoría. Tengo la costumbre (creo que mala costumbre quizá) de que la musa creativa me ataca en las madrugadas y me pongo a hacer cosas hasta que sale el sol, o quizá un poco más allá. Así fue que se me dieron las 9 de la mañana del día de hoy y fue así, en ese estado zombie, que decidí tener una cita conmigo porque en esos momentos, al menos a mí me ocurre, soy como más consciente de mis vulnerabilidades porque el factor sueño está latente y agiliza ciertas cosas (sí, también estudiaba con sueño y me iba bien).
Tomé la decisión de prepararme unas arepas (comida típica de mi país) las cuales rellené con queso, margarina y me serví el mug de café más grande que conseguí en toda la cocina para que me mantuviera un poco despierta el choque de cafeína para así poder tener mi momento, mi desayuno, sobre todo después de pasar una noche bastante activa a nivel laboral (cosa que no ocurría desde hace un tiempo).
My day didn't end at night, as it does for most people. I have a habit (I think maybe a bad habit) that the creative muse attacks me in the early hours of the morning and I start doing things until the sun rises, or maybe a little later. That's how it happened that it was 9 o'clock in the morning today and it was like that, in that zombie state, that I decided to have an appointment with myself because at those moments, at least it happens to me, I'm more aware of my vulnerabilities because the sleep factor is latent and speeds up certain things (yes, I also studied when I was sleepy and I was doing well).
I decided to prepare some arepas (typical food of my country) which I filled with cheese, margarine and I poured myself the biggest mug of coffee I could find in the kitchen to keep me awake a bit with the caffeine crash so I could have my moment, my breakfast, especially after spending a very active night at work (something that hadn't happened for a while).
---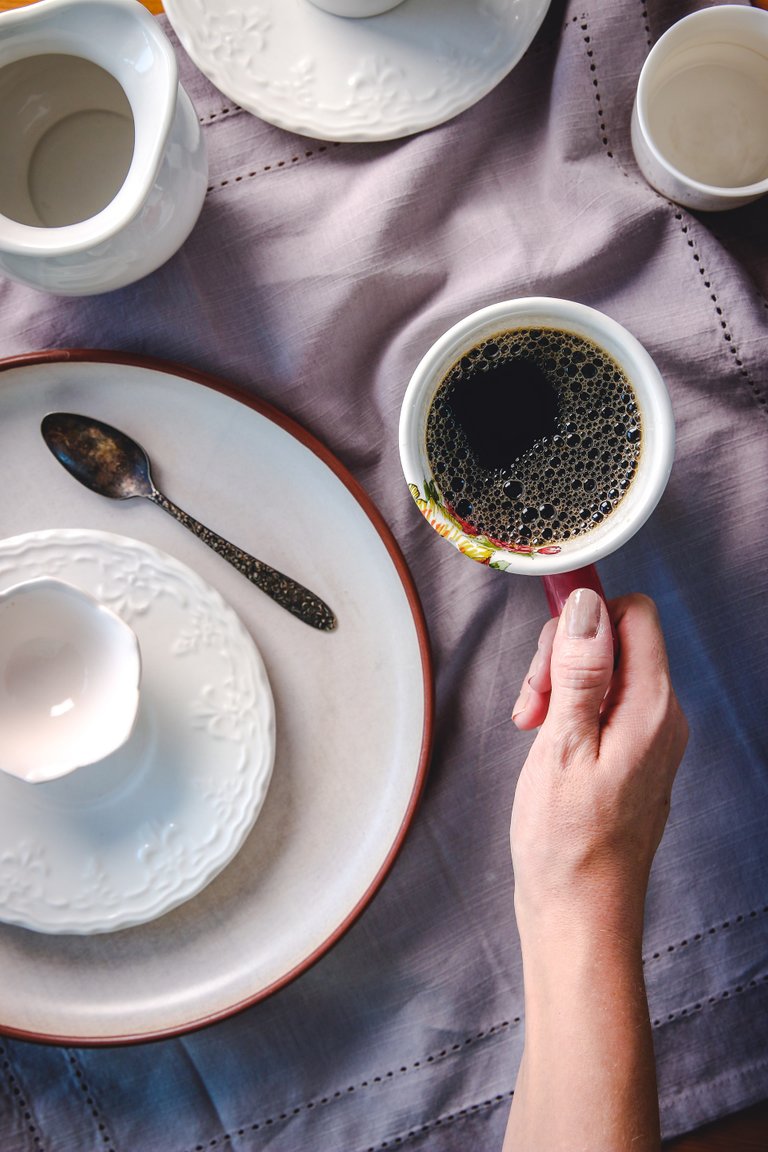 Photo by Joanie Simon on Unsplash
---
Desde que hice un viaje a la ciudad de Mérida, me volví amante al café y ya es más un hábito que un paliativo para el sueño, ya me volví de las que dice "primero un café y luego existo". Supongo que la vejez trae consigo muchos hábitos.
Teniendo listo todo, principalmente el café endulzado con dos cucharadas de azúcar, me dispuse a llevar todo a la mesa y al sentarme, por costumbre, tomé mi teléfono pero como era mi cita conmigo, lo puse en silencio y lo aparté. Me senté como mirando al infinito y comencé a hablar conmigo misma sobre tantas cosas como si las estuviera hablando con alguien más, cosa que me sorprendió mucho.
Me pareció increíble lo mucho que el silencio que había a mi al rededor y el desconectarme de todos los medios electrónicos me ayudó a estar conmigo a pesar de que cuando estoy trabajando estoy prácticamente sola pero con un mundo a mi merced porque tengo acceso a Internet. Mientras más me daba cuenta de ello y comía, como que despertó en mi una inmensa necesidad de alargar mi cita, así que me levanté, lavé los platos y la continué en el mueble de abajo (también creí que me podía dormir en cualquier momento así que fue buen lugar para ambas cosas).
Since I made a trip to the city of Mérida, I have become a coffee lover and it has become more of a habit than a palliative for sleep, I have become one of those who say "first a coffee and then I exist". I guess old age brings with it many habits.
Having everything ready, mainly the coffee sweetened with two spoonfuls of sugar, I prepared to take everything to the table and as I sat down, out of habit, I picked up my phone but as it was my date with me, I put it on silent and put it away. I sat as if looking into infinity and began to talk to myself about so many things as if I were talking to someone else, which surprised me a lot.
I found it amazing how much the silence around me and disconnecting from all electronic media helped me to be with me even though when I am working I am practically alone but with a world at my mercy because I have access to the internet. The more I realised this and ate, the more it kind of awakened in me an immense need to extend my date, so I got up, did the dishes and continued it in the downstairs cabinet (I also thought I could fall asleep at any time so it was a good place for both).
---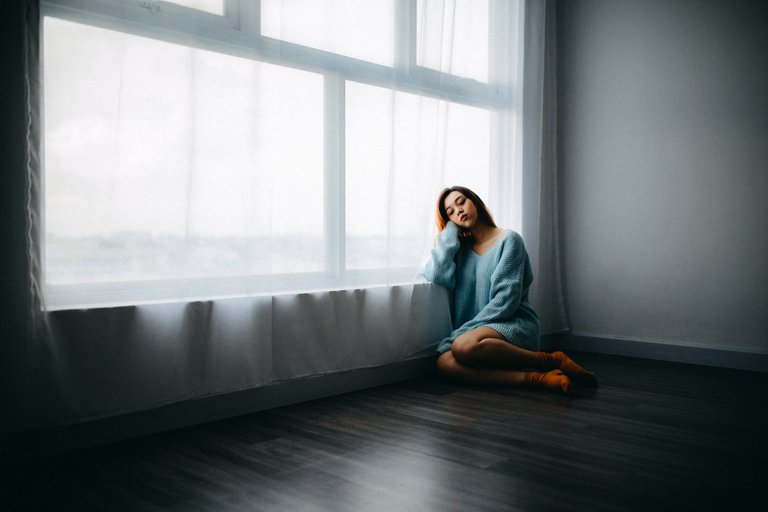 Photo by Anthony Tran on Unsplash
---
Al llegar al mueble y sentarme muy cómodamente (admito que mientras bajaba las escaleras creía que me iba a dormir al sentarme), continué mi conversación conmigo misma y llegué a muchos acuerdos, a dejar muchas cosas malas atrás, aprovechar muchas cosas nuevas y buenas, echar a adelante proyectos, metas... No me hice promesas pero sí me hablé como debí haberlo hecho desde hace rato y creo que ya entendí que debo tener más citas conmigo para conocerme mucho mejor antes de tener una cita con alguien nuevo.
When I got to the furniture and sat down very comfortably (I admit that while I was going down the stairs I thought I was going to fall asleep when I sat down), I continued my conversation with myself and I reached many agreements, to leave many bad things behind, to take advantage of many new and good things, to move forward with projects, goals.... I didn't make promises to myself but I did talk to myself as I should have done a long time ago and I think I understood that I should have more dates with myself to get to know myself much better before going on a date with someone new.
---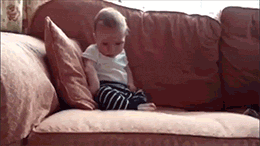 Source
---

---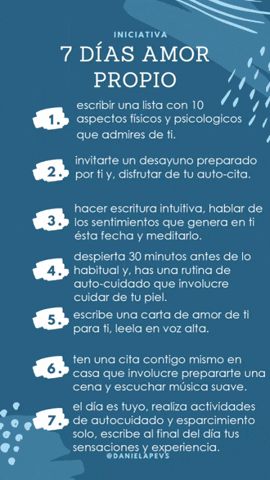 ---

---

---

|

|

|

|

|

Banner and separator created by me in Canva | Icons are part of Icons8 | English translations made with DeepL