---
¡Hola mi linda gente de Hive! les envío un abrazo virtual y buenas vibras por la mañana, hoy quise pasar por aquí para compartir mi experiencia con el compost, resulta que yo no sabia que era esto, me entere por una de las comiquitas que ve mi hija.
Hello my beautiful people of Hive! I send you a virtual hug and good vibes for the morning, today I wanted to stop by here to share my experience with compost, it turns out that I did not know what this was, I found out from one of the cartoons that my daughter watches.
---
Le pregunte a mi papá y el me confirmo y me explico lo que era, abono para las plantas, por lo que me puse a investigar para saber como se hacia, y quise compartir la experiencia con ustedes.
I asked my dad and he confirmed and explained to me what it was, fertilizer for the plants, so I started to investigate to find out how it was done, and I wanted to share the experience with you.
---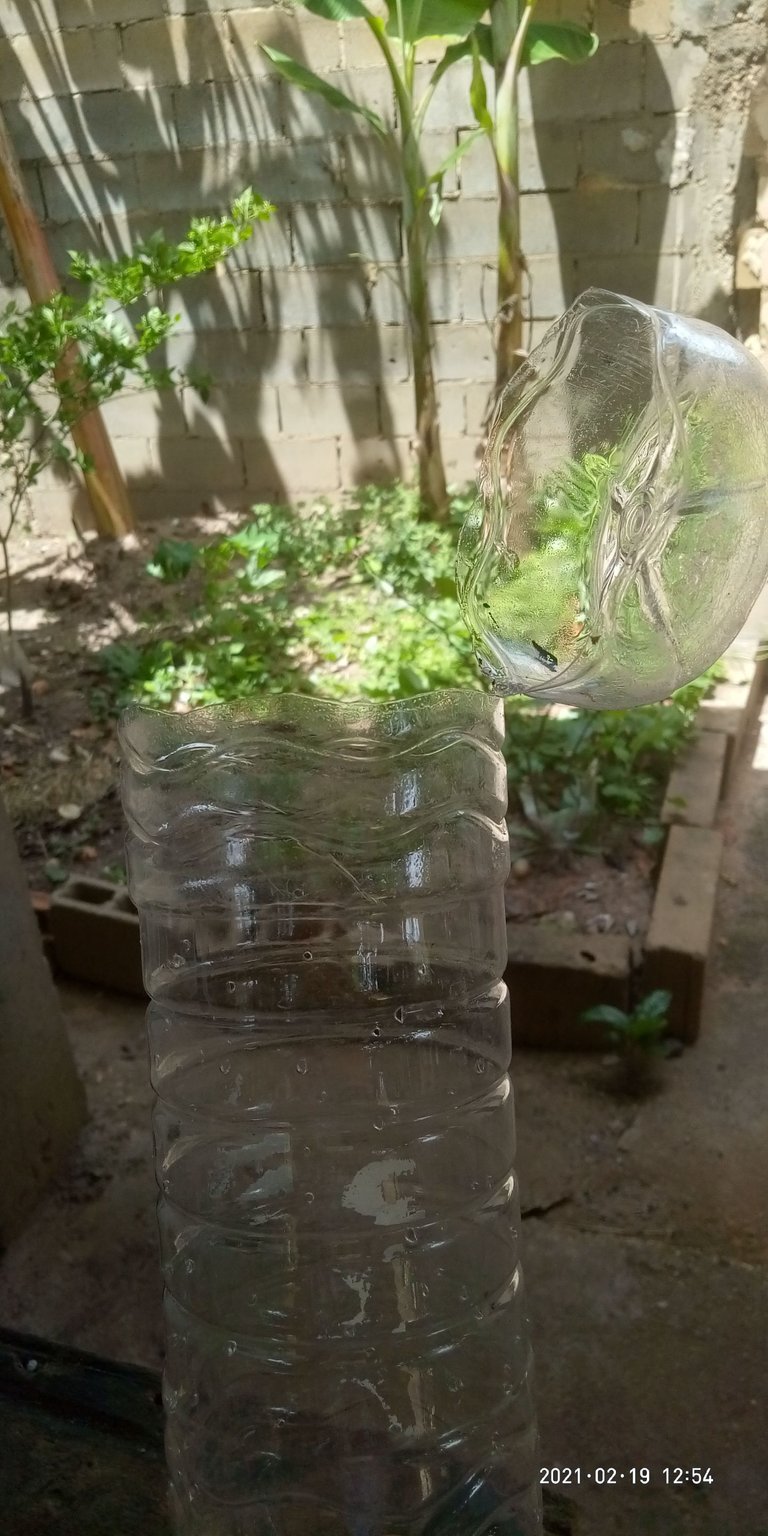 Deben buscar un pote de refresco y abrirle unos huecos en la parte que va a ir hundido en la tierra, para que salga el agua del riego.
You should look for a soda can and open some holes in the part that is going to be sunk in the ground, so that the irrigation water comes out.
---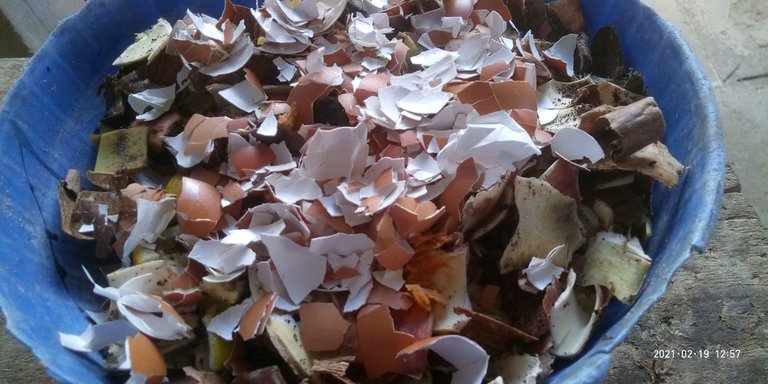 Luego deben conseguir desperdicios de comida, como conchas de verduras, y cascaras de huevo, eso fue lo que yo utilice, la borra del café. Y lo más importante, los gusanos, que son los que hacen todo el proceso de la descomposición.
Then you have to get food waste, like vegetable shells, and eggshells, that's what I used, coffee grounds. And the most important thing, the worms, which are the ones that do the whole process of decomposition.
---

También deben conseguir hojas secas y un poco de hierva verde o monte y por supuesto algo de tierra.
You should also get some dry leaves and a little bit of green grass or bush and of course some soil.
---
Lo que hice fue colocar una capa de hojas secas en el fondo del pote y la hierva, luego una capa de desperdicios, luego tierra, luego otra capa de hojas secas y hierva y así hasta llenar el pote y que quedo como en la foto.
What I did was to place a layer of dry leaves in the bottom of the pot and the boil, then a layer of waste, then soil, then another layer of dry leaves and boil and so on until the pot was full and it looked like the photo.
---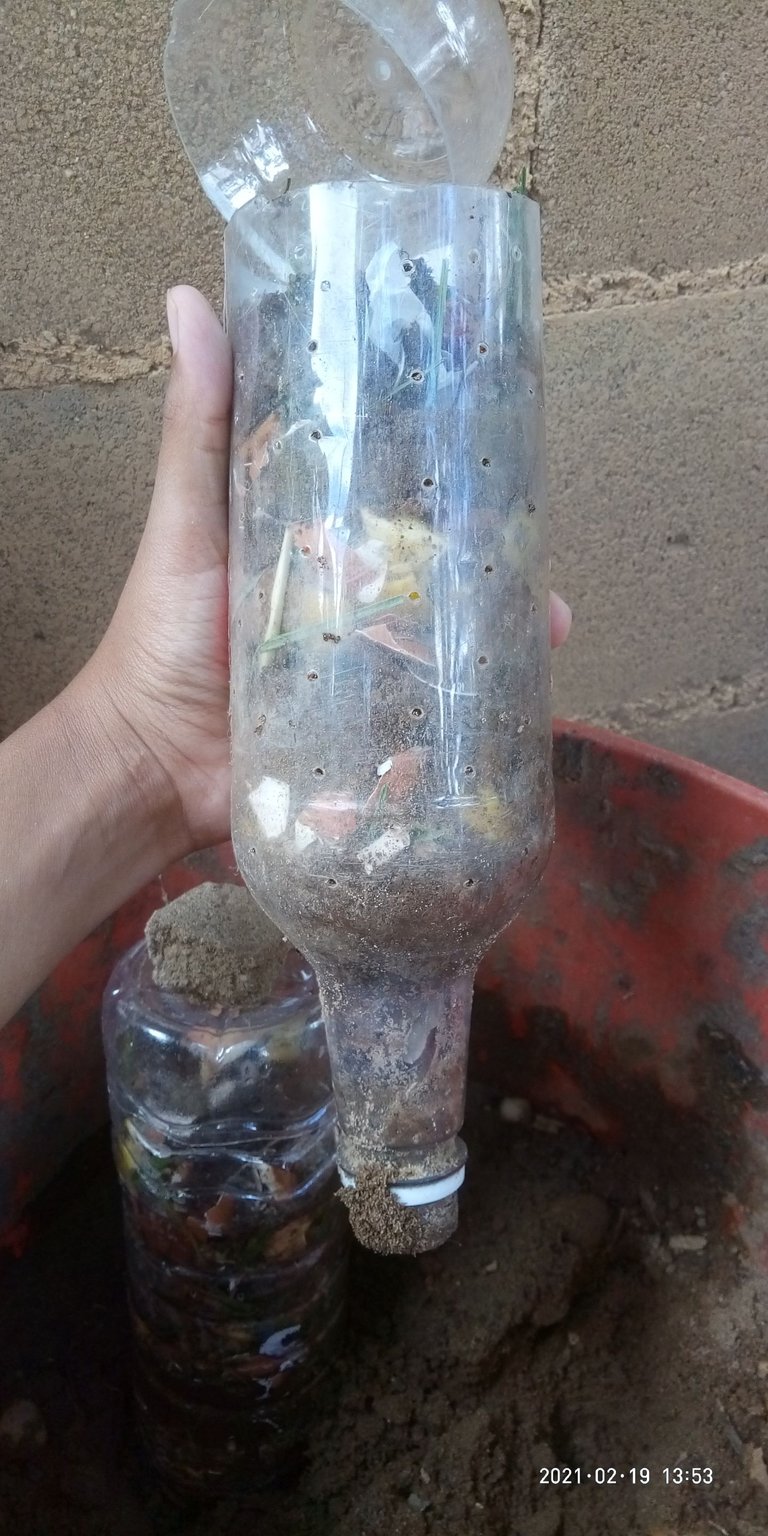 Y coloca el pote con col huecos hacia la tierra y la cubrí con más tierra en otro pote más grande porque no tenia una maceta. Le coloque una piedra en la abertura, para que no se llenara de moscas o bichos.
I placed the pot with hollow cabbage into the soil and covered it with more soil in another larger pot because I didn't have a pot. I put a stone in the opening, so it wouldn't get full of flies or bugs.
---
La verdad ese es el procedimiento, pero no se si la tierra que utilice no es la correcta, o me falto más agua, porque nunca sentí que se estuviera convirtiendo a compost, y creo que hasta las lombrices se murieron porque cuando saque la tierra no había, por lo que deben dejar esa mezcla por 30 días dentro del pote, colocándole agua siempre.
The truth is that is the procedure, but I don't know if the soil I used is not the correct one, or I lacked more water, because I never felt that it was turning into compost, and I believe that even the earthworms died because when I took out the soil there was none, so you must leave that mixture for 30 days inside the pot, always putting water in it.
---
Este es mi segundo intento fallido de hacer compost, quería hacerlo a ver si funcionaba, para colocarle a las plantas de mi padre, pero no me salio muy bien.
This is my second failed attempt to make compost, I wanted to make it to see if it would work, to put it on my father's plants, but it didn't turn out very well.
---

** Para la traducción utilice la aplicación gratuita https://www.deepl.com/ .
** Los separadores y el cintillo fueron realizados por mí en Photoshop.