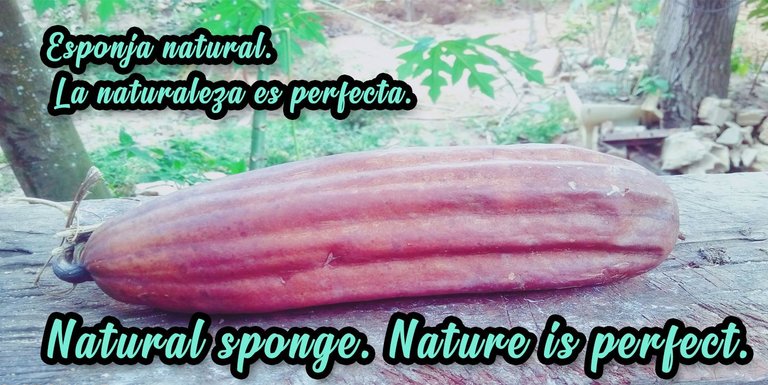 Español
English
---
Hola mi gente hermosa de Hive, me da mucho gusto poder saludarlos, que Dios llene sus días de muchas bendiciones, hoy quiero compartir con ustedes lo perfecta que es la naturaleza. Hace años yo llegue a ver un objeto parecido a una esponja, pero en mi grado de ignorancia, creía que era algo fabricado por el hombre.
Hello my beautiful people of Hive, it gives me great pleasure to greet you, may God fill your days with many blessings, today I want to share with you how perfect nature is. Years ago I came to see an object similar to a sponge, but in my ignorance, I thought it was something man-made.
---
Pero hasta hace unos días, me entero que esta famosa esponja es algo producido por la misma naturaleza. Hecho que me ha dejado tan sorprendida de lo maravillosa y perfecta que es la naturaleza, de lo perfecto que hizo Dios nuestro planeta. Hace dos semanas mi padre me dijo que esa esponja era una planta, yo me quede ¿Qué, en serio? e inmediatamente fui a investigar en la web
But until a few days ago, I found out that this famous sponge is something produced by nature itself. A fact that has left me so amazed at how wonderful and perfect nature is, how perfect God made our planet. Two weeks ago my father told me that this sponge was a plant, I was like What, really? and I immediately went to investigate on the web.
---

Luffa es un género con cinco especies de plantas con flores perteneciente a la familia Cucurbitaceae.1​ Las plantas y sobre todo sus frutos son conocidos como pastes, estropajos o esponjas vegetales. Es el único género de la subtribu Luffinae.

Luffa is a genus of five species of flowering plants belonging to the family Cucurbitaceae.1 The plants and especially their fruits are known as pastes, sponges or vegetable sponges. It is the only genus of the subtribe Luffinae.
---

Lamentablemente no pude ver la planta en persona porque ya la habían cortado, cosa que me entristeció mucho porque la quería ver con mis propios ojos. Pero yo solamente había tenido la oportunidad de ver la esponja sola, hasta hace 3 días mi padre me trajo en fruto completo con su cascarón y procedí como niño chiquito abrir este pequeño regalo.
Unfortunately I was not able to see the plant in person because it had already been cut down, which made me very sad because I wanted to see it with my own eyes. But I had only had the opportunity to see the sponge alone, until 3 days ago my father brought me the fruit complete with shell and I proceeded like a little child to open this little gift.
---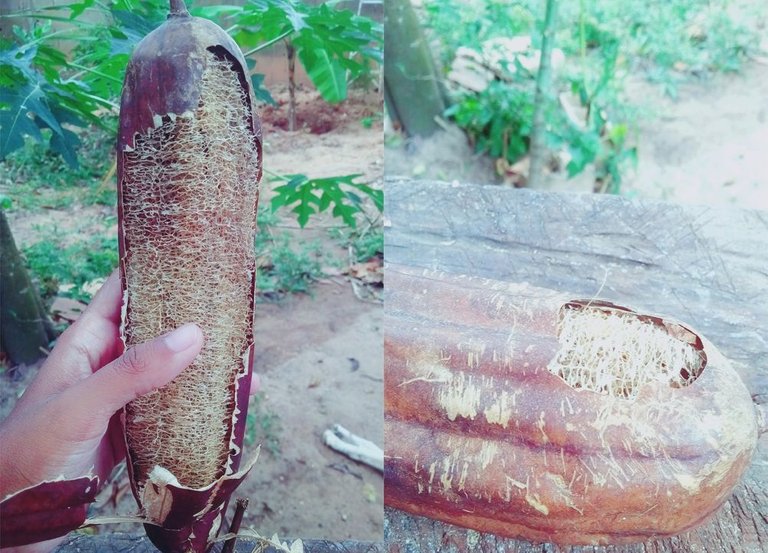 Puedo confesar que para mi fue algo muy terapéutico, poder tomar el fruto e ir destapando su cascarón, hasta que salio la famosa esponja que llevaba años viendo, sin conocer su origen real y verdadero.
I can confess that for me it was something very therapeutic, to be able to take the fruit and uncover its shell, until the famous sponge came out that I had been seeing for years, without knowing its real and true origin.
---
Y esto para mi fue como descubrir oro, y conocer que es una esponja natural, que sirve para limpiar la piel, de verdad que puede ser algo tan simple para muchos, pero para mi ha sido tan extraordinario, mágico y maravilloso, que lo quise compartir con ustedes. Dios es perfecto, y pienso que puede ser algo tan relajador, sentarse a solo quitarle el cascarón a estas hermosas esponjas.
And this for me was like discovering gold, and knowing that it is a natural sponge, which serves to cleanse the skin, it can be something so simple for many, but for me it has been so extraordinary, magical and wonderful, that I wanted to share it with you. God is perfect, and I think it can be something so relaxing, to sit and just remove the shell of these beautiful sponges.
---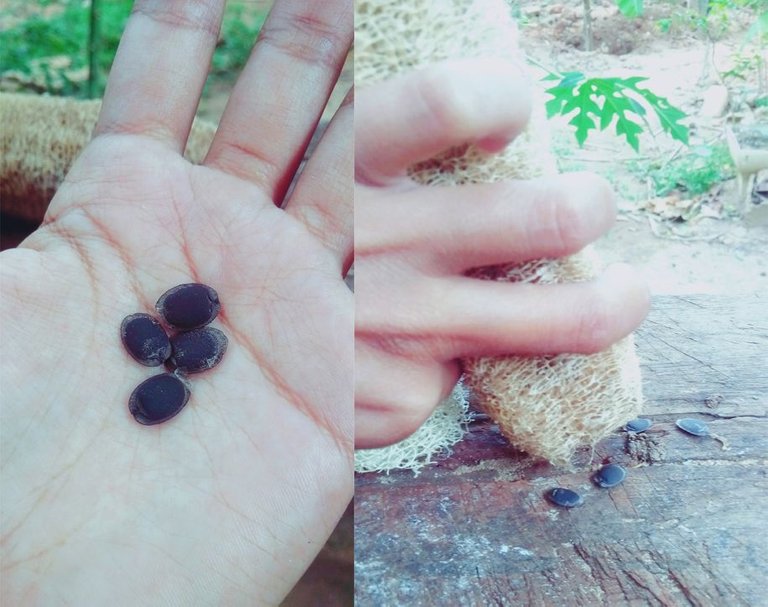 Es increíble ver como la esponja trae sus propias semillas, solamente debes sacudir bien. Y puedes observar que la esponja es áspera pero cuando la mojas se vuelve muy suave, es por esto que es perfecta para la piel. También sirve para fregar los platos. Pienso que es mucho mejor utilizar esta maravillosa esponja natural que comprar esponjas industriales, que su propósito final es contaminar el planeta.
It is amazing to see how the sponge brings its own seeds, you just have to shake it well. And you can see that the sponge is rough but when you wet it, it becomes very soft, that's why it is perfect for the skin. It can also be used to wash dishes. I think it is much better to use this wonderful natural sponge than to buy industrial sponges, whose final purpose is to pollute the planet.í
---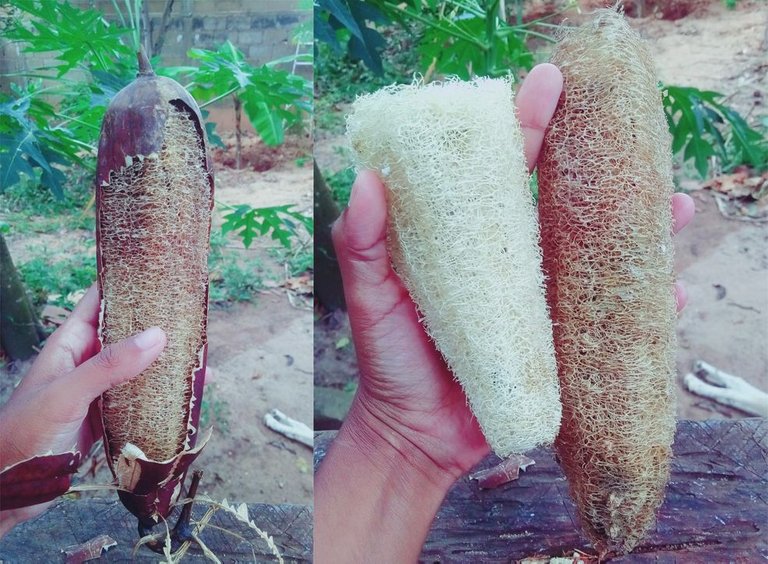 Te muestro dos esponjas, porque una fue la que abrí del cascarón que es la que esta con un color más marrón, porque mi padre me dijo que cortaron la planta antes de tiempo y está no se termino de formar.
I show you two sponges, because one was the one I opened from the shell, which is the one with a browner color, because my father told me that they cut the plant before the time and it did not finish forming.
---
---
La naturaleza es perfecta
---
---

---
---
** Los separadores y cintillo son de mi autoria, para uso exclusivo de Hive.
** Para la traducción utilice https://www.deepl.com/
¡Gracias por su apoyo, por leerme y votar, GRACIAS!
Thank you for your support, for reading and voting, THANK YOU!