The difficulty of growing up shy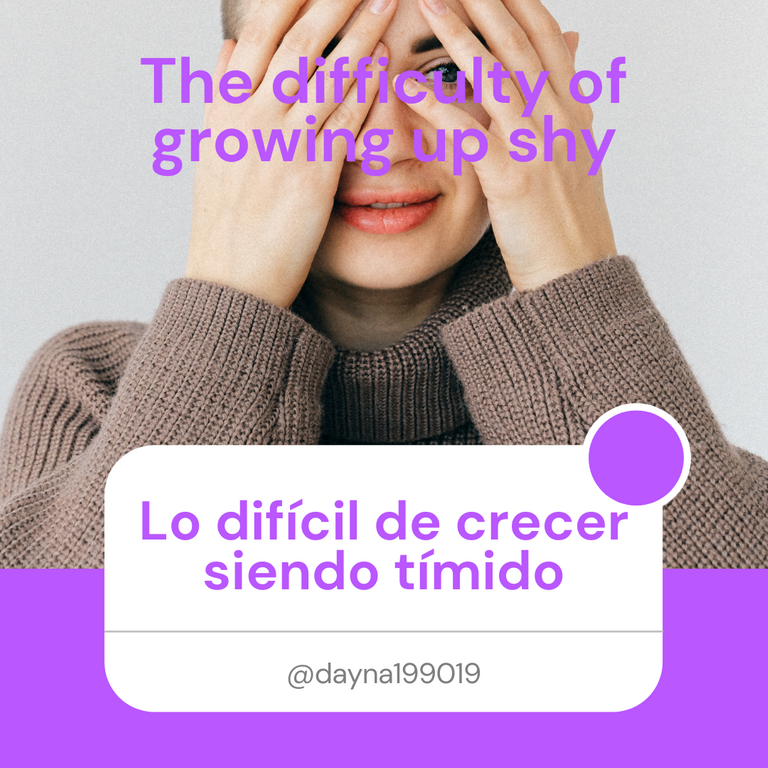 Imagen tomada de canva y editada por mí para uso de Hive

Español
English
---
Hola mi gente linda de Hive, es un gusto para mi poder saludarlos nuevamente. Hoy me gustaría compartir la perspectiva de vida que se tiene cuando creces siendo tímido, y lo quiero explicar desde mi propia experiencia, porque no es fácil caminar en este mundo siendo una persona introvertida.
Hello my beautiful people of Hive, it is a pleasure for me to be able to greet you again. Today I would like to share the perspective of life that you have when you grow up being shy, and I want to explain it from my own experience, because it is not easy to walk in this world being an introvert.
---

Tengo vagos recuerdos de mi niñez, tal vez tenia 5 años cuando todavía tenia la confianza y autenticidad que tiene un niño, de pararme en medio de la calle y ponerme a bailar sin ningún tipo de pena, no se porque, pero es uno de esos recuerdos que aun conservo de cuando era extrovertida y no me daba pena preguntar algo.
I have vague memories of my childhood, maybe I was 5 years old when I still had the confidence and authenticity that a child has, to stand in the middle of the street and start dancing without any shame, I do not know why, but it is one of those memories that I still have when I was outgoing and I was not ashamed to ask something.
---
En realidad no se en que punto empezó todo esto de mi timidez, pero se que crecí en un hogar con padres que me amaban, pero mi crianza fue muy cohibida, no podía hablar de mis emociones, de mis sentimientos, si me molestaba por algo "eso estaba mal para mis padres" y terminaba reprimiendo y callando mis emociones, nunca se me enseño a defender mis derechos, sino a obedecer todo lo que los adultos decían, no era correcto que yo tuviera la razón en algo.
I don't really know where my shyness started, but I know that I grew up in a home with parents who loved me, but my upbringing was very self-conscious, I could not talk about my emotions, my feelings, if I was upset about something "that was wrong for my parents" and I ended up repressing and silencing my emotions, I was never taught to defend my rights, but to obey everything that adults said, it was not right that I was right about something.
---

Y termine formándome como una persona que es incapaz de poder defenderse cuando se siente incomoda con algo, ser tímida en el colegio y el liceo es la cosa más estresante y molesta que puede haber, la timidez a veces te hace sentir no tener ganas de salir de casa, de sociabilizar con otras personas, recuerdo que durante toda mi vida siempre se burlaban de mi y la verdad no sabia como lidiar con esas situaciones.
And I ended up becoming a person who is unable to defend herself when she feels uncomfortable with something, being shy at school and high school is the most stressful and annoying thing there can be, shyness sometimes makes you feel like not wanting to leave the house, to socialize with other people, I remember that throughout my life I was always teased and the truth is that I did not know how to deal with those situations.
---
Crecí sin tener confianza en mi misma, no me sentía bonita, no me gustaba salir en fotografías o videos, las exposiciones para mi eran una tortura increíble, el tono de mi voz siempre fue un problema porque no era muy audible al hablar, y aun de adulta sigo teniendo problemas con el tono de mi voz, para que me puedan escuchar.
I grew up without self-confidence, I didn't feel pretty, I didn't like to be in pictures or videos, exposures were an incredible torture for me, the tone of my voice was always a problem because I wasn't very audible when I spoke, and even as an adult I still have problems with the tone of my voice, so that they can hear me.

---
La verdad que ser tímido para un niño y adolescente en un mundo tan abierto como este, no es nada fácil y más cuando vivimos en un país donde el chalequeo esta a la orden del día, y sino sabes como salir airoso de eso, créeme que terminas sintiéndote como un tonto, aunque sea una situación de cierta manera inocente. Creo que la mejor manera es aprender a reírse de uno mismo, pero es algo que no todo niño o adolescente sabe hacer.
The truth is that being shy for a child and teenager in a world as open as this, is not easy and even more so when we live in a country where the chalequeo is the order of the day, and if you don't know how to get out of it, believe me you end up feeling like a fool, even if it is an innocent situation in a certain way. I think the best way is to learn to laugh at yourself, but it is something that not every child or teenager knows how to do.
---
Ser tímido a veces no te permite saber decir que NO, porque te criaron de una forma donde es importante lo que piensen los demás, pero no lo que tu piensas o sientes, de niña sufrí mucho en esta parte, porque mis padres siempre le dieron más importancia a lo que diría la familia que a como nos sentíamos nosotras en realidad, siempre terminábamos complaciendo lo que decía la familia, por la preocupación de lo que fueran a decir, si decíamos que no.
Being shy sometimes does not allow you to know how to say NO, because you were raised in a way where it is important what others think, but not what you think or feel, as a child I suffered a lot in this part, because my parents always gave more importance to what the family would say than how we really felt, we always ended up pleasing what the family said, because of the concern of what they would say, if we said no.

---
Y cuando decíamos que NO a algo, solían regañarnos o se molestaban y terminábamos cohibiéndonos siempre. Esto me afecto tanto, que de cierta manera cuando me sucede algo como, estar en una fila y ver a alguien colándose por delante, soy incapaz de hablar y decirle a la persona que no se colee, porque enseguida con solo pensarlo me comienzo a poner nerviosa, se me acelera el corazón y hasta me tiembla el cuerpo, es una sensación muy extraña y molesta, no poder decir nada para defender tu puesto y creo que ese tipo de crianza fue lo que me afecto de esa manera.
And when we said NO to something, they used to scold us or get annoyed and we ended up always being self-conscious. This affected me so much, that in a certain way when something happens to me like, being in a line and seeing someone sneaking in front, I am unable to speak and tell the person not to get in line, because just by thinking about it I start to get nervous, my heart races and even my body trembles, it is a very strange and annoying feeling, not being able to say anything to defend your place and I think that kind of upbringing was what affected me in that way.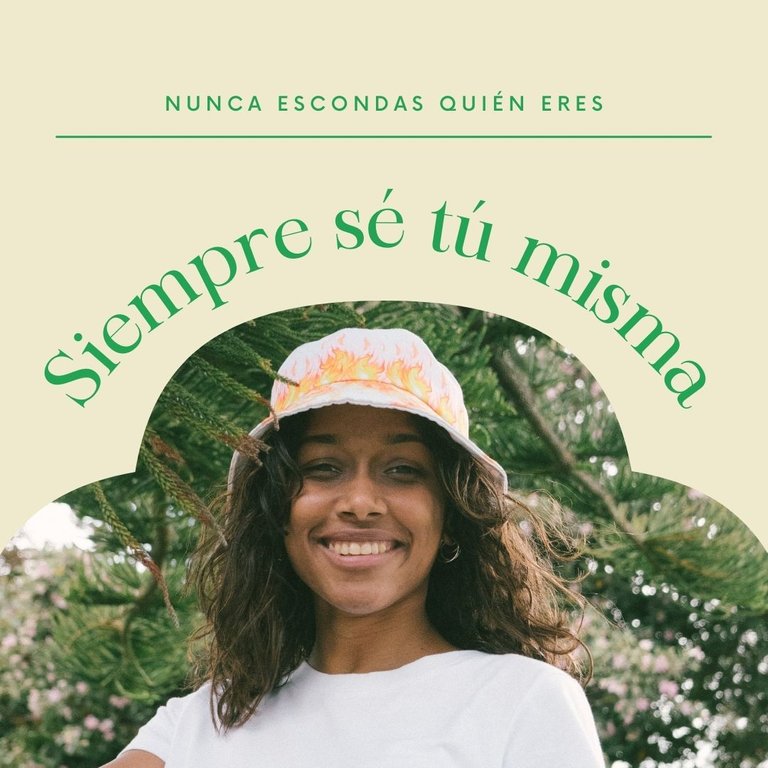 Imagen tomada de canva para uso de Hive
---
Aunque hoy en día no puedo decir que soy una persona extrovertida, sigo siendo una chica introvertida, pero ahora sino me gusta algo o no me siento cómoda, simplemente digo que NO y listo, sin importar quien sea, igual he aprendido que las personas siempre terminan hablando mal y criticándote, lo importante es como te sientas tu.
Although nowadays I can't say I'm an extroverted person, I'm still an introverted girl, but now if I don't like something or I don't feel comfortable, I just say NO and that's it, no matter who it is, I've learned that people always end up talking bad and criticizing you, the important thing is how you feel.

---
Pero con referencia a los conflictos, a hablar o discutir con otra persona por algo que hizo que me molesto, ciertamente es algo que aun me falta mucho por trabajar, no soy capaz de defenderme de la manera correcta y defender mi punto de vista o mi posición, siempre termino quedándome callada, o dejando pasar el momento, me cuesta mucho enfrentar esas situaciones incomodas, por como lo explique anteriormente pensar en tener que enfrentar a alguien de frente hace que el corazón se me acelere a mil y me termine poniendo muy nerviosa.
But with reference to conflicts, to talk or argue with another person for something that bothered me, it is certainly something that I still need to work on, I am not able to defend myself in the right way and defend my point of view or my position, I always end up keeping quiet, or letting the moment pass, it is very hard for me to face those uncomfortable situations, as I explained before, thinking about having to face someone in front of me makes my heart race and I end up getting very nervous.
---
Pero es algo en lo que tengo que trabajar mucho, porque hoy soy madre de una niña y quiero enseñarle a defenderse, a hacer escuchar su voz, a defender sus pensamientos, sus principios, sus ideales, que crezca siendo autentica, espontanea y que no se preocupe por "El que dirán" que importa solo su felicidad y lo que la haga sentir bien, para que crezca siendo una niña y una mujer segura de si misma y que donde sea que pise, se sienta que llego ella, una mujer confiada y empoderada.
But it is something I have to work hard on, because today I am the mother of a girl and I want to teach her to defend herself, to make her voice heard, to defend her thoughts, her principles, her ideals, to grow up being authentic, spontaneous and not to worry about "what people will say" that only her happiness matters and what makes her feel good, so that she grows up as a girl and a self-confident woman and that wherever she steps, she feels that she has arrived, a confident and empowered woman.

---
Así que si tienen un niño o niña que presente características de alguien tímido, por favor refuercen y aumenten su autoestima, háganlo sentir seguros de si mismos, son los padres los primeros en brindarles esa seguridad que necesitan, y es nuestro deber y responsabilidad hacerlo, porque no hay nada más molesto que ser un adulto y tener que trabajar en tu confianza y hasta tener que perder buenos empleos por la falta de seguridad y confianza.
So if you have a child who presents characteristics of someone shy, please reinforce and increase their self-esteem, make them feel confident, parents are the first ones to give them the security they need, and it is our duty and responsibility to do so, because there is nothing more annoying than being an adult and having to work on your confidence and even having to lose good jobs because of the lack of security and confidence.
---

** Los separadores y cintillo son de mi autoria, para uso exclusivo de Hive.
** Para la traducción utilice https://www.deepl.com/
¡Gracias por su apoyo, por leerme y votar, GRACIAS!
Thank you for your support, for reading and voting, THANK YOU!
---
---