Plantain Blossom Soup 🍲 A Vegan/Ital Recipe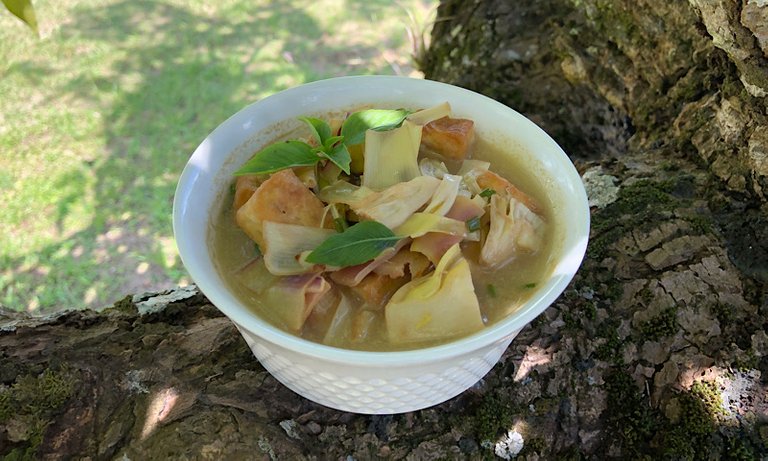 I wanted to make food from banana blossoms a long time already, but I was scared to ask the landlord if I can cut it. I think Suriname people do not eat them because I have never seen people cutting banana blossoms from the trees here.
I once asked my landlord, "Do you eat banana blossoms?" He said "No, and I didn't know we could eat them." He told me that I can pick it but I need to ask him before. Today I picked it by myself and I made a soup for lunch and to share with you all.
This is a plantain blossom, not a banana blossom, but its taste is similar. It also has little bit different color too. When I cooked banana blossoms in my country, it makes a color like milk. Hope you enjoy this post.

👩‍🍳 Plantain Blossom Soup (Ital) Recipe 🔪
វិធីធ្វើស្ងោជ្រក់ត្រយោងចេកតៅហ៊ួបួស

Ingredients
1 small plantain blossom
250g tofu
1 lemongrass stalk
7 slices galangal
2 kaffir lime leaves
1 garlic clove
a few green onions
a few basil leaves
1 lime's juice, or to taste
1 vegetable soup bouillon cube
1 tsp salt or taste
1 tbsp brown sugar or taste
1 tbsp soy sauce
3 1/2 cups of water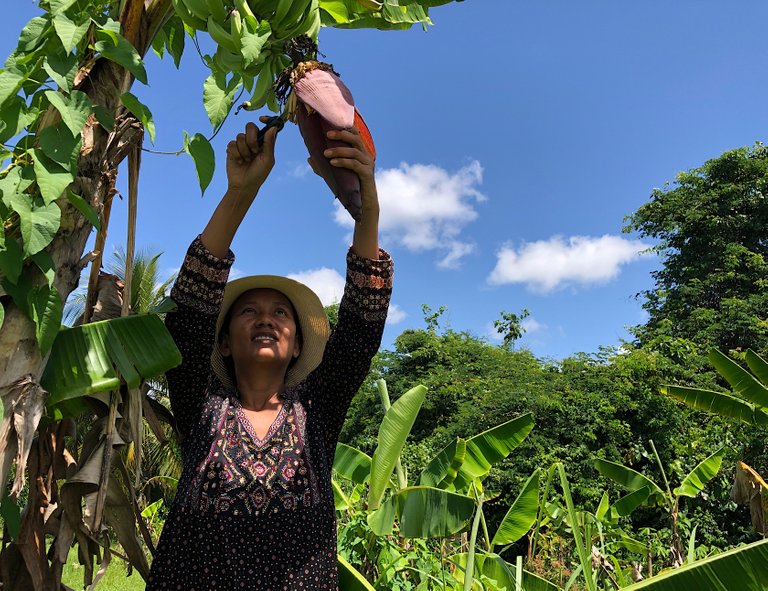 These are the plantain blossoms. They look like banana blossoms.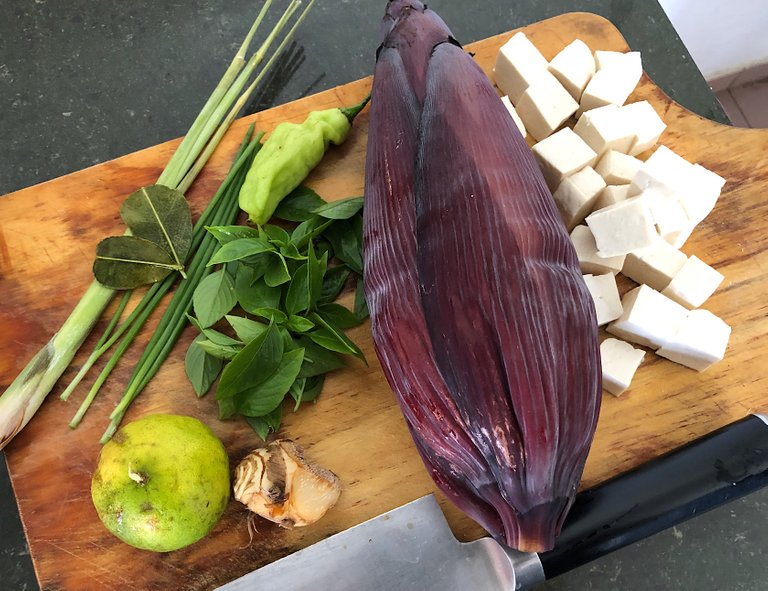 These are ingredients to make a soup. Cut Lemongrass short, slice galangal, cut green onions and smash garlic, then fry tofu.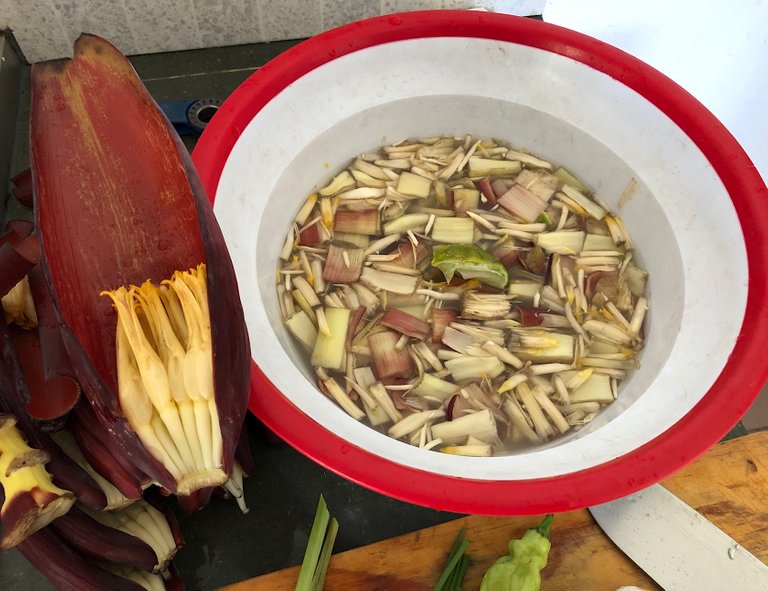 Peel the old outer layers off and use only the young layers. Take the water and add a little salt and lime juice so it doesn't change color to black. Now cut it as you like and put it in the water.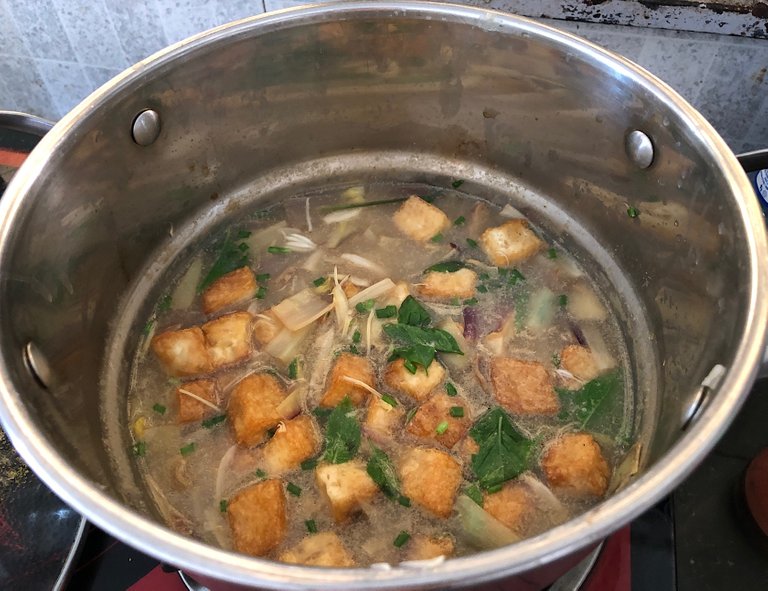 Boil the water and add lemongrass, kaffir lime leaves, garlic and galangal. After it's boiling add salt, sugar, soy sauce and vegetable soup bouillon cube.
Now put blossom in the pot and simmer it a few minutes. After add fried tofu and simmer one minute more and taste it. Then add green onions, basil and lime juice and it's ready.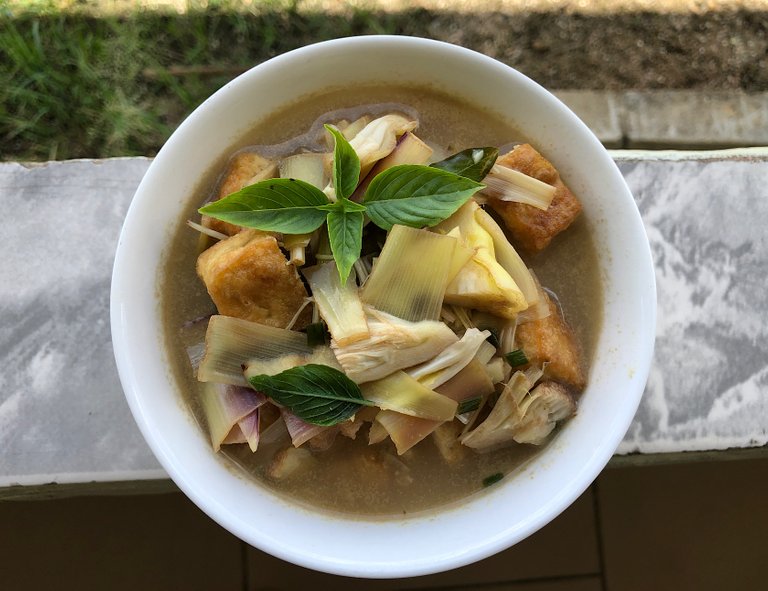 Have a great weekend everybody and stay safe 😊.
CLICK HERE TO JOIN HIVE AND START EARNING CRYPTO LIKE US

---
Posted on NaturalMedicine.io
---
---