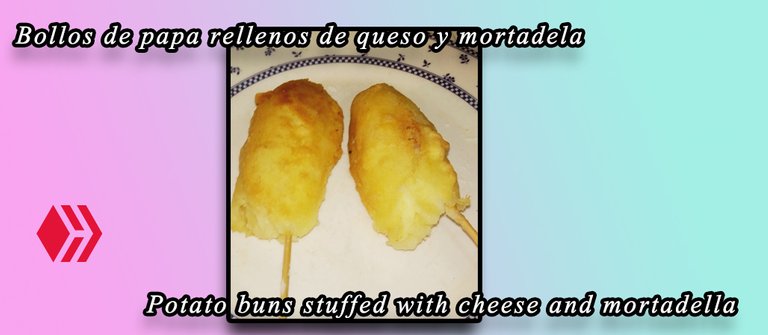 Español
English
---
Hola mi gente linda de Hive, deseo de corazón se encuentren bien en sus hogares. Hoy quiero compartir con ustedes una receta muy sencilla. Son unos ricos bollos de papa rellenos de queso y mortadela.
Hello my beautiful people of Hive, I sincerely wish you are well in your homes. Today I want to share with you a very simple recipe. They are delicious potato buns stuffed with cheese and mortadella.
---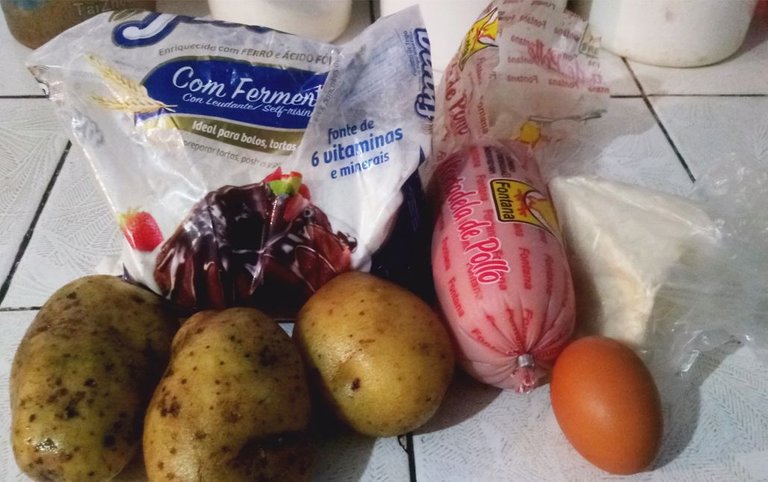 Los ingredientes que utilice fueron:
The ingredients I used were:
---
4 Papas
Harina de trigo
Aceite
Palitos
Sal
1 Huevo
Mortadela
Queso
4 potatoes
Wheat flour
Oil
Sticks
Salt
1 egg
Mortadella
Cheese
---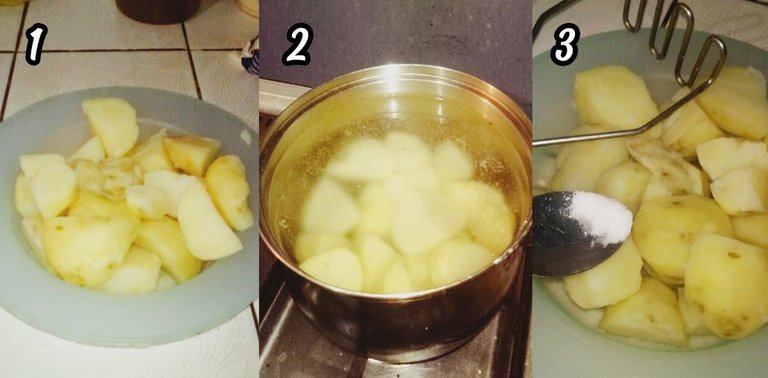 ---
Primer paso, pelar las papas y cortarlas Segundo paso, hervir las papas. Tercer paso, escurrir las papas y colocar sal. También puedes lavar las papas sin pelar y ponerlas a hervir, y luego le quitas la conchas, puedes hacerlo, lo importante es hervirlas
First step, peel the potatoes and cut them Second step, boil the potatoes. Third step, drain the potatoes and add salt. You can also wash the potatoes without peeling and bring them to a boil, and then remove the shells, you can do it, the important thing is to boil them.
---
---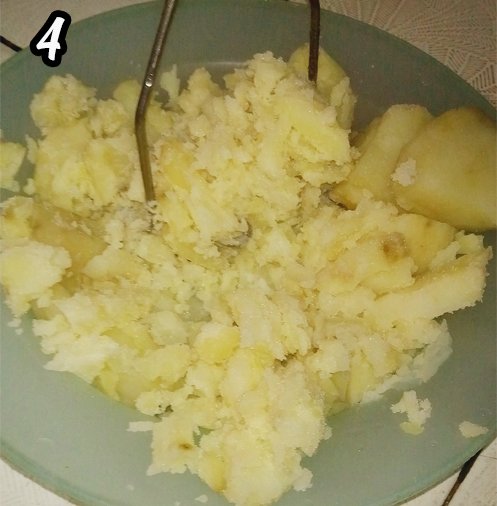 Cuarto paso, triturar las papas, hasta hacerla puré.
Fourth step, mash the potatoes, until they are pure.
---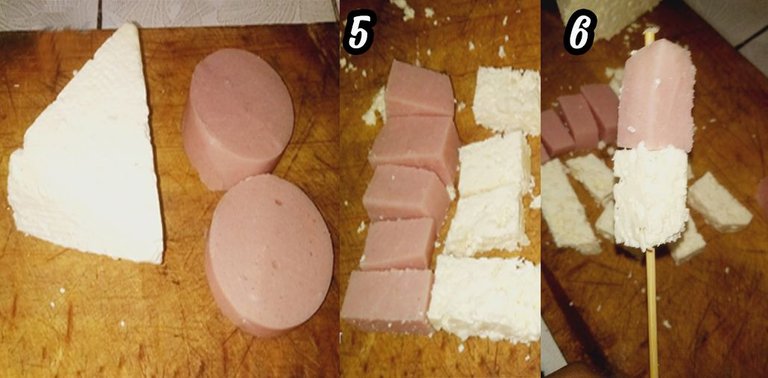 Quinto paso, cortar el queso y la mortadela en cuadritos o rectángulos. Sexto paso, colocar los cuadros dentro de un palito.
Fifth step, cut the cheese and mortadella into squares or rectangles. Step six, place the squares on a stick.
---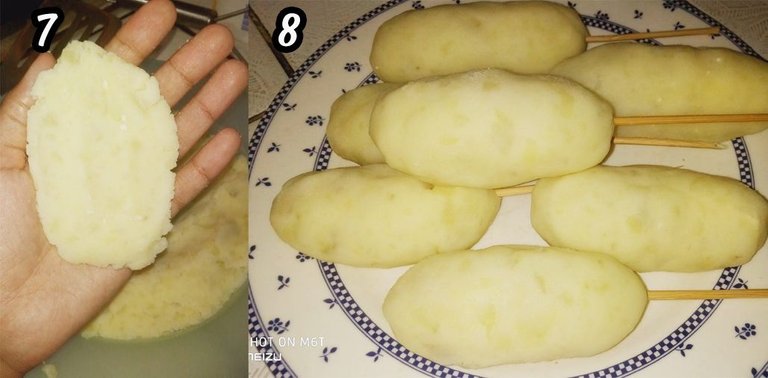 Septimo paso, agarrar una bolita de puré de papa y hacer una amaca. Octavo paso agarras el palito de queso y mortadela y lo envuelves con esa bolita de puré de papa. Disculpen que olvide colocar la foto.
Step seven, take a ball of mashed potatoes and make a ham. Eighth step you take the stick of cheese and mortadella and wrap it with that ball of mashed potatoes. Sorry I forgot to post the photo.
---

---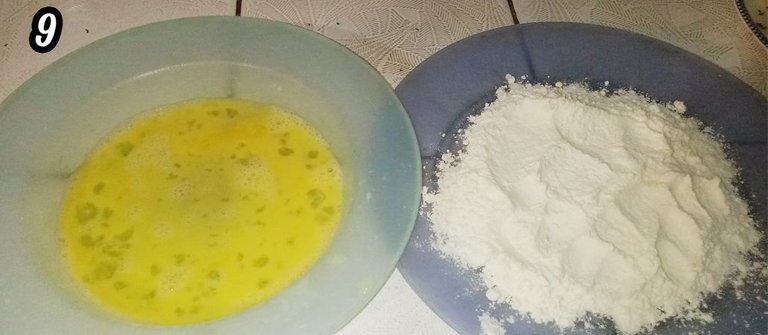 Noveno paso, abrir el huevo y colocar en un plato hondo, y colocar en otro plato harina de trigo.
Ninth step, open the egg and place in a deep plate, and place in another plate wheat flour.
Décimo paso, agarrar los bollos y mojar en huevo y cubrir en harina de trigo, queda mucho mejor con pan rallado, pero no tenia.
Tenth step, take the buns and dip them in egg and cover in wheat flour, it is much better with breadcrumbs, but it was not
---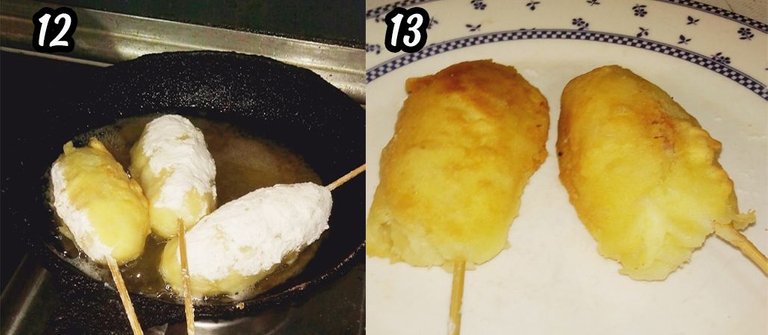 Deudecimo paso, freir los bollos en aceite, de lado y lado, hasta que se doren, y luego los escurres y listo, a comer.
Step 10, fry the buns in oil, side by side, until golden brown, and then drain and ready to eat.
---


** Los separadores y cintillo son de mi autoria, para uso exclusivo de Hive.
¡Gracias por su apoyo, por leerme y votar, GRACIAS!
Thank you for your support, for reading and voting, THANK YOU!