La fotografía es de mi autoria y editada en photoshop.
Español
English
---
Hola mi gente linda de Hive! hoy tengo el gusto de saludarlos gracias a Dios todopoderoso, deseo que todos se encuentren sanos y salvos en sus hogares. Hoy quiero compartir con ustedes esta rica y fácil receta de mini pizzas, a veces sucede que queremos hacer una receta y no tenemos todos los ingredientes y nos desanimamos y no hacemos nada, así les pasa a mis padres.
Hello my beautiful people of Hive! today I have the pleasure to greet you thanks to God almighty, I wish you all to be safe and sound in your homes. Today I want to share with you this delicious and easy recipe for mini pizzas, sometimes it happens that we want to make a recipe and we do not have all the ingredients and we get discouraged and do nothing, so it happens to my parents.
---
Cuando quieren hacer una receta y no tienen exactamente todos los ingredientes, pues se cierran y no hacen nada, pero yo les voy a enseñar que no necesariamente se tienen que tener todos los ingredientes de una receta para preparar algo rico y diferente.
When they want to make a recipe and they don't have all the ingredients, they close their minds and don't do anything, but I'm going to show you that you don't necessarily have to have all the ingredients of a recipe to prepare something delicious and different.
---

A continuación, le presento los ingredientes que utilice para hacer la masa de pizza y la salsa para pizzas.
Here are the ingredients I used to make the pizza dough and pizza sauce.
---
Ingredientes para la masa

Ingredients for the dough

---

500 gramos de harina de trigo
bicarbonato
100 gramos mantequilla
1 cucharadita sal
1 cucharada azúcar
1 taza de agua

500 grams of wheat flour
baking soda
100 grams of butter
1 teaspoon salt
1 tablespoon sugar
1 cup of water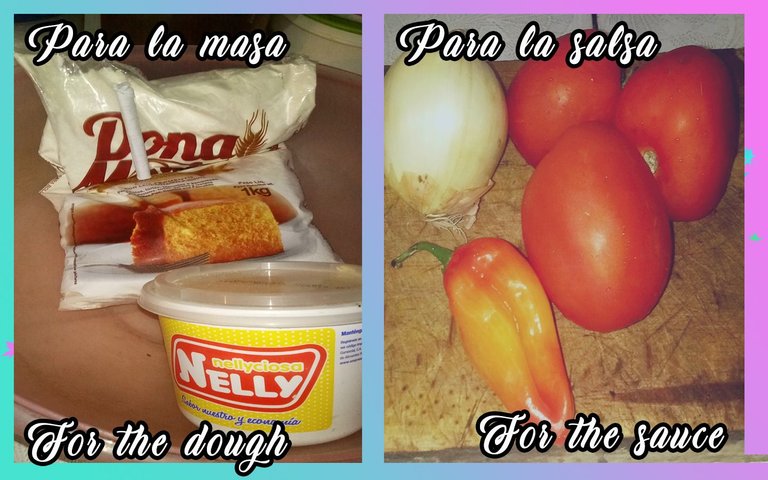 La fotografía es de mi autoria y editada en photoshop.
---
Ingredientes para la salsa

Ingredients for the sauce

---

4 tomates
1 cebolla
1 ají dulce

4 tomatoes
1 onion
1 sweet chili bell pepper

---

Lo primero que hice, fue picar los tomates, la cebolla y el ají dulce y los coloque en la licuadora, después en una olla a fuego lento coloque esa salsa a cocinar durante unos 25 o hasta que espese, le coloque una pizca de sal y adobo para darle más sabor.
The first thing I did was to chop the tomatoes, onion and sweet bell pepper and put them in the blender, then in a pot over low heat put the sauce to cook for about 25 minutes or until it thickens, I added a pinch of salt and adobo to give it more flavor.
---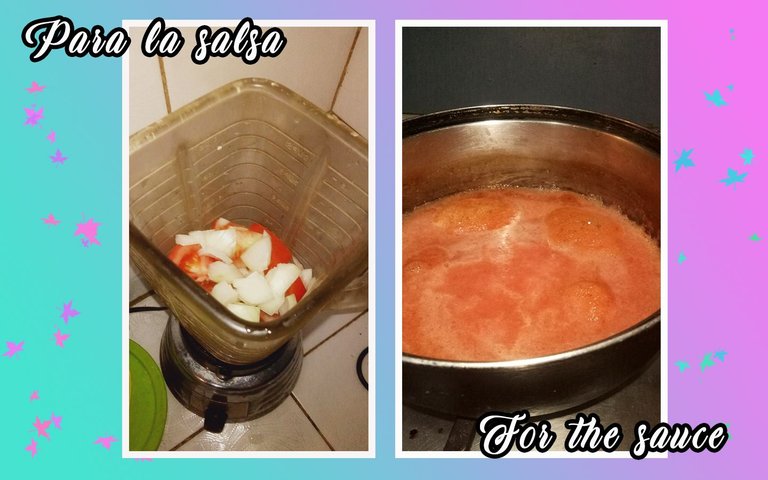 La fotografía es de mi autoria y editada en photoshop.
Para hacer la masa, coloque en un bol la harina, por favor deben primero cernir la harina con un colador, luego coloca el bicarbonato una cucharadita, y la mantequilla, si es de tu gusto colocas la sal y el azúcar, por ultimo agregamos la taza de agua y comenzamos a amasar.
To make the dough, place the flour in a bowl, please must first sift the flour with a sieve, then place the baking soda a teaspoon, and butter, if it is to your liking place the salt and sugar, finally add the cup of water and begin to knead.
---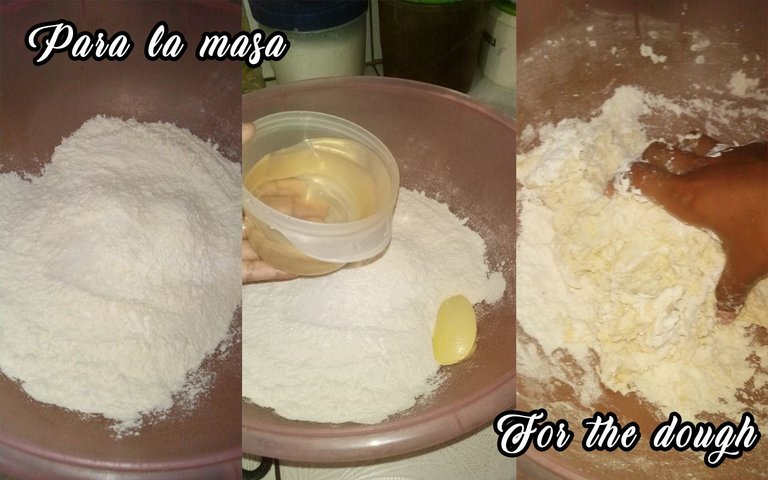 La fotografía es de mi autoria y editada en photoshop.
Cuando la masa este lista, la colocamos en un bol y la tapamos por 25 minutos con un paño seco. Después de este tiempo, comenzamos a tomar pequeñas piezas de masa y empezamos a estirar con la ayuda de un rodillo, no dejes la masa tan finita que tenga mas o menos 1 cm de grosor y con un molde circular, vamos haciendo los círculos para la minipizza.
When the dough is ready, place it in a bowl and cover it for 25 minutes with a dry cloth. After this time, we begin to take small pieces of dough and begin to stretch with the help of a rolling pin, do not leave the dough so thin that it is more or less 1 cm thick and with a circular mold, we make the circles for the mini pizza.
---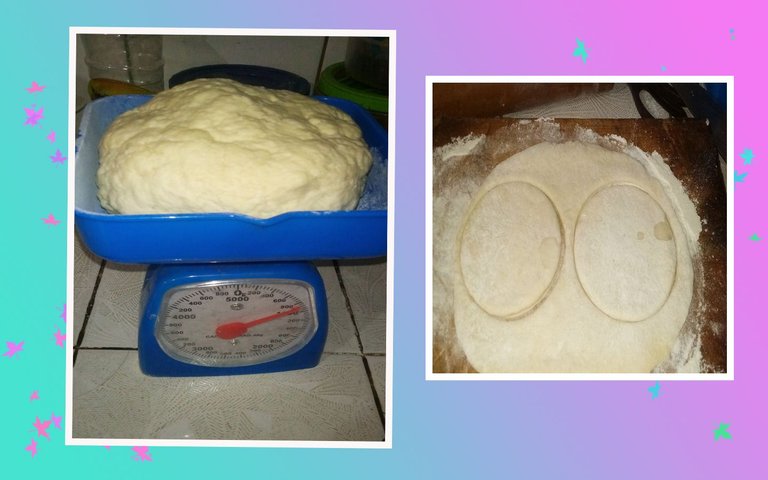 La fotografía es de mi autoria y editada en photoshop.
Luego en un budare o sartén colocamos un poquito de aceite y ponemos las ruedas de masa, debemos estar pendiente a cuando estén medio doradas, voltear la rueda de masa rápidamente, con 2 o 3 minutos de cocción esta bien.
Then in a budare or frying pan put a little bit of oil and put the dough wheels, we must be aware that when they are half browned, turn the dough wheel quickly, with 2 or 3 minutes of cooking is fine.
---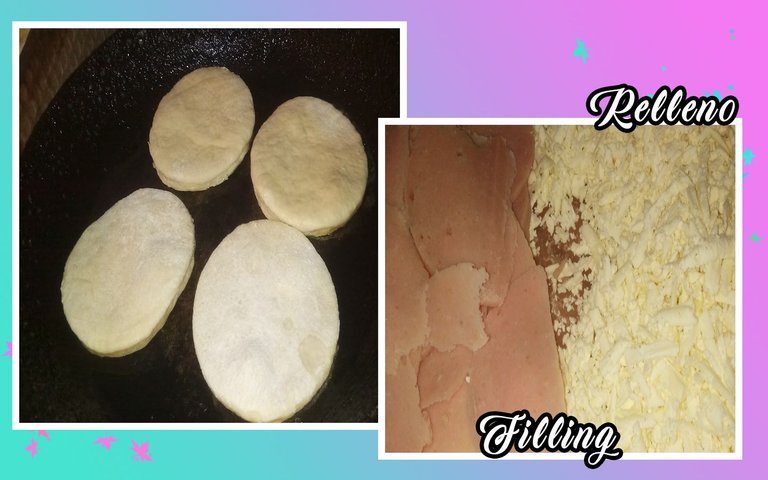 La fotografía es de mi autoria y editada en photoshop.
Para el relleno utilice queso duro para rallar, porque no tenia queso mozzarella, y mortadela, porque no tenia jamón, igual esto funciona perfectamente y le da gusto a la minipizza, no te preocupes.
For the filling I used hard cheese to grate, because I didn't have mozzarella cheese, and mortadella, because I didn't have ham, but this works perfectly and gives taste to the mini pizza, don't worry.
---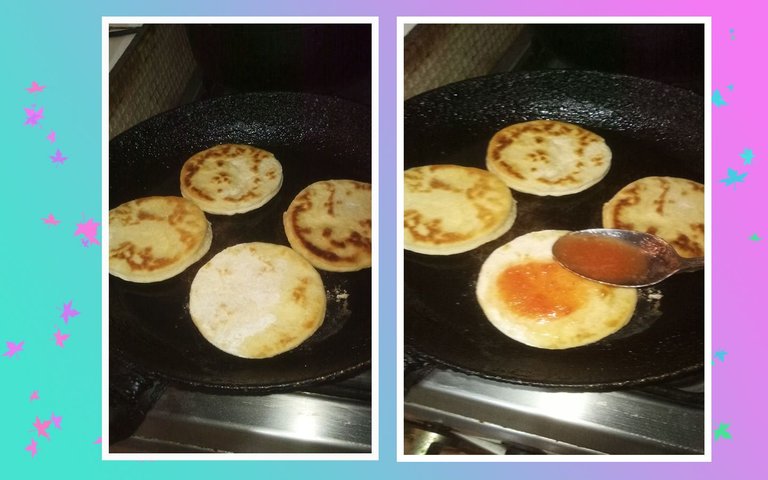 La fotografía es de mi autoria y editada en photoshop.
---
En la primera cara que ya esta cocida de la pizza, vamos a colocar con cuidado la salsa de tomate y encima le ponemos el queso y luego la mortadela y tapamos por unos 3 minutos.
On the first side of the pizza that is already cooked, we will carefully place the tomato sauce and on top we put the cheese and then the mortadella and cover for about 3 minutes.
---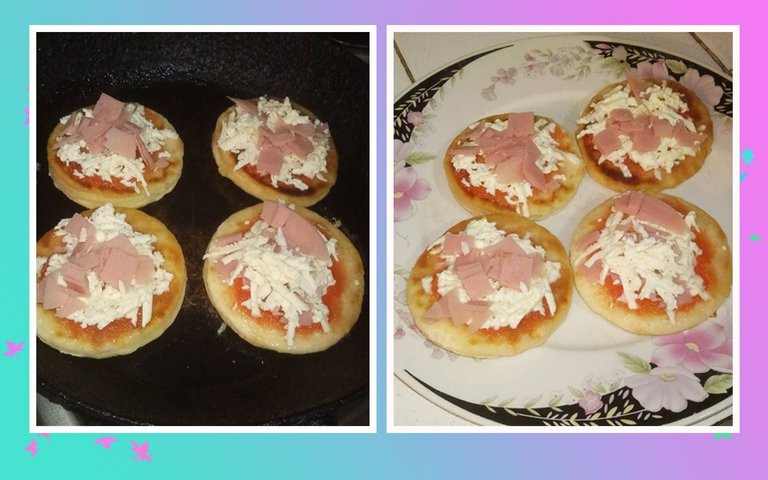 La fotografía es de mi autoria y editada en photoshop.
---
Y finalmente como puedes ver, tenemos unas ricas y fáciles minipizzas hechas en casa, sin tantos ingredientes, puedes usarlo como un pasapalo para compartir o para cenar en casa. No dejes de hacer una receta, porque no tengas todos los ingredientes, lo importante es usar la creatividad y lo que a ti te guste.
And finally as you can see, we have some tasty and easy homemade mini pizzas, without so many ingredients, you can use it as a snack to share or for dinner at home. Don't stop making a recipe because you don't have all the ingredients, the important thing is to use your creativity and what you like.
---

** Los separadores y cintillo son de mi autoria, para uso exclusivo de Hive.
** Para la traducción utilice https://www.deepl.com/
¡Gracias por su apoyo, por leerme y votar, GRACIAS!
Thank you for your support, for reading and voting, THANK YOU!