Iced Chocolate Crispy From Titikoma Coffee, Treating My Siblings Some Drinks.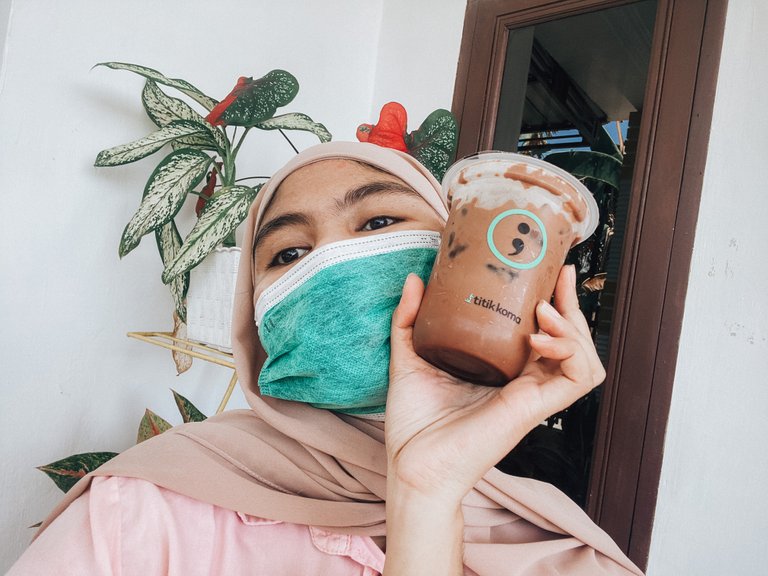 Helloooo guys…
Here i want to share about another new experience again.
In this post, i will talk about a coffee shop that actually been there for a long time but i have never try them for some reason.
Of course, dont expect me to talk about coffee in this blog.
It's very hard for me to drink coffee.
So even though i will share a lot about the coffee shop i will drink other drink like 98% of the chance.
So, i took my siblings which is two of my brother and one of my sister to get vaccinated in my aunt's house.
But when we arrive in there the doctor was not there and we need to go back home.
Since we already outside, which is a rare occasion of our daily life lately, we just feel that if will be such a pity if we go back home directly from our aunt's house.
So, we decided to took a detour to our home.
And since i am with the kids called my siblings, i cant help but want to treat them with something.
I asked them on what they want and they suggested many things yet in the end we decided to just buy something to drink since its very hot outside.
We look around and decide to drink something that all of us never try before.
Its pretty hard since we love to order drinks from near our house.
Then, we passed the coffee shop that took my interest.
Here it is: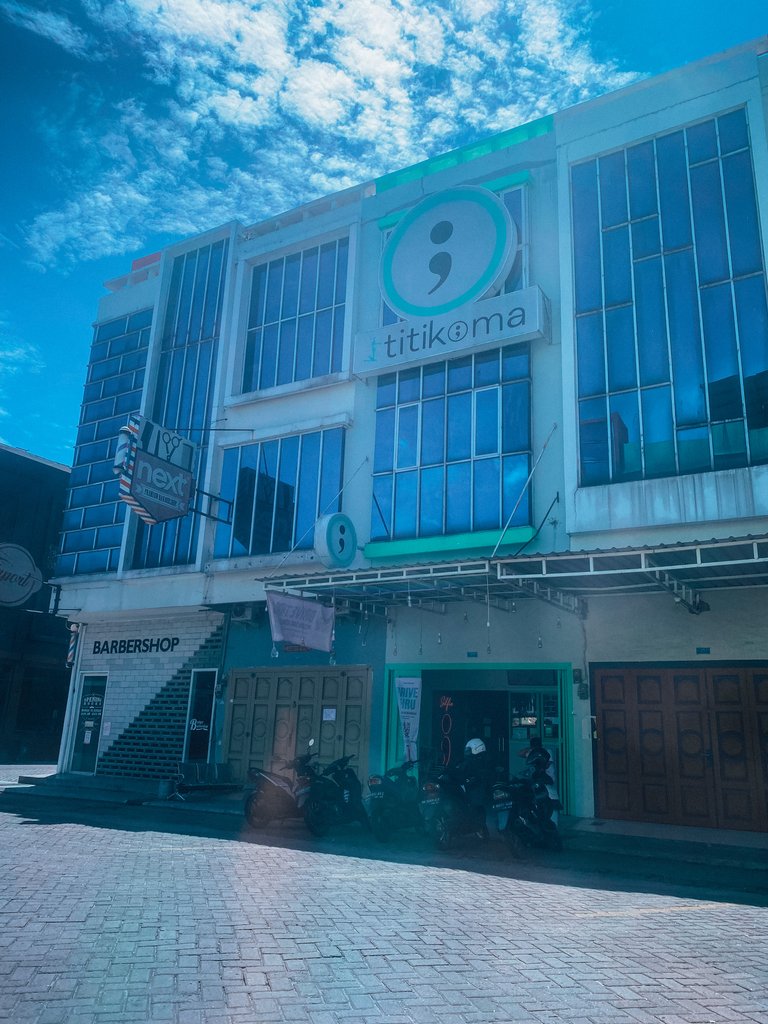 The name is Titikoma or in symbol is ;.
Its located in J City which is just 2 km from our house.
Since we can only order the drinks for the takeaway we just decided to order it from grab application.
After ordering and do the payment, we just need to wait till our order ready and then the worker will come to our car to deliver the drinks.
Its convenient yet not convenient.
I just hope this pandemic can get better faster so that we can enjoy the drink in the coffee shop itself.
I miss dine in soooo sooo much.
Anyway, the time that they need to prepare for iur order is pretty fast. For the four drink, we only need to wait for 10 minutes.
It seems like they dong get as many customers as usual which is very sad to see.
I always get sad whenever i saw empty stores or shops especially since the pandemic happened.
I wish you all can hang on and will get more successes in life.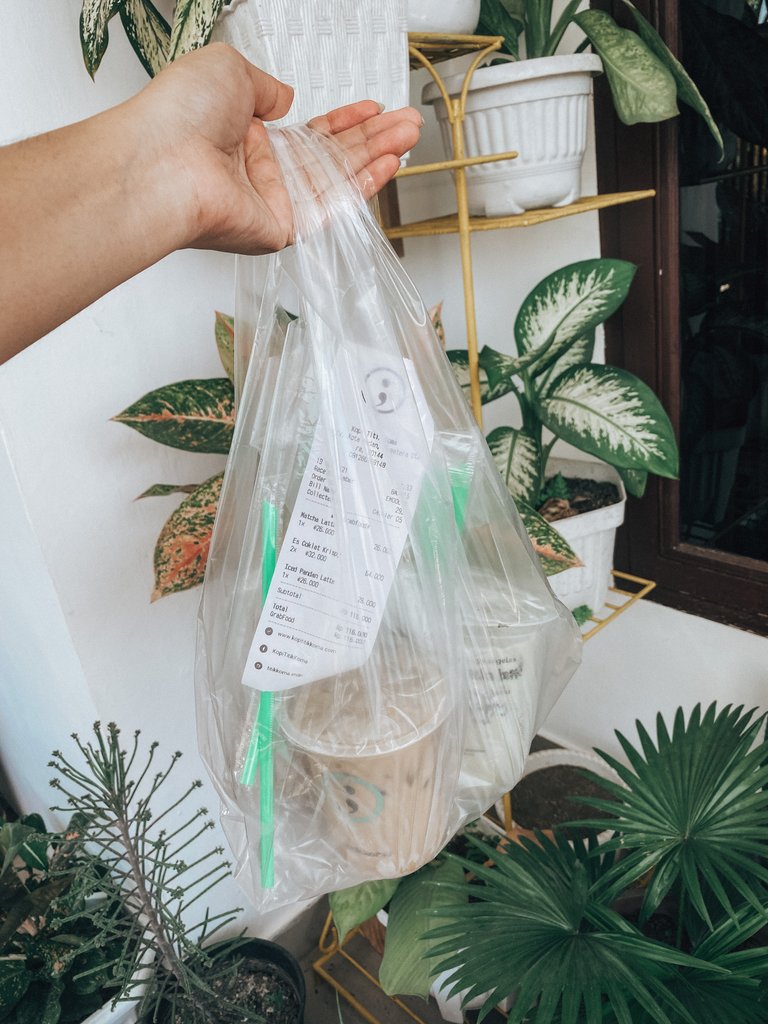 This is our order.
We ordered:
1 Iced Pandan Latte
2 Es Coklat Crispy
1 Matcha Latte
Sadly i cant show you my sibling's drinks since they all grab their drink immediately without letting me have the chance to took a pic beforehand.
The price of the drink, i must say its nit exactly cheap but its not expensive either.
Its still pretty okay for me.
The price of the iced pandan latte is 26.000 idr.
The price of the es coklat crispy is 32.000 idr.
The price of the matcha latte is 26.000 idr.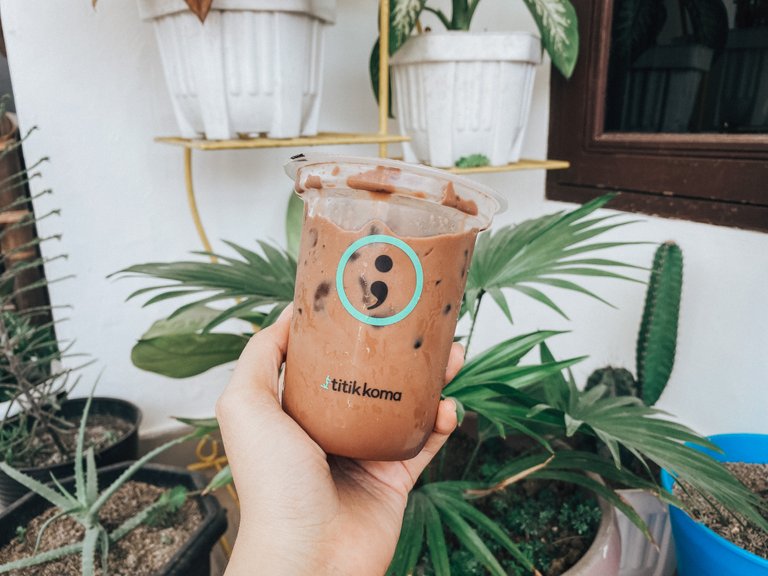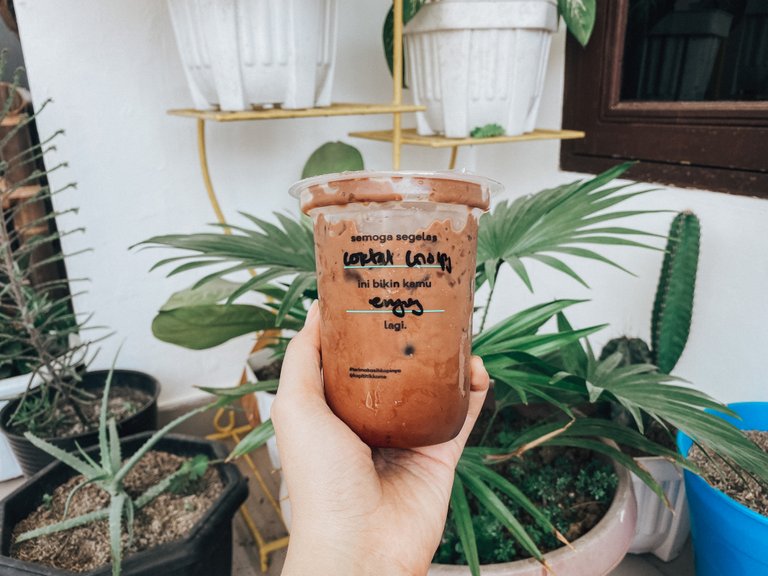 This is my drink.
Like the color, i believe that we can guess what it is.
Yes, its the Es Coklat Crispy or in english Iced Crispy Chocolate.
Its an chocolate drink with some crunch like a ricecrackes inside of it.
Of course its a fun drink.
But this is the kind of drink that will leave my stomach feel bloated after i finished them.
That was why i decided to jUst drink them slowly.
The chocolate is very very sweet even though i just order the sugar level to be normal.
Now i know if i wang to drink this drink again i should ask the sugar lever to be low or less.
Luckily the crunch or crisp can make the drink less sweet when we consume it together.
I like that their chocolate doesnt taste cheap, thankfully, because if they use a cheap cheap chocolate i will be very upset because if the price point.
In general, i will recommend this coffee shop and want to try them again.
I hope that the next time i went there, i can enjoy dine in in their coffee shop.
J hope that theg
---
---