Jiu Jitsu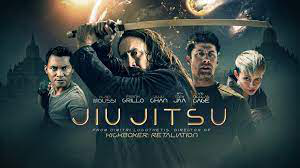 Following the events of an alien invasion that occurs on Earth, an alien arrives to fight the best Jiu Jitsu Fighter every 6 years through an ancient portal hidden in a Temple, if he doesn't get his match the alien proceeds to kill everyone.
Meanwhile an ancient order of jiu-jitsu fighters arm up to do battle with the invader and prevent the annihilation of the human race.
The Sci-fi film is Based on the 2017 comic book novel of the same name, written and directed by Dimitri Logothetis who has directed some great martial artists movies such as Kickboxer and the Lost Angel.
The comic book can be found on Amazon for sale although I am sure you could find a direct source to order from elsewhere.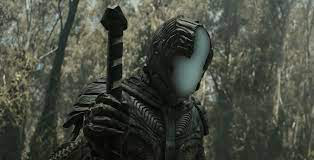 In the opening scene we see Jake Played by (Alan Moussi), a mercenary that we meet fleeing through the woods as double-sided knives with a sharp razors edge whizz by overhead,
He is picked up by a near by Military unit that takes him back to their base under suspicion, were he is of no help since he is suffering from amnesia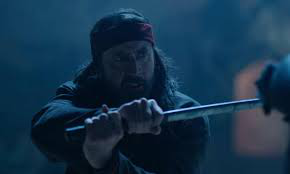 The international team comprising of the Ancient Jiu Jitsu Order prepare to fight their unearthly opponent, who centuries before taught jiu jitsu to what he/ It seen as his pathetic Earthling adversaries so he could return every 6 years to fight their best Jiu Jitsu Warrior.
Dimitri Logothetis's movie toys with kung-fu film conventions and features Nicolas Cage as a wisecracking sensei. Quote from The Wall Street Journal
The film has an All Star cast line-up which includes Nicolas Cage Frank Grillo, Marie Avgeropoulos, Tony Jaa, Rick Yune, Eddie Steeples, JuJu Chan Szeto, and Alan Moussi,
THE SOUNDTRACK
At present the Soundtrack and credits is currently unknown, you can read more about that here. https://soundtracktracklist.com/release/jiu-jitsu-soundtrack/
Written by and Directed by Dimitri Logothetis and Jim Mc grath
SYNOPSIS
Every six years, an ancient order of jiu-jitsu fighters joins forces to battle a vicious race of alien invaders. But when a celebrated war hero goes down in defeat, the fate of the planet and mankind hangs in the balance.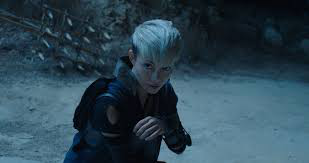 MY CONCLUSION
A really enjoyable watch compared to some of the really badly narrated and choreographed films that have been released this past 12 months, some of which I couldn't even bring myself to waste the time writing about, in this film there are some great fight scenes for the martial arts fans and a Solid storyline filled with unfolding plots for Sci-fi lovers.
I won't explain how the movie progresses or the ending as that would spoil all the fun, so go have a watch and come back and let me know what you think.
WATCH THE TRAILER
If you enjoyed the read and like Sci-fi and Martial Arts movies this is a good one for entertainment, again thanks for dropping by, I would appreciate it if you would power beam that up-vote an throw an electric pulse blast at the re-blog as it would help me reach more readers and potential followers, Have a nice day....
You can my other movie reviews at my movie blog https://www.cinetv.io/@jaxsonmurph
---
---