LA Brea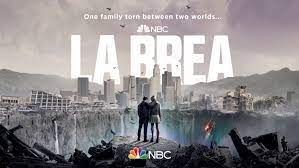 When a massive sink hole opens up in Los Angeles, LA Brea, swallowing up the surrounding area, buildings, traffic and and people, the locals and government are at first left confused.
A local family are split up, the Mother and Son are dragged into the sink hole while the Father and Daughter search for answers.
Those that enter the sink hole are transported back in time to the year 10,000 B.C and at first struggle to come to terms with the knowledge of what has happened.
Not long after the sink hole appears large unfamiliar and strange prehistoric birds start to fly out of the hole leaving those who witness the event quite puzzled.
While down in the sink hole as people gather to help each other and share some food and water, they are attacked by large wolf like creatures.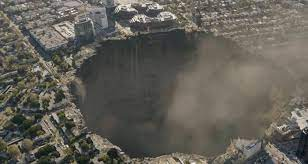 Other strange creators like a saber tooth tiger and a giant sloth make the new arrivals quite unwelcome as they start to realise that they will have to hunt for food in order to survive.
The Father an ex Air Force pilot who lost his job after a plane crash that left him having visions of a strange place, now starts to see his wife and son in this strange land and sets out to prove to the Department of Homeland Security that his family is still alive, before they will consider mounting a rescue mission.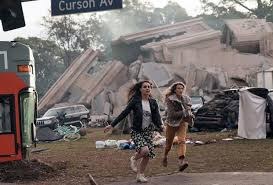 The New Science Fiction series which was just dropped on NBC starting at the end of September 2021 has a really interesting and mysterious storyline, with a strong cast and great narrative.
There is some interesting twists which should see the storyline and plot getting stronger as the season progresses as only three episodes have been released as of writing this post.
I will do a follow up in a few weeks to give a broader review as the first season comes to a close.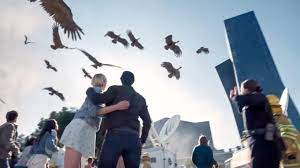 THE SOUNDTRACK
The original motion picture soundtrack so far consists of only two tracks in season one No Time For Toxic People by Imagine Dragons in Episode one and lovely by Billie Eilish and DJ Khalid in episode three if you would like to follow what music tracks are in each episode as they drop, you can read further information and listen to the tracks on tune find dot com HERE
SYNOPSIS
A massive sinkhole mysteriously opens up in Los Angeles, separating part of a family in an unexplainable primeval world, alongside a desparate group of strangers.
From Presearch: LA Brea Synopsis
PRESEARCH Is also where I earn pre tokens for my research.
My images were also sourced from Presearch Why not use it for research and earn PRE Tokens yourself.
MY CONCLUSION
I was honestly quite surprised with how well the series was done and found the cast done a great job in making you believe the narrative and storyline, I am really excited now to watch the rest of season one, not sure doe how the season could be extended into a full series or if that is even planned at this point, but one thing is certain if you enjoy these strange science fiction meets fantasy/ time travel genres, LA Brea is sure to tantillize those taste buds.
It was refreshing to find some new and interesting options and LA Brea although not the typical kind of series I watch was rather enjoyable to say the least, those big hungry looking pre-historic creators had me craving for some big juicy pizza, which one now I'm gonna struggle to decide, but it will be something along the lines of a meaty feast Ha ha
WATCH THE TRAILER
If you enjoyed the review, I would appreciate it if you would let your roar out at that upvote and send that reblog deep into the wild, as it would help me reach more readers and potential followers, Thanks for dropping by, enjoy the rest of your day....
You can read my other Movie and TV series reviews at my movie blog on CINETV
---
---