The Flicker Haven Farm Files-Mornin' Chorin'!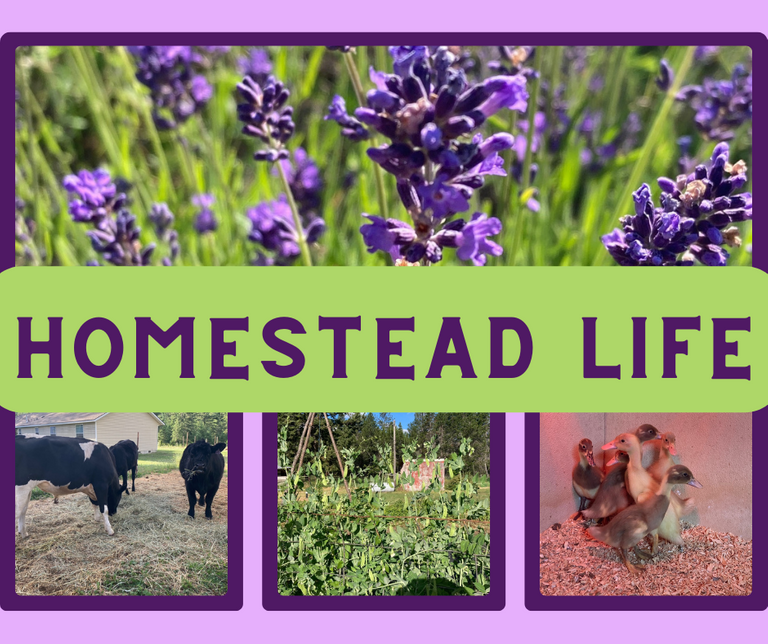 ---

---
Routine. It's a thing that we all have, whether it's getting up and going to an office or hopping into a jet to fly the skies, all humans have a routine.
And in the spirit of routines, sharing more about myself for ya'll to see, and doing my part to help keep things authentic and real, I present you with a look at my morning routine, Summer Edition.
Most mornings I wake up with the sun, which at our latitude is pretty early on the clock, but can you say circadian rythym? Anyway, after I pop out of bed, I throw on my falling apart cat print slip ons and wander out to the barn.
My first stop is the wheelbarrow with a bale of hay in it that I keep under the fir trees in my yard. I grab a few flakes of hay and toss it to these demanding souls: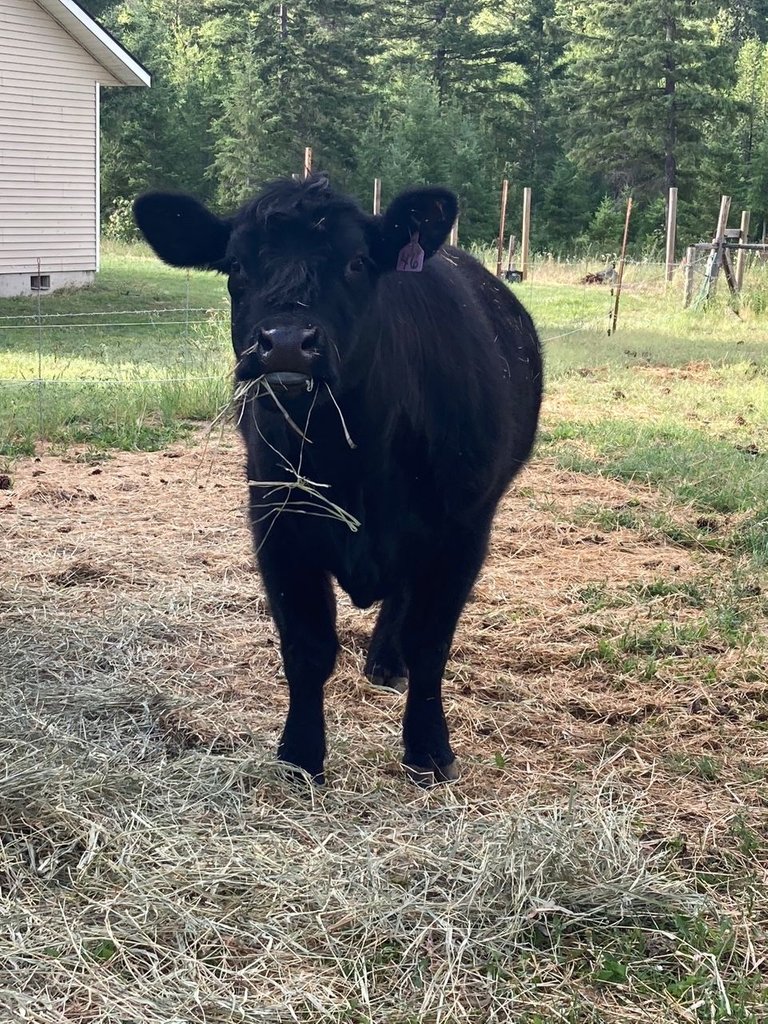 ---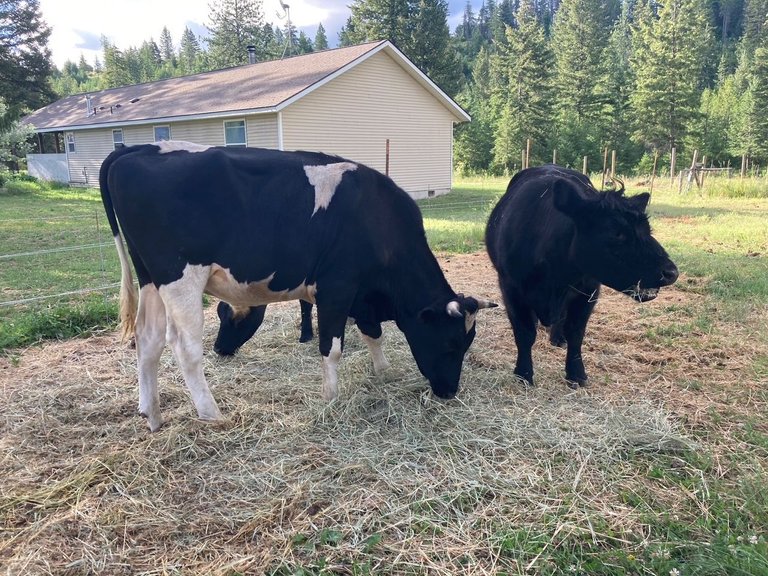 We have plenty of pasture, but I still throw them a bit of hay everyday because sucker that I am, I love to keep the three amigos happy. Plus, they are kinda cute.
After I throw hay to the cattle, I undo the gate to the barnyard and saunter to the barn to feed my daughter's show steer. She takes care of him most of the time, but I feel bad feeding all the other animals and not him, so he gets his food and water along with the rest of them.
After blessing Moo Jr. with several pounds of his show calf ration, I wander around to the back of the barn and fill the troughs. In the winter I only have to fill the troughs once a week or so, but during the summer, especially if it is over 80 Fahrenheit, I fill the cattle troughs at least once every other day.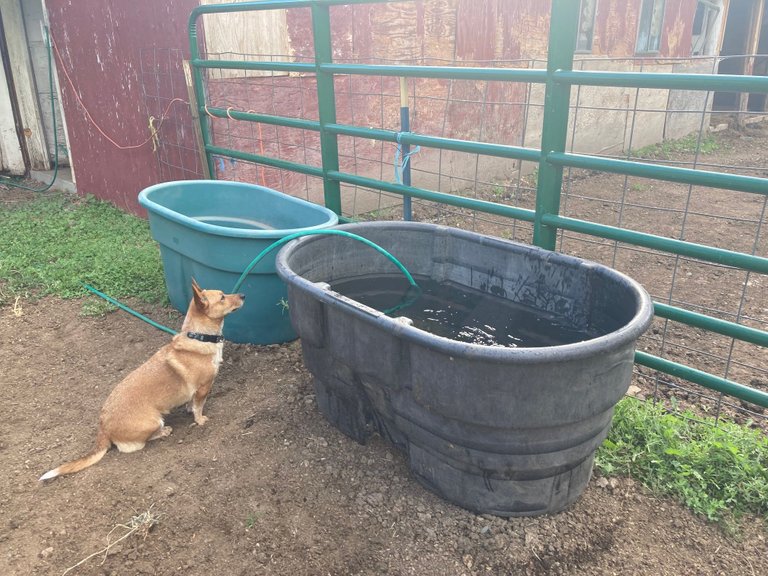 Cora has an insatiable desire to kill the water flowing from the hose, her attention to her mission is admirable
---
Fun fact, cattle drink twenty-five to thirty gallons of water every day, each.
---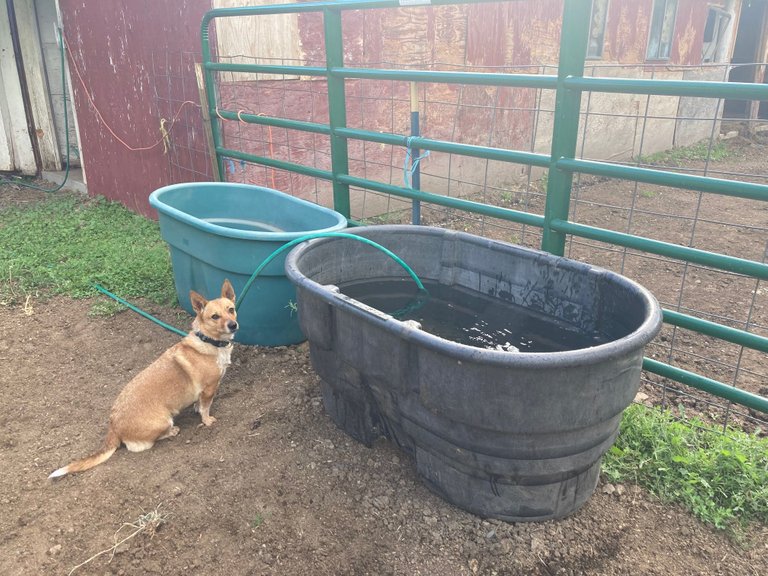 After sticking the hose in the trough, I walk into the barn and grab the duckling's waterer and feed tray. Ducks are mess-making heathens. Seriously, I have never cared for another animal that is as messy as a duck. Well, strike that, a toddler with a Sharpie and a bag of popcorn is close.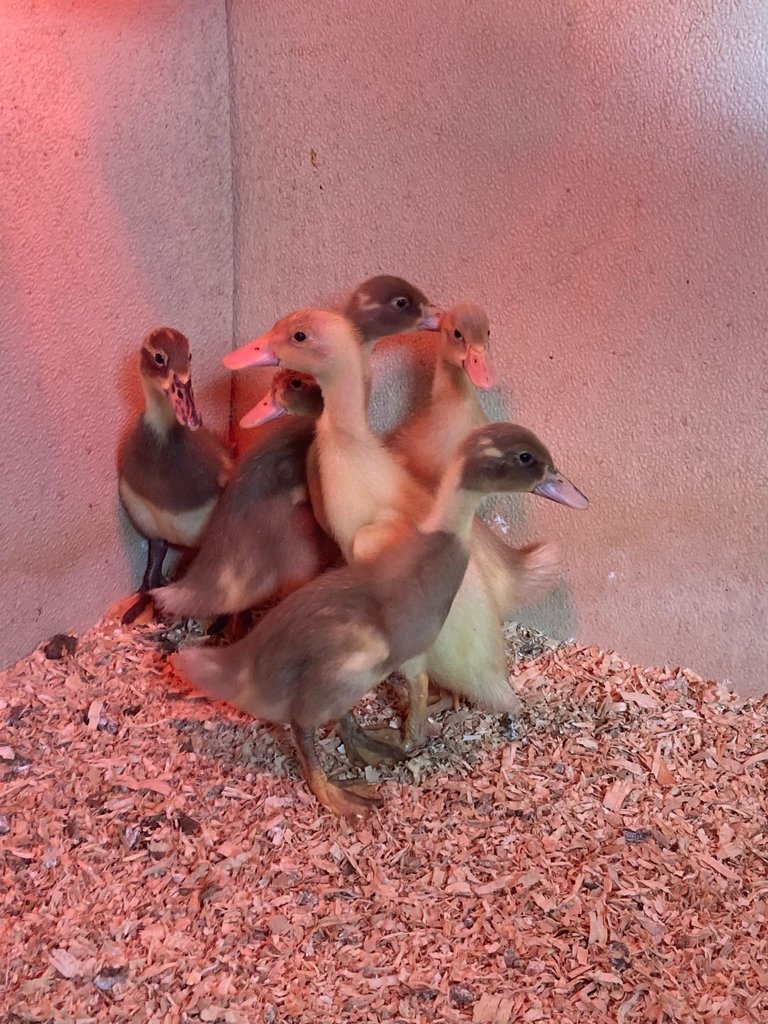 Anyway, the ducklings are easy peasy to feed and water, and by the time I feed them and walk a few hundred feet to open the gate to the back pasture for the cattle, the trough is usually full.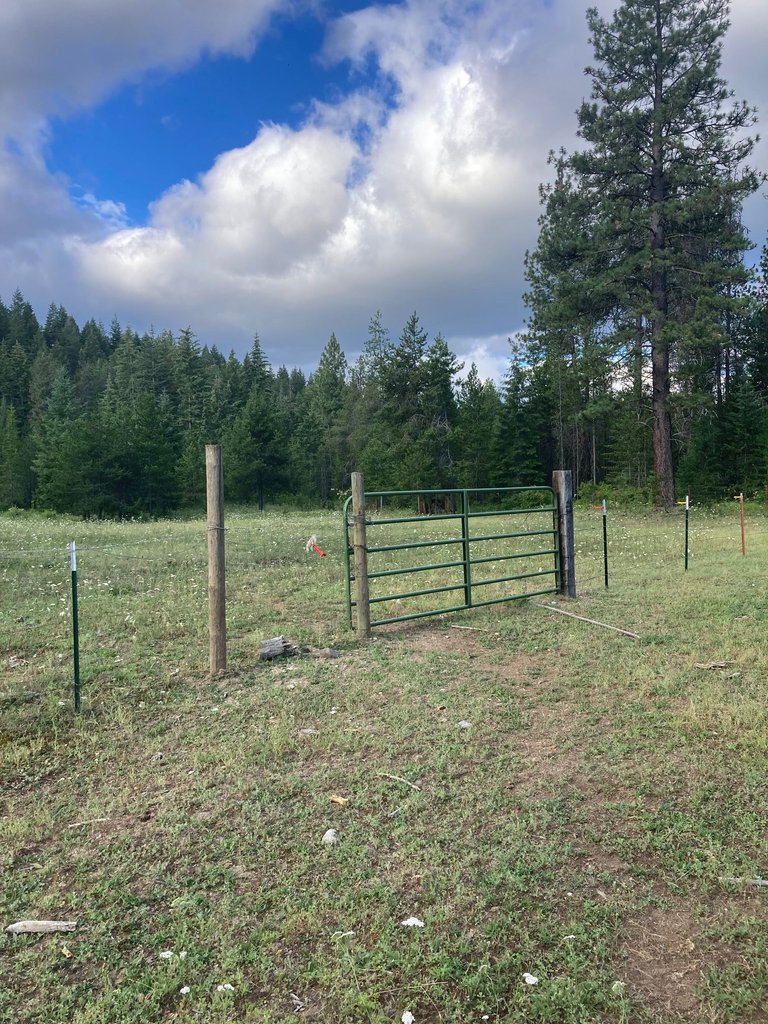 We close our cattle in the couple acre barn yard pasture every night. I call it Fort Knox because it is a hot wired, field fenced, multiple strands of barbed wire fortress that was built to keep cattle in. This was a trial and error process, but they haven't gotten out since we finished the paddock to it's newest specifications. YAY!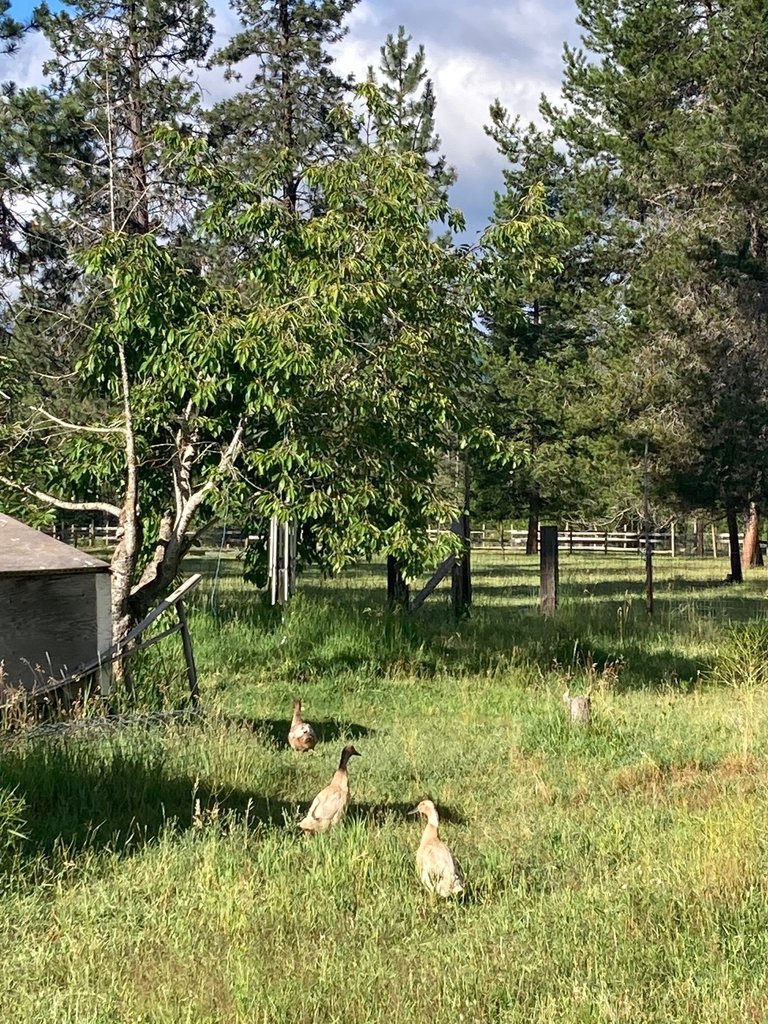 ---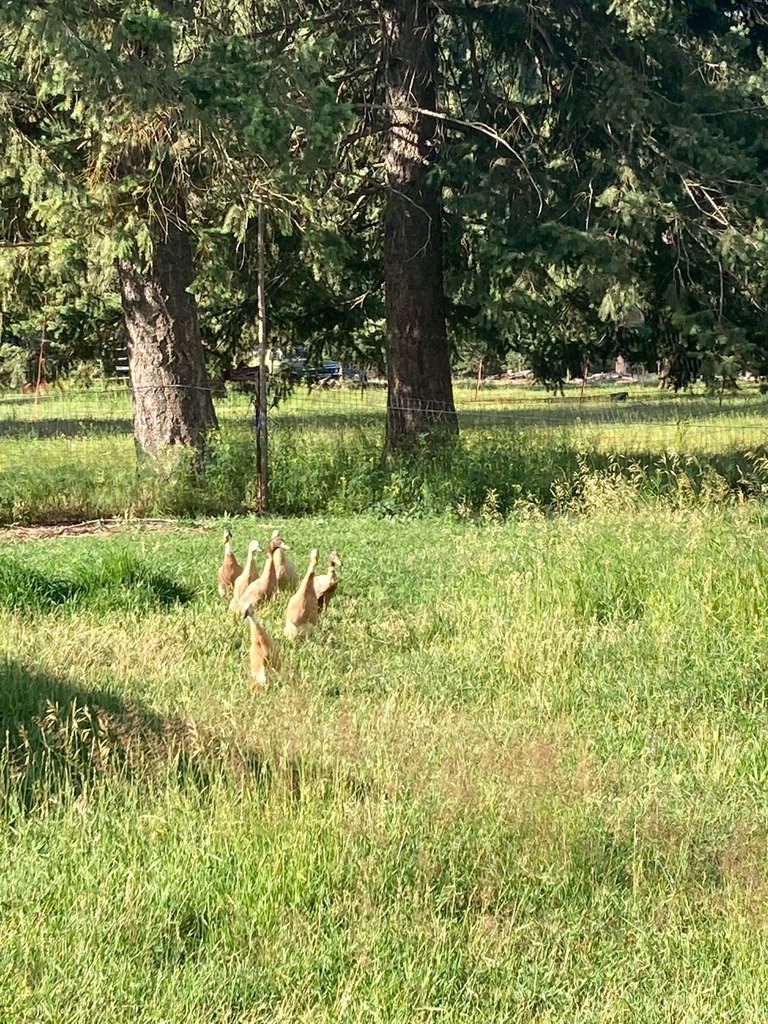 ---
After turning off the water and shutting the barn door, I grab the bucket of food for the ducks in the orchard and start my way out to the orchard. Usually I have a company of support animals to guide me along my way. This morning was no exception, there was my ever-present Cora the Cowboy Corgi, The Lizard, a very amiable tabby cat who has claimed the barn as her territory, and Pickles, a cat who defies description, showed up halfway through my trip to deliver a speech in his mosquito meow frequency. Good times.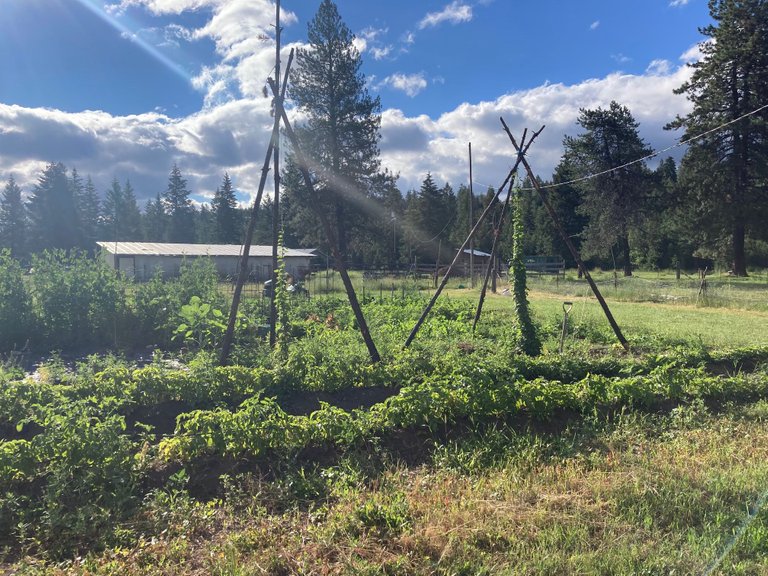 After walking through the garden with a stop at the water manifold timer to turn on the zone that has my duck water hose, I walked into the orchard, poured the ducks food into their feeder, flipped their swimming pool over, cleaned it out, let it fill, and walked out towards to garden feeling the feelz one feels when they are accomplishing their morning routine.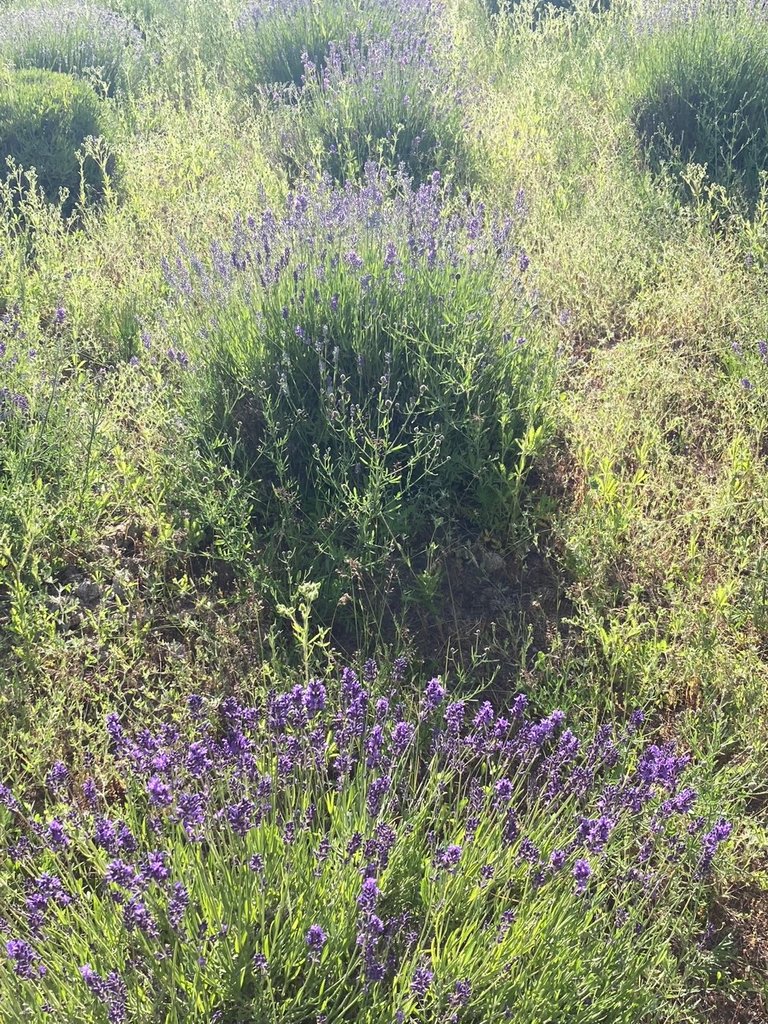 It's the part of the lavender harvest where we do hydrosol and essential oil extraction. I like this part of lavender harvest as it is much less tedious that cutting and banding bundles of flowers for buds. Instead I get to use hedge trimmers to slice the fully bloomed out lavender off of the bushes. It's a very satisfying job because it's like giving a person with unruly, overgrown hair a hair cut.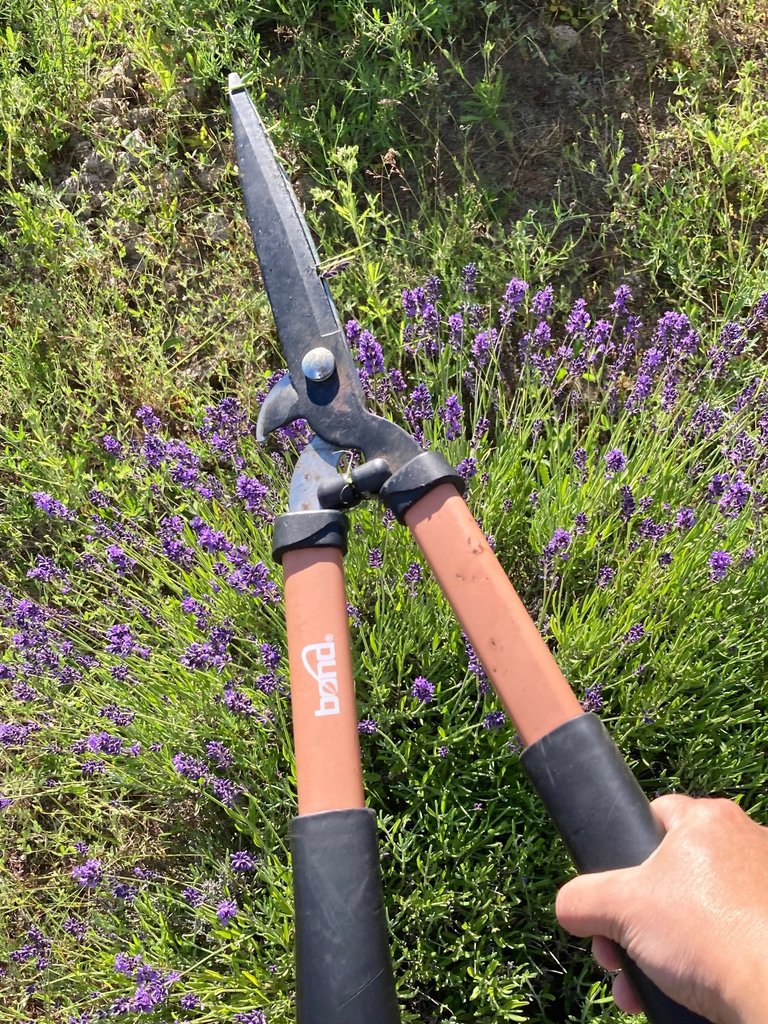 ---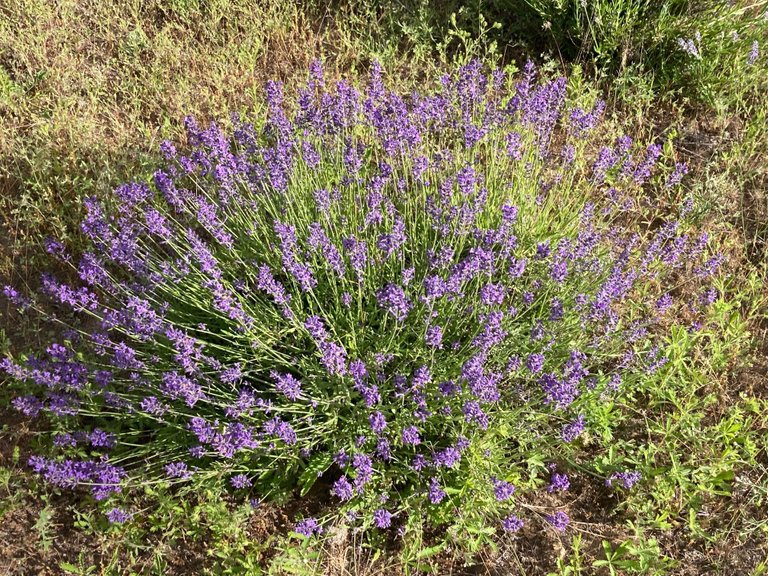 ---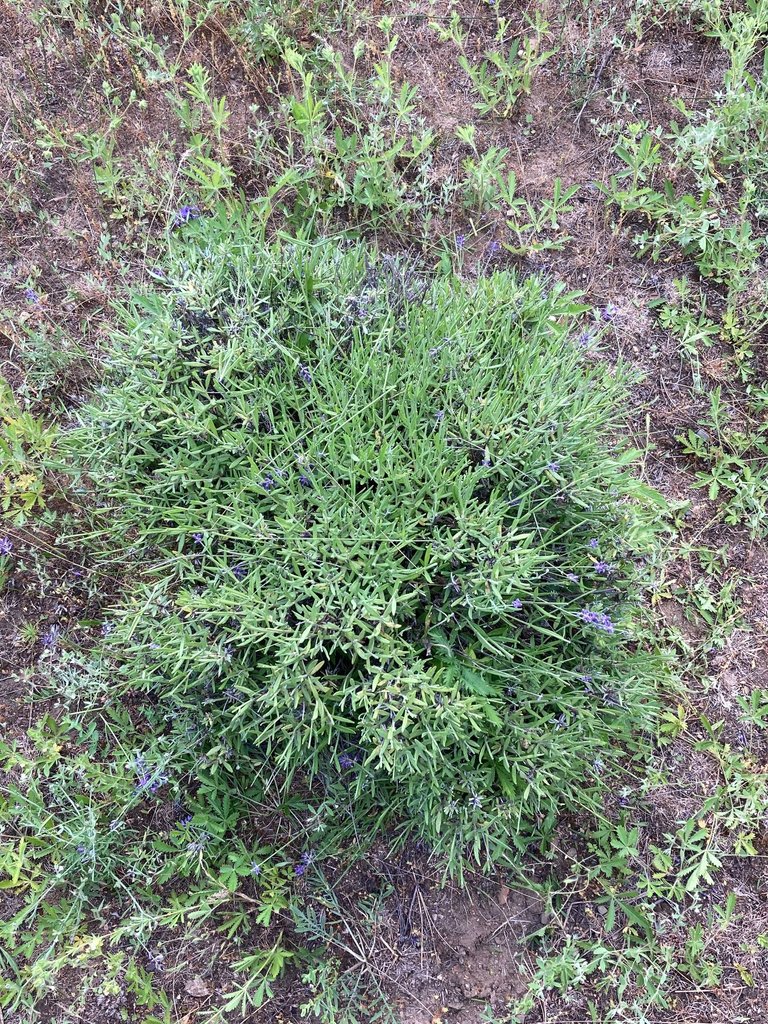 I also mowed my RV site, fertilized the garden with Neptune's Harvest, weeded the corn and beans, and checked on the progress of my plants. All of this work was done before 9AM before I sat down to have my coffee and do morning reading time.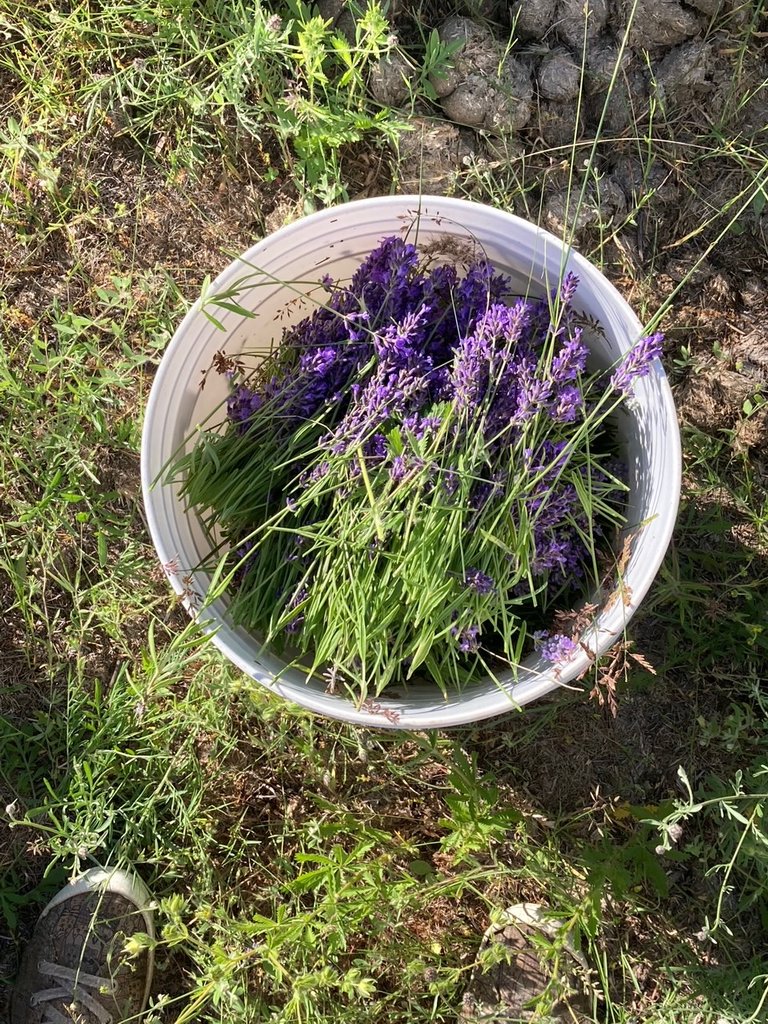 ---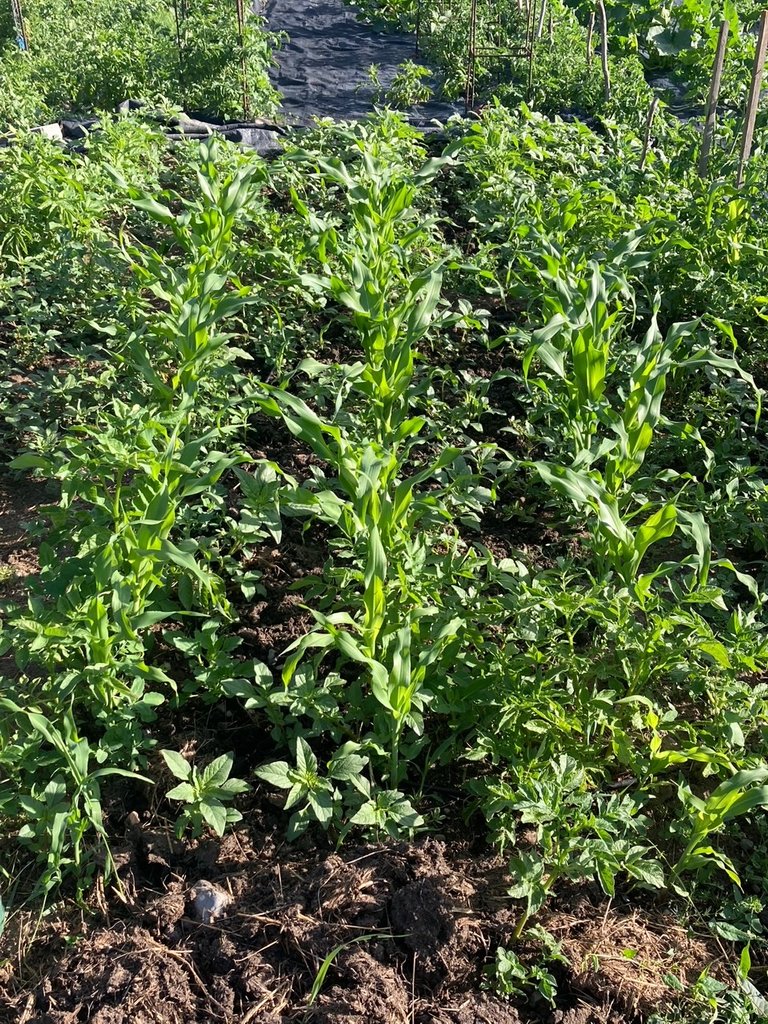 And it's pretty much like this every single day right now. Not that I mind, the sense of accomplishment that comes from completing my morin' chorin' sets my mood for the rest of the day. There's something so magical about getting up and accomplishing routine tasks before getting cracking on the rest of your day.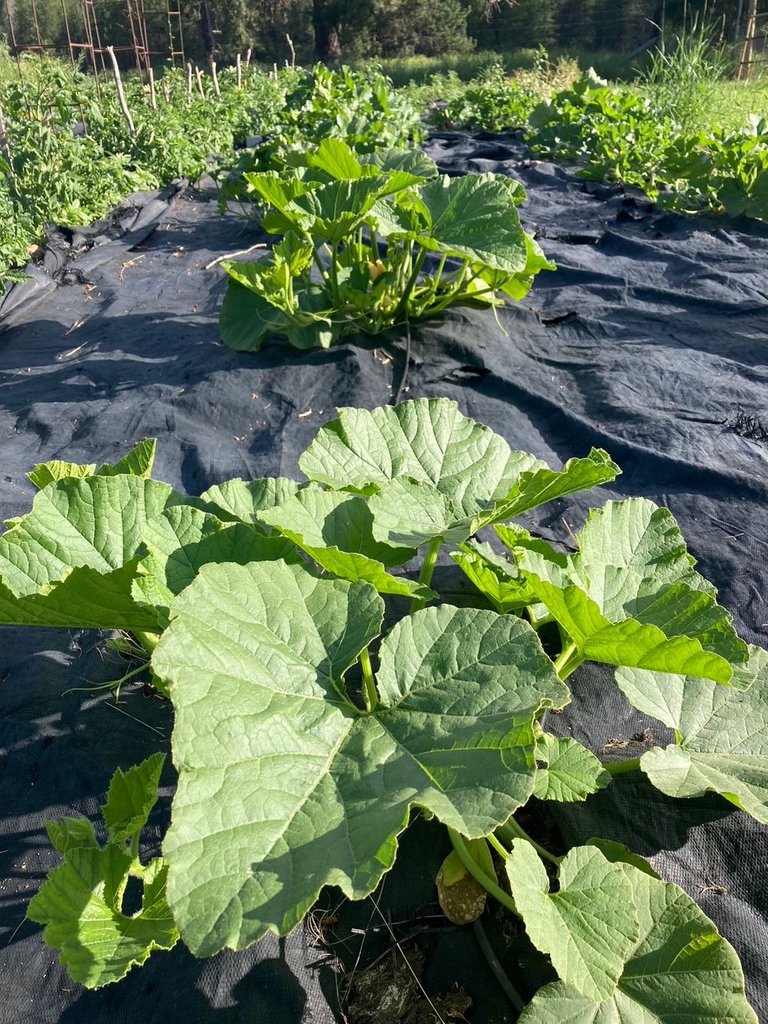 Of course, there are those mornings where the cows are out, the kids break something, a piece of equipment breaks, or I manage to hurt myself, but if I am honest, I am getting better at seeing those things as part of my morning routine too, life is gonna life, I choose to view it all as fun.
Well, I'm working on that😉
---
---

---
And as most of the time, all of the images in this post were taken on the author's has yet to be dropped in the cattle trough iPhone. The text divider image was made in Canva.
---
---
---