Ecency Discord Weekend Show 20th August!
We had a great Hangout Show on Saturday hosted by @blackman15 in the Ecency Community discord group. There was also a new co-host @cescajove! It was so great to see you!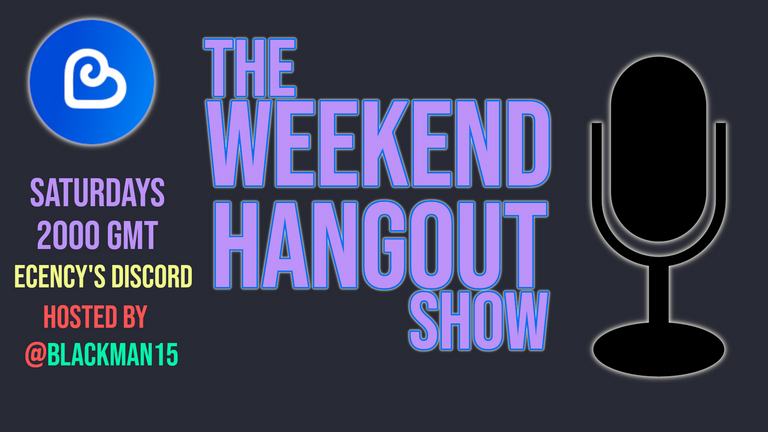 image credit: @unklebonehead
The show usually starts with some music requests but this week the discord bot wasn't working for the first 5 or 10 minutes and so our new co-host decided to sing for us which was really impressive! The music bot was soon working again though and we could listen to a few good tunes before the show started proper.
Afterward, everybody who wanted to present a post of their choice did so and we talked about them in the group for a while. Then our host @blackman15 talked about some topics of the week like would you like to be a CEO? and some listeners joined in the fun and gave their opinion. It was a really fun and relaxed time hanging out with other Hivers.
This weekend there will be another show and we invite you to come and hang out. You can listen to some music, present a post to the group, or talk about the topic of the week!
If you prefer to just listen in or use the chat to interact, this is also fine, we are happy to see you. It is an informal meetup and everybody is welcome. We had a few new members this week and it was great to meet you all, thanks for coming along.
It is a great chance to grow your engagement in a friendly place and make some new friends from all over the Hive world. There are also prizes given out to those who attend.
To join the show, just jump into the Ecency Discord channel here.
Once in the channel, there is a menu for the chat voice and chat text. Just click on chat-voice and it will connect you to the show. You can then click on chat-text to see the show text to follow along with everyone.

We would love to see you, so be sure to drop in.
If you have any questions let me know in the comments or drop them into the Ecency Discord where we have many experienced members who can help.

Beneficiary of this post is 100% set to @blackman15 - please give an upvote and support our host for his great work in the show
Credits: Title image created by @unklebonehead
---
---