Security - Stay Secure on Hive
Once you move over to Hive, one of the first big changes to get used to is that you are now responsible for your own account. This is a big change in mindset to how we are used to working with computers and our online accounts.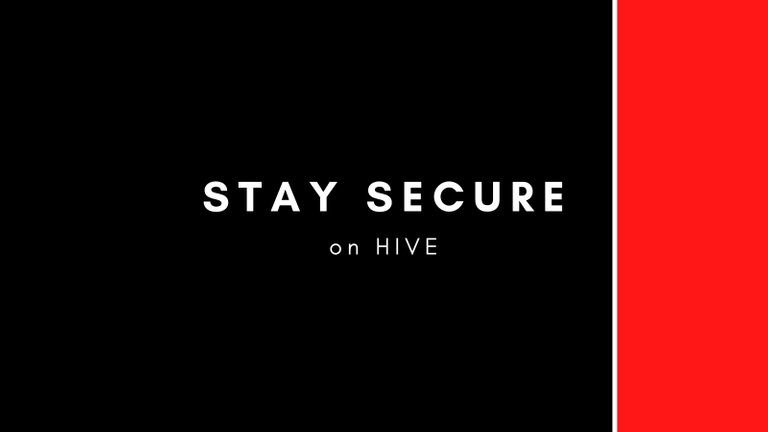 It is in my opinion one of the big changes that will be part of changing how everything works online in the future and we are only now just getting started. You may be asking yourself, but what does this mean to be responsible for your own account?
This means that you are responsible for looking after and securing your passwords and logins and there isn't a customer service helpline you can call to reset your password or reverse a mistaken or fraudulent transaction.
Therefore, security should be at the top of your priorities when using Hive, especially if you are stacking some crypto that you don't want to lose.

Here are some things I have thought of that might help to keep your account secure:
Save and make backups of your keys and passwords including printing them out and storing them safe somewhere.
Think about your account recovery now while you still have full access to your account. Is it assigned to another account you control or a trusted friend or relative? Do you use a service to recover it for you? What do you need to recover your account? Find out how the process works, and make an instruction for yourself. Store this information safe somewhere.
Use Hive Keychain to login into your accounts and only enter there the Active and Posting keys as you don't need the other ones.
Consider using a program like Keepass to store your keys and for copying them from device to device. Within Keepass you can get it to generate a very secure password to store your passwords and they then don't stay laying around on your PC unprotected/unencrypted. Keepass is available here for free!
Do not transfer your passwords to other computers using email or messenger services. The safest way is to save them in Keepass or Keychain and export them to a file FIRST. This is because they are then password protected!! It better is to use Keypass as you can generate an unhackable password to protect them. Then you can transfer them to a USB stick and access them again from the other device. When adding to your mobile device, connect your mobile directly using a USB cable, and don't be lazy copying using Whatsapp or Telegram. EVERYTHING is readable in these services.
Do not store any of your keys in your browser. Use the Hive Keychain service to log in to websites.
Do not store so much liquid Hive or HBD than is necessary. If your account is compromised, this can then be quickly transferred to the scammers. If your Hive is powered up, it will take some time for them to power down the Hive before they can take it. It is a really great security feature of Hive. This gives you time to recover your account and cancel any power down and keep your crypto more secure.
If these tips are helpful or you have any other tips, let me know in the comments below.
Thanks for reading.

Credits:
Title image created by myself in Canva.

Let's connect : mypathtofire
---
---