Hey Jess-FI
The DE-FI space is gaining so much traction of late, the need to find ways to earn money and protect yourself against inflation is driving users deeper into DE-FI. DE-FI is also creating the building blocks for future API's and connections between P2P capital and leveraging blockchain to get capital to where it is valued most and used most productively.
This is indeed the end goal for De-FI but the short term goal is basically use cases and yield farming. The De-FI space users tokens as a way to rehypothecate value and is essentially derivatives trading in some places, in other places it's using the increase in interest to reduce their liquidity pool and then reward users with new inflation.
A Ponzi scheme by nature, not all DE-FI is this shitty but I want to focus on the ones really walking the line, ones not doing anything productive with the capital injections.
Yam will be the first of many
YAM hit headlines this week as the pseudo-De-fi half meme coin yield farming project went viral. The YAM token has lost more than 90% of its market capitalisation within a few minutes as a "potential flaw" gets uncovered.
The market cap of YAM has plunged to $19.5 million at the time of writing from $475 million about one hour.
The price of YAM hit its low and traded at about $0.6 each, down from its peak of $120.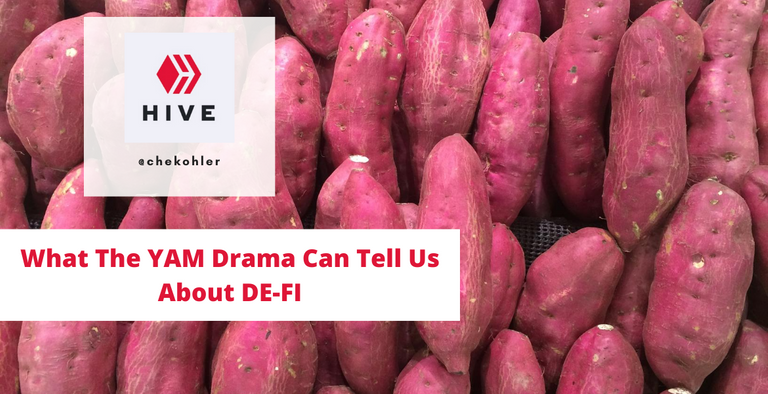 What is YAM?
So YAM as I understand it is a supply and demand DE-FI project that tries to peg itself as an algorithm stable coin. In stable coins like USDT and USDC coins are minted and burned as fiat is added to their liquidity pool to create a digital representation of that dollar.
First rebase was successful, so essentially a "stock split" happened and YAM holders that first bought yesterday multiplied their shares by 8.9x.
Over 509 million in Total Value Locked (TVL) in just 24 hours for YAM Finance!
YAM is a project using the concept "elastic cryptocurrency" that will expand its offering over time. Its initial $1 target per YAM was valued at $71.42 USD as of 5:07 pm Pacific Standard Time.
It is an experimental protocol that brings together two of the most important components of blockchain technology: the YCRV and the token. Once the Treasury starts to consider the growth potential of y-CRV, the future allocation of capital by its token holders can be controlled, as can the return it can generate.
As people invest in YAM more YAM is printed to try and keep the value as steady as possible, which means more money piling in means more YAM is printed and so a house of cards begins.
Untested unrestricted greed
YAM's ponzinomics and yield farming abilities with those who pile in early takes the concept of a Ponzi and supercharges it. YAM's model will surely be replicated by get rich quick schemes and pump dumps looking to prey on the de-fi space and its exciting opportunities.
As solid projects are trying to return a yield of 2-4%, greed will see investors try their luck further out the risk curve and even so far that it goes into a gambling spectrum.
YAM reminds us all that sometimes we need to put our breaks on this untested part of crypto and not let the promise of short term high yield gains get in the way of where we're going as an industry.
Sources
Have your say
What do you good people of HIVE think?
So have at it my Jessies! If you don't have something to comment, comment "I am a Jessie."
Let's connect
If you liked this post, sprinkle it with an upvote or esteem and if you don't already, consider following me @chekohler and subscribe to my fanbase
| Browse & Earn Crypto | Stack Sats For Free | Earn Interest On Crypto |
| --- | --- | --- |
| | | |
---