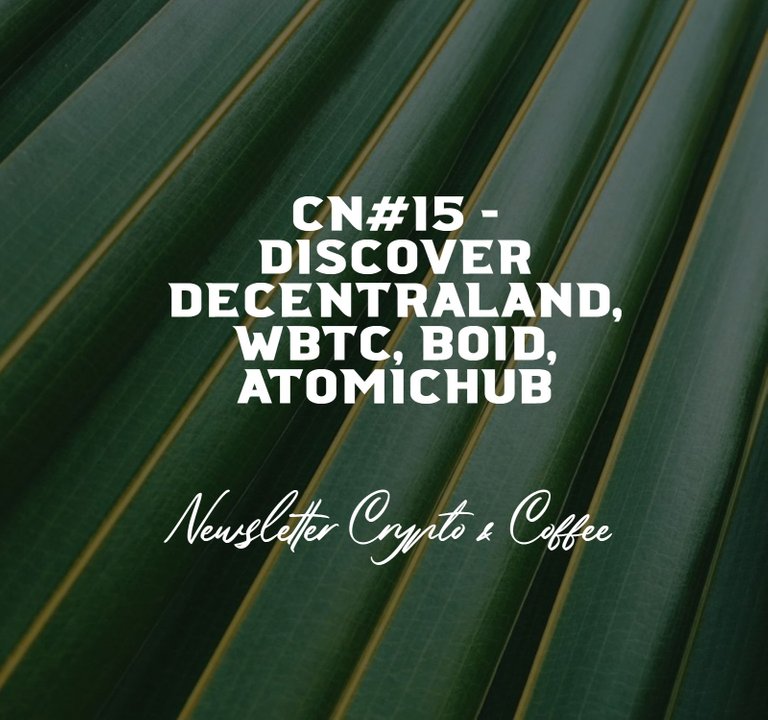 Newsletter #15 link: https://chesatochi.substack.com/p/newsletter15
Introduction
Do you love reading and discover great things in the crypto sphere by email? Now is your chance to read my newsletter #15 just released yesterday for the pleasure of your eyes.
The aim is to provide a resume of what I have worked on during the week.
What covered in this newsletter
On this one, I cover, WBTC, Boid, Decentraland, and AtomicHub.
You can play the videos directly on the page and have fun, discover hopefully something exceptional that will stimulate your brain.
Last word
If you enjoy it, you can visit my website, subscribe to my YouTube channel Crypto & Coffe, and listen to my outstanding podcast:
Podcast: https://anchor.fm/chesatochi
Website: https://chesatochi.com
Subscribe to my YouTube channel: https://www.youtube.com/c/ChesatochiCryptoCoffee