Elon Musk: "DaddyDoge To Mars!" (video)
"DaddyDoge To Mars!"
As you can see in the video below (recorded on July 14th) this time Elon Musk didn't tweet as usual but answered to a DaddyDoge holder before entering in his car. Even though it didn't look like a direct recommendation by Elon Musk, many crypto traders have joined the flight with this new coin and DaddyDoge did a crazy X10 (+1000%) in less than 24 hours (chart: https://poocoin.app/tokens/0x7cce94c0b2c8ae7661f02544e62178377fe8cf92)
Twitter link video:
https://twitter.com/DaddyDOGEtoken/status/1415394033225117696
I will share with you some shots of DaddyDoge website: https://daddydoge.finance/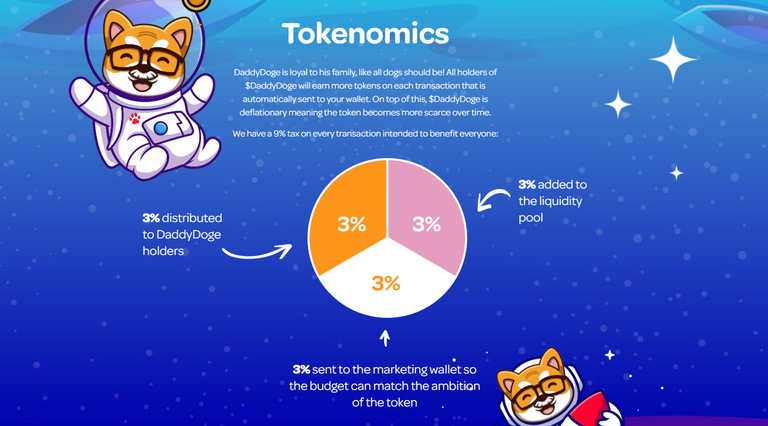 Daddy Doge token runs on Binance Smart Chain and is not yet available in major crypto exchanges, as it can only be purchased via PancakeSwap.
Official Telegram: https://t.me/daddydogetoken
Official Twitter: https://twitter.com/DaddyDOGEtoken
Do your own researches, this in not a financial advise.
Torum: The first social media platform specially designed for cryptocurrency users.
Join Torum, the first social media platform built for cryptocurrency communities around the world, and earn XTM (XTorum) rewards for your daily and weekly engagement. XTM is the BEP-20 utility token of Torum ecosystem and will be listed on exchanges in Q3 2021. Read Torum Whitepaper to figure out XTM token use-cases and the potential of the ecosystem (Crypto-social + DeFi platform + NFT marketplace): https://whitepaper.s3.us-east-2.amazonaws.com/torum-whitepaper-V3.0-EN.pdf
Sign up with my referral link and earn 35 XTM airdrop after email and phone verification: https://www.torum.com/signup?referral_code=makeitreal
---
---