Welcome to the Daily Crypto News: A complete News Review, Coin Calendar and Analysis. Enjoy!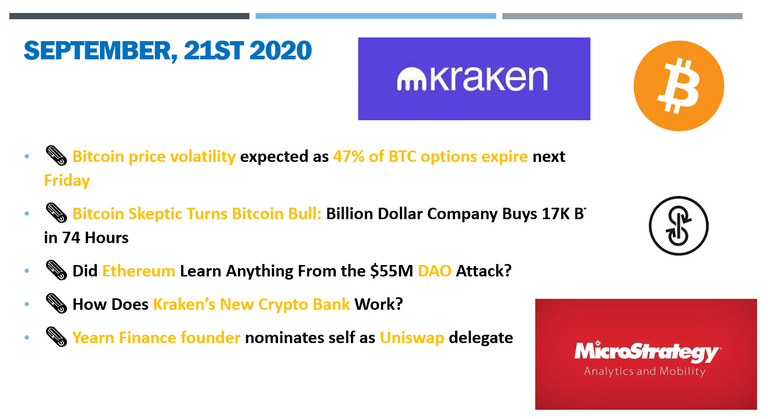 The open interest on Bitcoin (BTC) options is just 5% short of their all-time high, but nearly half of this amount will be terminated in the upcoming September expiry.
Although the current $1.9 billion worth of options signal that the market is healthy, it's still unusual to see such heavy concentration on short-term options.
By itself, the current figures should not be deemed bullish nor bearish but a decently sized options open interest and liquidity is needed to allow larger players to participate in such markets.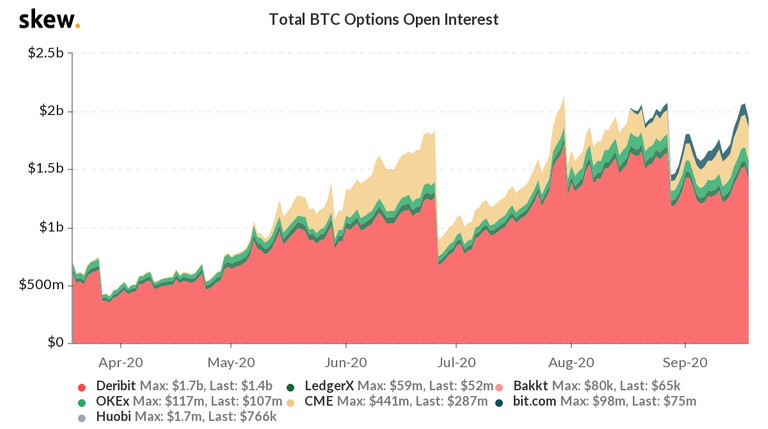 Risk-aversion is currently at low levels
To assess whether traders are paying large premiums on BTC options, implied volatility needs to be analyzed. Any unexpected substantial price movement will cause the indicator to increase sharply, regardless of whether it is a positive or negative change.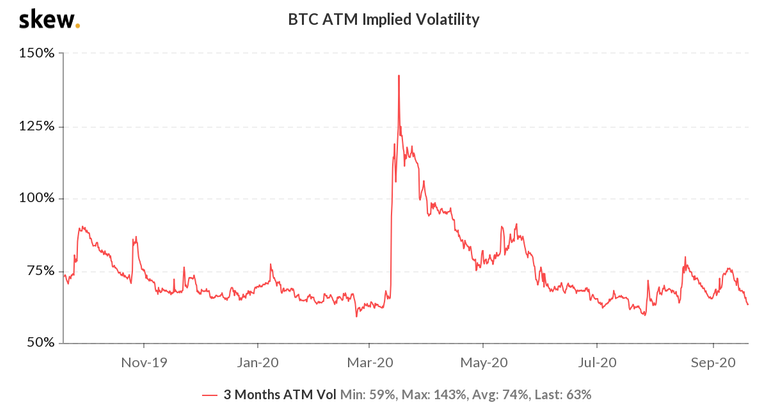 There's an unusual concentration of short-term options
This strategy consists of buying BTC either via spot (regular) or futures markets and simultaneously selling call options.
A covered call is closer to a fixed-income trade, aiming to pocket the substantial option premiums on BTC markets. At expiry, this trader will be liquidating both his positions on spot, futures, and options markets.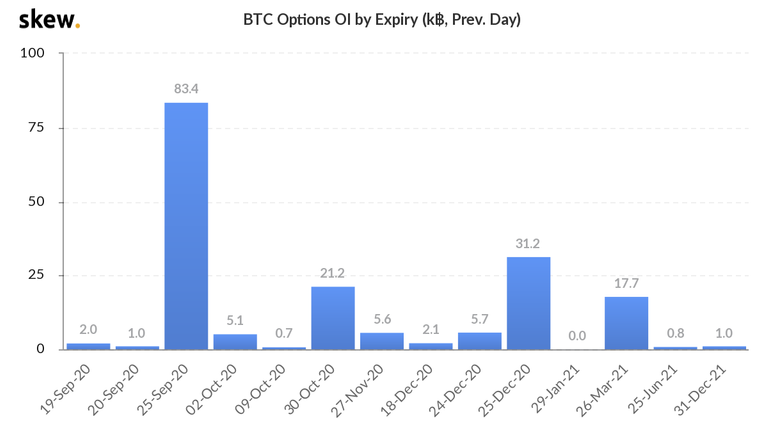 Nasdaq-listed company Microstrategy recently bought almost 17K bitcoins within 74 hours, costing about $175 million. The CEO of this billion-dollar company used to be a bitcoin skeptic but has recently become a bitcoin bull when his company purchased $425 million worth of bitcoin.
Billion Dollar Public Company Dives Into Bitcoin
Microstrategy recently made history in the bitcoin space when it became the first publicly-traded company to spend a material amount of its reserves to buy bitcoin.
Microstrategy CEO Michael Saylor explained on Friday:
To acquire 16,796 BTC (disclosed 9/14/20), we traded continuously 74 hours, executing 88,617 trades ~0.19 BTC each 3 seconds. ~$39,414 in BTC per minute, but at all times we were ready to purchase $30-50 million in a few seconds if we got lucky with a 1-2% downward spike.
Bitcoin Solves Cash Problem, Better Than Gold
The Microstrategy CEO then detailed how his company dived into bitcoin. With a cash-generating business and $500 million cash on hand, he was faced with the challenge of what to invest in to preserve its value.
"First, I have a mega, mega, mega problem and the mega problem is I have a lot of cash and I'm watching it melt away," the CEO shared. He revealed that before investing in bitcoin, he watched many videos, including those by Andreas Antonopoulos, Pompliano, and Dan Held.
Up until it collapsed, The DAO represented the highest technological achievement – and the coming wave of innovation – that the Ethereum blockchain has enabled.
The smart contract and blockchain were interlinked ideas. In Vitalik Buterin's early writings detailing the network of computers that would become Ethereum, the world's second largest by blockchain by market cap but largest by developer activity, he put forward the idea of fully decentralized, autonomous corporations or organizations (or, DACs and DAOs).
The DAO, which got that name for being the first encoded version of the concept, was the proving ground that the disruptive world of venture capitalism could itself be disrupted. Approximately $150 million in ether was contributed to the project, and more than 50 projects were teed up to possibly be funded by a smart contract that no one person owned.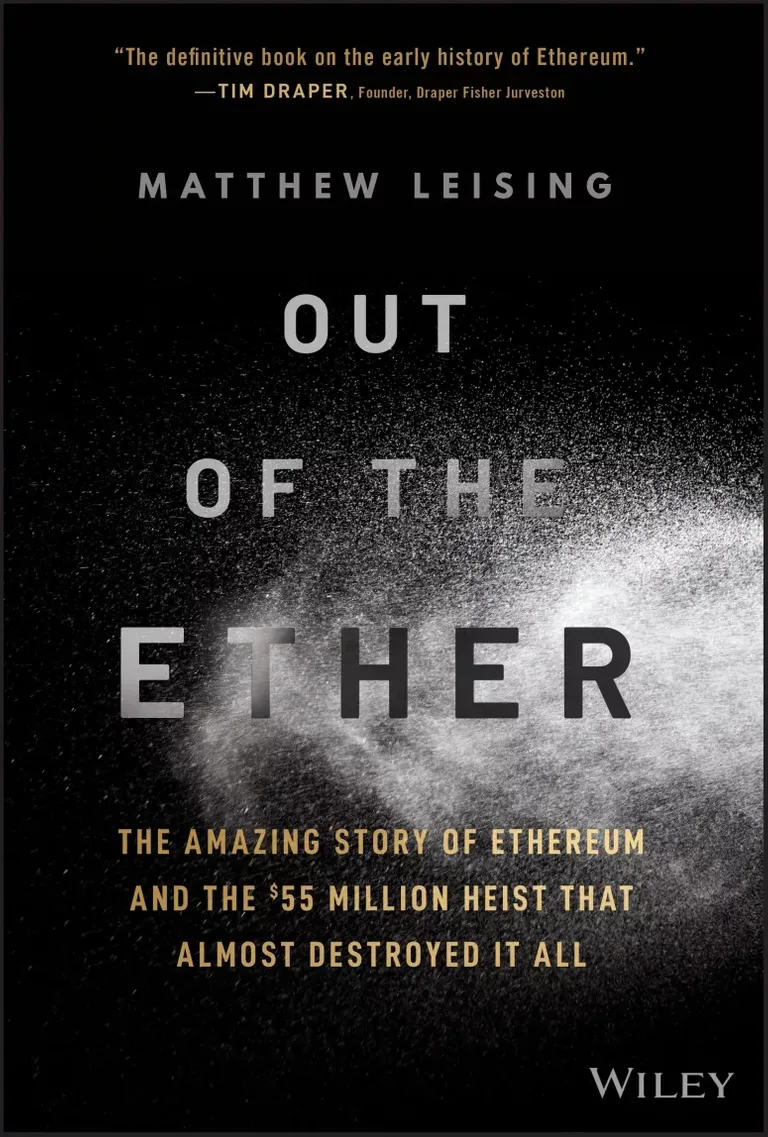 What do you think the most lasting legacy of the DAO hack has been?
I think it had a short living effect. At the time, I think people realized that the smart contract should have been capped, that it shouldn't have been allowed to grow to $150 million in ether, especially for being so new. Ethereum was only a year old at that time. There should have been some emergency stop button or safety hatch, to some way take control if anything went wrong.
This seems like it gets to the fundamental enthusiasm in crypto. People are attracted to risk and volatility.
You definitely can't cap enthusiasm, and I don't think you'd want to. It goes back to the vision Vitalik laid out for a decentralized platform where people could do whatever they want. When you give people that flexibility and creative license, you're going to get crazy projects. The only thing you can do about it is to not participate.
Everyone who is trading crypto at this point should know not to leave your coins on an exchange – that's the dumbest thing you can do.
Despite all the politics and backstabbing, the idea was so good and valid that Ethereum survived.
What were you most surprised to learn about Vitalik while researching the book?
Vitalik really clicked for me after his dad shared some of this document he wrote when he was seven called the encyclopedia of bunnies. It was this 20-page Word document that he wrote because he was absolutely obsessed with bunnies. It's really impressive.
This week Kraken Financial became the first crypto company to receive a banking charter under Wyoming's Special Purpose Depository Institution statute. On this Speaking of Bitcoin episode, join CEO David Kinitsky for a look at what it all means and how it'll work with hosts Adam B. Levine, Andreas M. Antonopoulos and Stephanie Murphy.
From MTGox to crypto banking
In the early days of Bitcoin, there were no rules, or at least none that people understood. The first batch of companies were focused entirely on functionality; Simply making things possible that before crypto had been impossible.
In the aftermath of the collapse of first MTGox and then later TheDAO, it became obvious that rules did apply, or at least would moving forward. But what wasn't very clear was how they'd apply as different regulatory bodies claimed authority in confusing and often conflicting ways.
Link to the podcast here
Yearn Finance founder Andre Cronje puts himself up as a delegate for Uniswap hoping to influence the governance of the protocol.
In a tweet, Cronje said he "will build tooling to facilitate delegation, off-chain voting, and on-chain enforcement" if made a delegate. He added:
"At this point, I do not think it should be a rush to incentivize liquidity pools (this can be abused). I believe we have an opportunity to re-evaluate the tokenomics and distribution. We can help DAI or sUSD reach peg. We can provide support for further development."
Uniswap announced it wants to bring in a "diverse and high-quality set of protocol delegates" who will discuss governance issues over the protocol and its token UNI. According to the network, this governance structure allows UNI holders to be responsible for ensuring the protocol meets compliance standards. Uniswap leadership already promised that they would not participate in the protocol's governance.
As soon as Cronje announced his intention to be a Uniswap delegate, followers asked if it as his intention for the YFI-ETH pool to be included in the UNI liquidity pool. He said:
"At this time, no, it would attract YFI holders to provide liquidity instead of using it for its intended purpose (such as governance). I believe there is better value add that can be done for the overall ecosystem by utilizing UNI incentives in other proposals. To add onto this, there are also other market incentives that can help the overall ecosystem better. A DAI:sUSD pool for example can help both DAI and sUSD pegs. Simply incentivizing liquidity is not a positive sum, this can also be easily abused as "exit" liquidity."
🗞 Daily Crypto Calendar, September, 21st💰

"... Public launch which is set for September 21st."
"Trading Pairs: XFI/USDT | Deposit: September 17, 2020, 12:00 KST | Trading: September 21, 2020, 17:00 KST"
"Uniswap (UNI) is now available on CoinBene... Trading UNI/USDT: 16:00 on Sep.21, 2020 (GMT+8).
"And we're happy to announce the very first VIBE NFT Auction will take place on September 21st!!! Check out our medium blog for..."
"Next Monday, September 21, @avalabsofficial will launch Avalanche's mainnet..."
"Every week our dev-team shares our progress and updates to the Community."
Last Updates


➡️ Be paid daily to browse with Brave Internet Browser
➡️ A secure and easy wallet to use: Atomic Wallet
➡️ Youtube
➡️ Twitter
➡️ Hive
➡️ Publish0x
➡️ UpTrennd
➡️ Read.cash
➡️ LBRY


20% of this article rewards wil go to the @hodl-fund account in order to support HODL Community Initiatives.
Find out more about HODL Community: Crypto Social Community and by following our community account @hodlcommunity

If you would like to delegate some HP to our community and support us; we give you back 90% of the curation rewards on a daily basis ! APR > 12% !
500 HP - 1000 HP - 2500 HP - 5000 HP
Make a good APR Curation by following our HIVE trail here