Welcome to the Daily Crypto News: A complete News Review, Coin Calendar and Analysis. Enjoy!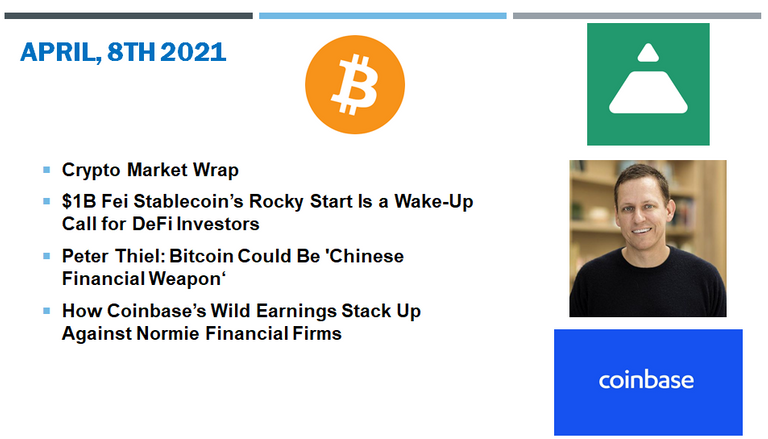 Bitcoin's 24-hour range: $55,541.91-$58,645.77 (CoinDesk 20)
BTC trades below its 10-hour and 50-hour averages on the hourly chart, a bearish signal for market technicians.
Bitcoin slid for a second day as the No. 1 cryptocurrency saw flat trading volume, typical of a rangebound market.
Bitcoin's spot trading volume on eight U.S.-focused crypto exchanges tracked by CoinDesk was largely unchanged on Wednesday. The trading volume has been around or below $3 billion for seven days now.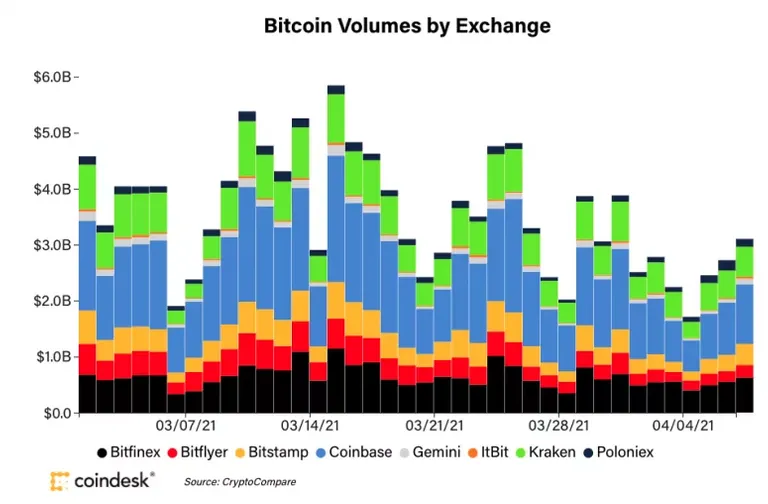 After having logged three days of gains, ether saw a price pullback Wednesday, slipping below $2,000 for the first time since April 3.
Other alternative cryptocurrencies ("altcoins") also suffered losses, according to CoinDesk 20.
Analysts at the cryptocurrency data firm Messari have highlighted the so-called "Coinbase effect" where new digital tokens such as cardano tend to receive a quick price pump after they become available on the U.S. crypto exchange giant Coinbase.
Ether and altcoins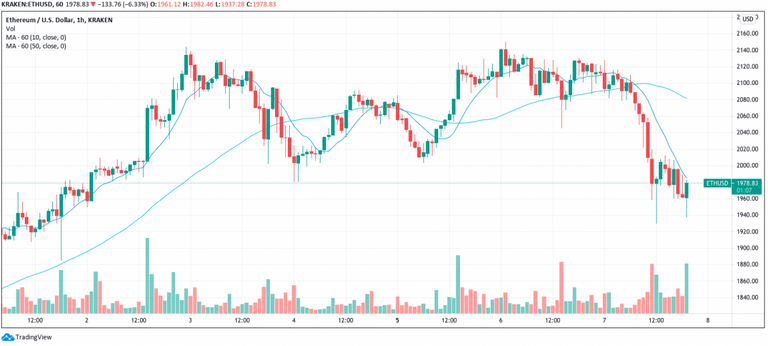 The $1 billion Fei Protocol stablecoin project has gotten off to a very rocky start.
The most important data point is this: Fei was built to maintain a 1:1 peg with the U.S. dollar but it has not quite hit the mark over this first week of its existence.
Backed by major VCs, Fei aimed to create a stablecoin protocol that would outright buy assets with its token, rather than holding them as collateral for loans. It appears the team underestimated the demand it would see to participate in the launch. It also seems clear that many of those who jumped into the project didn't understand Fei's "direct incentive" method for stabilizing the price.
For the first few days FEI danced around a nickel to a dime off the target. Since yesterday it has tanked hard, now almost a quarter off its goal of $1, according to CoinGecko.
FEI'S MAIN TECHNIQUE FOR MAINTAINING ITS PEG TO THE DOLLAR NOT ONLY HASN'T WORKED, EACH TIME IT KICKS IN IT BRIEFLY MAKES MATTERS WORSE.
"It's hard to make an algorithmic stablecoin stick to the peg, and mechanisms are nascent and experimental," said Jake Brukhman, founder and CEO of investment firm CoinFund. "I don't have much skin in the game on $FEI, but I am supportive of figuring it out for the benefit of science and the blockchain space."
Here's a simplified model of how Fei works to help illustrate. Imagine there's a smart contract that simply says: input $100 worth of ether (ETH, the second-largest cryptocurrency by market capitalization) and the contract will issue 100 FEI to whatever wallet sent in the ETH.
Peter Thiel co-founded PayPal and Palantir, and was a prominent Trump backer.
He calls himself a "pro-Bitcoin maximalist."
He thinks China's strategic approach to Bitcoin, and its own digital yuan, should concern America.
PayPal co-founder and venture capitalist Peter Thiel, speaking at a virtual event for the conservative Nixon Seminar on Wednesday, opined on whether China is poised to win a financial arms raise with the United States.
"Even though I'm sort of a pro-crypto, pro-Bitcoin maximalist," Thiel said. "I do wonder if at this point Bitcoin should also be thought of in part as a Chinese financial weapon against the U.S., where it threatens fiat money, but it especially threatens the U.S. dollar."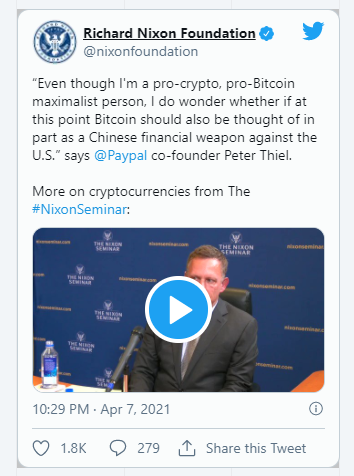 The question Thiel was ostensibly answering wasn't about Bitcoin per se, but about China's plan to create a digital yuan. Moderator Hugh Hewitt wanted to know if the digital yuan is a "threat to the dollar and its dominance of world markets."
Based on earnings estimates announced Tuesday, nothing else in the financial services industry really compares to Coinbase right now.
Wedded to the rising fortunes of cryptocurrencies themselves, soon-to-list Coinbase expects to make more money in the first quarter of this year than in all of 2020, and has seen an exponential rise in engaged customers.
Ahead of next week's listing of COIN stock, the obvious question is whether the current quarter is an outlier or, as some stolid crypto believers may be thinking, the new normal.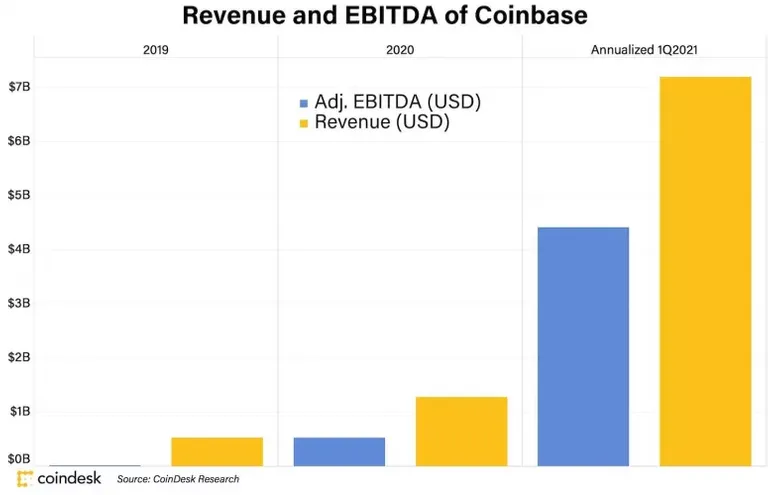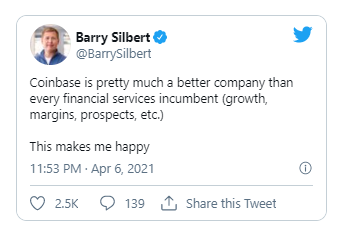 Coinbase vs. everyone
Schwab added 15.77 million new clients in the fourth quarter, which includes 14.5 million new brokerage accounts from the TD Ameritrade merger. The merged company now has about 29 million brokerage accounts and handled some $6.69 trillion in client assets at the end of 2020.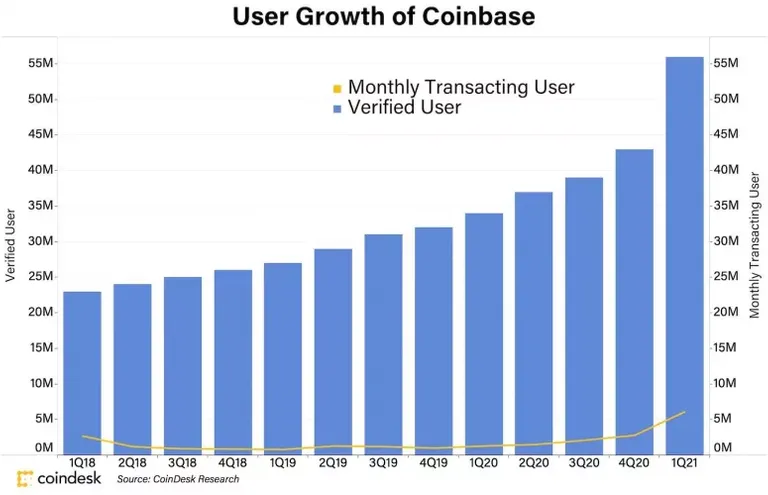 🗞 Daily Crypto Calendar, April, 8th💰

"Prop #41 to upgrade to Kava 5 release is now in voting period. Kava 5 is proposed to upgrade at 15:00UTC April 8th."
"I am Excited to announce that the DeLorean will be availble on April the 8th"
"A NGM/ETH Liquidity Pool will be created on Uniswap."
"Jay Zhang of VeChain will take part in this panel discussion looking at how blockchain solves food safety challenges."
"DEGO/BNB Liquidity be enhanced on #Pancakeswap by 8th April"


➡️ Youtube
➡️ LBRY
➡️ Twitter
➡️ Hive
➡️ Publish0x
➡️ Den.Social
➡️ Torum
➡️ UpTrennd
➡️ Read.cash
➡️ Spotify
➡️ Be paid daily to browse with Brave Internet Browser
➡️ A secure and easy wallet to use: Atomic Wallet
➡️ Invest and Trade on Binance and get a % of fees back
➡️ Check out my video on Unstoppable Domains and get 10$ off a 40$ domain purchase
➡️ Get 25$ free by ordering a free Visa Card on Crypto.com using this link or using this code qs4ha45pvh


20% of this article rewards wil go to the @hodl-fund account in order to support HODL Community Initiatives.
Find out more about HODL Community: Crypto Social Community and by following our community account @hodlcommunity

If you would like to delegate some HP to our community and support us; we give you back 90% of the curation rewards on a daily basis ! APR > 12% !
500 HP - 1000 HP - 2500 HP - 5000 HP
Make a good APR Curation by following our HIVE trail here