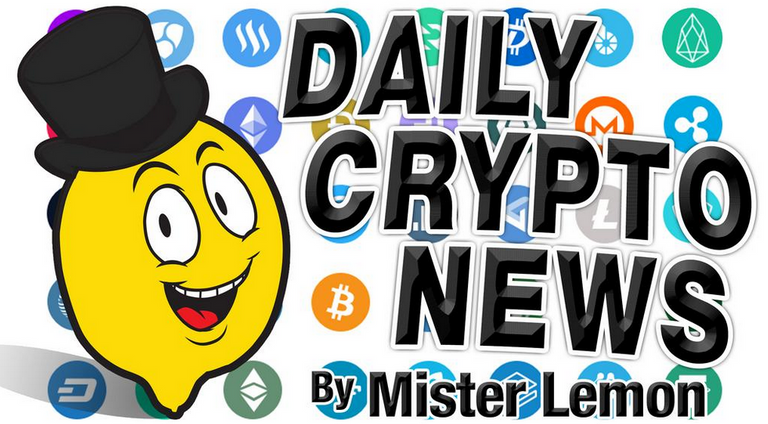 Bitcoin's Powell-Induced Price Swing; Ethereum Still High on Gas;
Commentary: Fed Chair Jerome Powell Details Inflation Target Changes;
The Robonomics token is trading for $95,000 each on Uniswap;
Wasabi Wallet Is Revamping Its CoinJoin Design to Allow Bitcoin Mixing With Differing Values;
'Irrational, even by crypto standards': KSM moons as Kusama looks to Mars;
🗞 Daily Crypto Calendar, August, 28th 💰
Welcome to the Daily Crypto News: A complete Press Review, Coin Calendar and Trading Analysis. Enjoy!
Bitcoin's rally lost power after a speech by the Federal Reserve chief; Ethereum gas usage hits another record.
Bitcoin (BTC) trading around $11,251 as of 20:00 UTC (4 p.m. ET). Slipping 1.8% over the previous 24 hours.
Bitcoin's 24-hour range: $11,130-$11,596
BTC below its 10-day and 50-day moving averages, a bearish signal for market technicians.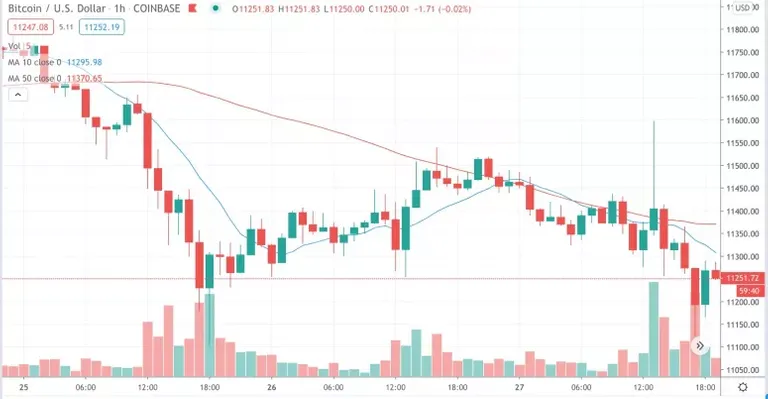 Thursday featured a highly anticipated speech by Federal Reserve Chair Jerome Powell highlighting U.S. dollar inflation. During the hour Powell spoke, spot bitcoin hit as high as $11,596 on Coinbase. However, it lost steam and dropped $466 to $11,130 before New York traders were eating their lunch.
The bitcoin market may see more exciting action Friday, when over 66,400 BTC in open interest options are set to expire.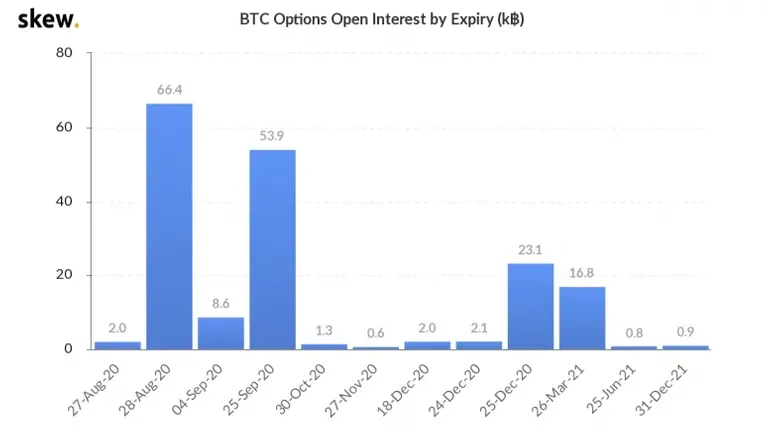 Total gas, a unit of account for transactions and smart contract usage on the network, used on Ethereum per day hit 79,294,223,632 units on Sunday, an all-time high. Wednesday was the second-highest gas day, with 79,255,713,214 used.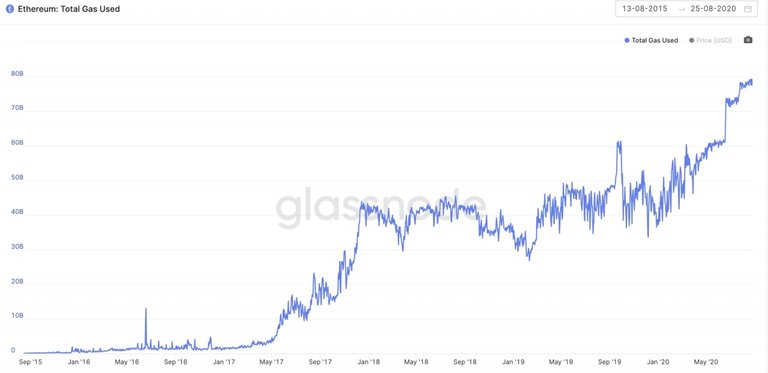 Federal Reserve Chairman Jerome Powell announced measures to control inflation at his annual speech on the U.S. central bank's policy approach during the Jackson Hole symposium Thursday.
Bitcoin's price rises 1.8% during Powell's speech.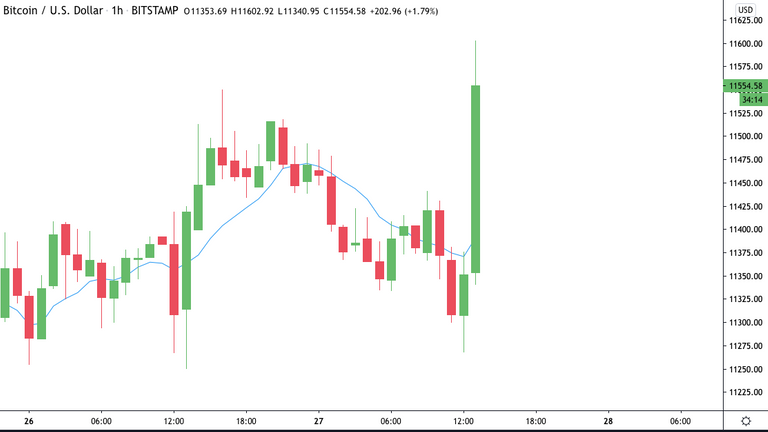 The Fed just confirmed it's going to look for increasing inflation at times when needed. In an update to its statement of monetary policy strategy, the Fed says that if inflation falls below its 2% target consistently (as it has for most of the last decade), it will target inflation above 2%.
Powell notes interest rates are close to the "lower effective bound" i.e. zero "even in good times" – while noting that productivity growth has declined in recent years – the ultimate driver of underlying economic growth.
Powell is opening his remarks by explaining the history of the Fed's current inflation targets and why the central bank has approached previous targets the way it has.
"Inflation targeting was also associated with increased communication and transparency, designed to clarify the central bank's policy intentions," he said. Bit of tea leaf reading but it sounds like he's expecting a change.
And, of course, monetary policy has evolved, he noted.
The highly-anticipated launch of Polkadot's (DOT) mainnet has seen many smaller crypto assets associated with the project explode recently.
Both tokens of the distributed ledger technology (DLT)-powered robotics and Internet-of-Things (IoT) project Robonomics have been among those to surge alongside Polkadot, with the price of its utility token XRT increasing 10 times earlier this month.
However, Robonomics' "lifetime subscription token," Robonomics Web Services (RWS), has also posted massive gains — becoming the first crypto token to trade for more than $100,000 when it tagged $116,000 in recent weeks.
Robonomics leverages blockchain technology to build open-source packages supporting robotics and smart cities. The RWS token comprises a "subscription model experiment" for the Robonomics network, with RWS guaranteeing lifetime transactional throughput to the holder.
Each token guarantees one transaction per second between the Robonomics Parachain and the token-holders' IoT device, or 2.5 million transactions per month. Transactional throughput is also guaranteed to fractional RWS owners — with holders of 0.1 RWS gaining access to one transaction every 10 seconds, while owners of 0.001 RWS can execute a transaction once every 100 seconds, and so on.
Privacy-focused Bitcoin software wallet Wasabi is getting a major protocol overhaul.
The Wasabi team is working on a new protocol design, dubbed WabiSabi, in a bid to improve the user experience and privacy guarantees of the wallet's CoinJoin transactions. The major design change would allow users to coinjoin with different values than their peers, a first for the privacy-minded technology that could lead to new (and more flexible) use cases. Wasabi has been conceptualizing the design in a research group since the beginning of 2020 and has hired team members to work on the implementation.
Currently, Wasabi's CoinJoin – a mixing protocol that, when used correctly, can obscure a bitcoin's transaction history – relies on the ZeroLink protocol and blind signatures for mixing. Under this scheme, users must spend a set minimum amount of bitcoin with other users in a mixing pool for the CoinJoin to work successfully; these like amounts are shuffled together in a pool, after which each user receives the same amount of bitcoin back in a way that doesn't reveal their original input.
The new protocol is a technical casserole that combines Pedersen commitments and keyed-verification anonymous credentials (KVAC), a feature used for group messaging on the encrypted chat app Signal.
Polkadot's 'canary network' has tripled in price this month, with Kusama having unveiled an ambitious plan to relay blockchain transactions from Mars.
Less than six months ago, KSM was trading for only $1.50. Kusama is now the 62nd-largest crypto asset with a $253 million market cap and a $34 million 24-hour trade volume.
Remarking on KSM's aggressive gains, Messari's Wilson Withiam tweeted:
"The once wholly experimental, unaudited trial network meant to serve as a sandbox for Polkadot developers is now worth almost $300M."
Following Kusama's recent hackathon, the project has launched an ambitious project in partnership with fellow Polkadot ecosystem member Robonomics to develop "an interplanetary architecture of the Kusama network" capable of relaying data between Mars and Earth.
The project, dubbed 'Kusama on Mars', will seek to mitigate the changing signal transit time resulting from the constant motion of the planets by building a parachain with "non-constant block time."
🗞 Daily Crypto Calendar, August, 28th💰

"New #Qtum Mainnet Release Qtum v0.19.1 - Hard Fork - Mandatory update - Offline #Staking"
"Offline #Staking is going live August 28th, be prepared!"
Aave (LEND), Ampleforth (AMPL), Balancer (BAL), Celsius (CEL), Chainlink (LINK), General Event (CRYPTO), Ethereum (ETH), The Force Protocol (FOR), Harmony (ONE), Kyber Network (KNC), Loopring (LRC), Matic Network (MATIC), Nexus (NXS), Ontology (ONT), Orchid (OXT), Ren (REN), iExec RLC (RLC), Synthetix Network Token (SNX)
Smart Contract Summit online from August 28th - 29th.
"We are joining @qtum testnet to implement offline staking after the Qtum mainnet hard fork expected on August 28!"
Binance Coin (BNB)
"... Scheduled hard fork upgrade at block height 109,999,000... forecasted to be around 2020/08/28 at 6:00 AM (UTC)."
Last Updates


➡️ Be paid daily to browse with Brave Internet Browser
➡️ A secure and easy wallet to use: Atomic Wallet
➡️ Youtube
➡️ LBRY
➡️ Publish0x
➡️ UpTrennd
➡️ Read.cash
➡️ Minds
➡️ Hive
➡️ Twitter
➡️ Facebook


20% of this article rewards wil go to the @hodl-fund account in order to support HODL Community Initiatives.
Find out more about HODL Community: Crypto Social Community and by following our community account @hodlcommunity

If you would like to delegate some HP to our community and support us; we give you back 90% of the curation rewards on a daily basis ! APR > 12% !
500 HP - 1000 HP - 2500 HP - 5000 HP
Make a good APR Curation by following our HIVE trail here