Welcome to the Daily Crypto News: A complete News Review, Coin Calendar and Analysis. Enjoy!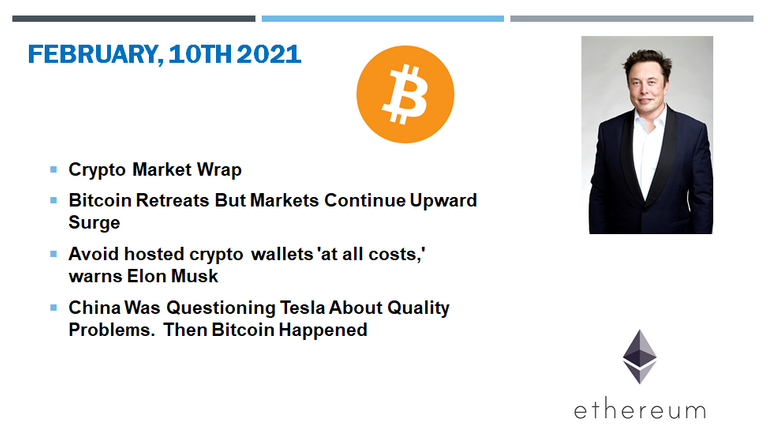 Bitcoin and ether surpassed Monday's price records. In ether's case, CME's futures launch has given the asset more credibility than ever before.
Bitcoin (BTC) trading around $47,174 as of 21:15 UTC (4:15 p.m. ET). Gaining 7.1% over the previous 24 hours.
Bitcoin's 24-hour range: $43,948-$48,226 (CoinDesk 20)
BTC well above the 10-hour and the 50-hour moving average on the hourly chart, a bullish signal for market technicians.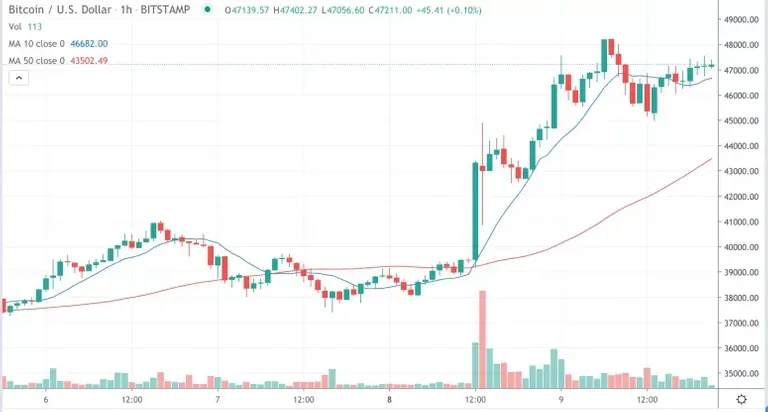 Kogan made an extremely optimistic forecast to CoinDesk. "If all S&P 500 companies allocate at least 1% of their treasury, the price of bitcoin would increase by about $40,000."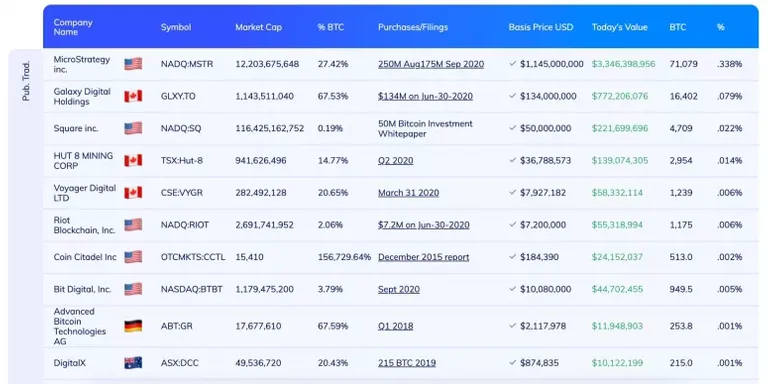 Ether futures volume $33 million first day on CME
"We expect some exhaustion on ether coming from the price itself, above $2,200, but also from the fees to use the network itself while solutions are being built to tackle this issue," said Jean-Baptiste Pavageau, partner at quantitative trading firm ExoAlpha.
Monday was the first day for ether futures contracts on the commodity bellwether Chicago Mercantile Exchange. In total, there were 388 ether contracts traded by volume on the day. Each contract is 50 ETH each. At CME's closing reference rate Monday of $1,732, there was $33.6 million in volume the first day, with $19.7 million in open interest at the close.
Investors will be keeping an eye on this market. Outside of CME, ether futures are already an almost-$6 billion market, with Binance leading the way with $1.3 billion in open interest Monday.
Bitcoin's price slides but global market cap continued to climb.
Ethereum and its DeFi related products continue to surge.
US stock markets continue to break records as earnings season continues to defy predictions.
While the headlines have been dominated by Bitcoin's record breaking run, today was a reminder that crypto isn't just Bitcoin.
The world's largest cryptocurrency pulled back by 2.8% as trading volume slumped by 23% after it hit an all-time high of $47,044, according to data company Nomics. But despite its dominant position, global market cap continued to rise.
DeFi projects, Uniswap, AAVE and Synthetix, which are all built on Ethereum, all saw double digit gains, with Synthetix up 29%. It was a similar story across almost all of the markets: Cardano was up 15%, Hex up 21% and Binance coin up 43%.
Freewallet, a hosted crypto wallet service known for offering standalone storage services for cryptocurrencies has seen its marketing attempt rebuffed by Elon Musk.
Responding to Freewallet's self-promotional message, Musk retorted: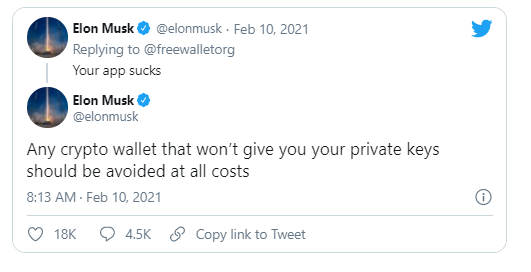 Hosted crypto wallet platforms like Freewallet are often targets for criticism over the storage of their user's private keys.
This policy flies in the face of the "not your keys, not your coins" ethos propounded by cryptocurrency purists.
By storing private keys on third-party platforms, crypto owners run the risk of rogue actors gaining access to this sensitive bit of information and compromising their wallets in the process.
Tesla's $1.5 billion bitcoin investment couldn't have come at a better time for the electric car manufacturer. As it happened, about the time the company revealed its massive stake in the cryptocurrency on Feb. 8, Chinese officials had announced that five agencies were questioning Tesla about quality and safety issues.
Specifically, China's State Administration for Market Regulation issued this short statement on Feb. 8 at 8:00 p.m. China Standard Time (12:00 UTC):
"Recently, the General Administration of Market Supervision and the Central Cyberspace Administration of China, the Ministry of Industry and Information Technology, the Ministry of Transport and the Fire Rescue Bureau of the Ministry of Emergency Management have jointly held talks on the consumer-reported abnormal accelerations, battery fires, and over-the-air (OTA) upgrades. Tesla Motors (Beijing) Co., Ltd. and Tesla (Shanghai) Co., Ltd. are required to strictly abide by Chinese laws and regulations, strengthen internal management, implement the main responsibility of corporate quality and safety, effectively maintain social public safety and effectively protect consumers legal rights and interests."
🗞 Daily Crypto Calendar, February, 10th💰

Please join the QiSwap AMA in the Qtum Telegram qtumofficial Wednesday, February 10th, at 2 pm GMT.
Blockmason Credit Protocol (BCPT), CyberMiles (CMT), Time New Bank (TNB), VIBE (VIBE)
"Binance Will Delist $BCPT, $CMT, $TNB & $VIBE on 2021-02-10"
Neutrino System Base Token (NSBT), Waves (WAVES)
"The snapshot for the airdrop will take place at 2021-02-10 0:00 AM (UTC)."
"Reminder: $LINA rewards have been distributed, please claim these rewards via buildr.linear.finance at your earliest convivence."
We are pleased to announce new Crypto Asset that will be added to the Indodax marketplace, @hedera (HBAR).
"WIP-27: Should we allocate 10K $WING to a partnership fund?"
Wabi founders answering your questions and sharing news, announcements in Wabi Telegram group.


➡️ Youtube
➡️ Twitter
➡️ Hive
➡️ Publish0x
➡️ UpTrennd
➡️ Read.cash
➡️ LBRY
➡️ Spotify
➡️ Be paid daily to browse with Brave Internet Browser
➡️ A secure and easy wallet to use: Atomic Wallet
➡️ Invest and Trade on Binance and get a % of fees back
➡️ Check out my video on Unstoppable Domains and get 10$ off a 40$ domain purchase
➡️ Get 25$ free by ordering a free Visa Card on Crypto.com using this link or using this code qs4ha45pvh


20% of this article rewards wil go to the @hodl-fund account in order to support HODL Community Initiatives.
Find out more about HODL Community: Crypto Social Community and by following our community account @hodlcommunity

If you would like to delegate some HP to our community and support us; we give you back 90% of the curation rewards on a daily basis ! APR > 12% !
500 HP - 1000 HP - 2500 HP - 5000 HP
Make a good APR Curation by following our HIVE trail here