Welcome to the Daily Crypto News: A complete News Review, Coin Calendar and Analysis. Enjoy!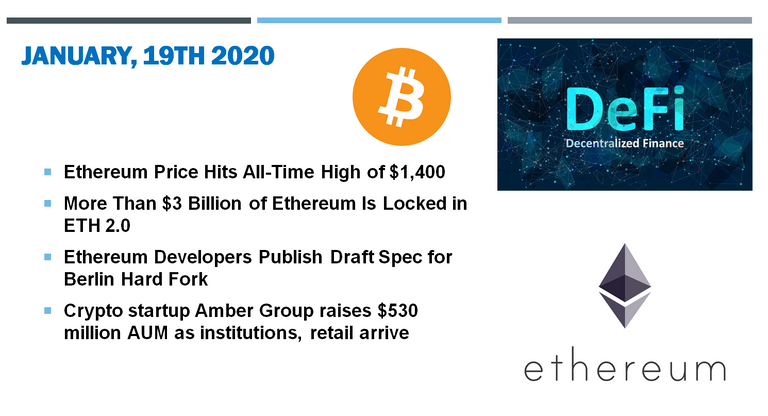 Much of the talk in crypto (and mainstream financial) circles over the last month has been on Bitcoin's historic price run. Three months ago it was lounging in the $11,000 range; now it's pushing $40,000.
Whether it's trickle-down cryptonomics, a rising tide lifting all boats, a newly launched proof-of-stake chain, or something else, Ethereum has been making moves too.
The price of Ethereum has increased 14% in the last 24 hours, according to data from CoinMarketCap, to hit $1,400. That's above Ethereum's all-time high of $1,396, according to the data site.
The coin has been on a tear recently, rallying from $730 at the start of the year up to $1,270 in little over a week. Since then the coin saw a price correction to the $900 mark before pressure starting building back again.
Roughly 2.6 million out of the currently existing 114.3 million Ethereum (ETH) coins in supply has already been sent to Ethereum 2.0, according to crypto metrics platform Dune Analytics.
That's worth $3.2 billion at current prices.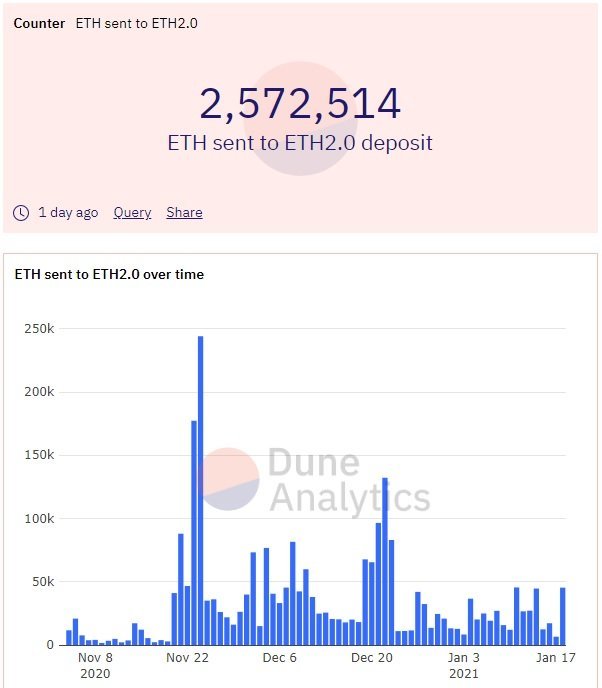 Ethereum 2.0—which went live on December 1—is the multi-stage blockchain overhaul that aims to shift Ethereum from its current proof-of-work consensus algorithm to a proof-of-stake-based one.
To launch Ethereum 2.0 initially, users needed to stake at least 524,288 ETH on it. There is now 4.9 times more ETH staked than that.
According to CryptoQuant, over 4,800 users have deposited 32 (the minimum amount required for staking) or more ETH to the blockchain's 2.0 iteration.

Proof of stake allows validators to stake their tokens for the right to verify a transaction. They are selected to propose a block based on how much crypto they hold—and for how long.
ETH 1.0 hard fork coordinator James Hancock has published draft specifications for the next Ethereum upgrade, dubbed Berlin.
The draft comprises Ethereum Improvement Proposals (EIPs) and a readiness checklist showing whether the code for each proposal has been merged into participating clients.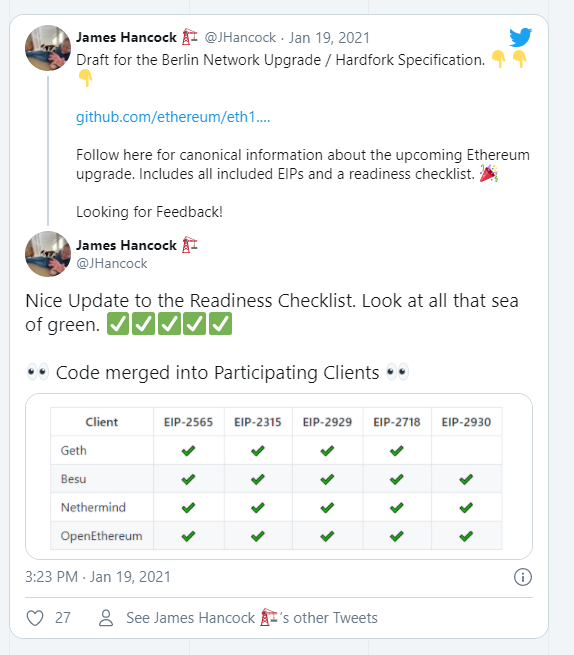 Berlin is an update for the current Ethereum 1.0 proof-of-work blockchain. It aims to introduce a number of improvements while more work continues to be done on Ethereum's 2.0 proof-of-stake platform.
The update was postponed in June 2020 due to its "critical dependence" on the Geth client. The developers agreed that a failure in the client could have caused a complete breakdown of the Ethereum blockchain
The crypto-finance service provider tells Cointelegraph that its assets under management, or AUM, reached $530 million in 2020, representing a 275% increase from the previous year. Over 500 institutions have contributed to Amber's suite of investment products, which includes fixed-income, yield enhancement and margin trading.
Although institutions were the main driving force behind Amber's initial growth, especially among financial managers, family offices and other high net-worth clients, its retail-facing business has also seen significant uptake. The Amber App, which launched in September, has attracted over 35,000 sign-ups at the time of writing.
Michael Wu, Amber's CEO, tells Cointelegraph that his firm has "already proven we can provide institutional-grade integrated crypto financial services."
He continued:
"So when we brought the same institutional-grade crypto finance to global individual users through our product offerings, we quickly found the product-market fit and received trust and adoption from our global userbase."
🗞 Daily Crypto Calendar, January, 19th💰

"$XRP will be delisted from the Crypto.com App in the U.S. effective Jan 19th, 2021 at 10am UTC."
"SMARTKEY TEAM INTERVIEW IN NTA – THE LARGEST TV NETWORK IN NIGERIA."
"#COCOS reduction plan will officiallly resume starting on January 19th,2021"
14th BNB burn starts within approximately 48 hours of January 17th.
"You are able to deposit your XSN today, 12 January 2021, and trading will go live on 19 January 2021 at 12:00 UTC."


➡️ Youtube
➡️ Twitter
➡️ Hive
➡️ Publish0x
➡️ UpTrennd
➡️ Read.cash
➡️ LBRY
➡️ Spotify
➡️ Be paid daily to browse with Brave Internet Browser
➡️ A secure and easy wallet to use: Atomic Wallet
➡️ Invest and Trade on Binance and get a % of fees back
➡️ Check out my video on Unstoppable Domains and get 10$ off a 40$ domain purchase
➡️ Get 25$ free by ordering a free Visa Card on Crypto.com using this link or using this code qs4ha45pvh


20% of this article rewards wil go to the @hodl-fund account in order to support HODL Community Initiatives.
Find out more about HODL Community: Crypto Social Community and by following our community account @hodlcommunity

If you would like to delegate some HP to our community and support us; we give you back 90% of the curation rewards on a daily basis ! APR > 12% !
500 HP - 1000 HP - 2500 HP - 5000 HP
Make a good APR Curation by following our HIVE trail here