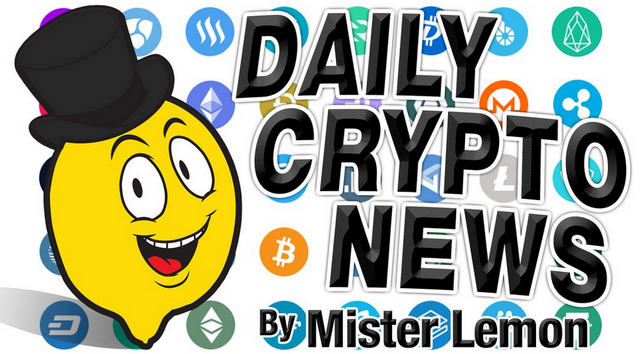 Bad Day for Stocks Sends Bitcoin Price Below Key $9.3K Support;
Coinbase Eyeing US Stock Market Listing as Early as This Year;
'Significant' Ethereum Rally Signals New Altcoin Season — Peter Brandt;
'Libra Will Never See The Light Of Day': Monetary Historian;
WikiLeaks Shop Now Accepts Bitcoin Lightning Payments;
🗞 Daily Crypto Calendar, July, 10th 💰
Welcome to the Daily Crypto News: A complete Press Review, Coin Calendar and Trading Analysis. Enjoy!
Bitcoin price dropped below $9,200 as stocks were rattled by the U.S. Supreme Court decision on President Trump's tax returns.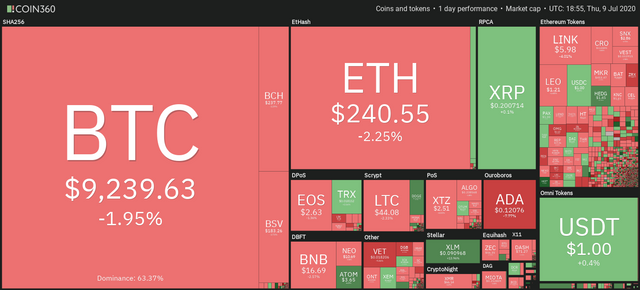 The mild correction occurred as the Dow pulled back 370 points and the S&P 500 and Nasdaq also saw small losses. Gold also pulled back 0.92% but still is only $17 away from its recent high at $1,818.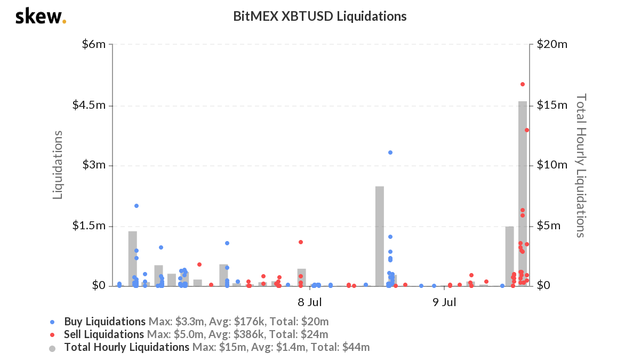 The drop below $9,200 resulted in $15 million in BitMEX liquidations and at the time of writing the price is pinched between the 100-MA and the descending trendline from the local high at $10,376.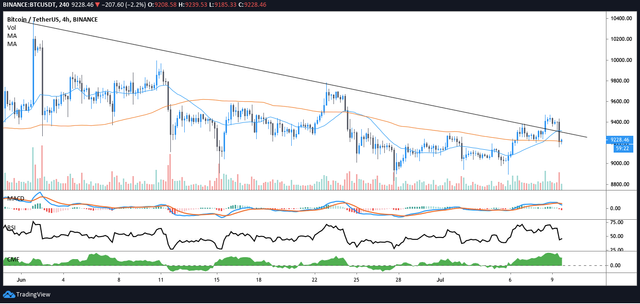 Coinbase Inc is planning a U.S. stock market listing for later this year or early 2021, Reuters reported on Thursday.
The plan is subject to approval by the U.S. Securities and Exchange Commission. If successful, Coinbase could become the first major American cryptocurrency exchange to go public.
Instead of an initial public offering (IPO}, where new shares are created, Coinbase is considering a direct stock market listing, Reuters reported, quoting three sources familiar with the plans.
In a direct listing, "no new shares are created and only existing, outstanding shares are sold," eliminating the risk of diluting existing shareholding. Existing investors are not bound by any lockup period and can sell their shares directly to the public.
UC Berkeley professor Barry Eichengreen argues that Facebook's planned Libra stablecoin faces too many "insoluble" problems, and too much resistance from governments, to ever launch.
"Libra is an interesting idea that will never see the light of day," he told the Unitize conference on July 10.
Eichengreen asserts that the stablecoin sector is largely ignorant of monetary economics and history. He said his economic work had led to invitations "to a series of lunches at excellent San Francisco restaurants with the founders and funders of prospective stablecoins."
Ethereum price saw a bullish breakout against Bitcoin on July 9 and veteran trader Peter Brandt believes this could trigger a new altcoin season.
Popular trader Peter Brandt believes that Ether (ETH) saw a significant breakout in its ETH-BTC pair on July 9. According to the veteran trader, the breakout could be a signal that a new altcoin season could occur in the near-term.
Brandt tweeted:
"Significant breakout in ETH-BTC with target of .03276 BTC. Most alts should gain on Bitcoin in near future."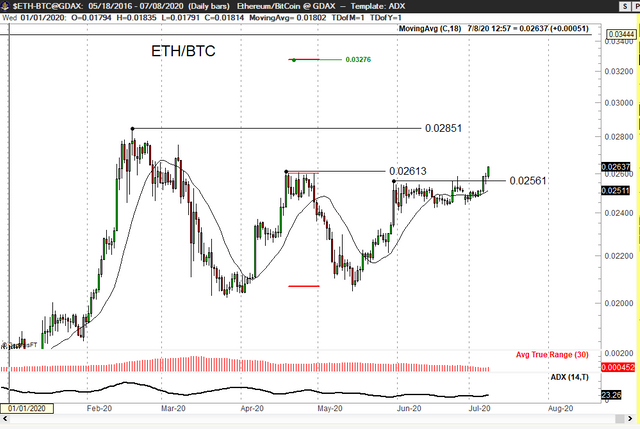 The official WikiLeaks Shop, an offshoot of the non-profit infamous for leaking government secrets, now accepts bitcoin Lightning payments.
All proceeds from the online store, which sells WikiLeaks T-shirts and other swag, goes to fund WikiLeaks operations. The shop already accepts bitcoin and other popular cryptocurrencies for payments. Now, as of Tuesday, it also accepts bitcoin payments via Lightning, making the WikiLeaks Shop one of the earliest vendors to do so.
The Lightning Network supports a newer, faster type of bitcoin transaction that could potentially help bitcoin scale to support many more users. But using Lightning is still somewhat experimental and risky, compared to sending transactions directly to the Bitcoin blockchain.
🗞 Daily Crypto News, July, 10th💰

"AToken will integrate its VEX coin and support sending & receiving on AToken on 10th July 2020. Airdrop program to give away 100,000 VEX."
General Event (CRYPTO), VeChain (VET)
World Artificial Intelligence Conference 2020 from July 9th to 11th in Shanghai, China.
"Team coins are disabled till 10th July or longer ! It means we will continue to not sell any single UVU ."
"We're having an unprecedented AMA with 5 ETC dev teams at once on July 10th, 14:00 UTC!"
"Reminder that the vote for ZEIP-79 is live and will run through July 10th!"
Last Updates


➡️ Publish0x
➡️ UpTrennd
➡️ Minds
➡️ Hive
➡️ Twitter
➡️ Facebook
➡️ Be paid daily to browse with Brave Internet Browser
➡️ A secure and easy wallet to use: Atomic Wallet
Proud member of: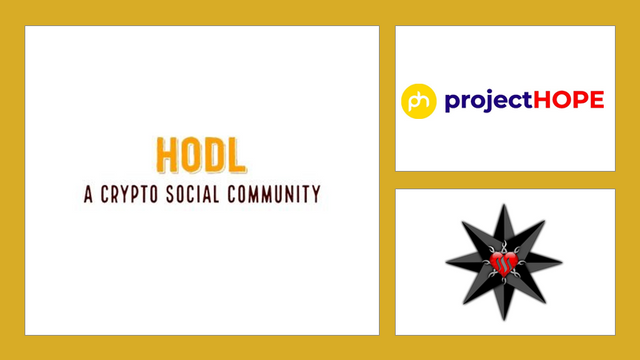 20% of this article rewards wil go to the @hodl-fund account in order to support HODL Community Initiatives.
Find out more about HODL Community: Crypto Social Community and by following our community account @hodlcommunity

If you would like to delegate some HP to our community and support us; we give you back 90% of the curation rewards on a daily basis ! APR > 13% !
500 HP - 1000 HP - 2500 HP - 5000 HP
Make a good APR Curation by following our HIVE trail here