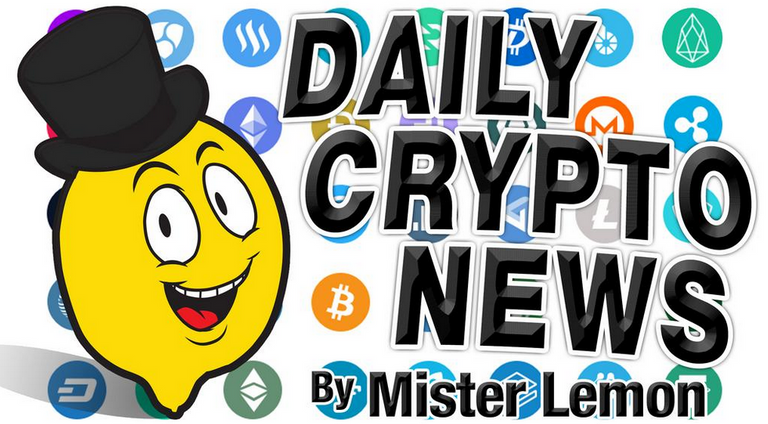 Bitcoin Price Stalls at $9,300, Altcoins Rally to New Multi-Year Highs;
Dogecoin Volumes Spike 1,900% in 2 Days Amid Viral TikTok Videos;
DeFi Driving Chainlink's Link Token to Record Highs;
Renters Threaten US Real Estate Market, 20 Million Americans Face Eviction;
Coinbase Exec Says Capital Will Flee US Due to Crypto Tax Laws;
🗞 Daily Crypto Calendar, July, 8th 💰
Welcome to the Daily Crypto News: A complete Press Review, Coin Calendar and Trading Analysis. Enjoy!
Within the last few hours Bitcoin (BTC) price pushed above $9,300 after struggling to hold the $9,300-$9,400 level for the past three days.
The move was accompanied by a notable surge in purchasing volume which is exactly what is needed given that on July 6 and 7 the Bitcoin price formed a tweezer top and rejected at $9,374.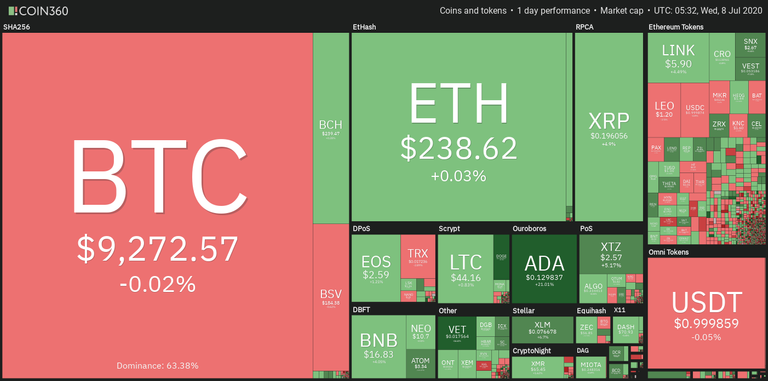 Currently the price trades slightly above the 20-MA and the descending trendline from the local high at $10,377 on June 1 but Bitcoin's failure to hold the $9,300 level means that a shot at $9,600 remains out of reach.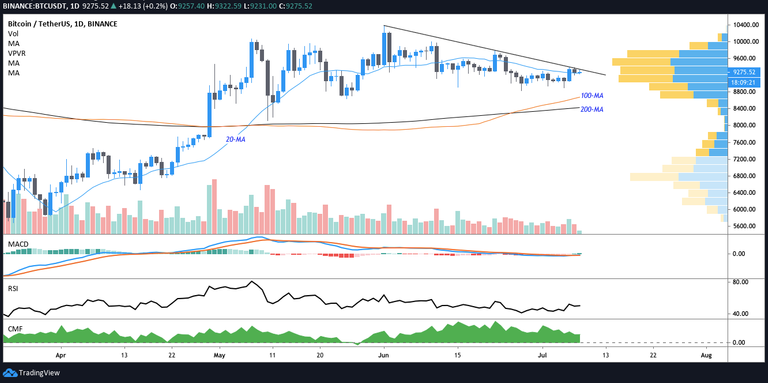 Traders will be watching to see if the price can secure a 4-hour close above $9,300 and if Bitcoin can push through the $9,450 level then a surge to $9,600 is likely.
If Bitcoin price fails to hold $9,300, the 4-hour time frame shows support at $9,225 and below this at $9,000.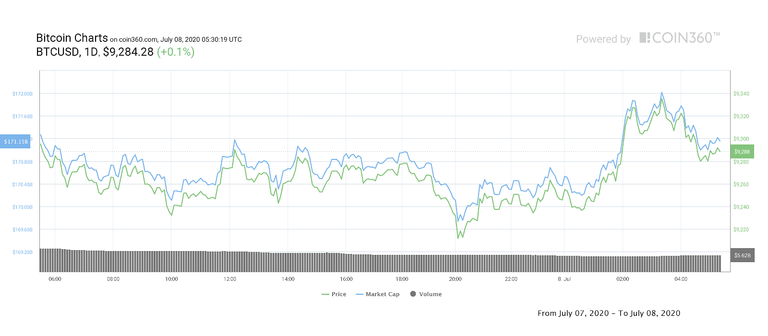 Social media has thrown dogecoin traders a treat.
Trading volumes for the Shiba Inu meme-based cryptocurrency spiked nearly 2,000% in the last two days, according to data from Messari, as videos on TikTok encouraged users to invest. The whimsical asset's price climbed 35% to $0.035 over the same period.
Dogecoin is a "joke cryptocurrency," according to one of its founders, Jackson Palmer. As such, impromptu social media-based frenzies may be a fitting use case. Daily volume for the cryptocurrency stayed well below $5 million for the past two months.
"The recent rise of dogecoin, a meme coin, should serve as a reminder to everyone in the space that the most popular use case for crypto is still purely speculation," said Anil Lulla, former analyst at Bloomberg and co-founder of cryptocurrency research firm Delphi Digital.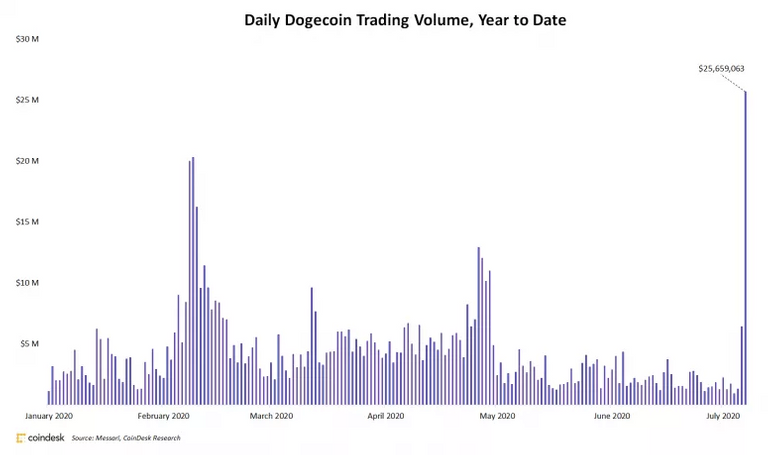 Global search interest in "how to buy dogecoin" also skyrocketed from a score of 25 to 100, the highest possible search popularity score, over the past few days, according to 12-month Google Trends data analyzed by CoinDesk.
Chainlink's link token jumped to record highs on Monday, far surpassing bitcoin's returns since the start of 2020. The ever-increasing use of Chainlink's price oracles in decentralized finance (DeFi) is driving the cryptocurrency higher, according to analysts.
The 12th largest cryptocurrency by market value clocked a lifetime high of $5.72 at 11:45 UTC (7:45 a.m. ET) and was last trading at $5.65, representing over 200% gains on a year-to-date basis.
Meanwhile, bitcoin is down more than 50% from its lifetime high of $20,000 reached in December 2017 and has gained only 29% so far this year, according to data source Coin Metrics.
The link cryptocurrency has decoupled from bitcoin, the crypto market leader. Observers are associating link's massive rally with Chainlink's increased usage in the decentralized finance space.
Short-term correction ahead?
With the flow of coins toward exchanges recently jumping to the highest level since March, there's a chance the cryptocurrency could witness a short-term pullback.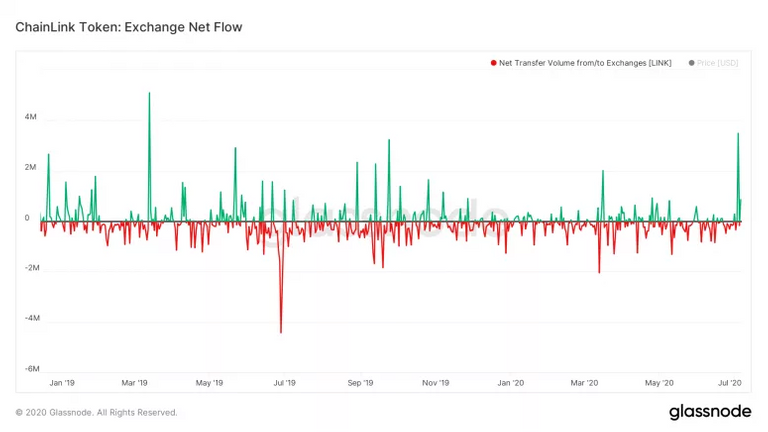 The aftermath of the coronavirus-provoked business shutdowns in the United States caused a number of market observers to focus on the U.S. real estate and rental markets. As the federal moratorium on evictions reaches its expiry, a recent Aspen Institute report reveals that 20 million renters or around 20% of 110 million American citizens who rent, will possibly face eviction by September.
Over a week ago, news.Bitcoin.com reported on the pending U.S. real estate crisis, as last month's data had shown 4.3 million mortgage delinquencies, while commercial properties have also started to sink in value as well. American citizens, economists, and market analysts have been worried about the rental and mortgage sector ever since Covid-19 made its way to the United States.
.Now the latest findings from the Aspen Institute's recent report indicate that homeowners who rent are going to feel more pain in the coming months. The report estimates that roughly 20 million tenants could face evictions at the end of September, and the findings blame issues on the post-Covid-19 economy.
Coinbase's chief tax officer Lawrence Zlatkin says global customers are the future as non-U.S. jurisdictions are more open-minded.
Coinbase, the largest U.S. cryptocurrency exchange, believes other countries are much more open-minded in terms of crypto regulation and taxes than America..
Lawrence Zlatkin, chief tax officer at Coinbase, shared the exchange's outlook on taxation and the global cryptocurrency market during a Unitize panel on July 7. He was joined on the panel by Fidelity's senior tax counsel Jessica Reif-Caplan and Deloitte's global tax leader, Rob Massey.
🗞 Daily Crypto News, July, 8th💰

Fetch.ai presentation on collective learning model, Cl demo review, and Q&A.
"Blockstack Online AMA <> HashQuark and Odaily w/ Xan Ditkoff."
"The Demo Day is around the corner! 8 July at 2:30PM, Daniele will talk about Amon with Digital Magics team and its investors."
"Join us for the AMA 39 - Holofuel Special where you can find out all about HoloFuel. When: July 8th @ 4.30PM UTC"
"Huobi Global Will Resume BCD Deposits and Withdrawals at 11:00 on July 8 (GMT+8)"
Last Updates


➡️ Publish0x
➡️ UpTrennd
➡️ Minds
➡️ Hive
➡️ Twitter
➡️ Facebook
➡️ Be paid daily to browse with Brave Internet Browser
➡️ A secure and easy wallet to use: Atomic Wallet
Proud member of: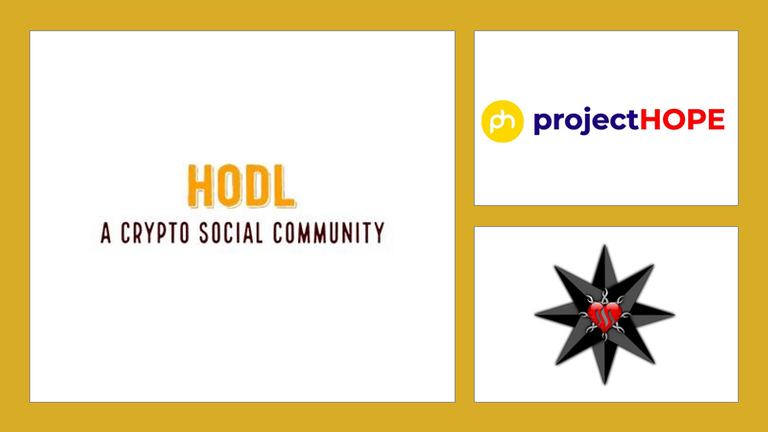 20% of this article rewards wil go to the @hodl-fund account in order to support HODL Community Initiatives.
Find out more about HODL Community: Crypto Social Community and by following our community account @hodlcommunity

If you would like to delegate some HP to our community and support us; we give you back 90% of the curation rewards on a daily basis ! APR > 13% !
500 HP - 1000 HP - 2500 HP - 5000 HP
Make a good APR Curation by following our HIVE trail here