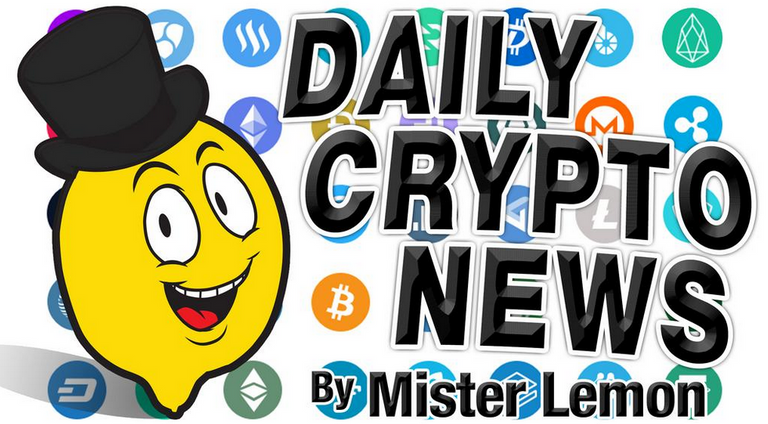 Welcome to the Daily Crypto News: A complete Press Review, Coin Calendar and Trading Analysis. Enjoy!
The price of Bitcoin dropped below $9,000 as several factors put pressure on BTC/USD, including correlation with global stock markets.
The price of Bitcoin (BTC) dropped below $9,000 from $9,660 within seven hours. The 7% plunge comes as $55 million worth of long futures contracts were liquidated on BitMEX.
Four factors are likely behind the sudden decline in the price of the top cryptocurrency by market capitalization. Namely: stocks sliding, selling pressure from miners, an extended period of low volatility, and repeated rejection of $10,000.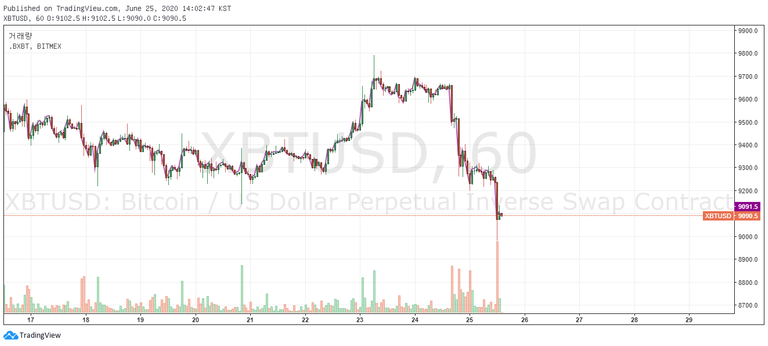 Bad day for stocks and Bitcoin
Stocks' futures opened slightly higher Wednesday evening, after a sharp selloff during the regular market session with the Dow dropping 2.72%, its worst day two weeks.
Hello CryptoAddicts and Investors,
The IMF gave us an update on their growth estimates and had to lower a bunch of them as COVID19 hit most economies in a harder way that they expected in April.
This is important for traditional markets of course but also for Bitcoin as ,any of us showed that the correlation between Bitcoin and Financial Markets has almost NEVER been as high as in the past 3 months !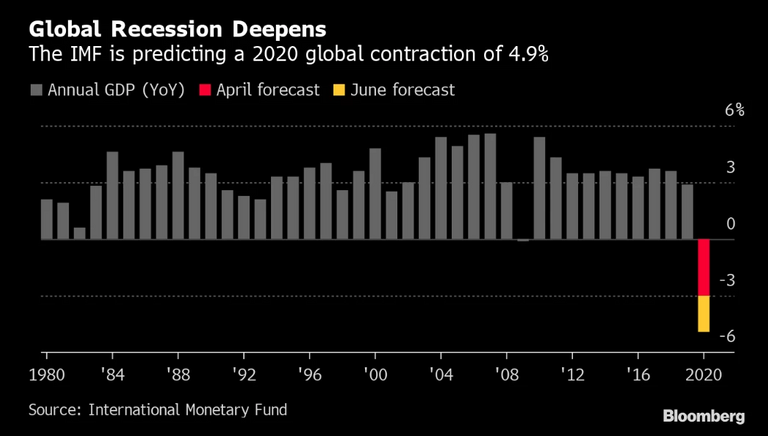 The IMF fund said Wednesday it now expected global gross domestic product to shrink 4.9% this year, more than the 3% predicted in April. For 2021, the fund forecast growth of 5.4%, down from 5.8%.
Full article here
Bitcoin's (BTC) derivatives continue to grow despite light spot trading over the past two months. The cryptocurrency's options market is on its way to a record $1 billion monthly expiry this Friday.
At press time, there are 114,700 option contracts (notional value of over $1 billion) set to expire on June 26 across major exchanges – Deribit, CME, Bakkt, OKEx, LedgerX – according to data provided by the crypto derivatives research firm Skew.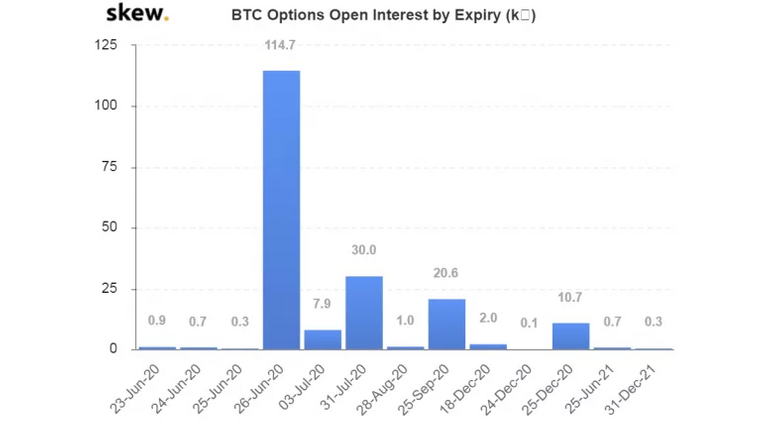 "This is definitely the largest BTC option expiry by a country mile," said Vishal Shah, an options trader and founder of Polychain Capital-backed derivatives exchange Alpha5.
You've seen it before: A site that promises instant returns on your small crypto investment.
It looks legitimate with all the happy customer testimonials, FOMO-inducing promises and easy-to-use dashboards that look like so many other financial sites. The language is open, breezy but sometimes, well, odd.
One site, Coindeskminers.com especially piqued our interest because it used a derivative of our brand without our knowledge, much less consent.
One site, Coindeskminers.com especially piqued our interest because it used a derivative of our brand without our knowledge, much less consent.
"They say money doesn't grow from the ground, well it does with crypto currencies [sic] because at Coindesk Miners we have assembled a group of world-class engineering, strategic cryptocurrency mining and investment logic growing investments and making profits for both parties," the website says. The promise is simple: You submit a little cryptocurrency, as little as $5, and you'll get instant returns. And it implies a nonexistent connection to CoinDesk, the world's premiere crypto news site.

The premium on shares in Grayscale's Ethereum Investment Trust plummeted 50% in less than one week.
Shares in Grayscale's Ethereum Investment Trust (ETHE) have crashed by 50% in just four days on the secondary, over-the-counter (OTC) markets.
With each share representing 0.094 Ether (ETH), the sharp retracement has seen the price premium on the trust's shares fall from 750% to roughly 360% in less than two weeks.
ETHE's current price of $102.5 means that investors are willing to pay an implied price of $1,090 per Ether in order to access ETH through the trust on the OTC markets.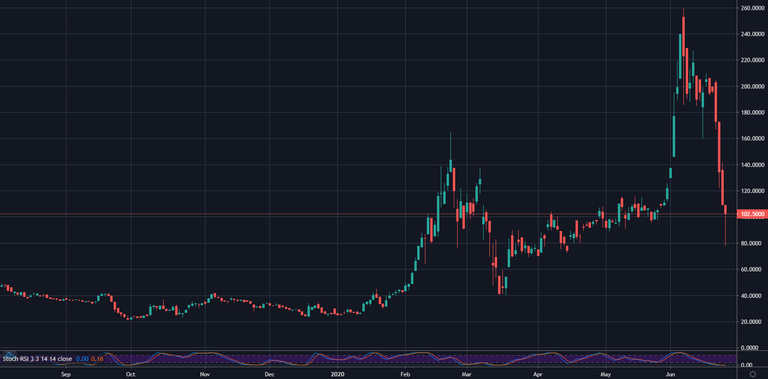 🗞 Daily Crypto News, June, 25th💰

"Want to learn more about #PayID? Join the virtual PayID Developer Conference on June 25th to see live demos and hear..."
"Announcement: The 25th of June. Ask-me-anything (AMA) with Mundo, the Founder of BSOV and writer of Whitepaper..."
"There will be a livestream on #TRON Independence Day. Get ready for it and set your alarms June 25, 2020, 14:00(UTC)."
Atomic Wallet Coin (AWC), NOW Token (NOW)
"We're having an #AMA w/@gladkos, CEO of @AtomicWallet on 25/06, 14:00 UTC!"
"Turkey: Binance AMA Series <> Blockstack Full information to be released soon."
"AMA 38 questions thread is open! Submit your questions before the #AMA on June 25th @ 2.30PM UTC"
Last Updates


➡️ Publish0x
➡️ UpTrennd
➡️ Minds
➡️ Hive
➡️ Twitter
➡️ Facebook
➡️ Be paid daily to browse with Brave Internet Browser
➡️ A secure and easy wallet to use: Atomic Wallet
Proud member of: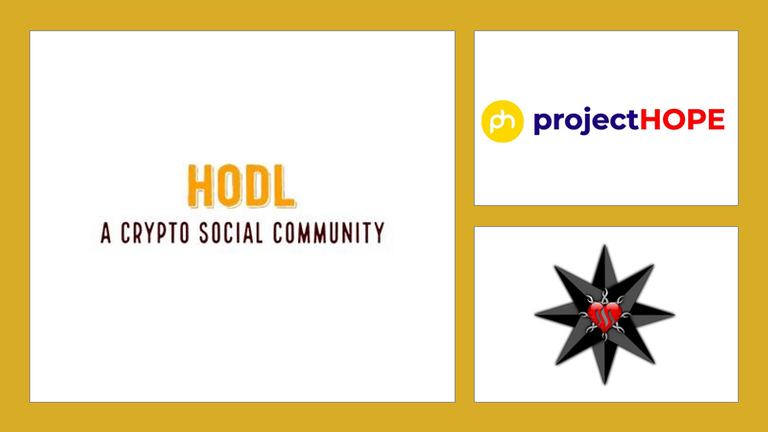 20% of this article rewards wil go to the @hodl-fund account in order to support HODL Community Initiatives.
Find out more about HODL Community: Crypto Social Community and by following our community account @hodlcommunity

If you would like to delegate some HP to our community and support us; we give you back 90% of the curation rewards on a daily basis ! APR > 12% !
500 HP - 1000 HP - 2500 HP - 5000 HP
Make a good APR Curation by following our HIVE trail here