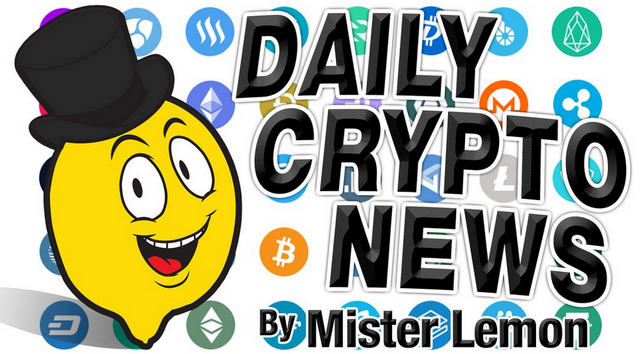 Bitcoin Price Drops to $8,840 — Key Metrics Signal BTC May Correct Further;
Africa Is Experiencing a Crypto Renaissance ;
Grayscale Accumulates 34% of New BTC as Weekly Investments Tag $30 Million ;
Market Outlook: Golden Cross Invalidated, Andreessen Horowitz Predicts 'Fourth Crypto Cycle' ;
US Real Estate Crisis: Home Sales Plunge to 9-Year Low, Mortgage Delinquencies to Soar Past Great Recession Level
🗞 Daily Crypto Calendar, May, 25th 💰
Welcome to the Daily Crypto News: A complete Press Review, Coin Calendar and Trading Analysis. Enjoy!
Within the last hour Bitcoin (BTC) price dropped to $8,840. The drop came with less than 8 hours left before the weekly close.
A confluence of miners selling more BTC than they mine, Bitcoin recording 6 consecutive lower highs, and the retest of the $8,800 support leaves BTC vulnerable to a severe pullback.
Six consecutive lower highs since June 2019
As shown on the daily chart, since June 19 Bitcoin has recorded six consecutive lower highs. The price rejected at $14,000, $13,300, $12,300, $10,600, $10,500, and $10,000, making every local top lower than the previous peak.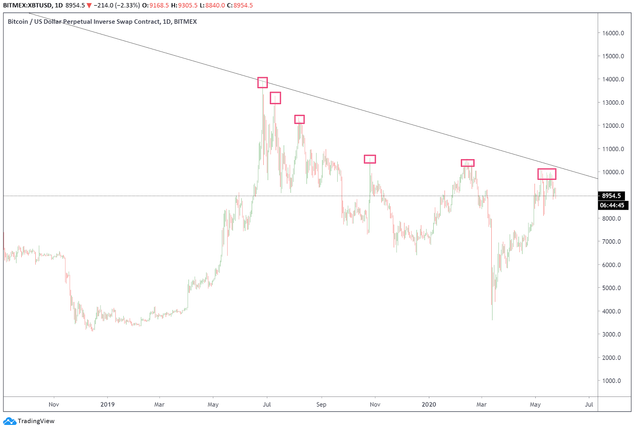 Triple test of $8,800
The price of Bitcoin rebounded at $8,840, testing the $8,800 support area for the second time within four days. Typically, the digital asset tends to break down below a heavy level of support in the third or fourth touch. This means, BTC is likely to see a clean breach of $8,800 upon the weekly close.
Almost immediately after dropping close to $8,800, the price of Bitcoin rebounded to around $8,900, showing BTC is set for a short-term price spike following the weekly open on May 25.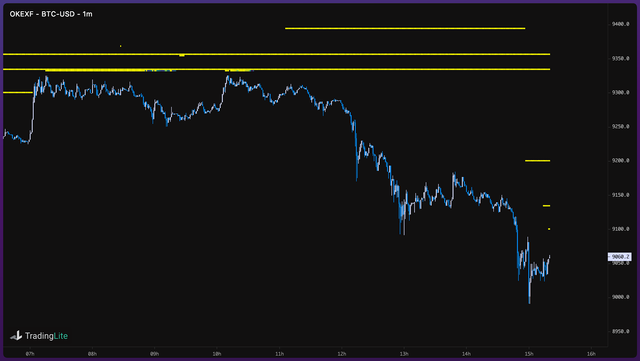 Crypto adoption is making significant advances in Africa, with crypto ownership, trade volume, and regulation all moving toward greater adoption.
A recent report by Arcane Research and Luno found that Uganda, Nigeria, South Africa, Ghana, and Kenya are frequently among the top 10 countries by Google searches for the word "Bitcoin."
The report describes the continent as "one of, if not the most promising region for the adoption of cryptocurrencies," emphasizing Africa's combination of low existing crypto adoption alongside an "enormous" domain possibility.
This past week saw South Africa post its second-strongest weekly volume on peer-to-peer Bitcoin (BTC) marketplace Localbitcoins, with nearly $1.65 million worth of BTC changing hands.

Grayscale Investments, a crypto investment fund manager and subsidiary of Barry Silbert's Digital Currency Group, is estimated to have purchased up to one-third of all newly minted Bitcoin during the past three months amid the run-up to the block reward halving.
The announcement comes as average weekly investments into Grayscale's Bitcoin Investment Trust, or BIT, reached $29.9 million over the first quarter of 2020.
In response to a tweet publicizing the figures, Grayscale founder Barry Silbert stated: "just wait until you see Q2."
The price of bitcoin and a number of other popular cryptocurrencies have been collectively holding a market valuation of around $255 billion. The fiat value of these cryptocurrencies has slipped downwards during the last four days. Despite the weekly losses of around 3-6%, many digital currency proponents are still very optimistic. Mainly because of how well crypto markets have performed during the coronavirus outbreak and the global economy's current hardships.
Andreessen Horowitz Predicts a 'Fourth Crypto Cycle'
Silicon Valley venture capital firm Andreessen Horowitz executives have recently published a blog post called "The Crypto Price-Innovation Cycle." Chris Dixon and Eddy Lazzarin say that a "fourth crypto cycle" is on the horizon. "Even though crypto cycles look chaotic, over the long term they've generated steady growth of new ideas, code, projects, and startups— the fundamental drivers of software innovation," Dixon and Lazzarin wrote in the post.
Golden Cross Decline
Despite the recent "golden cross formation," BTC prices saw a 3% loss since May 20, 2020. This particular golden cross predicted a bullish scenario for BTC. Essentially, the 50-day moving average (MA) and 200-day MA initiated the golden cross, but the price never followed the traditional northbound outcome. Even though the golden cross came to fruition, the Moving Average Convergence Divergence (MACD) has not shown any bullish signals whatsoever.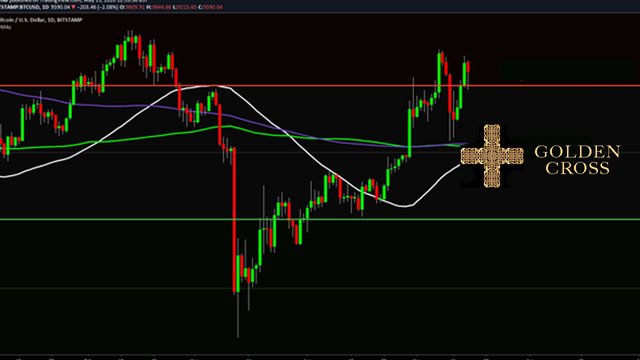 The US real estate market is facing a crisis as unemployment soars amid the coronavirus pandemic. Home sales have plunged to a nine-year low and a record-high number of homeowners are defaulting on their mortgage payments. The impact of the real estate crisis is also seen in rental and commercial real estate markets.
Massive Declines in Home Sales, Housing Starts
The economic crisis, coronavirus pandemic, lockdowns, and record-high unemployment have severely affected the real estate market. Existing home sales, which make up about 90% of all U.S. home sales, plunged 17.8% month-on-month in April, an equivalent of 17.2% slump year-on-year, according to the National Association of Realtors. The percentage decline was the largest since July 2010. The annualized figure of 4.33 million units represents the slowest sales rate since September 2011.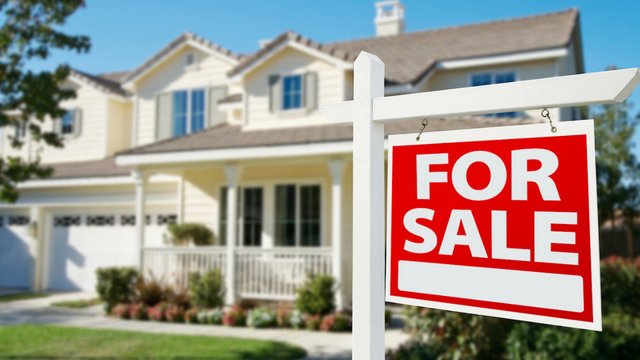 🗞 Daily Crypto News, May, 25th💰

Binance Coin (BNB) and 4 others
Offline to Online - Full Networking Experience for 48-Hours Non-Stop.
To date, the number of AZ has been reduced to 90% of the initial supply.
"To claim your GHOST at launch (for free) you must be holding ESH token on May 25th."
The official switch to the new version is expected to happen on May 25th (GMT+8) at a block height to be revealed in our update instructions...
"The hardfork is scheduled for May 25, 20.00 Moscow time."
Bitmark (MARKS), Equilibria (XEQ)
"We're delisting Deft $DEFT, Equilibria $XEQ, and Bitmark $BTM $MARKS."
"I will be doing an AMA in our Telegram May 25th @ 7pm CST!"
"Matrix CEO @Owen_Matrix will be joining the Matrix Vietnamese community @MatrixVietnam for an #AMA at 9pm (GMT+8) on May 25."
Last Updates


➡️ UpTrennd
➡️ Publish0x
➡️ Hive
➡️ Twitter
➡️ Facebook
➡️ Be paid daily to browse with Brave Internet Browser
Proud member of: