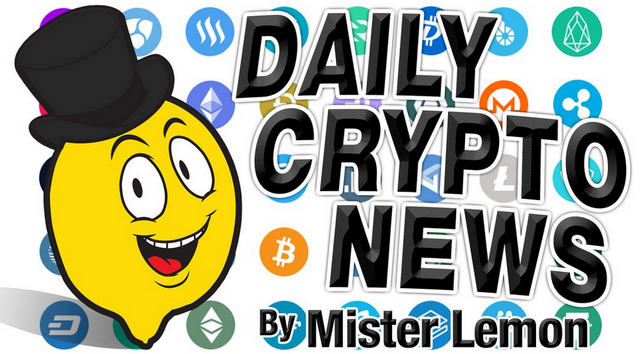 As Bitcoin Falls to 2-Week Lows, Small Investors Look to Be Buying ;
Zcash's First Halving May Solve Its Inflation Problem ;
Spike in BTC Exchange Inflow Preceded Bitcoin Price Correction to $8.6K ;
Craig Wright Called 'Fraud' in Message Signed With Bitcoin Addresses He Claims to Own ;
Italian Cryptocurrency Project Plans to Pay Users to Watch Porn
🗞 Daily Crypto Calendar, May, 26th 💰
Welcome to the Daily Crypto News: A complete Press Review, Coin Calendar and Trading Analysis. Enjoy!
With bitcoin's price losing altitude again, small investors appear to be seeking exposure to the top cryptocurrency by market value.
Prices fell by 9.8% last week to register bitcoin's biggest weekly decline since the second week of March, according to CoinDesk's Bitcoin Price Index. A two-week low of $8,630 was registered early on Monday, with prices last seen at $8,730 – down over 11% from the post-halving high of $9,960 registered on May 18.
Daily chart
Mining reward halvings are a hot topic in the crypto markets, as they alter a cryptocurrency's supply and often have a significant impact on prices.
Rewards per block mined on the zcash blockchain – launched and supported by the Electric Coin Company – are scheduled to be cut by 50% from the current 6.25 ZEC to 3.125 ZEC at block 1,046,400 this year. Zcash's first-ever halving, the block subsidy reduction is expected to happen sometime in November.
While ZEC's supply is capped at 21 million like bitcoin, its inflation rate is significantly higher than other major cryptocurrencies.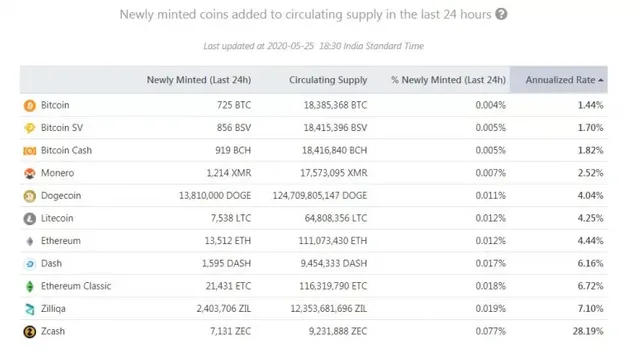 Pre-halving price boost?
In recent months, the cryptocurrency has been languishing not far above all-time lows against both the U.S. dollar and bitcoin. After November's halving, though, investors may give up on punishing ZEC for its high inflation rate and cheer the emission cut.
On May 24, the price of Bitcoin (BTC) dropped to $8,800 from $9,300. In the next 24 hours, it declined to as low as $8,600, leaving the top ranked digital asset on CoinMarketCap at risk of a bigger pullback.
The initial drop of Bitcoin below $9,000 coincided with a massive inflow of BTC into exchanges and Bitcoin on-chain data indicates key players were selling over the weekend.
When we say traders are 'buying' or 'selling' this is a myth. Every trade is matched, every trade has a buyer and a seller. (When we say the market is buying or selling, we actually mean smart money is buying or selling.)
According to data from CryptoQuant, the inflow of Bitcoin spiked to 2,435 BTC on May 24. That is approximately $22 million worth of BTC deposited to exchanges on a single day.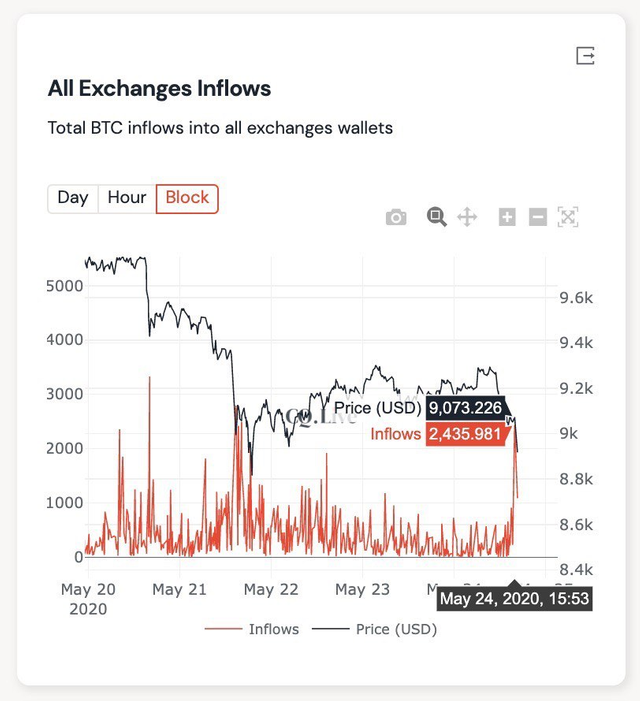 The credibility of Craig Wright – the Australian tech entrepreneur who controversially claims to be bitcoin's pseudonymous inventor, Satoshi Nakamoto – has taken another blow.
While the list of addresses was quickly resealed by the Kleiman legal team, it still exists on Court Listener and looks to have provided a means for another individual to identify a number of addresses they in fact hold the keys to. That, in turn, enabled them to sign a message with the bitcoin keys. It reads:
"Craig Steven Wright is a liar and a fraud. He doesn't have the keys used to sign this message. The Lightning Network is a significant achievement. However, we need to continue work on improving on-chain capacity. Unfortunately, the solution is not to just change a constant in the code or to allow powerful participants to force out others. We are all Satoshi"
A novel cryptocurrency project called PornVisory plans to reward its users with tokens for watching porn on its platform.
As examples, Noschese pointed to PayPal banning Pornhub from its system in 2019 and the porn giant's subsequent decision to support the Verge (XVG) cryptocurrency in 2018. In January, Pornhub also started accepting the Tether (USDT) stablecoin as a payment option. She said:
"In the porn industry there are a lot of issues regarding privacy and reputation. For example, even the biggest name in the industry, Pornhub, saw its account blocked by PayPal. Also, you might not want to pay your Premium account to watch porn with the bank account you share with your wife."
"Inspired by the Brave browser we decided to do something similar but related to the porn industry. The concept is simple: users will be paid to watch porn videos and when he/she interacts with the Pornvisory platform in general.
🗞 Daily Crypto News, May, 26th💰

"Bittrex Global will support the Phoenix (PHNX) airdrop to Bittrex Global Hydro (HYDRO) holders based on the on-exchange snapshot..."
Okanist, our Head of Marketing will answer questions about CCX on a popular Telegram group in Turkey.
"PEAK will be listed on May 26"
Join Blockstack Production Partner Xan Ditkoff for an AMA with Satoshi Club.
"New Listing: Excited to announce Orient Walt (HTDF) will list on Dcoin 26th, May... Trading pair opens at 7:00 (UTC) 26th"
"18/05/2020–24/05/2020 CyberVein weekly report."
Coinlim Listing
Last Updates


➡️ UpTrennd
➡️ Publish0x
➡️ Hive
➡️ Twitter
➡️ Facebook
➡️ Be paid daily to browse with Brave Internet Browser
Proud member of: