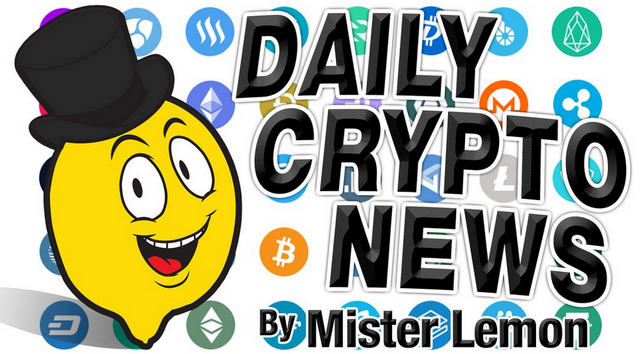 Bitcoin Price Caught Between Key Support Levels as Bearish Sentiment Grows ;
IMF Predicts Banks Will Struggle at Least 5 More Years After Global Economy Recovers ;
VideoCoin Adds Cash Payments and Rewards in Bid to Take On AWS ;
New Crypto Bull Run 'Inevitable' Says Data Analytics Company CEO
🗞 Daily Crypto Calendar, May, 27th 💰
Welcome to the Daily Crypto News: A complete Press Review, Coin Calendar and Trading Analysis. Enjoy!
Bitcoin (BTC) price had a relatively muted day as the digital asset traded between $8,700-$8,885.
Currently, the price remains below the ascending channel trendline and the daily candle closed as a neutral doji, showing bulls and bears are in contention on the direction Bitcoin will take over the short-term.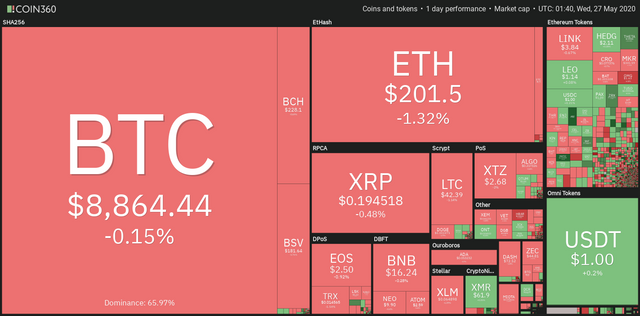 Investor sentiment takes a knock
Interestingly, data from TheTIE, a crypto-oriented alternative data provider, shows that investors are growing increasingly bearish about the short-term price prospect of Bitcoin price.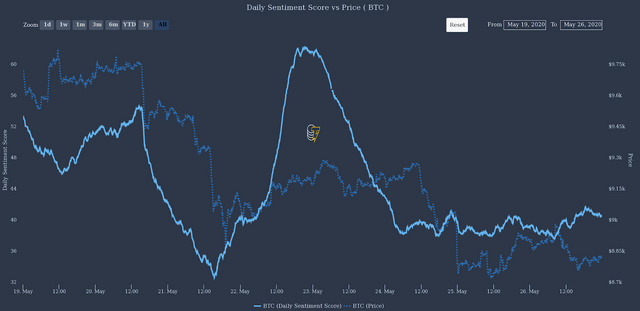 Previous analysis by Cointelegraph has uncovered the relationship between tweet volume, Bitcoin mentions, trading volumes and spot prices so keeping a gauge on crypto-related social activity is a practice many crypto investors find useful.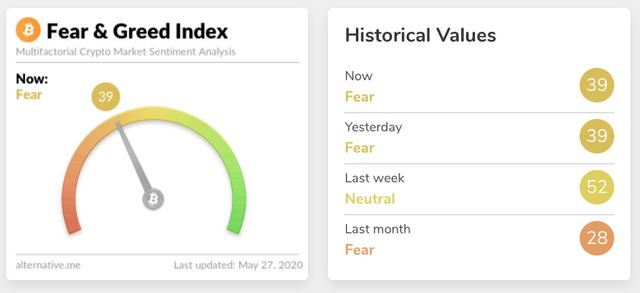 Zilliqa launches a blockchain-verified, rewards-based CSR campaign; matched proceeds go to Singapore Red Cross' relief efforts for those affected by Covid-19
Campaign Duration: 26 May, 8 PM SGT — 28 May, 8 PM SGT
Official Hashtag: #ZILCovidHeroes
I wrote a Full Guide here
The International Monetary Fund (IMF) has predicted that banks will struggle to generate profits at least five years after the global economy recovers from the coronavirus-led economic crisis. The IMF explained that banks were struggling even before the covid-19 pandemic so their troubles "will extend to at least 2025, well beyond the immediate effects of the current situation."
Banks' earnings challenges emerged prior to the recent covid-19 episode and will extend to at least 2025, well beyond the immediate effects of the current situation.
"The covid-19 outbreak is an additional test to banks' resilience," the IMF elaborated. "Underlying profitability pressures are likely to persist over the medium- and longer-term even once the global economy begins to recover from the current shock."
Serial entrepreneur Halsey Minor knows about mass adoption. He's helped create technology platforms like CNET and Salesforce, to name a couple.
Announced Tuesday, Minor's VideoCoin platform, which draws on dormant computing resources to process streamed video, is adding fiat payment rails as the project looks to move beyond the limited sphere of crypto and blockchain tokens. The network becomes commercially available starting May 27.
A broader reach is essential, says Minor, CEO of Live Planet, an immersive video startup that provides technology to VideoCoin, in order to take the fight to the market-leading Amazon Web Services (AWS). (Interestingly, Minor's first job at Merrill Lynch saw him team up with co-worker Jeff Bezos, now Amazon's chief, on a publishing platform.)
After two years of uncertainty since 2017's mega bull run, the signs are looking promising for a big crypto rally, says the co-founder of market analytics company Digital Assets Data.
"I believe a major crypto bull cycle is inevitable," CEO Mike Alfred told Cointelegraph.
Coronavirus shakes up the global economy
Several months of coronavirus prevention measures, including business closures and stay-at-home orders, have wounded the global economy. High unemployment numbers means less spending as people look to meet their budgetary needs.
"The confluence of factors that could help drive this cycle include unprecedented recent interventions by fiscal and monetary authorities around the globe and rapidly improving trading, lending, and custodial infrastructure."
🗞 Daily Crypto News, May, 27th💰

"The official Theta Mainnet 2.0 launch will now happen on Wednesday, May 27."
"SINOVATE Infinity Nodes (SIN) new website will be ready on May 27, Wednesday"
Coindeal Listing
"Vite Mainnet is having a 4th hard fork, named MARS, at 4 AM (UTC+0) on May 27, 2020."
*MovieBloc (MBL)
"TOKOK will list MBL... Transaction: 2020/5/27 12:00 (UTC + 8)"
Last Updates


➡️ Publish0x
➡️ UpTrennd
➡️ Hive
➡️ Twitter
➡️ Facebook
➡️ Be paid daily to browse with Brave Internet Browser
Proud member of: