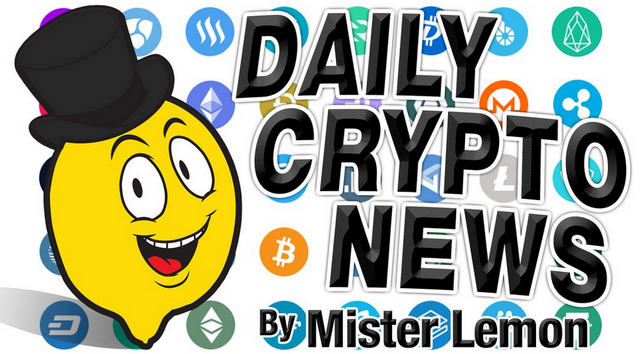 Is Bitcoin Price Finally Ready for Breakout Above $10,000?;
Washington Warned: Launch Digital Fiat or Say Goodbye to USD Dominance;
Dogecoin CEO Elon Musk Launches Humans Into Orbit;
The Crypto Enthusiast's Dream: Top Countries That Tick All the Boxes;
🗞 Daily Crypto Calendar, May, 31st 💰
Welcome to the Daily Crypto News: A complete Press Review, Coin Calendar and Trading Analysis. Enjoy!
Bitcoin price is looking to retake the key psychological level at $10,000, which may now propel BTC to multi-year highs.
The price of Bitcoin (BTC) had seen a substantial rally before the halving, as the price topped at $10,100. Since then, the BTC price has been hovering inside a sideways range between $8,200 and $10,000.
However, are the markets making itself ready for a breakout above this crucial resistance? Bitcoin is showing strength, but other cryptocurrencies like Ethereum's Ether (ETH) and Cardano (ADA) are also showing strength with double-digit performances in the past week.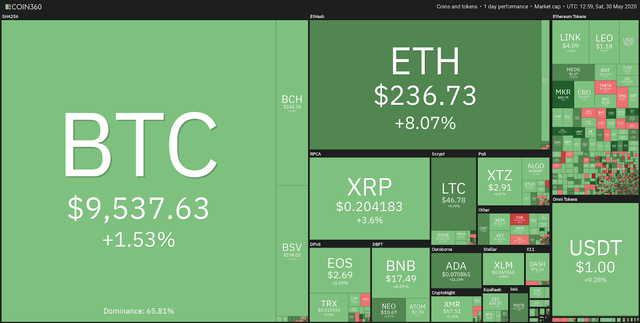 Bitcoin facing $10,000 resistance as a crucial level to break
The 6-hour chart is showing a clear range-bound structure since the high at $10,100. The market showed a pre-halving crash (i.e. buy the rumor, sell the news), after which the price stabilized and consolidated.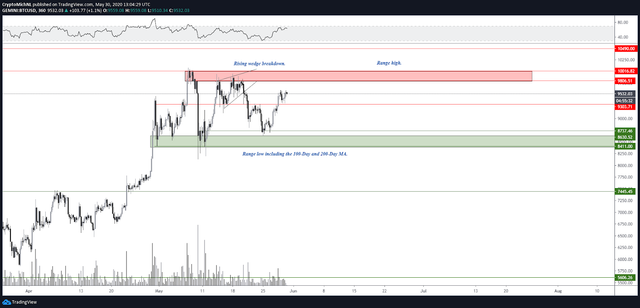 A group pushing for the United States to adopt a digital dollar has warned that failure to launch a central bank digital currency (CBDC) could cost the country dear – and could see the USD lose its status as the world's reserve currency.
In its first white paper, the Digital Dollar Project wrote,
"If the USD is to remain the world's primary reserve currency in the unfolding century, it cannot remain an analog instrument and unit of account for things increasingly denominated as digital tokens. It must itself become a digital tokenized currency that measures, supports and transacts with the world's digital tokenized things of value."
The white paper's authors warned,
"If payment systems could bypass Western banks heavily linked economically and geopolitically to USD reserves, the effectiveness of economic sanctions as a central and unifying tool of our foreign policy would be at serious risk. It would mean United States global leadership, particularly in the exercise of soft power, would be at risk as well."
Elon Musk, a tech mogul with indirect ties to the crypto industry, sent two humans into orbit on May 30 in the first private, manned space craft launch in history.
"The launch will be the first time a private company, rather than a national government, sends astronauts into orbit," Fox News said in a May 27 brief. "It will also be the first time that astronauts launch from U.S. soil since the final space shuttle mission in 2011."
Ground control to Maj. Musk
Known for his leadership of futuristic car company Tesla, CEO Elon Musk disrupted the rocket sector in the early 2000s as the founder of SpaceX. Musk sped up the turnaround time for interstellar launches.
For crypto enthusiasts, choosing a location to live in that supports an ideal lifestyle extends beyond searching for a city with a high number of shops and retail outlets that accept crypto.
Sure, any crypto enthusiast will benefit from living in an area with easy access to crypto-related amenities. However, as the world of crypto evolves and more crypto debit cards appear, crypto enthusiasts are realizing that direct crypto spending is not the only factor to consider when choosing a place to call home. The political stability of the location, the weather and internet broadband speed are some of the critical considerations for crypto enthusiasts looking to become global citizens.
Find out the 5 most friendly countries according to Cointelegraph here
It was formulated a few years ago and the way to think about the global monetary policies, FX and assets was quite new.
And the good thing is ... it worked
While many economies and central banks (European...) where continuing their low interest policy and QE, US was the first to 'tapper' and tried to lower their balance sheet.
Full article here
🗞 Daily Crypto News, May, 31st💰

"Mainnet go live with Initial set of Validators by End of May."
Lifetime Passive Income Program will be released on May 31.
Release PaaS and IDE plugins/integrations, smart contracts, access apps, legacy database import/export, node scoring, and health metrics.
"We are thrilled to introduce staking 2.0, with increased staking volume and participants, to be launched in May 2020."
"Portal for SingularityNET Enhancement Proposals (SNEPs). Similar to the RFAI portal, but focused on platform improvements and extensions ra...
Last Updates


➡️ Publish0x
➡️ UpTrennd
➡️ Minds
➡️ Hive
➡️ Twitter
➡️ Facebook
➡️ Be paid daily to browse with Brave Internet Browser
Proud member of: