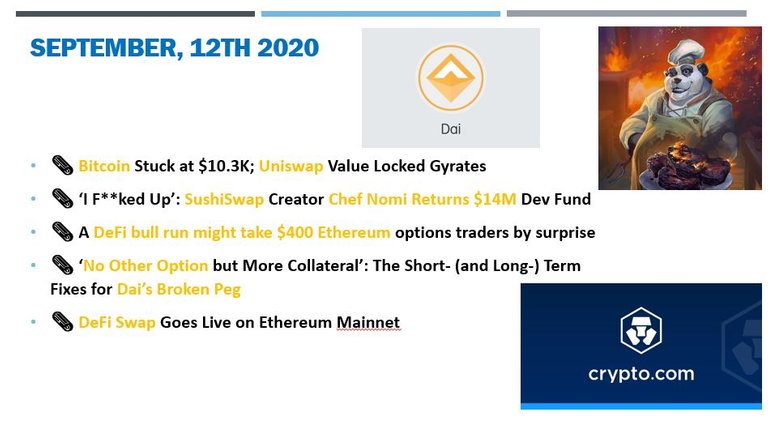 Video Coming Later Today
It was a quiet day in the bitcoin market while there was action on Uniswap's total crypto value locked.
Bitcoin (BTC) trading around $10,316 as of 20:00 UTC (4 p.m. ET). Slipping 0.13% over the previous 24 hours.
Bitcoin's 24-hour range: $10,199-$10,383
BTC above its 10-day and 50-day moving averages, a bullish signal for market technicians.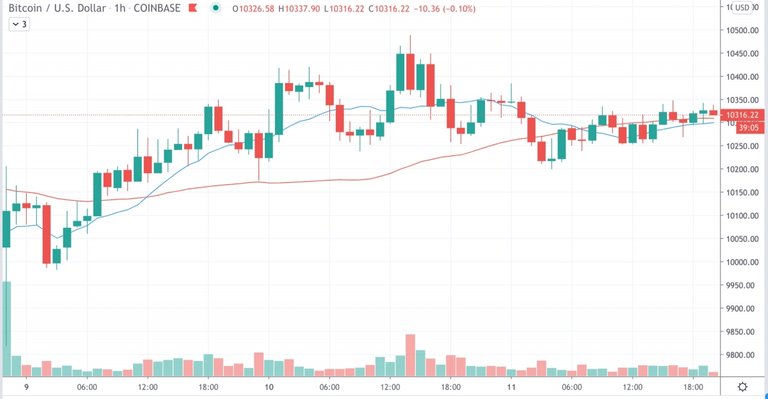 Indeed, bitcoin's volume numbers Friday were tepid at best, with USD/BTC trades on spot exchanges amounting to just $210 million, whereas daily averages the past month had been $393 million.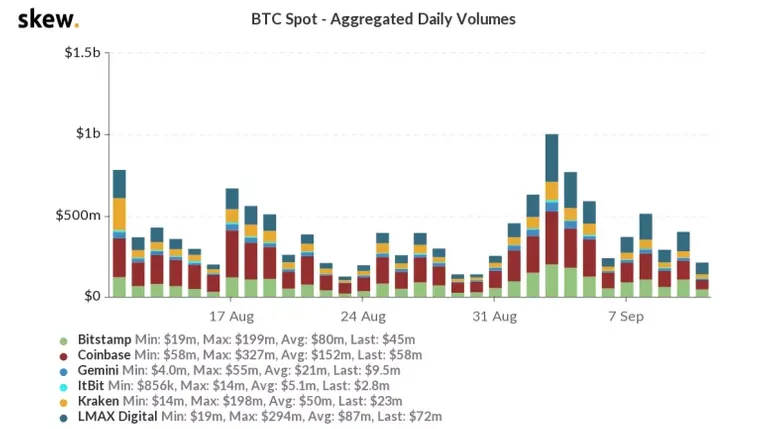 The bitcoin options market appears to be picking up during this low-momentum period and that is an ominous sign, according to William Purdy, an options trader and founder of analysis firm PurdyAlerts. "Bitcoin option open interest is increasing. This suggests a continued downward trend," noted Purdy.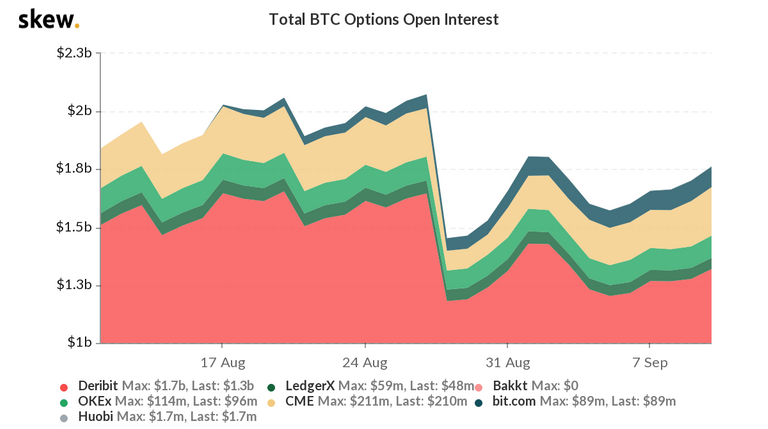 Uniswap's roller-coaster ride
The amount of cryptocurrency "locked" in decentralized exchange Uniswap has shown a high degree of volatility on DeFi Pulse charts the past week. On Sept. 8, value locked was $1.4 billion, then down to $400 million Sept. 9, then up to almost $1 billion Sept. 10. On Friday, the number was at $648 million.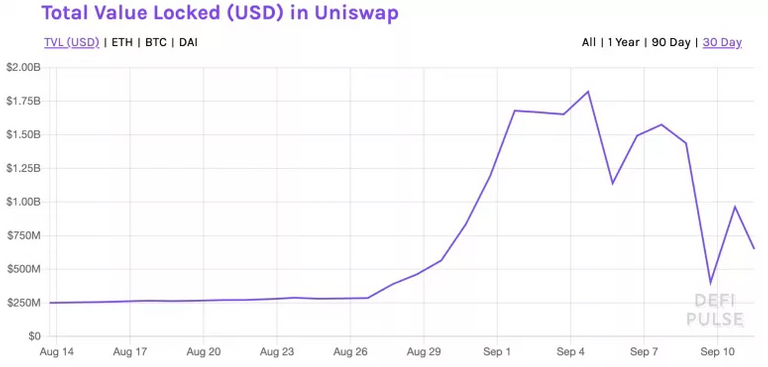 SushiSwap creator "Chef Nomi" has returned all $14 million in ether (ETH) that he cashed out from the automated market maker last week, apologizing to the community for suddenly liquidating his SUSHI holdings.
The pseudonymous individual transferred the 38,000 ETH back to the original developer fund wallet soon before 16:00 UTC today, according to Etherscan.
Nomi announced the decision in a tweet, saying whatever reward he deserves for creating the project would be decided by the community: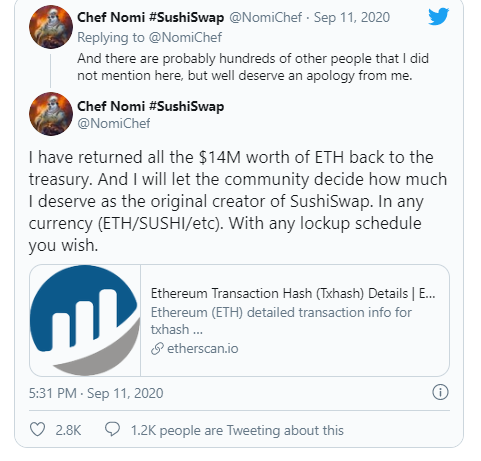 The SushiSwap creator suddenly sold the tokens last weekend, prompting a 73% crash in the price of the SUSHI token and creating a massive backlash from the project's supporters and accusations of an exit scam.
Ether (ETH) price gained 14% from its Sept. 6 low at $320, but this month's futures and options expiry is less than two weeks away. As its price is still pinned below $400, this raises the question of exactly how confident are derivatives traders of a 9% recovery to $400?
By analyzing options model pricing, investors can easily conclude that traders are pricing in the 34% odds of Ether reaching $400 or higher. Still, the Black & Scholes options model main issue is heavily dependent on the number of days until expiry.
Ethereum's volatility leaves room for surprises
Volatility is the central indicator of intense price swings, although it does not infer a positive or negative direction.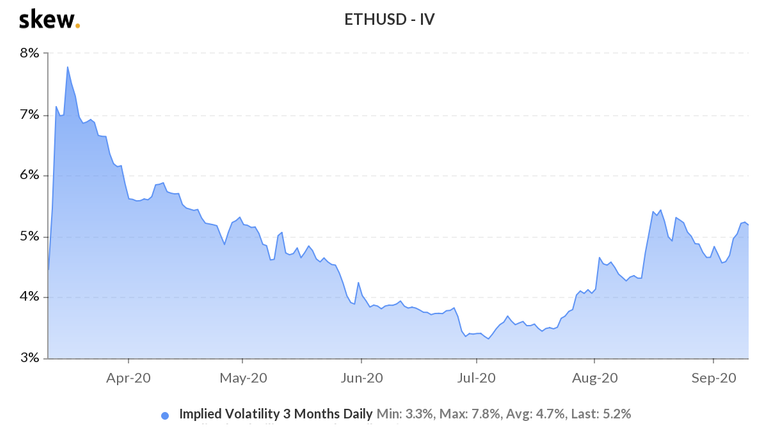 As traders gobble up stablecoins for yield farming, demand for MakerDAO's dai (DAI) has sent the stablecoin's peg skyward.
The yield farming demand continues to put pressure on dai's $1 peg, which has been under consistent stress since Black Thursday when market volatility sent dai's price to $1.10.
MakerDAO's community is debating some tweaks to its monetary policy to restore the peg, though Maker's creator believes the only long-term solution is adding additional, varied collateral to the DAO.
Exploding stablecoin demand (and supply)
The supply of stablecoins in DeFi lending markets has indeed exploded in 2020. Before SushiSwap migrated its pools out of Uniswap, roughly $340 million of Uniswap's $1.43 billion in total value locked (TLV) was split between USDT, USDC and dai. DeFi's largest lending pool, Aave, has stablecoins amounting to roughly $620 million of its overall $1.7 billion TLV.
DeFi Swap went live on the Ethereum Mainnet today. DeFi Swap is the best place to swap & farm DeFi coins, powered by CRO. With DeFi Swap, Liquidity Providers (LP's) are generously incentivized for contributing to liquidity pools with Triple Yield:
Swap Fee Sharing:
LP's will be rewarded by sharing 0.3% of the trading volume of respective liquidity pools.
CRO DeFi Yield: for LP's who also stake CRO:
LP's can stake CRO to boost their yield by up to 20x and harvest the daily yield in as little as 30 days.
What are the launch incentives?
Crypto.com will guarantee a minimum reward pool of 14,000,000 CRO for the first 14 days (1,000,000 CRO per day).
What coins are supported?
(Wrapped) Ether (WETH)*;
Tether (USDT);
USD Coin (USDC);
Dai (DAI);
Chainlink (LINK);
Compound (COMP);
Crypto.com Coin (CRO).
Has the smart contract been audited?
DeFi Swap is a fork of Uniswap V2 with Triple Yield incentives provided for liquidity providers, powered by CRO. Uniswap V2 was audited by dapp.org (link to the report here).
🗞 Daily Crypto Calendar, September, 12th💰

"We have completed the development of #Mainnet : Augustus1.0 and are pleased to have it verified by @certik_io . Next week, we will..."
"Stay tuned for the third DAO blog post coming later this week to learn more about the DAO's guardians of the galaxy pool"
"Will you be watching our Bloomberg TV interview? It airs on September 12th at 7pm EST (Midnight in the UK, 1am in Europe)"
"FTM trading will be effective on September 12, 2020. The following pairs will be supported: FTM/BTC, FTM/USDT."
"Fyi- we just migrated the current Kin.org to a Wordpress CMS... Expect to see visible changes around Sept 10-12 roughly."
"We will delist the coin immediatly. Sorry for the inconvenience. PLEASE, DO NOT DEPOSIT XTA (ITALO COIN."
Last Updates


➡️ Be paid daily to browse with Brave Internet Browser
➡️ A secure and easy wallet to use: Atomic Wallet
➡️ Youtube
➡️ Twitter
➡️ Hive
➡️ Publish0x
➡️ UpTrennd
➡️ Read.cash
➡️ LBRY


20% of this article rewards wil go to the @hodl-fund account in order to support HODL Community Initiatives.
Find out more about HODL Community: Crypto Social Community and by following our community account @hodlcommunity

If you would like to delegate some HP to our community and support us; we give you back 90% of the curation rewards on a daily basis ! APR > 12% !
500 HP - 1000 HP - 2500 HP - 5000 HP
Make a good APR Curation by following our HIVE trail here