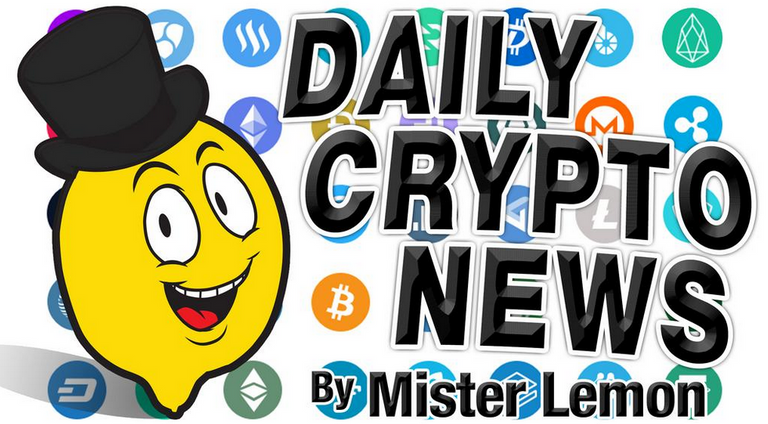 🗞 BTC dips below $10K as traders eye 'CME gap';
🗞 MetaMask finally escapes the desktop with new mobile wallet;
🗞 The Crypto-Dollar Surge and the American Opportunity;
🗞 Stablecoin market cap increases by $100M every single day;
🗞 Yearn.finance's yETH Vault Getting Filled With Ethereum
🗞 Daily Crypto Calendar, September, 4th 💰
Welcome to the Daily Crypto News: A complete Press Review, Coin Calendar and Trading Analysis. Enjoy!
An aggressive week of selling has seen the price Bitcoin (BTC) fall below $10,000 for the first time since late-July, triggering fear in the markets.
After posting a local top of roughly $12,500 on August 17, BTC consolidated between $11,250 and $12,100. However, the last three days have seen sellers reject $12,000 and take over the market. Roughly four hours ago, Bitcoin briefly changed hands for $9,990 after seven weeks of price action above $10,000.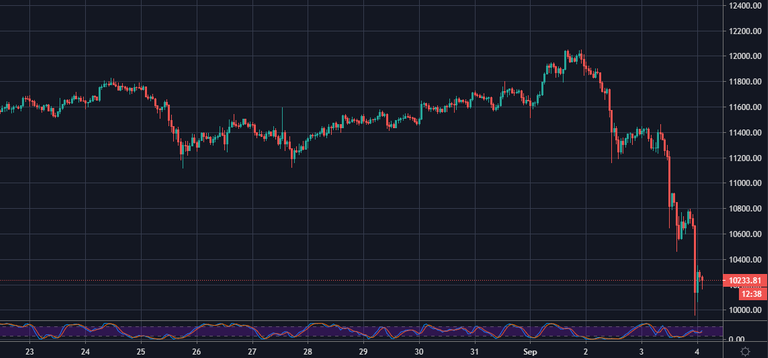 Despite buyers quickly pushing prices back into five-figures, many traders are anticipating that prices will drop further to tag the most recent 'CME gap' at $9,700.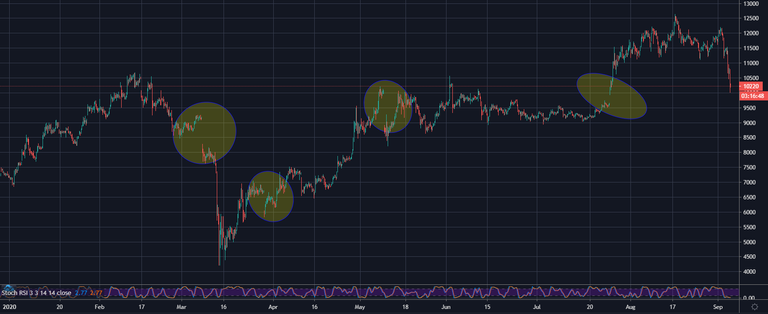 However, not all are convinced that the CME gap is behind the latest crypto crash, with some analysts attributing the dip to high correlation between Bitcoin and the legacy markets — with the tech sector having led a 4% crash in the S&P 500 earlier today: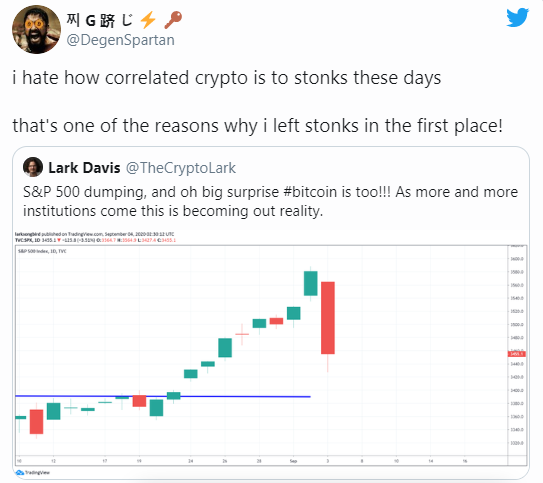 After four years, ConsySys' has launched a mobile application for its MetaMask wallet.
Popular Ethereum (ETH) browser wallet MetaMask has launched a mobile application for both iOS and Android.
MetaMask users can now manage their cryptocurrency wallets, store non-fungible tokens (NFTs), sign messages, and play blockchain-powered games from their mobile devices.
Users of the wallet's desktop browser extension can import their entire transaction history into MetaMask Mobile by scanning a QR code.
ConsenSys describes MetaMask Mobile as "simplifying" the process to begin using decentralized 'Web3' applications. Users in 34 countries can purchase Ether directly in the mobile app using debit cards, Apple Pay, and other local payment methods. Dan Finlay, MetaMask founder said:
We are thrilled to provide a browsing experience purpose-built for decentralized applications, and allow users to seamlessly sync with their desktop MetaMask accounts
Stablecoins are a hot commodity. Over $16 billion of them circulate in the wild today, up from $4.8 billion to start the year. Mostly these are issued outside of the U.S., and so are largely unaccountable to financial regulators. If they keep growing, U.S. policymakers, in particular those in the state of New York, will have to stomach the loss of their dominance over dollar clearing. But because stablecoins represent a powerful neutral financial infrastructure, the U.S. should welcome their ascendance regardless.
First, stablecoins make for an excellent tool to avoid capital controls in oppressive monetary regimes. Chainalysis has reported that tether (USDT) is extremely popular in China, even recently exceeding bitcoin's (BTC) usage in the region. It's important to understand that the popularity of stablecoins or "crypto-dollars" is not solely due to their digital nature but because of the transactional freedom that they offer to users.
POLICYMAKERS SHOULD BE THANKING THEIR LUCKY STARS THAT A PUTATIVE SUCCESSOR TO THE U.S.' FINANCIAL INFRASTRUCTURE IS A LARGELY AMERICAN PHENOMENON.
China's financial system is highly digitized already. Crypto-dollars like tether offer a fundamentally different value proposition from AliPay or the state digital currency, DCEP, because they are bearer assets not subject to the same level of surveillance or transactional restrictions. Their digital nature isn't what sets them apart; it's the fact that you can permissionlessly accept or send any quantity of crypto-dollars with nothing more than a smartphone and trade it on a vast network of exchanges and brokers worldwide.
The rise of DeFi protocols and the demand for tokens in liquidity pools may be contributing to a huge surge in the supply of stablecoins.
According to an Sept. 3 tweet from Coin Metrics co-founder Nic Carter, the current supply of stablecoins Binance USD (BUSD), Dai (DAI), HUSD, Paxos Standard Token (PAX), USD Coin (USDC), USDK, Tether (USDT), USDT_ETH, and USDT_TRX has been increasing by roughly $100 million daily for almost two months.
"Everyone got so excited about DeFi no one pointed out that stablecoins have been adding $100m/day since mid-July," said Carter. "DeFi yields/interest rates are clearly a vacuum sucking in a lot of stablecoins."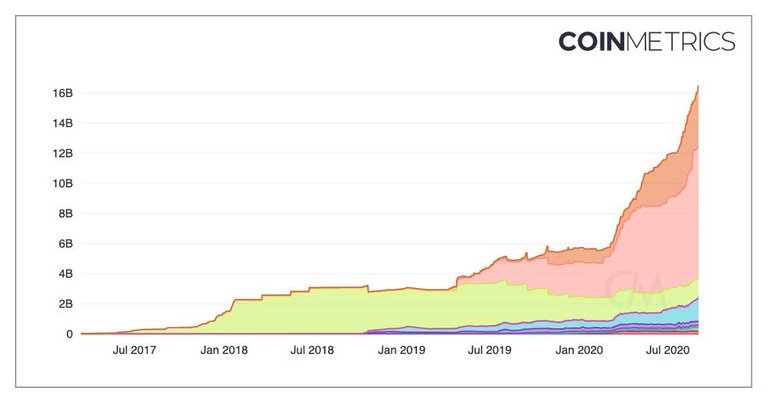 The yETH vault from yearn.finance (YFI), a vault for yield farming with ethereum (ETH), was launched a day ago, and it's growth could hardly go unnoticed.
The Cryptoverse is today focused on the yETH vault, and particularly its overnight growth. People were commenting on it holding ETH 215,000, or "0.2% of all ETH in 1 day" just several hours ago.
Now (13:32 UTC), looking into the vault, we find the balance of ETH 345,129, with the value of nearly USD 142m. Per etherscan.io too, wrapped ETH (yWETH) token tracker shows yWETH 351,151, and 3,361 addresses.
🗞 Daily Crypto Calendar, September, 4th💰

"We will then open trading for DIA/USDT at 2020/09/04 1:00 PM (UTC)."
"We will be kicking off the Tequila-0004 Testnet for our anticipated Columbus-4 mainnet!"
"... We remind you of obligatory exchange of BZT tokens to BLCT (Bloomzed Loyalty Club Ticket) until September 04, 2020."
On the 4th of September 20:00 KST, ICO Pantera will host an AMA with Jupiter's founder Steven Grove.
"Deposit/Withdrawal will open at 1 AM on 9/4Hourglass with flowing sand DETS/USDT, DETS/ETH trading pair will be open at 1 PM on 9/4."
Last Updates


➡️ Be paid daily to browse with Brave Internet Browser
➡️ A secure and easy wallet to use: Atomic Wallet
➡️ Youtube
➡️ Twitter
➡️ Hive
➡️ Publish0x
➡️ UpTrennd
➡️ Read.cash
➡️ LBRY


20% of this article rewards wil go to the @hodl-fund account in order to support HODL Community Initiatives.
Find out more about HODL Community: Crypto Social Community and by following our community account @hodlcommunity

If you would like to delegate some HP to our community and support us; we give you back 90% of the curation rewards on a daily basis ! APR > 12% !
500 HP - 1000 HP - 2500 HP - 5000 HP
Make a good APR Curation by following our HIVE trail here