Yesterday, I told you that I staked all my SLP and SUSHI for xSUSHI. As I've had enough food on my plate these days, today I finally decided to move to MOON 😀.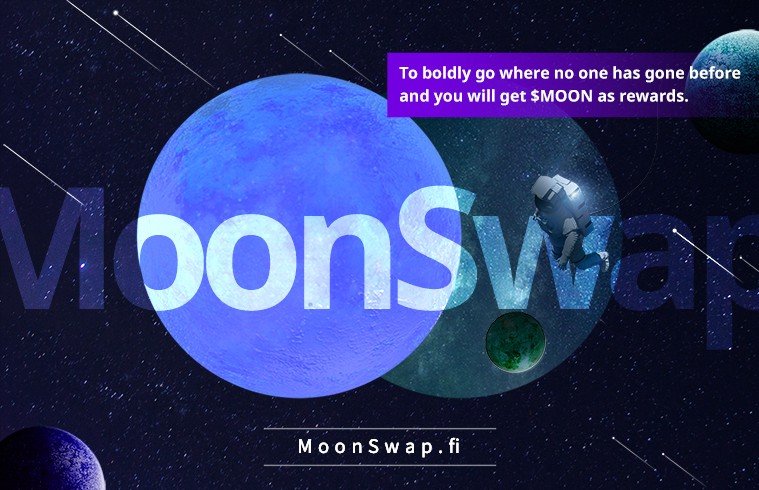 I know it's a little late decison as most of MOON's vampire mining time of 7 days is already over. Yeah, I'm talking about MoonSwap project that is the first AMM DEX on Ethereum's Layer-2. Thus it will make 0 GAS fee transactions posible (yes, ZERO GAS!). It's being launched on Ethereum Layer-2 chain called Conflux. Honestly, I never heard of it before. But they say they have adopted a scalability consensus mechanism to attain a high thoroughput rate of 3000-6000 TPS. That's amazing!
But when MoonSwap's coin MOON launched, it's prices were as high as $35. Now it has fallen down by over 10x. The all time high for TVL was about $700M. Well, who won't like a GAS-free Ethereum DEX?
I could have staked my SUSHI/ETH SLP to mine MOON but again as I told you yesterday, I was in doubt how long its Governance will support such a pool. It was easy for anyone who hold a SushiSwap LP to mine MOON for say first 7 days and unstake their SLP just in time, without moving out their liquidity from SushiSwap. So rumours had it that FTX CEO SBF is minng MOON with his SLP and going to dump it all. Probably, this was one of the reasons for MOON prices to nose dive.
And now there is a proposal to discontinue SUSHI pool on MoonSwap!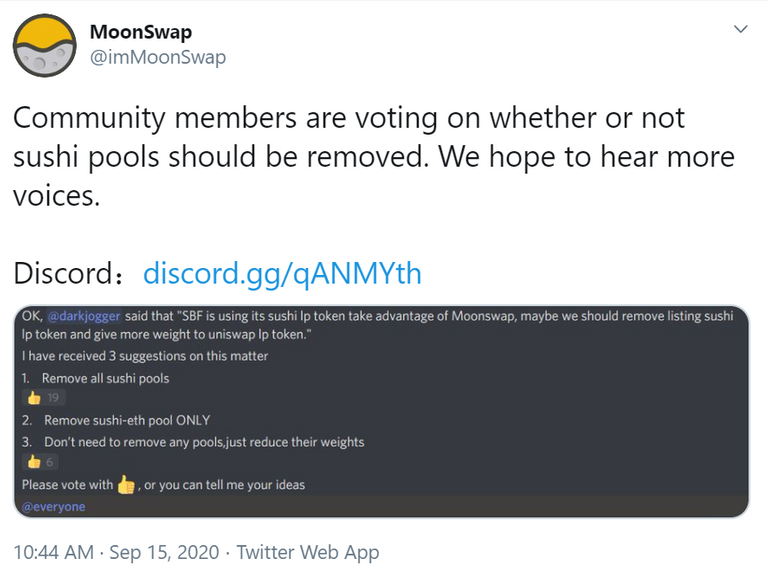 Seems, it was a very badly thought out plan but I'm almost certain that SUSHI pools LP will now be barred from mining MOON. Or if they don't totally remove them, they will drastically reduce the mining weight to limit the SBF's so-called "attack" on MoonSwap. These types of decisons seems unfair to me but that's how they are gonna save MOON from brutal price drop.
But I think that it's now time for me to put some money into it and take a ride to MOON to see how it feels to be there :).
Conflux Committee has also approved FC Donation proposal to offer 1 FC for every $100 liquidity provided at the time of MoonSwap V2 migration.
Other partners are also announcing bounty for providing liquidity to their pool on MoonSwap. E.g. FOR announced 100K tokens: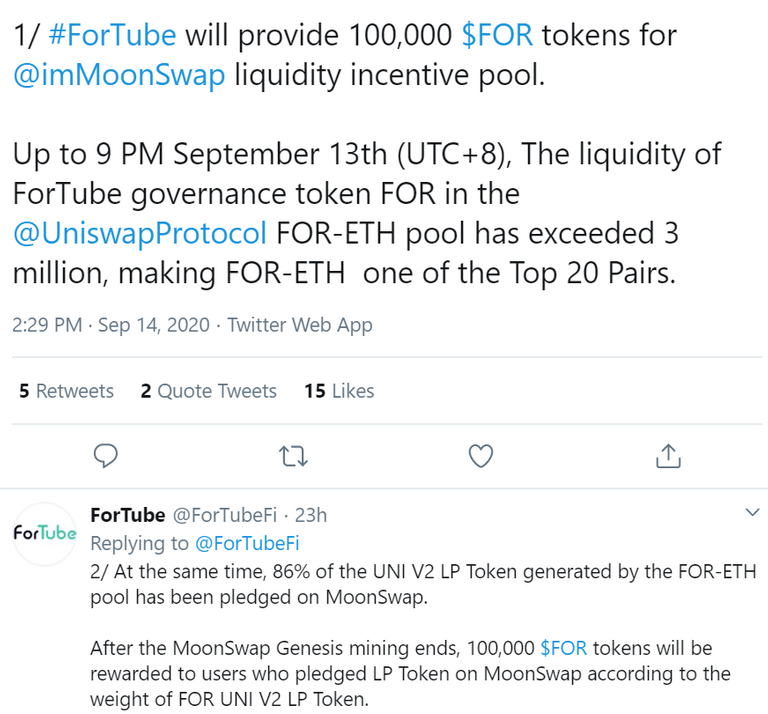 So apart from earning MOON through providing liquidity, you earn 0.25% share of swap fee. The remaining 0.05% out of total 0.3% is used to purchase MOON from the market and burnt to reduce circulation. (However, I feel SushiSwap's model of distributing that fee to token holders is better than this one). But they also say they are gonna offer more incentives to liquidity providers once the community grows enough. Halving on every 5M blocks (1.9 years) is another way to make MOON deflationary.
But whole possibility of fast and GAS-free transaction is very attractive. Well, not completely free transactions though, they say it will cost less than a cent. A transaction on Conflux Network completes in 23 seconds with security comparable to 30 ETH block confimation. However, how much community gets comfortable with casting of corresponding c-tokens on Conflux chain for their digital assets remains to be seen.
If it gets market acceptability, MOON is certainly gonna moon!
Well, smart contracts are now audited, liquidity seems to be flowing in, token prices are almost at its bottom ...I'm thinking it okay to give it a go.
Just sold some STEEM to take it to MOON ....LOL!
Now, only a click away on Zapper. But the trouble is it's asking $46 in Gas. Clicked "Reject" for the time being. Perhaps I'll get a better opportunity soon.
What do you say guys?