This was a pleasant surprise. Never before I had received such a huge airdrop. And it was all without performing any specific tasks to secure it.
Today morning when I opened Uniswap website, I found a unicorn waiting for me with 400 UNI tokens as a gift.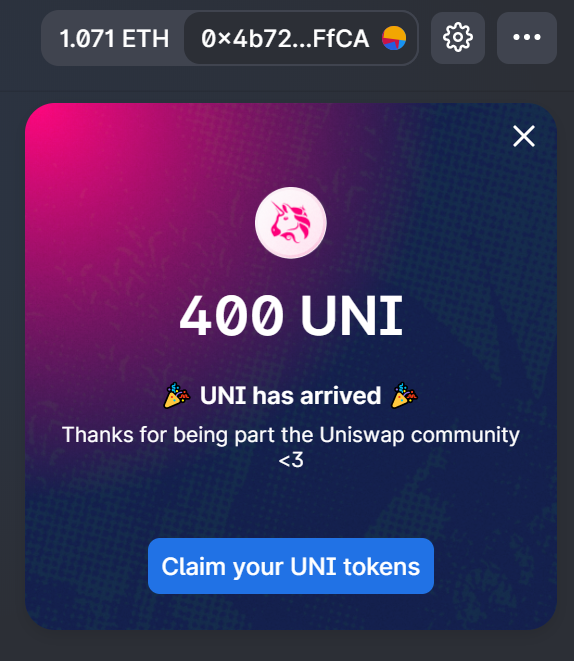 The immediate concern on seeing it was like it will eat my ETH with some high gas fee for claiming it and then another transaction for selling it. So I checked its market price ...and my jaw dropped! It was a whopping $2.75 with a high of $3.33.
So I calculated in fiat currency and it's over 80000 INR in value 😮. But I'm as greedy as most humans are, whenever we receive something desirable, we begin to crave for more. I thought what if I round it up for a neat 100,000 INR. And it would come when it climbs back to its ATH @3.33$.
So would it be sensible to wait?
The prices of most airdrop tokens I received in the past soon dropped owing to the selling pressure. Shouldn't this happen with UNI? So I read a little about it.
UNI is actually a governance token for Uniswap Protocol - the biggest AMM DEX for swapping crypto on Ethereum network. In last couple of weeks we saw over a dozen Uniswap forks mushrooming up to capture the market with different ways to reward the community. Some of these threatened to take away liquidity and volume from Uniswap. Probably this prompted Uniswap to come up with its own reward token and a community participation in Uniswap governance.
And we all know, how these governance tokens take a ride to moon.
So I chose to compare it with its rival SushiSwap. SUSHI prices have dropped a lot in past couple of days even after 14M token buy back from the promoter-returned funds 2 days back. SUSHI's current circulating supply is slightly over 100M mark and with a price of $1.5 its market cap is about $150M only.
In comparison, Uniswap has minted 1 billion UNI out of which only 60% are allocated for community distribution. Remaining 40% tokens goes to team and investors though they will be locked for 4 years. Current circulating supply for UNI is already 170M.
So is UNI worth holding?
Unlike SUSHI, you don't get any direct rewards for holding UNI. But UNI enables your participation in the governance. So may be, community can tweak the protocol swap fee rates to reward UNI holders in the future.
Community will get the hold of Treasury next month w.e.f. 18th October. But what's in the Treasury? 430,000,000 UNI tokens. Of these, 170M tokens will be available to the community governance in the first year. Thus I see it as current market circulation doubling in the first year itself.
I'm still weighing for why these tokens will appreciate.
But before I get that, I actually need to claim them. When I was claiming Gas prices were at 500 Gwei ...I consider that as insane even for claiming free tokens 😅. (I hope it should come down in a few hours when most people go to their bed).
Yes, these tokens are distributed for free to all 49000 Uniswap's historic liquidity providers prior to this month. But I never hold my UNI V2 as I deposited or staked it to other yield farming projects as soon as I got it.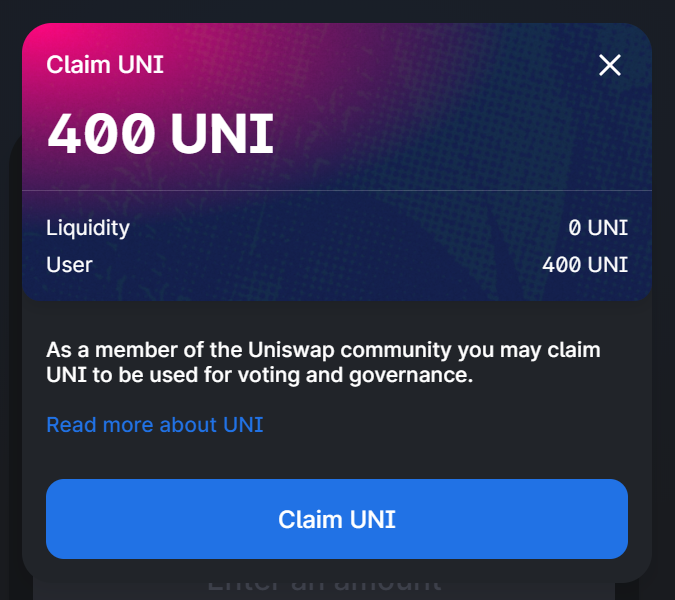 However, Uniswap is generous enough to airdrop at least 400 tokens to even those users who just tried to call the Uniswap contract but their transaction was failed. Check all the details about this airdrop and UNI here.
So what's your take on UNI and Uniswap in general? Should I hodl UNI or sell them?