Ethereum based decentralized token Exchange Uniswap has become the world's largest DEX by volume.
But with open listing for everyone along with automated market maker, it has also attracted tons of scam projects on it. Anyone can list any token by submitting a request on Uniswap's Github. So several fake, duplicate and scam tokens found an easy opportunity here.
When trading on Uniswap, you need to make it doubly sure that you are interacting with the right Token contract and it's not some scam token with the same or similar name. The best policy was to find out the Token contract from the official website or from reputed coin tracking website like CoinGecko and CoinMarketCap, then pasting the token contract address in the search box instead of the token name.
Some were also using the new Unicrypt's Uniswap Browser from Unicrypt Network with a trust score based on amount of liquidity locked (...and UNC community voting).
But yesterday, a decentralized solution for this problem was worked out with the launch of Token Lists. Token Lists will help users to filter out legitimate tokens from scam & duplicate tokens. Token Lists is a community led initiative to ascertain trust, reputation and discoverability of a token a user is looking for. It announced a new standard for publishing a ERC20 token list by the community.
All community generated lists complying with its standard will be integrated in the Uniswap Interface. A user can choose whichever list he/she trusts to find reliable tokens. Currently lists from CoinMarketCap, Coingecko, Dharma, Zerion, Kleros TCR, Defiprime, Compound, Aave, Synthetix, UMA, 1inch, and Roll have already been integrated into the Uniswap interface. Of these, 1inch has got the largest list with 465 tokens.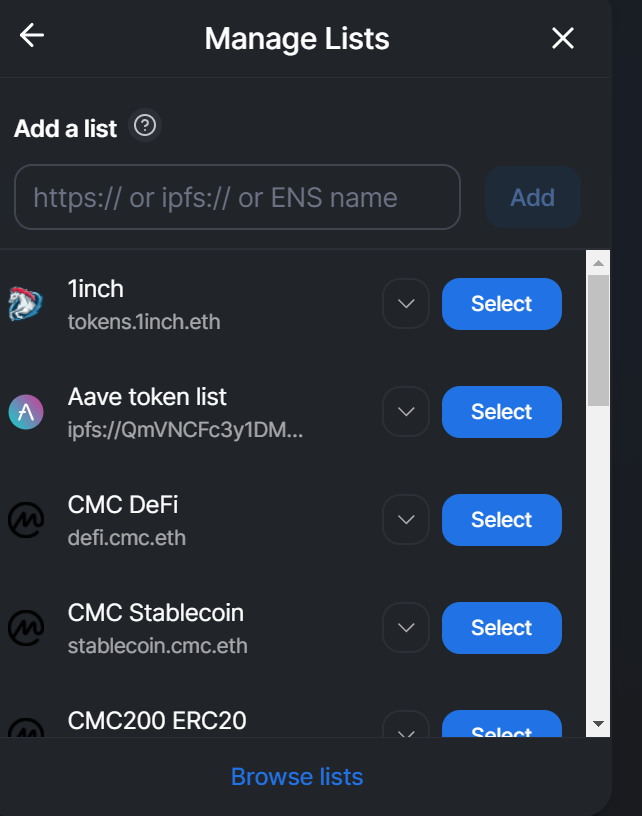 A screenshot from Uniswap App displaying all available lists
More details on the announcement can be found here
A post in the newly launched community is already inviting developers to submit their tokens to their list. :)
There is no doubt that decentralized and transparent Token Lists will go a long way to safeguard its users' interest and keep away scammers. At least, users now have got some tool to figure out what sort of token contract he/she is dealing with.
But I wonder, if Uniswap's interface keep developing and improving what will happen to projects like Unicrypt (UNC) or even Unitrade (TRADE) whose tokens are considered very hot at this time? I mean, all those projects that are working to improve functionality of Uniswap by adding a second layer to it. Do these projects have a long term future?
I'd like to know what's your take on such projects and why do you think these projects will keep performing even after Uniswap's core interface begins to serve all those added functionalities and features that these projects are working on.
Thank you!