A cosy convertible ear-warmer for freezing weather as Storm Arwen hits | Live chat on Monday 6 December 2021 at 7pm UTC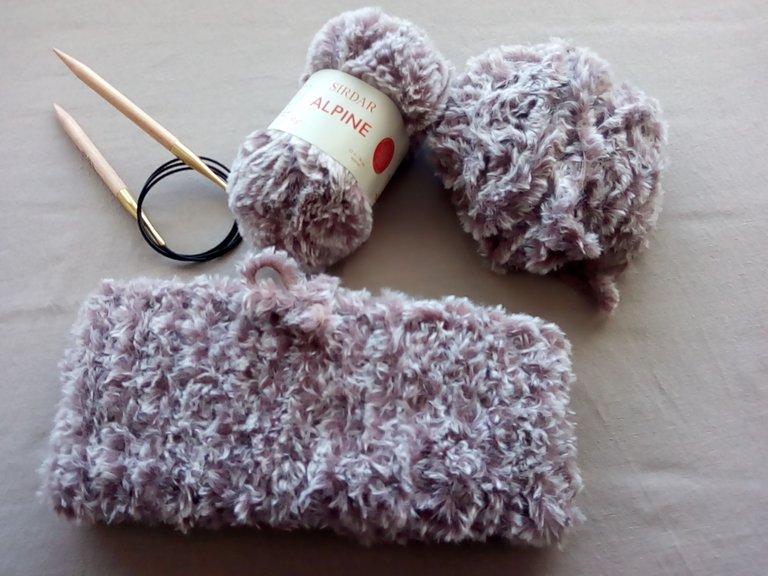 I was really pleased with this ear-warmer, I've been needing something cosy for these freezing winter days, especially as Storm Arwen hits England with rain, winds and floods! Even better, I made it from bargain yarn bought in the summer from a shop that was closing down. This is Sirdar Alpine fake fur fabric and makes beautiful soft garments and accessories and children's toys. I bought it to make a fur collar for winter cardigans to add a bit of drama, but the chilly weather demanded something for my ears!
The ear warmer is a simple rectangle with the short ends joined. I made it double width because I wanted to fold the rectangle in half long ways to get a thick, stretchy band to go around my head. You knit using 10mm needles and either garter stitch or stocking stitch (but why do purls when you can do knit stitches), so a very fast and easy make for beginners or anyone that wants a break from complicated knitting. I chose a shade called Mink, which is a kind of pinky-purpley colour.
I cast on 19 stitches and knitted rows until the rectangle was about 56 cms - long enough to fit snugly where I wanted it on my head - and then cast off using the three-needle bind off to join the two short ends together. I've threaded some of the yarn through one of the long edges, knotting each end to give a nice finish, and then making a tiny bow as decoration. This means you can adjust the fit if you want a tighter band.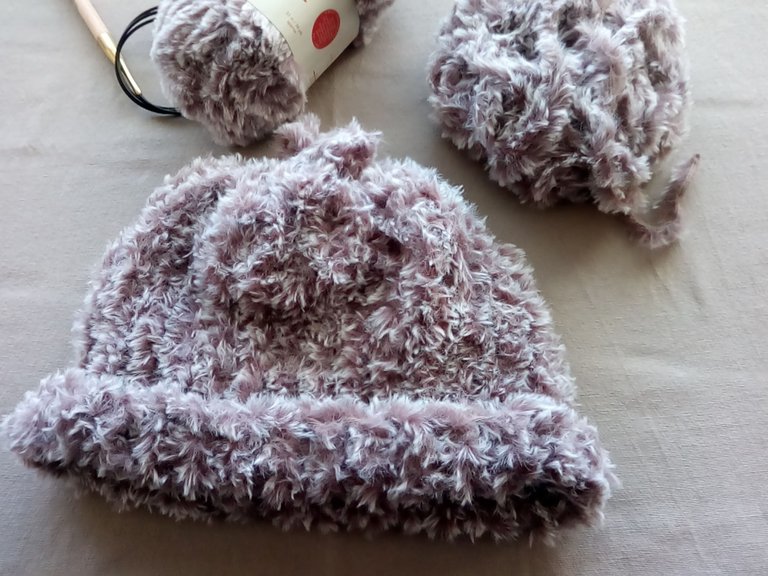 You can convert the ear-warmer into a hat by using the yarn threaded through one side to gather the knitting together, then tie the yarn into a bow. It makes a perfect neck warmer, too, worn either single layer, so you can tuck one end under your coat or jacket, or double layer, if that's your fancy.
When I finished the rectangle and before I joined the ends and bound off, I checked how it would look as a collar on a cardigan. I liked it - the back stood up perfectly creating a snug collar for your neck. You could knit the collar as a simple rectangle if you wanted dramatic lapels lying across your shoulders, or you could use short rows to create a shawl collar. Either way, it would be very fast and very simple! The ear-warmers/hats could make good gifts or donations for fundraising sales.
Live chat | Monday 6 December 2021 at 7pm UTC
The next First Monday Needlework Monday Live Chat will be next week on Monday 6 December. We've had two already with @crosheille, @phoenixwren, @monica-ene, @blezyn, @lauramica, @akipponn and @neumansalva taking part. They last about an hour and are in English. The link to join the Live Chat in Zoom will be posted in the Needlework Discord next weekend. I'll be writing some FAQs about how to organise and host your own Live Chat (probably over the Christmas holiday when I have a break from work and a little more time for posting). It would be great to have several Live Chats hosted in different time zones so everyone could get to one.
I will be modelling the cosy ear-warmer and demonstrating the different ways you can wear it, plus showing my latest knit cardigan using Noro wool, so look forward to seeing you next Monday. Bring anything you would like to show or model, and any problems that need solving (involving needles or otherwise), and some knitting, sewing or crochet (or nothing, that's good, too) and a nice drink and enjoy an hour with us. Christmas ideas or gifts would be lovely, too.

Saturday Savers Club
I run a savings club every Saturday over on the @eddie-earner account. We're aiming to save £670 ($800) by the end of the year using the 365 day savings challenge. YWe share savings tips and there's a free giveaway every week. There will be a new 365 day savings challenge starting on 1 January 2022.
First Monday - NeedleWorkMonday Community
Every First Monday of the month, I host a Live Chat for an hour from 7pm for the Needlework Monday Community. Bring your knitting, sewing, crochet (or nothing, that's okay, too), a nice cup of something, and join us for a relaxing hour of chat. Find our more in this post
Three things newbies should do in their first week and, for most things, forever afterwards!

---
---