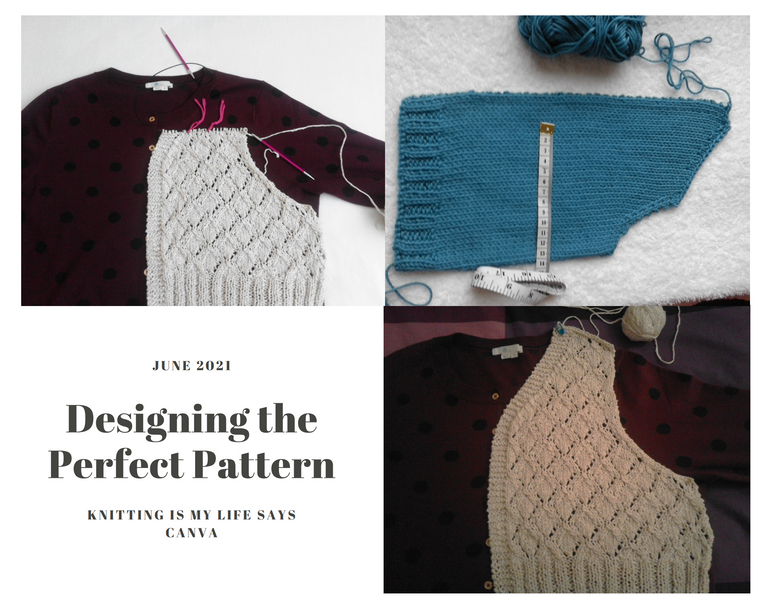 I'd pulled out some summer knitting and started a bottom-up cardigan. I'd just got to that tricky bit of shaping the armholes and had almost put it aside. The challenge is going from a full bust to tiny shoulders - if a garment is big enough at the bust, it never fits the shoulders, often gaping at the neckline and with just too much at the shoulders.
Luckily for me, four reasons why designing your own knitted cardigan will make you happy by @neumannsalva appeared in my feed! With general clues (using double knitting yarn and 4mm needles) and some helpful diagrams in a previous post - how to design a flat knitted cardigan - I set off on my journey.
In dressmaking, we often blend different standard sizes to get a perfect fit. The critical factor for choosing your starting size is the upper bust measurement. This is a measurement of the circumference of your body taken above the bust and below the arms. In standard patterns, this is 5 cms less than the full bust measurement.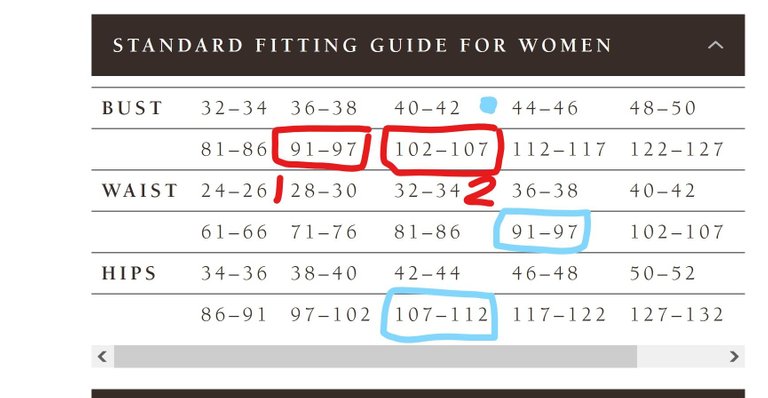 Comparing my measurements (in blue) to standard pattern sizes My full bust measurement (109cms) falls between two standard sizes. My waist (92 cms) falls in one size and my hips (109cms) in a size smaller.
My upper bust measurement is 91cms: add 5cms to get the full bust measurement and this brings me into the 91-97 standard size (M). As my full bust size is 109cm, I would alter the dressmaking pattern by doing a full bust adjustment (FBA) to get the correct full bust size.
In knitting, my full bust measurement falls between two sizes. The finished garment measurement for the 102-107 standard size (L) is 112cm at the bust. This would allow 3cm ease if I chose the smaller full bust size. As my knitting tension is loose and my garments tend to grow, I decided 3cms ease would work.
My starting place for designing the pattern was to knit the L size (2) to the under-arm shaping, then to reduce the stitches until I had the measurements for the M size (1) for the upper body, shoulders and neckline.
I'm using Sattley by Sarah Hatton for Rowan Yarns - you can find the pattern as a free download on Ravelry. It has three-quarter sleeves and scoop neckline (my favourites) and an armhole depth of 21cms. The finished garment length is 56cms in the pattern - about 10cms too long for me, I'm aiming for 46cms. I've also converted it from a jumper to a cardigan.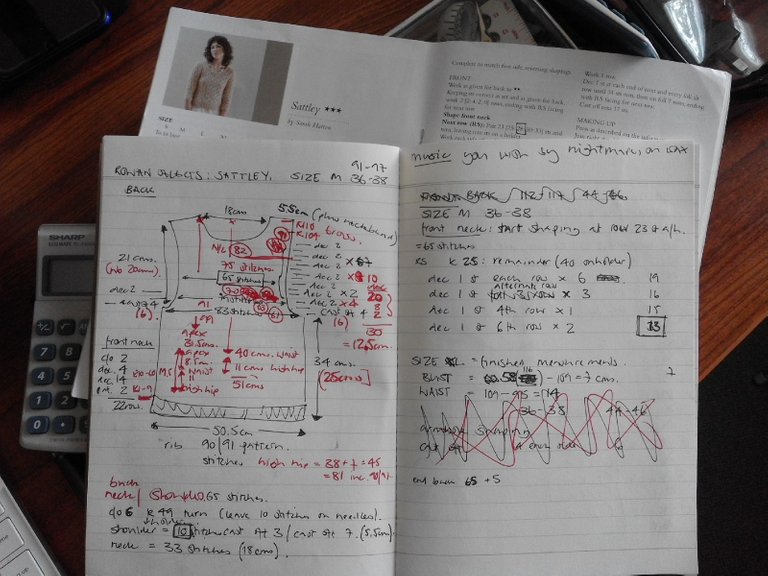 Here's some of my workings out, trying to reduce from 99 stitches for the L size full bust and below to 65 stitches for the M size upper bust and body measurements. I was in the Baby E cafe at the time, in Dale Street in Liverpool, listening to the Jaunty Goat Coffee playlist on Spotify. You Wish by Nightmares on Wax caught my attention.
So far, I have adapted and knitted the front of the cardigan. I'm pleased with the tension. I've also shaped the shoulders using short rows rather than casting off. I've cast off loosely in case I want to undo the shoulders and work them a bit more to get a better fit.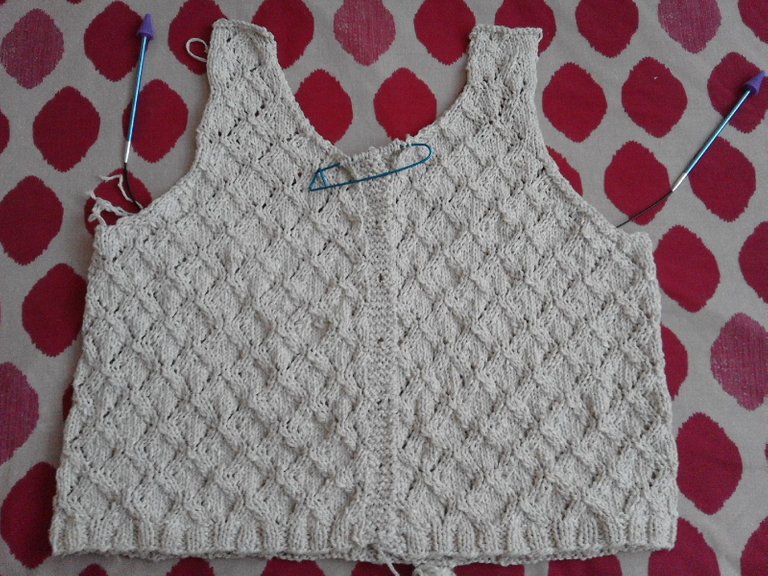 I've knitted the two front pieces, the front bands and the back in one piece - I like to cut down on "making up". So far, the front pieces are complete, just the back to do now, then I will baste the shoulder seams and try for fit before designing the sleeves.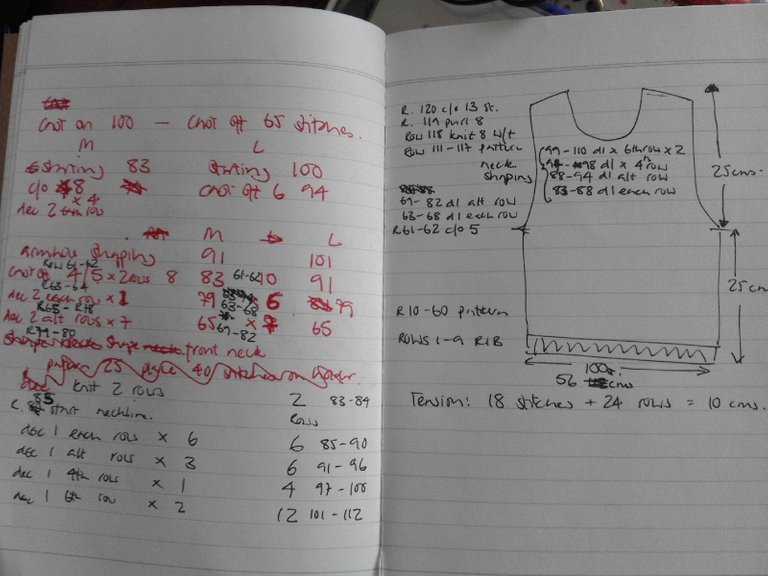 Here is the start of my drafting of the perfect knitted cardigan. I would be really happy to convert it to a formula, for example, cast off five stitches at each underarm, decrease 2 stitches in next five rows, decrease 2 stitches each alternate row 5 times, knit another 33 rows (50 rows in all). We'll see how this one works out and then try and draft a template.
Saturday Savers Club
I run a savings club every Saturday over on the @eddie-earner account. We're aiming to save £670 ($800) by the end of the year using the 365 day savings challenge. You can join any time of the year and set your own goals and plans (some people are saving Hive, others Bitcoin, some their local currency). We share savings tips and there's a free giveaway every week.