Není to tak dávno, tedy konkrétně dva roky, kdy se začal vařit v pivovaru Jihlava ležák uvařený speciálně pro jeden brněnský hostinec. Název nese ryze pivní a přesto kryptoměnový. PIVX. Ano, anonymní kryptoměna PIVX propůjčila jméno tomuto ležáku, který dokonce zvítězil v soutěži sládků. Toto pivo si nechal na zakázku vytvořit právě hospodský z dané brněnské putyky, v dnešní době to tak funguje, když máte nápad, odběr a peníze, klidně vám něco v pivováru namíchají. A ideálně podle vaší vytříbené chuti. Pár postupů si vyberete a pak už jen čekáte, až se pivo uvaří.
Musím z vlastní zkušenosti říct, že se jedná o opravdu zdařilý kousek. Cena už ale asi nebude 37,-, tipuji že inflace a koronavirová doba na ceně trochu přidala.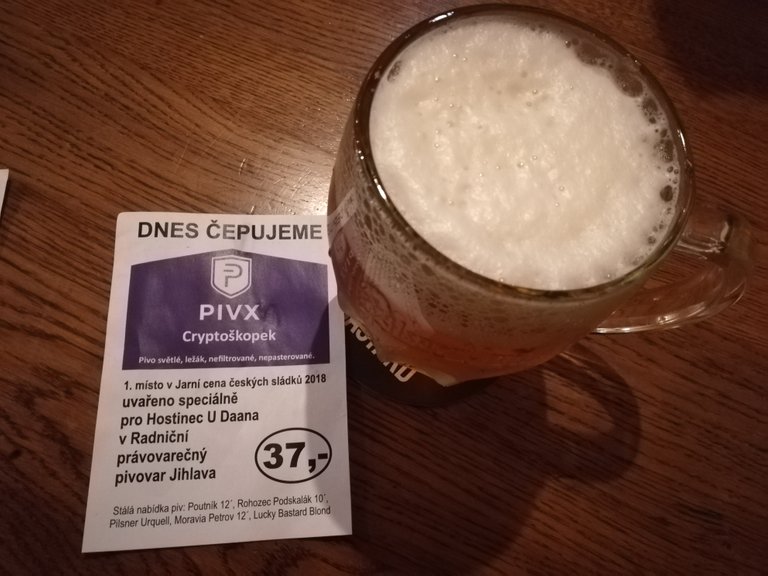 No a včera jsem se takhle procházel po uličkách brněnských a co moje oko nevidí? Další kryptoměnový pivní skvost. Tedy alespoň podle názvu. Bitcoin IPA 15°. Vyrábí ho v pivovaru Rudhor v Ostrově, kousek od Karlových Varů. Stupňovitost má 15,2°, obsah alkoholu 6,7 % a hořkost 75 IBU. Jedná se tedy o velmi hořké pivo, klasická IPA. Vlastně jsem ho neochutnal a rozumuju tady o něm, no příště to napravím.
Oficiálně se to pivo však jmenuje Rudohor Bitcoin Rebellium. Kdo ještě nezná webovou stránku pivnici.cz, určitě by na ni měl zavítat. Takto tam totiž recenzují Bitcion IPA:
Vzhled (3 - dobré):
Tmavě zlatá barva, lehce zakalené. Pěkná světlá pěna, dobře drží.
Vůně (3,5 - velmi dobré):
Vůně sladová, jemně citrusová (kůra, limetky, mandarinky), bylinná, trochu tropického ovoce a kokosová.
Chuť (3,5 - velmi dobré):
Chuť ovocná, sladová, lehce bylinná až pryskyřičná. Střední až nižší říz, střední plnost těla. Hořkost je střední až vyšší, doznávání delší, sladové, citrusové (limetky, kůra), lehce bylinné, trochu tropického ovoce (papája, karambola), kokosové, zemité a okurkové.
Celkový dojem (7 - velmi dobré):
Příjemný a velmi dobře pitelný ejl s výraznými tóny chmele Sorachi Ace.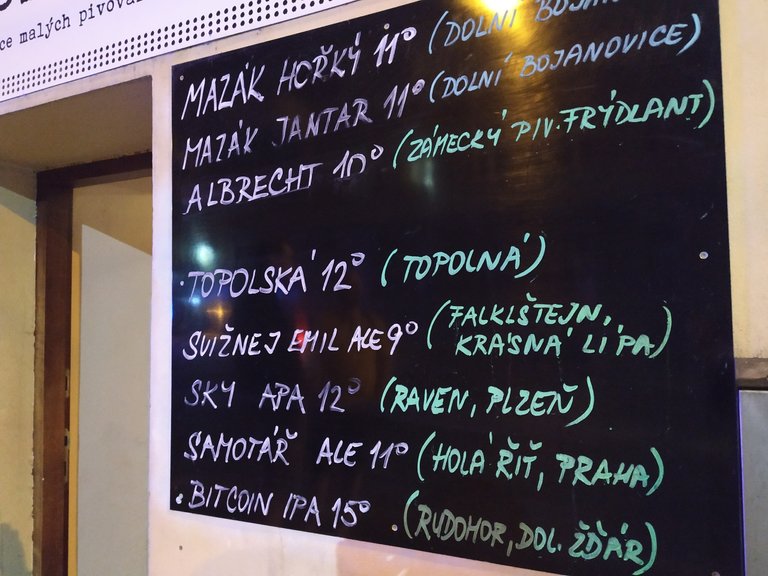 Vězte že hodnocení 7/10 je opravdu velmi dobré. Klasický Pilsner Urquell tam má hodnocení 5,6. Můžete se podívat i na svoje oblíbené pivo zda jej tam najdete a zda popis odpovídá vašim zkušenostem.
Jak už jsem zmiňoval, stránka pivnici.cz je opravdu fajnová pro všechny pijany piv i pro ty, kteří neví co si objednat z takovéhoto dlouhého seznamu a nechtějí šlápnout vedle. Zde je třeba ta recenze Bitcoin IPA.
A co vy, máte nějakou zkušenost s pivními speciály nazvanými po kryptoměnách? Myslíte, že hospodou je správná cesta k adopci krypta? Já tedy ano, minimálně to zaryje nějakého červíčka do podvědomí. Jen by to chtělo rozšířit sortiment o Litecoin APA, Ripple ALE, IOTA hořká, Cardano Summer Ale a nějaké další. Chce to jen nápad...a pak tu realizaci.