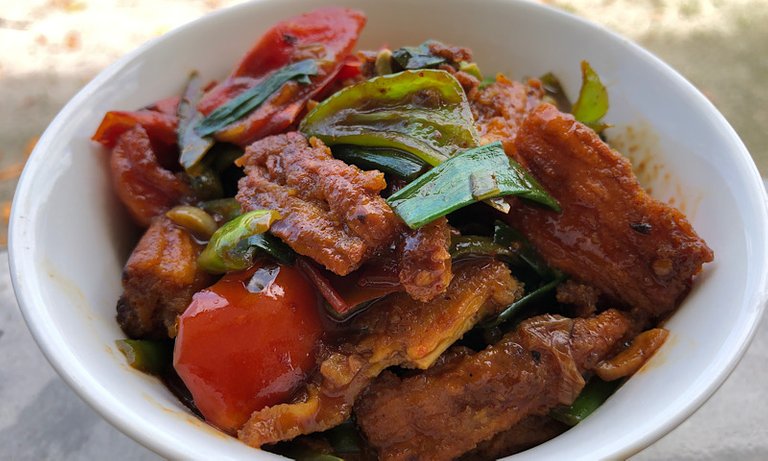 I come again with a new recipe, my Bean Curd Skin Stir-Fry. I deep-fried bean curd skin with besan, then I stir-fried it with tomatoes, green chilies and a few free green beans free from my landlord. I have a big bag (2kg) of bean curd skin, so I try to make a new recipe from it and show everyone.
This dish is really delicious with rice. I was interested to deep-fry bean curd skin with besan, and it was very tasty!! I think it's good for people eating vegan or vegetarian, but I think people who eat meat like it also. Next time I will put more ingredients in this dish.

👩‍🍳 Bean Curd Skin Stir-Fry 🔪 100% Ital 💚💛❤️
វិធីធ្វើឆាពពុះសណ្ដែកបំពងបួស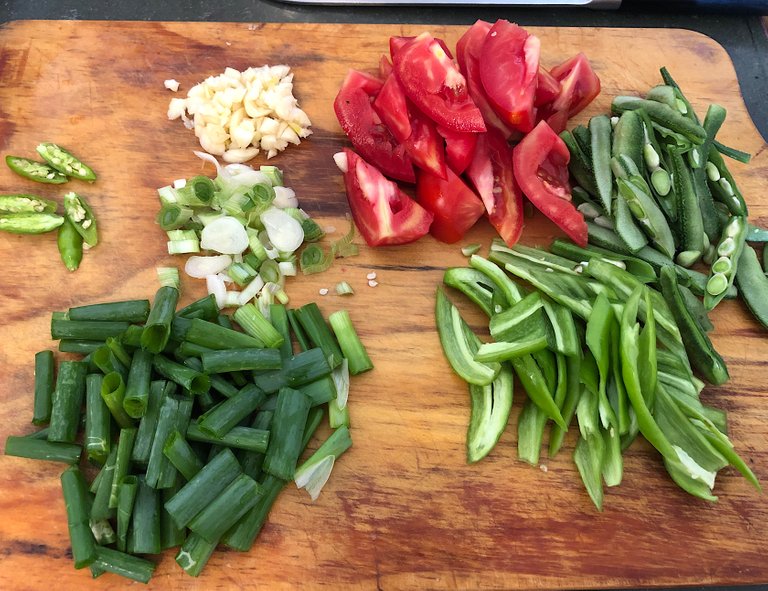 Stir-Fry Ingredients
100g bean curd skin
2 tomatoes
3 long green chilies (not spicy)
4 green chilies (little spicy)
2 cloves garlic
16 short green beans
1/2 tsp chili powder
1/4 tsp salt or taste
1 tbsp brown sugar
1 tbsp soy sauce
1 tsp thick soy sauce
1 tbsp cassava flour
1/2 cup water
First, cut all vegetables like I did.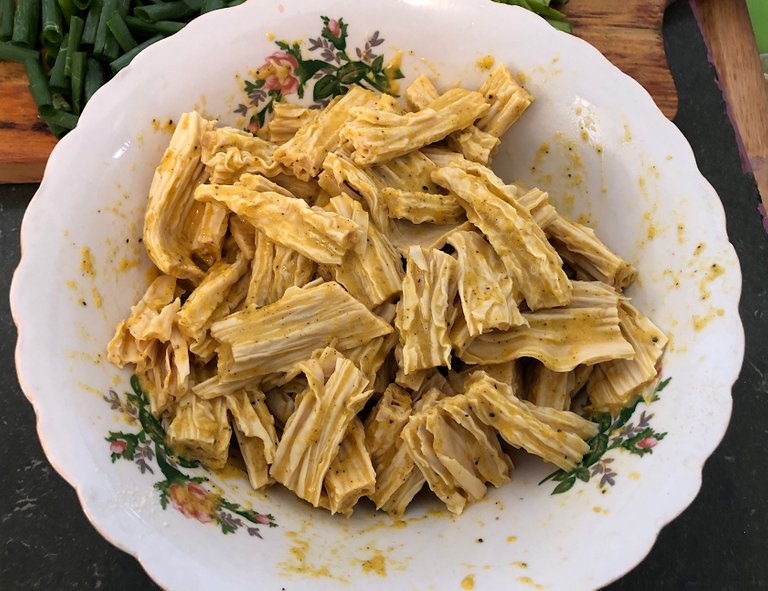 Deep-Frying Ingredients
5 tbsp besan
1/2 tsp turmeric powder
1/2 tsp salt
1 tsp baking powder
1/2 tsp black pepper
5 tbsp of water
Soak bean curd skin in the water until soft, then cut it short. Take a bowl and put besan, salt, pepper, turmeric banking powder, and mix together. Then add water and stir it until mixed. After add the bean curd skin and mix it.
---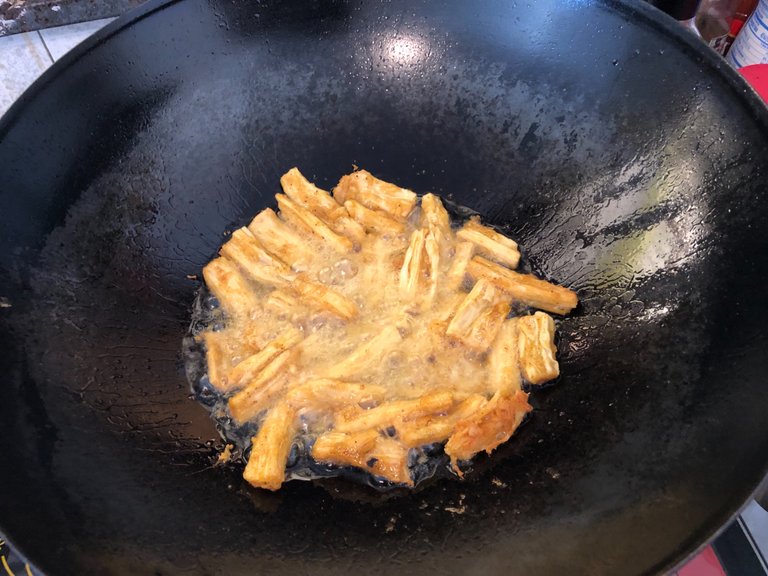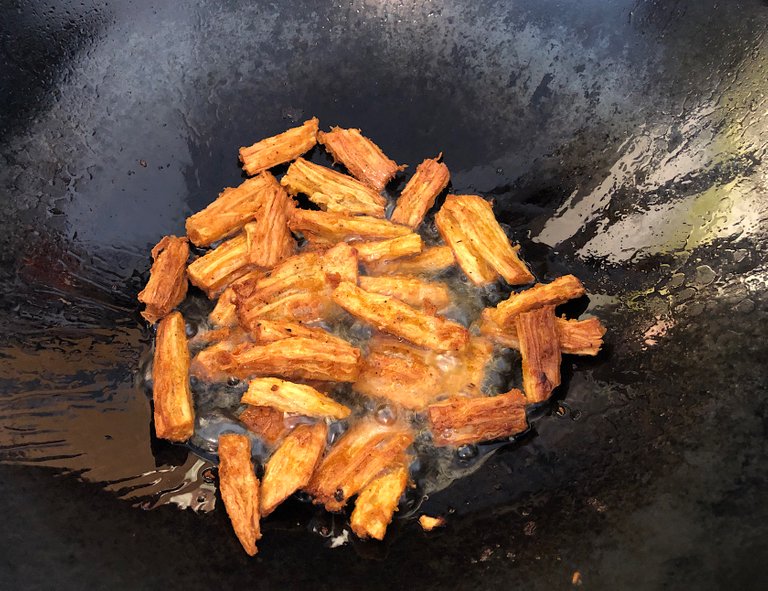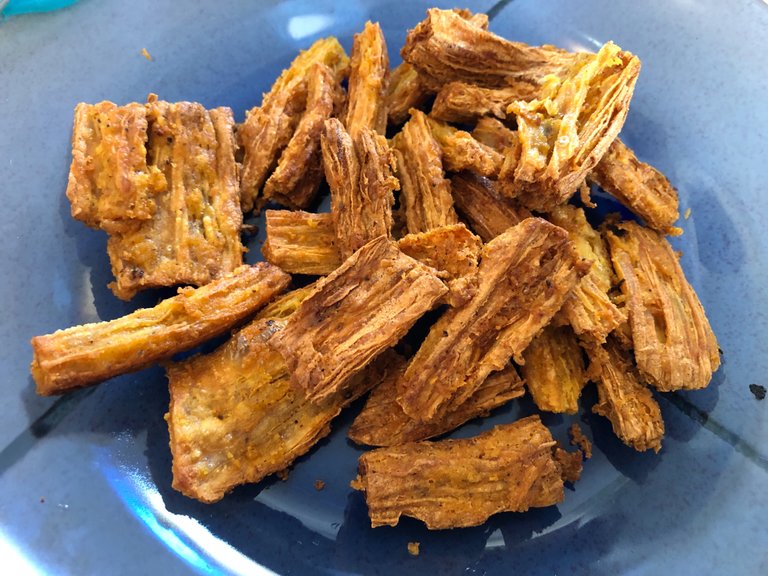 Heat oil and fry until brown. Hmm... it's delicious already, so I used it in this food and half of it I keep for snacking when I cook.
Step 1

Heat oil and fry garlic, chilies, and green onions until aromatic.

Step 2

Then put long green chilies and green beans. Fry it a bit and add salt, sugar, soy sauce, black soy sauce, and chili powder. Fry it a little more.

Pour a little bit of water and stir it, then add tomatoes and fry it some more.

Step 3

Add bean curd skin to stir-fry, then mix cassava flour in some water until dissolved, and pour in the pan. Fry it a little and taste.

Close the stove, add green onion and toss a little bit, it's ready now.
Have a great week everybody.

🙏 THANKS FOR READING 🙏
If you enjoyed this post, please upvote and reblog.