The news I got when I woke up this morning was not good.
This is the news of the fire at Shwebo Development Market near my hometown.
The incident took place at midnight last night when soldiers from the militant group found out that they were stealing goods from the market and set it on fire.
There was a central fire station near the market, but the fire could not be put out early because the terrorist army did not allow it.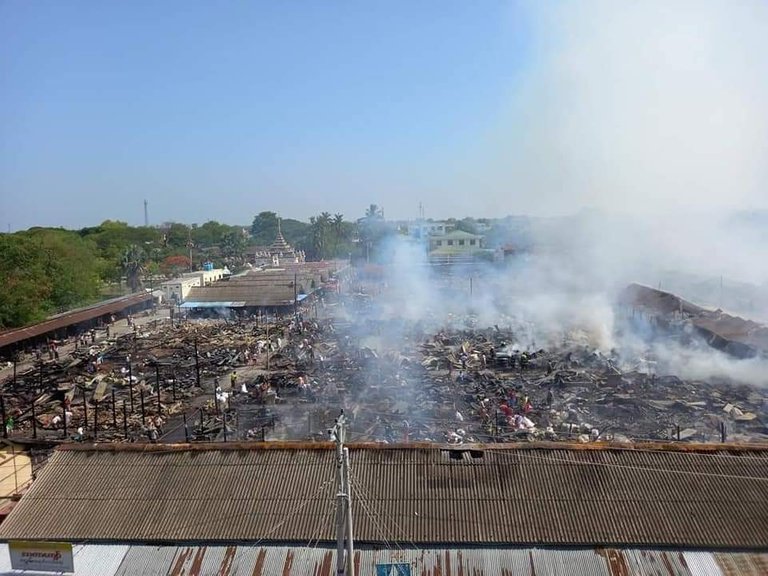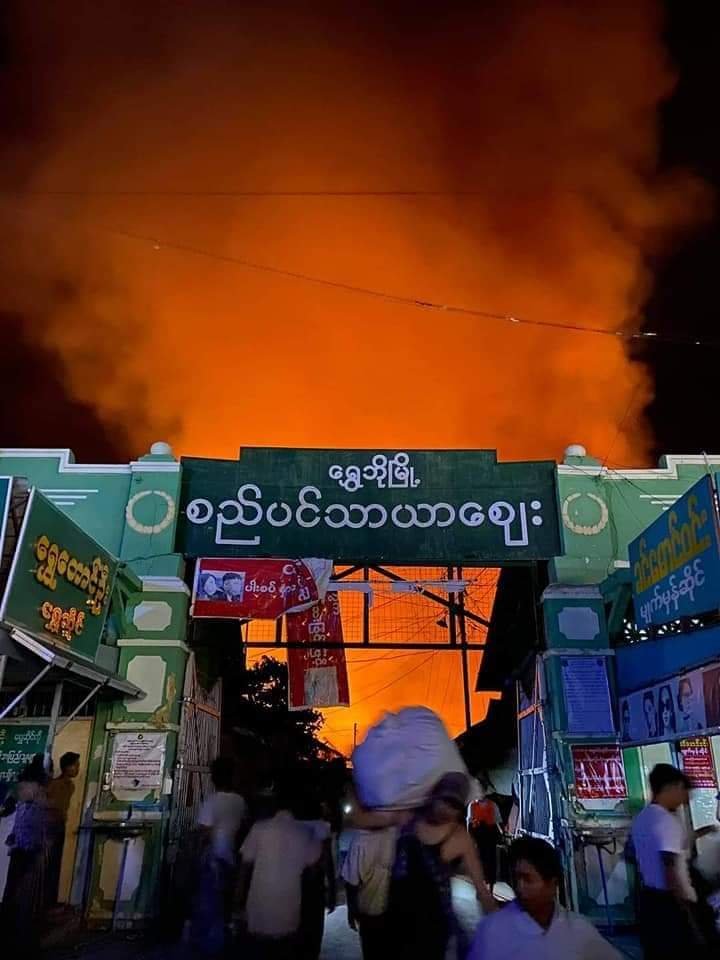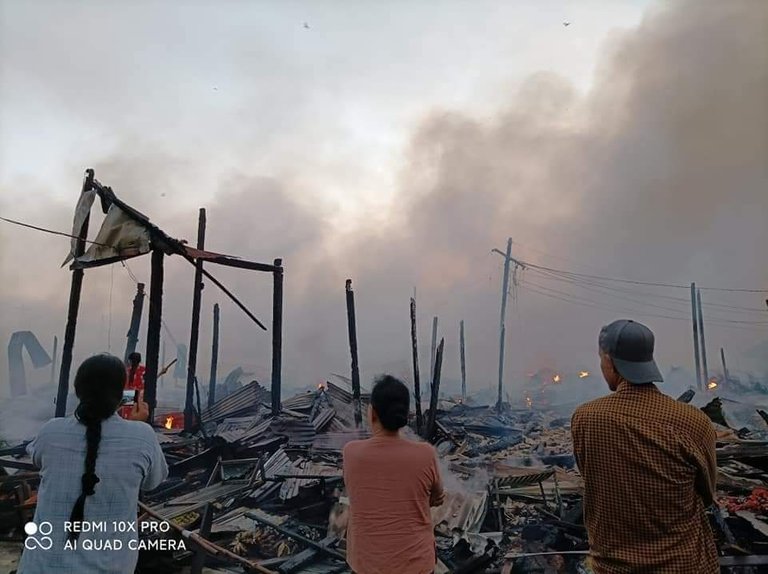 After seeing this news, I also spent time using Facebook without being able to write a post on LeoFinance and HIVE Blockchain.
Although the military coup has disrupted operations, I still have to work to collect crypto for the future.
Myanmar's economy is deteriorating and the financial situation is deteriorating.
Although the central bank has issued 12 million dollars in the last two days, it is still difficult for the public to withdraw cash from banks.
Some banks have announced that they will no longer allow cash withdrawals and will only accept deposits.
Who will deposit cash at a non-withdrawal bank?
Some ATMs are also labeled as broken.
I think this is leading to the collapse of the banks.
There are daily bombings across the country.
There is not much I can do in this time of political unrest.
However, looking forward to the future, I Stake over NEOXAG 500 today.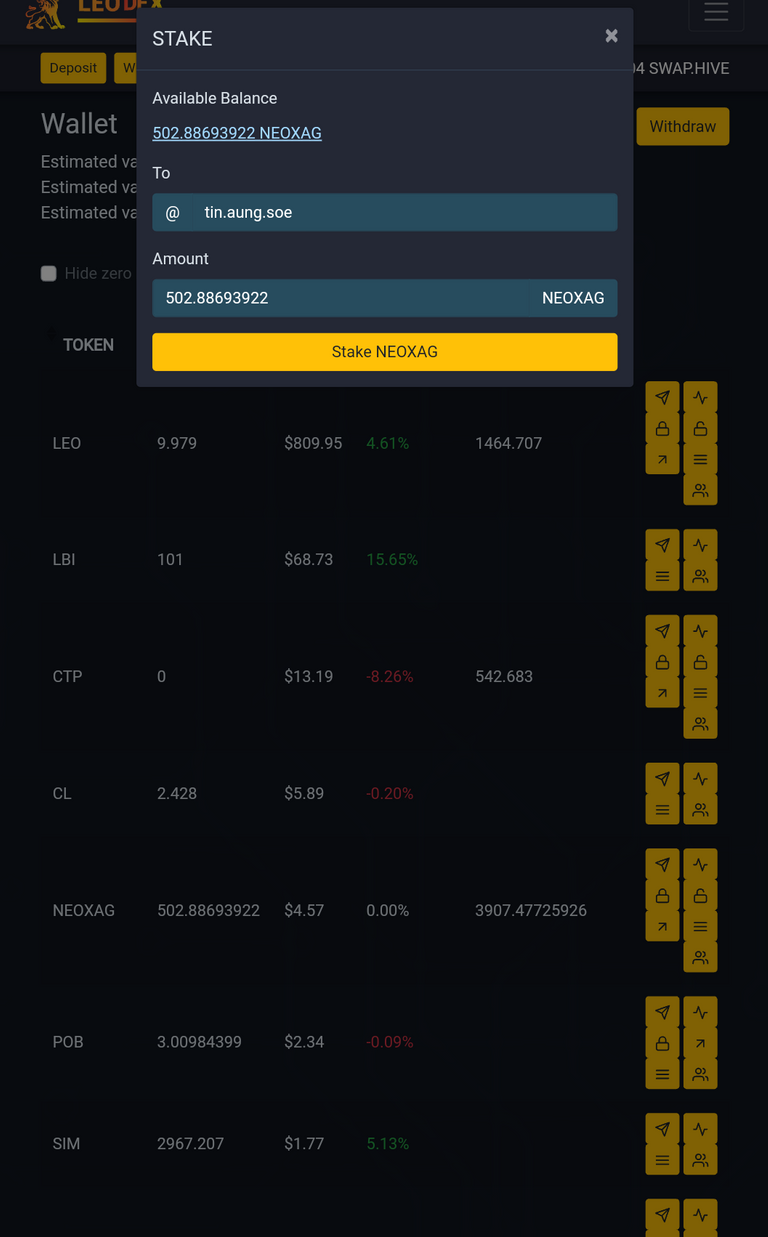 Thank you for everything.
Tin Aung Soe
[Burmese]
ဒီနေ့မနက် ကျွန်တော် အိပ်ရာထတော့ တွေ့မြင်ရတဲ့သတင်း က မကောင်းပါ။
ကျွန်တော်၏ ဇာတိရွာ အနီးက ရွှေဘိုမြို့ စည်ပင်သာယာဈေးကြီး မီးလောင်တဲ့ သတင်းပါ။
ဖြစ်စဉ်က
မနေ့က ည သန်းခေါင်ကျော်မှာ အကြမ်းဖက်စစ်တပ်မှ စစ်သားများသည် ဈေးကြီးထဲမှ ကုန်ပစ္စည်များကို ခိုးယူနေစဉ် ပြည်သူတွေ သိရှိသွားရာမှ ဈေးကြီးကို မီးရှို့ပစ်ခြင်း ဟု ဆိုပါသည်။
ဈေးကြီးနှင့် ကပ်ရပ်တွင် ဗဟိုမီးသတ်ရုံး ရှိသော်လည်း အကြမ်းဖက်စစ်တပ်မှ မီးငြိမ်းသတ်ခွင့် မပြုသည့်အတွက်ကြောင့် စောလျှင်စွာ မငြိမ်းသတ်နိုင်ခဲ့ပါ။
ဒီသတင်းကို တွေ့မြင်ရပြီးနောက်တော့ ကျွန်တော်လည်း LeoFinance and HIVE Blockchain မှာ Post တင်ရန် စာမရေးနိုင်အားဘဲ Facebook အသုံးပြုရင်း အချိန်ကုန်ခဲ့ပါတယ်။
စစ်အာဏာသိမ်းမှုကြောင့် လုပ်ငန်းများ ပုံမှန် မလုပ်ဆောင်နိုင်သော်လည်း အနာဂတ်အတွက် Crypto စုဆောင်းရန် ကျွန်တော် ဆောင်ရွက်ရပါဦးမည်။
မြန်မာနိုင်ငံ၏ စီးပွားရေး အခြေအနေ ပျက်ပြားကျဆင်းနေသလို ဘဏ္ဍာရေး အလြေအနေလည်း ဆိုးဝါးနေပါတယ်။
လွန်ခဲ့သော နှစ်ရက်အတွင်း ဗဟိုဘဏ်မှ Dollor 12 millions ထုတ်ရောင်းခဲ့သော်လည်း ဘဏ်များ၌ ‌ပြည်သူတို့အတွက် ငွေသား ထုတ်ယူရန် အခက်အခဲ ဖြစ်နေဆဲပါ။
အချို့ဘဏ်များသည် ငွေသား ထုတ်ယူခြင်းကို ခွင့်မပြုတော့ဘဲ ငွေသွင်းသာ လက်ခံသောဘဏ်အဖြစ် ကြေညာနေပါပြီ။
ငွေသား ပြန်လည် ထုတ်ယူမရသောဘဏ်သို့ မည်သူက ငွေသားအပ်နှံပါမည်လဲ။
အချို့ ATM ငွေသားထုတ်ယူရသောစက်များကိုလည်း စက်ပျက်နေသည်ဟု ကြေညာစာကပ်ထားကြပါသည်။
ဤသည်မှာ ဘဏ်များ ပြိုလဲဖို့ ဦးတည်နေပြီ ထင်ပါသည်။
နိုင်ငံအတွင်း ဒေသအနှံ့တွင် ဗုံးပေါက်ကွဲမှုများစွာ နေ့စဉ် ဖြစ်ပွားနေပါသည်။
ဤသို့ နိုင်ငံရေး မငြိမ်သက်ချိန်၌ ကျွန်တော် လုပ်နိုင်သည်မှာ များများ မရှိပါ။
သို့ပေမယ့်လည်း အနာဂတ်အတွက် မျှော်ရည်လျက် ကျွန်တော်သည် ဒီနေ့မှာပဲ NEOXAG 500 ကျော်ကို Stake ခဲ့ပါတယ်။
အရာအားလုံး အတွက် ကျေးဇူးတင်ပါတယ်။
တင်အောင်စိုး