Top 20 Splinterlands Cards For Each League: From Archmage Data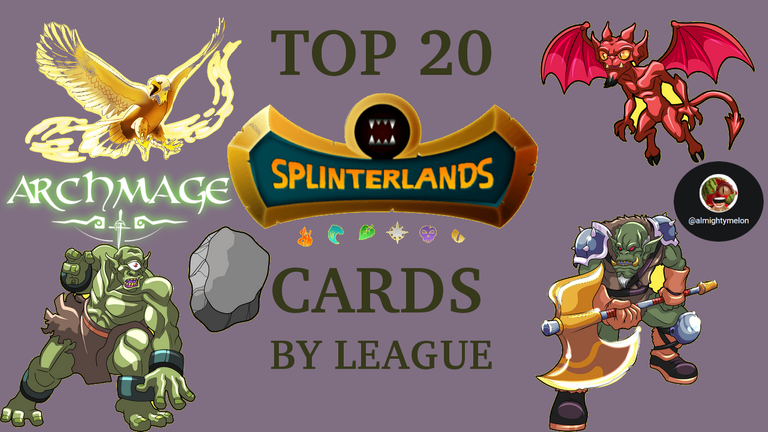 The top 20 winning cards in each league are contained in this post, from a large sample of data obtained through the Archmage Splinterlands automation service.
The list is first and a rough description of the method below.
---
Top 20 Cards by League:
---
Bronze
Furious Chicken,
Unicorn Mustang,
Ice Pixie,
Creeping Ooze,
Wood Nymph,
Djinn Oshannus,
Goblin Psychic,
Khmer Princess,
Venari Wavesmith,
Serpentine Spy,
Failed Summoner,
Mycelic Morphoid,
Regal Peryton,
Cursed Windeku,
Uraeus,
Tenyii Striker,
Living Lava,
Deeplurker,
Mushroom Seer,
Chaos Agent.
Bronze Comments
Furious Chicken is top of the list, but the new Modern league will not include it. The top Modern card on the list is Unicorn Mustang. The top legend on the list is Djinn Oshannus.
The biggest surprise on the list for me is Chaos Agent - it is obviously very versatile even in Bronze.
---
Silver
Furious Chicken,
Unicorn Mustang,
Goblin Psychic,
Djinn Oshannus,
Regal Peryton,
Deeplurker,
Khmer Princess,
Creeping Ooze,
Ice Pixie,
Serpentine Spy,
Living Lava,
Wood Nymph,
Tenyii Striker,
Cursed Windeku,
Chaos Agent,
Mycelic Slipspawn,
Mycelic Morphoid,
Venari Wavesmith,
Failed Summoner,
Uraeus.
Silver Comments
Yes, Furious Chicken again. Mustang again. Goblin Psychic moves up the list with a few extra levels. Mushroom Seer disappears. Chaos Agent is still here.
The biggest surprise on the list is Regal Peryton as the 5th most popular winning card. It drops off the next list at Gold though.
---
Gold
Furious Chicken,
Creeping Ooze,
Djinn Oshannus,
Ruler of the Seas,
Uraeus,
Doctor Blight,
Venari Wavesmith,
Flesh Golem,
Failed Summoner,
Wood Nymph,
Sand Worm,
Goblin Psychic,
Torrent Fiend,
Crustacean King,
Ice Pixie,
Deeplurker,
Serpentine Spy,
Pelacor Conjurer,
Lord Arianthus,
Khmer Princess.
Gold Comments
Chicken, yes. Oshannus does not tail off here. Doctor Blight gaining prominence. Uraeus is very high up. Venari Wavesmith is an almost constant feature.
The biggest surprise on the list is Creeping Ooze in second place. It has its peak power in Gold, it seems.
---
Diamond and Champion
Furious Chicken,
Doctor Blight,
Failed Summoner,
Khmer Princess,
Queen Mycelia,
Crustacean King,
Ruler of the Seas,
Lord Arianthus,
Spirit of the Forest,
Naga Assassin,
Creeping Ooze,
Screeching Vulture,
Tower Griffin,
Kelp Initiate,
Pelacor Conjurer,
Uraeus,
Prismatic Energy,
Fungus Fiend,
Pelacor Bandit,
Dragon Jumper.
Gold and Diamond Comments
Furious Chicken - top again. Doctor Blight in second. Failed Summoner reaches its peak at maximum level. Tower Griffin too. Naga Assassin also best at max.
The biggest surprise in the list is Fungus Fiend, but it's a strong indicator of how powerful green is at the top.
---
The Logical Conclusion
Buy all the above cards at max. Just joking. The first and most obvious conclusion is that in the current meta, and if you plan to play in the upcoming Wild league, it is a great idea to have a Furious Chicken. The same applies to a Creeping Ooze.
Failed Summoner, Khmer Princess and Uraeus are examples of those on all four lists. Venari Wavesmith stands out on the Bronze, Silver and Gold lists.
---
The Method
The lists above are a raw count from the data file of winning hands used by Archmage Splinterlands bot.
They simply represent the instances of the cards in winning hands, with no regard for active splinters, rules, mana or summoner.
Pro-tip for existing users of Archamge: if you make sure your bot has the above cards in the most appropriate level, it is likely to increase your win rate.
The link to the service is below. I hope you enjoyed reading and found it useful.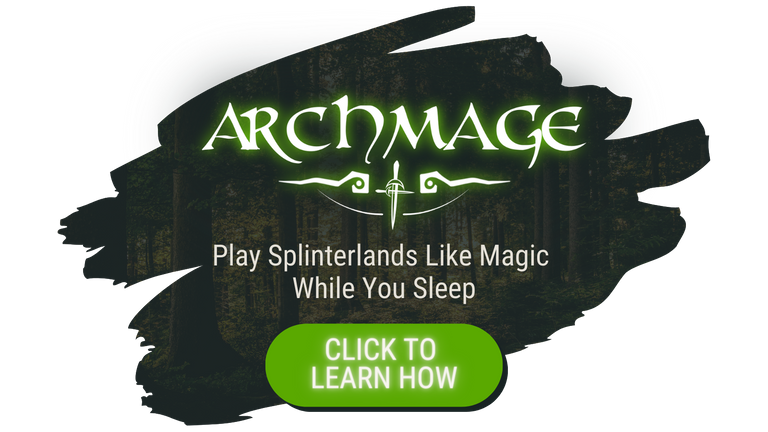 ---
---