Gold cards airdrop, Splinterlands tutorial, & Share your battle challenge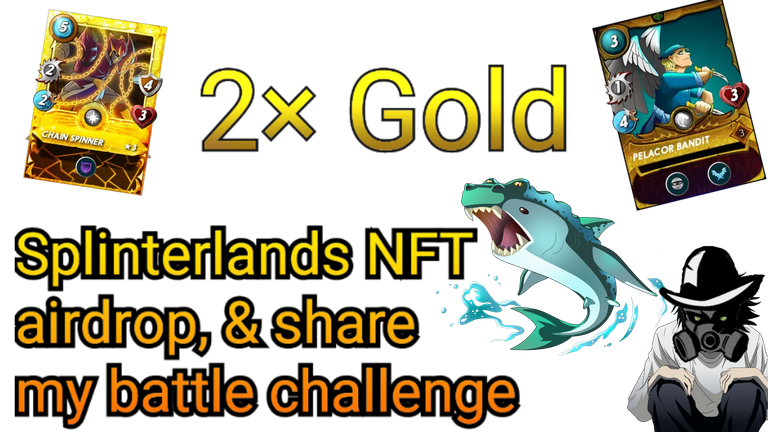 A blockchain game to which I feel as though I owe a great deal of gratitude Splinterlands, which has brought many new faces to hive & given blockchain gamers a flag to rally around. Weather your an old school pro literally made into a millionaire from this game, or a more casual player like myself who is just thankful for the opportunity the game affords us.
I always airdrop NFTs in posts and this one is no different, todays airdrop however has a few Gold Splinterlands NFTs.
Splinterlands has a great deal to offer, but how do we the players make the most of this game. Of course doing the daily challenge and receiving your rewards is no doubt a highlight for most. There is in fact much more that we can do for the game and the game can do for us.
In todays write up ill explore strictly Splinterlands, is social media challenges and blog. Not to mention some tricks I have noticed that can help the average player make the most of this sensational block chain game.
Splinter talk


https://splintertalk.io/
Splinter talk & its native HIVE based token Splinter Talk Token is a wealth of both Splinterlands fandom & information. Not only that but there weekly challenges for players such as the social media challenge.
https://www.splintertalk.io/@splinterlands/splinterlands-weekly-curation-challange-sept-14-2021
The share your battle challenge
https://www.splintertalk.io/@splinterlands/share-your-battle-weekly-challenge-wave-runner
Though not my cup of tea the more artistic among us can take part in the art contests.
https://www.splintertalk.io/@splinterlands/splinterlands-art-contest-week-155-10-booster-pack-prize
With those kind of prizes it makes me regret sleeping through art class.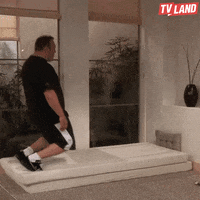 As if they needed to improve upon perfection the SPT token has been seeing a few new uses as of late. Including usage in the SPS airdrop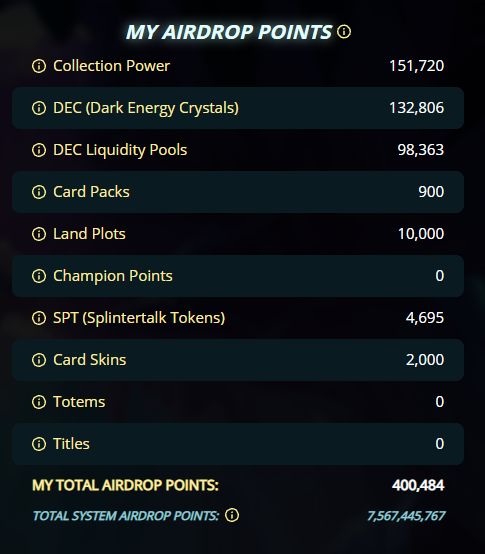 As well as the new Splinter Talk NFT market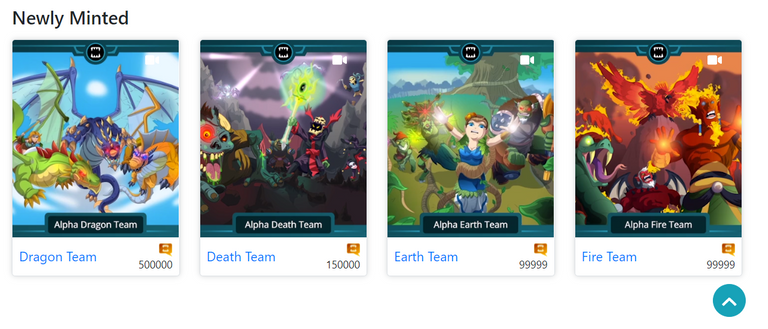 https://www.splintertalk.io/nfts/
So drop by complete a challenge and show your support through an NFT purchases on Splinter talk.
https://splintertalk.io/


Once your awash in SPT you can then stake it, As well as delegate the staked SPT to curation services. Doing so allows for the delegated part to utilize the upvote afforded by the SPT staking.
When doing so through an appropriate delegation service my favorite being.
https://peakd.com/@monster-curator



Generates you an awarded share of SPT for your efforts, keep in mind this is through strictly curation services here on Hive, delegating to a random account does not necessarily generate a reward.
The share your battle challenge is a personal favorite and I may just give an example further on in this write up.
SPS tips & tricks
We all have that airdrop on the brain when considering what to do when playing Splinterlands. While not bad for the meantime in terms of monetary worth there are several aspects of SPS that have yet to be implemented.
The majority of us now are reveling in the airdrop distribution for an entire year & the money that can be earned in SPS resale.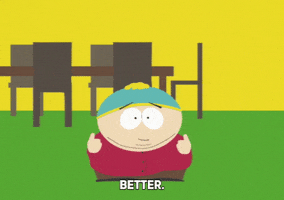 Now what if I where to tell you this is just the beginning of what SPS has to offer. Most would say no duh, the Airdrop by nature is a distribution mechanism.
Yeah many may already be aware of this, but distribution to what end what is it they plan to do with SPS Splintershards?
My most important tip would be save your SPS, for a number of reasons.
Second tip is the SPS liquidity pools Specifically the Tribal Dex diesel pools, this will when done correctly double your SPS airdrop points.
https://tribaldex.com/dieselpools/pools


Also serving as a way to save my SPS up or future usage while simultaneously feeing up some of my other resources.
The future usage of SPS may include in game Governance for staking, Rewards specifically for those staking SPS, & much more.
https://sps.splinterlands.com/offers
https://sps.splinterlands.com/in-game-governance
account power is a contributing factor to the SPS Airdrop, what you may not know is the Gladius cases & brawl only cards contribute to account power.

A player must have joined a guild with the proper upgrades necessary to purchase the Gladius case with merits earned in brawl participation.

Merits being generated for each opponent vanquished in brawls the Gladius case Cards would be quite helpful in this task.

Splinterlands NFT markets
For the players that well for the lack of a better description dont wish to play the game. There are a few reasons you will want to be aware of the Splinterlands NFT market.
Rentals
Rentals being the more impressive aspects of the Splinterlands NFT market. In essence this can be used to effectively profit on others playing the game.

Though originally offered by secondary markets such as
https://peakmonsters.com/
However the Rental market has been drastically improved by introducing it in game. Showing players that big bad power up is a small daily expense away.
Individuals not needing to focus on account power are thus at an advantage making Rentals the primary focus of their colection. generating daily revenue which can be utilized to further their rental selection.
Secondary markets
Though some wht limited at the moment the secondary markets are primarily just WAX & in game. When talking packs and land plots you can also include Hive Engine, but for cards we have Peaked monsters, The in game market, & WAX.
Though this may not seem like much when it comes to the WAX and HIVE Markets the difference can be staggering.

The prices are set by your fellow users so this can make odd discrepancies in price.

You have to account for the % taken out of the sale price by either market WAX being higher then the Splinterlands market.
A person can actually make a descent revenue in observing either market & supplying the one with a higher price.
SPT limited minting's
Earlier in the write up I highlighted the collectable NFTs available on the Splinter talk NFT market. This Is an interesting concept but since they have limited minting's and users can buy & sell them effectively just buying them before they sell out could be profitable.
I have yet to test this but what I see on the market fairs out this judgement.


Game credits
Here's a Splinterlands deep cut for you have you ever heard of game credits?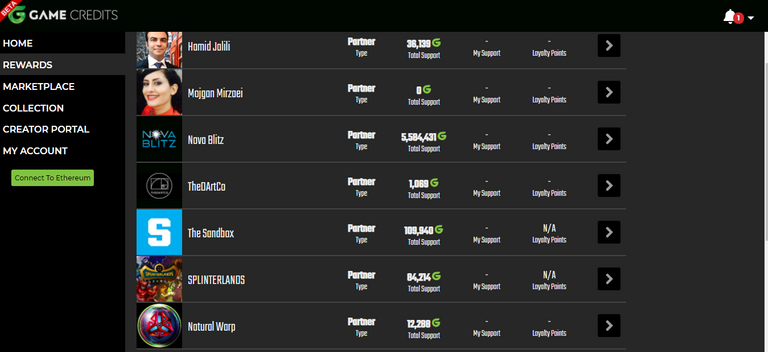 Though not something I would recommend as it takes ETH to get GAME but users can support the favorite blockchain game or service listed utilizing GAME.



Notice I have not put in my support as the GAS fees are to much to be honest.
Just thought I would point out there is sill a Splinterlands support page on Game credits.
https://app.gamecredits.org/rewards/creator/18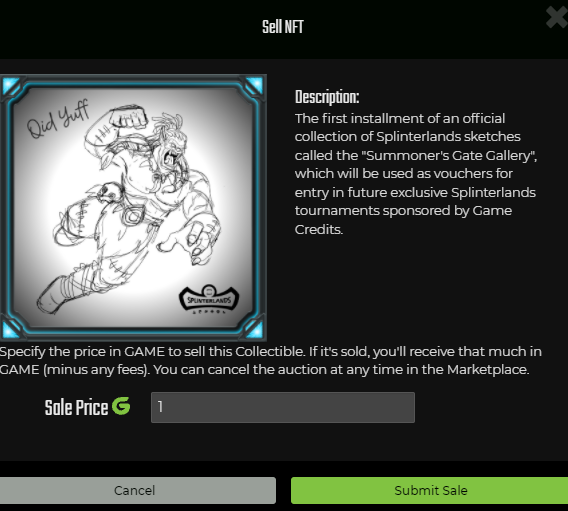 I even have one of these from forever ago the NFT market once the GAME has been deposited lacks gas fees so it is not as bad.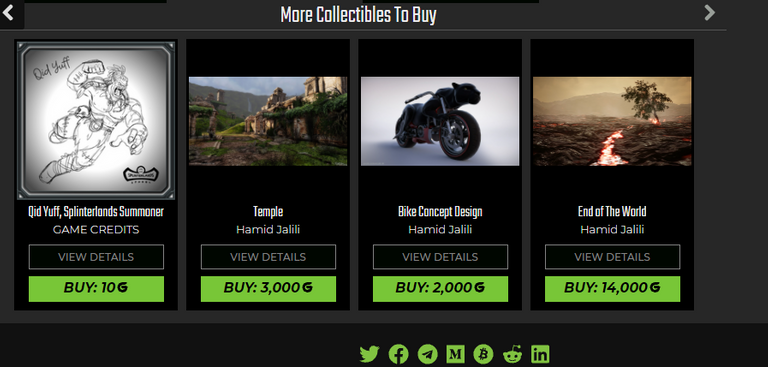 What I can say is game credits has some interesting features, & assuming their posts on twitter are to be believed will be switching to BSC.
https://app.gamecredits.org/
Game strategy
Not usually the topic I delve into but I do have some pointers for anyone new to Splinterlands.
Summoners

Lets begin with the Summoner You see the image above has the level limit associated with each rarity of monsters your summoner uses.

The level limit will determine at which level your leveled up card is capped. See with that summoner and this card though level 4 would be capped at level 3.

So 1 less health then the level 4 stats, & in addition to setting the level of card + element type of the cards summoned. Your summoner can have special abilities.

As well as costing a set amount of mana

A colection with both a good diversity in choice and leveled up summoners is ideal. Though not really a good market for this now in the future this may change with new packs.
Basics
Now with the basics down My build focuses on Defense and speed. Basically what I can tell you is its different for each person but the Magic attack's to me seem best.
Abilities & match rules play more important of a role then anything else.
By build I'm speaking of course about your accounts cards, The temporary cards given to you when you join are ok but will only let you participate at bronze.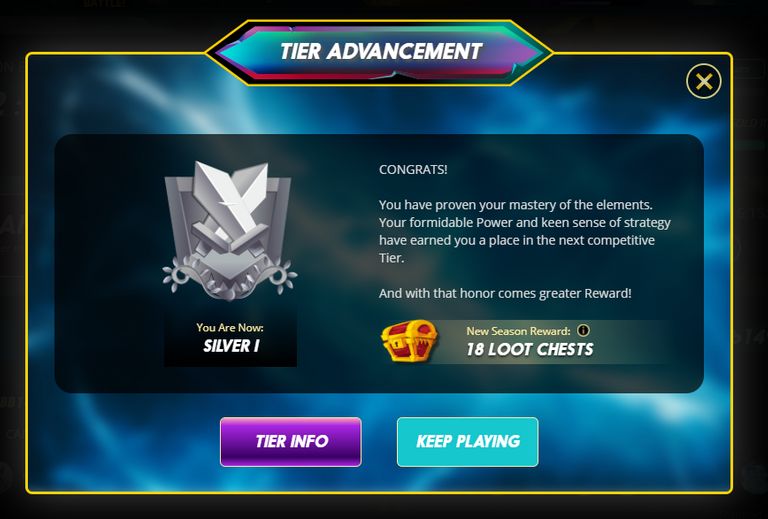 So 1st thing is first you will need to get as many different cards you can luckily the new reward cards are getting their prices driven surprisingly low.
This is new players opportunity to get a decent build for cheap, I theorize this was their intention behind lowering their burn value.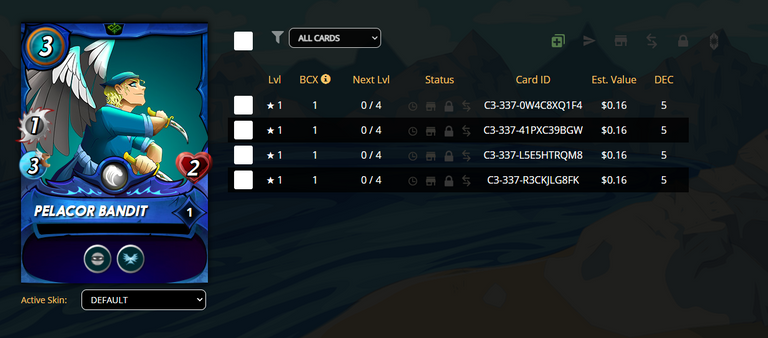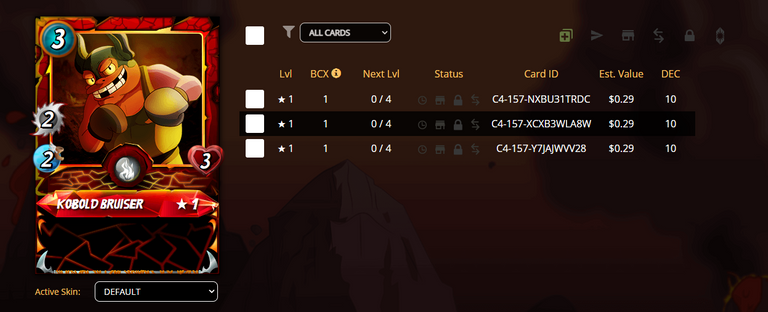 Also this promotes the usage of their guild brawls system, making those cards a similar burn value to the last gen cards.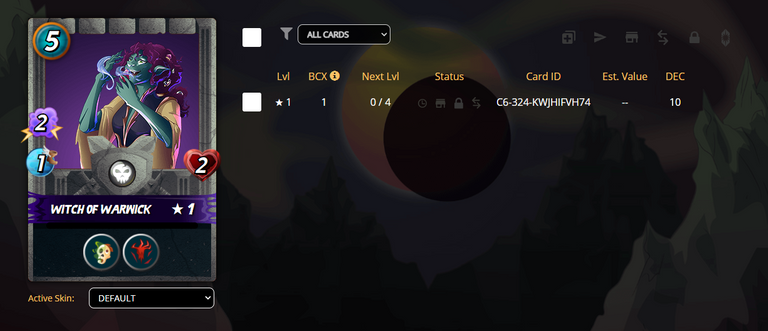 Burn value attributes to your account power which determines both SPS airdrop & the max league that your account can progress to in a season.


Your rank that season also being a contributing factor.
Back to producing a good build besides the economic factor to doing so once you have enough cards to be able to start making decisions like this the Mana cap and rules that round are really what matters.
For example if I where using a starter deck cards mostly I would focus on regeneration. Outside regeneration making as many hits as possible land per round.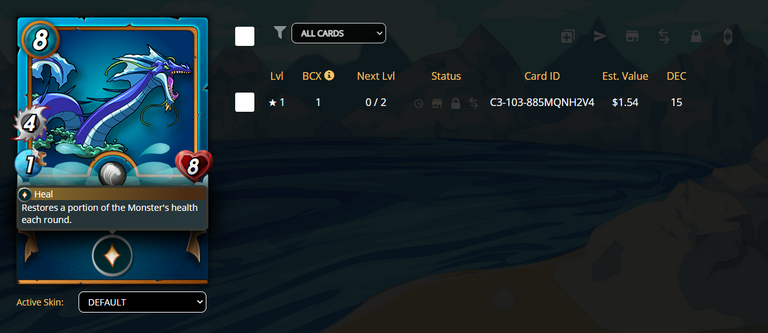 The card above should be part of the card given to a new account it possesses a regeneration ability.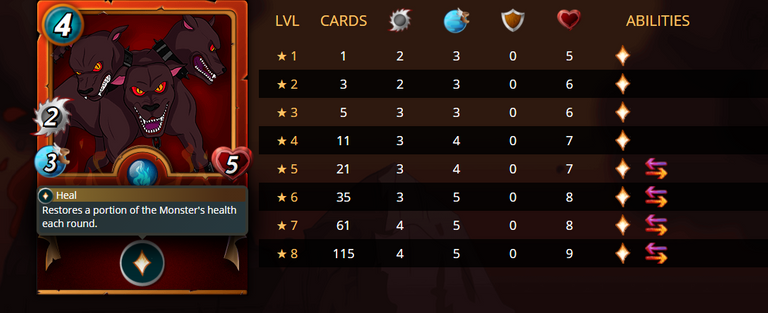 As does this one and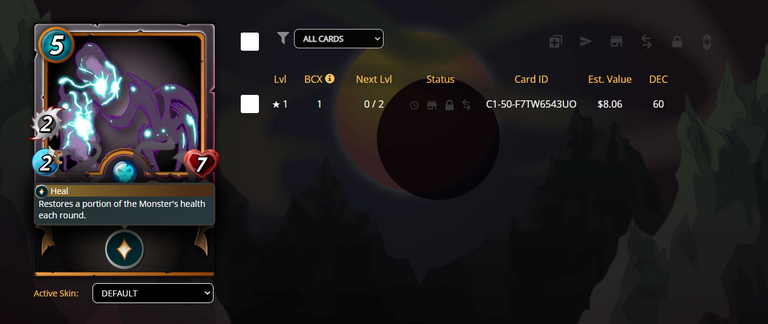 Utilizing one of these in your primary position followed by anything that can attack from the second position.


Ranged attackers can not attack in first position So I try not to make a card with a ranged attack type the last in line. Opting instead to utilize Magic



Unless other factors such as match rules or skills affects it Ranged can not attack from the fist slot & Mele can not attack from any slot but the first.



Exceptions to this are either match rules or abilities, some of the more commonly utilized skills are sneak.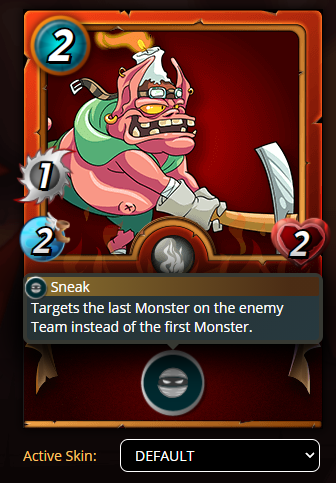 Opportunity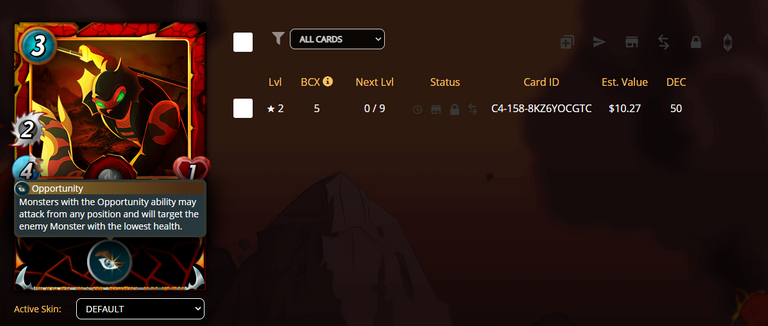 Reach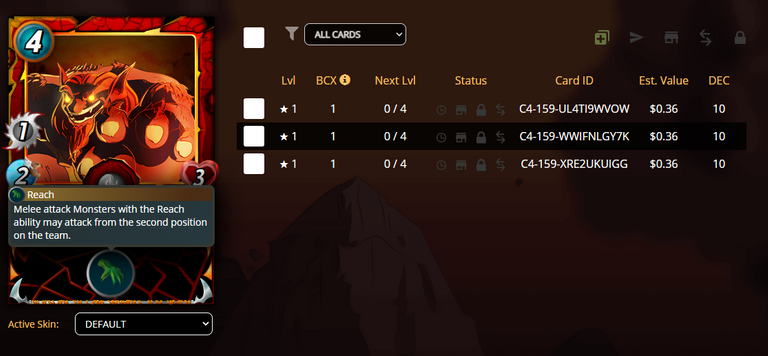 & for ranged attacking in any position Close range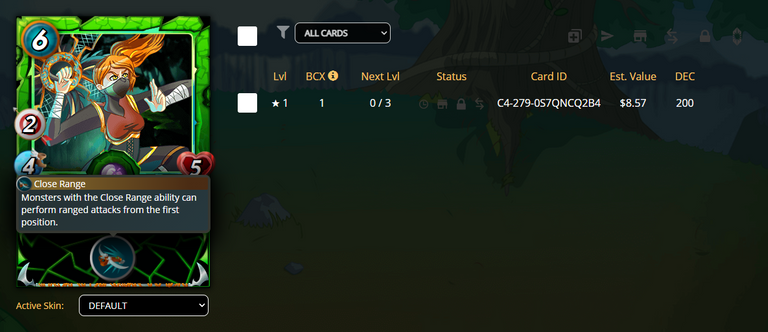 Outside of utilizing special skills the Magic attacks are the only ones that can be used from any position dont miss & hit health directly. Because of this they are usually weaker in their attack strength.
With this in mind the tips above & the tutorial Splinterlands gives you on site you more or less will be able to beat most any player in bronze.
Market Stats
If you go to most Market trackers like coin market cap for instance you wont get a market cap on DEC or SPS. For those type of stats due to the nature of these assets its best to check sources on HIVE.
https://peakmonsters.com/dashboard
Always a good bet to start at peakd monsters which can give both your recent stats & Splinterlands as a whole.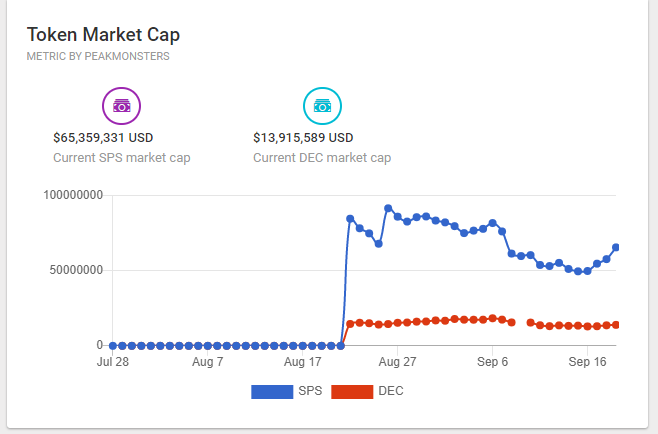 See here you get a market cap for both DEC & SPS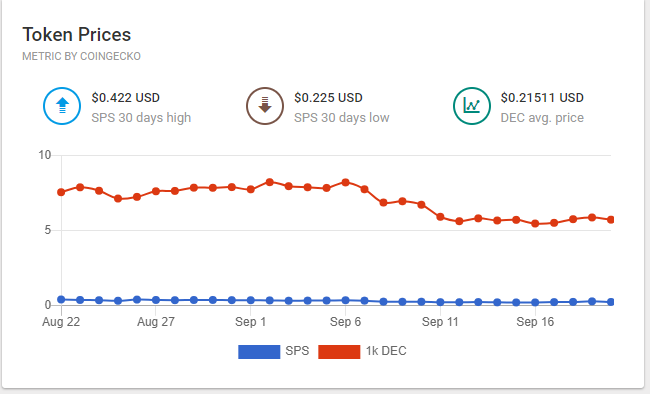 Token prices



To me someone that primarily focuses on NFTs & blockchain games those two measurements above as well as a P2P market sale volume are the most important.



The P2P market sale volume determines popularity compounded with the number of battles and daily transactions you can determine the overall health of the market.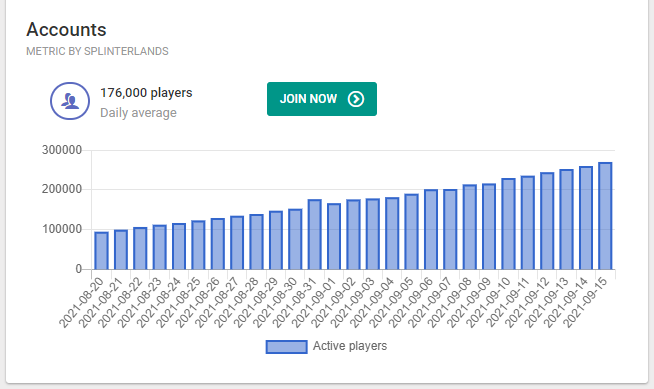 Number of active players is also a curtail factor from these you can extrapolate the average players likely hood of not only playing but also buying on the secondary market.
So with the average of 176,000 daily players and the total amount of money spent per day on average with the number of cards sold on average you can determine.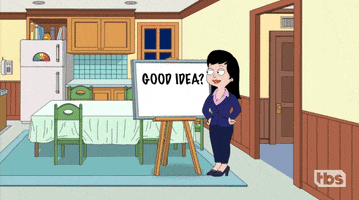 That the average sale is a low value asset not the higher end of the spectrum that being said several hundred thousand dollars are spent on the P2P market on an average day lately. Meaning there is room for larger sales although with the new cards this uptick is understandable.
What you want is this exactly when the low end of the NFT cost spectrum gets ignored the price will stagnate then crash.

Splinterlands has a Blend burn use case that facilitates the need for these cheap cards in high volume.
Consistency in the peer to peer market + the overall sales &
number of users basically determines the level of risk that NFT colection represents for me.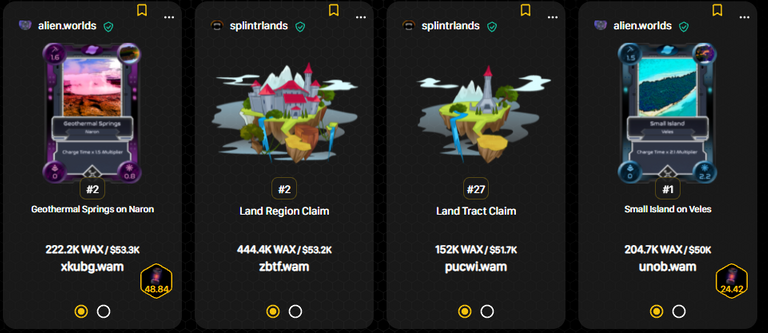 Sales on Splinterlands NFTs have hit $50,000 USD a piece on WAX putting them in a group of only 5 NFT collections to ever pass that price milestone.
Colonize Mars, Alien Worlds, MLB, Splinterlands, & bitcoin origin these are the only NFT collections with an NFT selling for over $50,000 USD on WAX.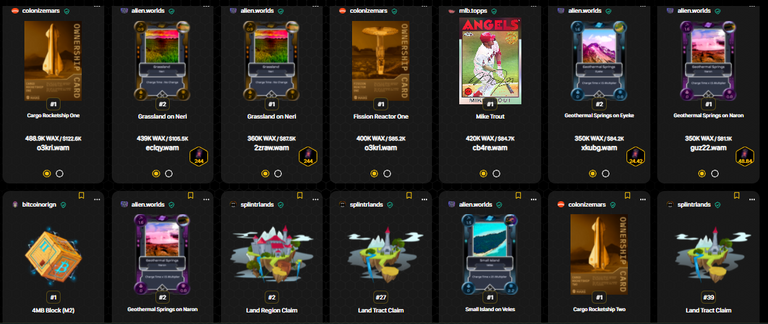 The MLB sale made headlines as it had broke the last world record for Base ball card resale. I think that Splinterlands is but 4 sales beneath that price is no less amazing.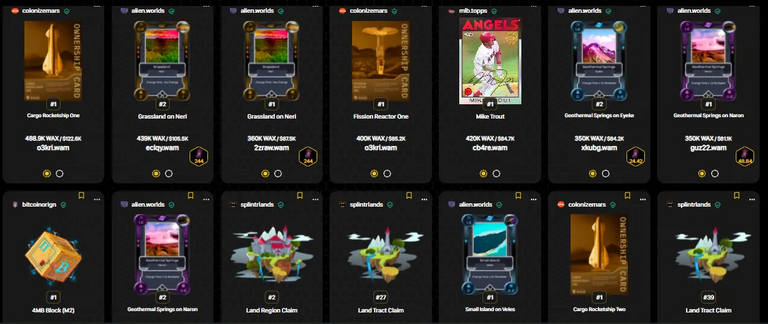 One of the best aspects of Splinterlands is its transparency how the distribution mechanisms work, drop rates, & how potions function all easily located public knowledge.
Share your battle challenge Wave Runner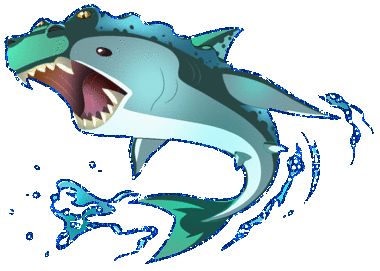 For this battle I used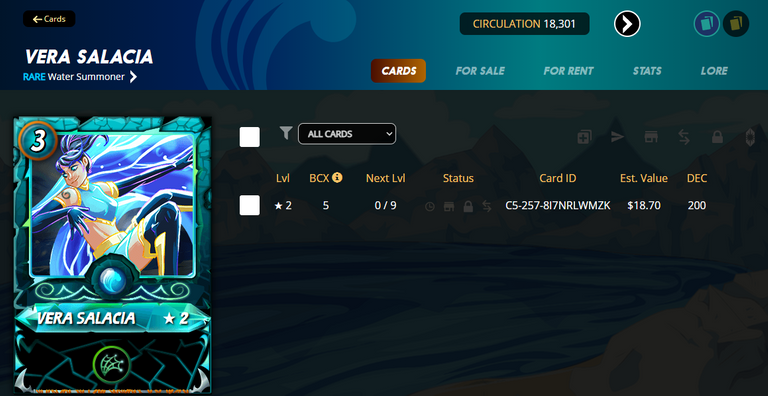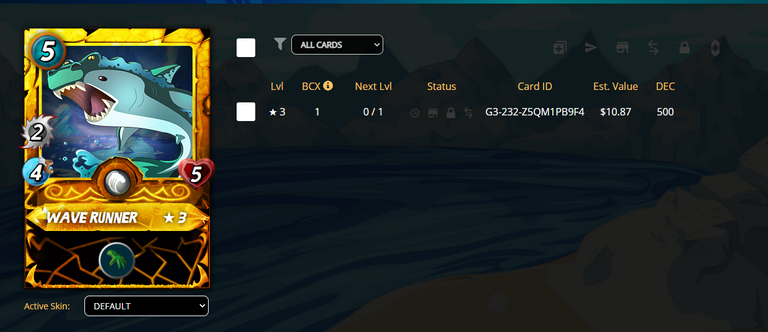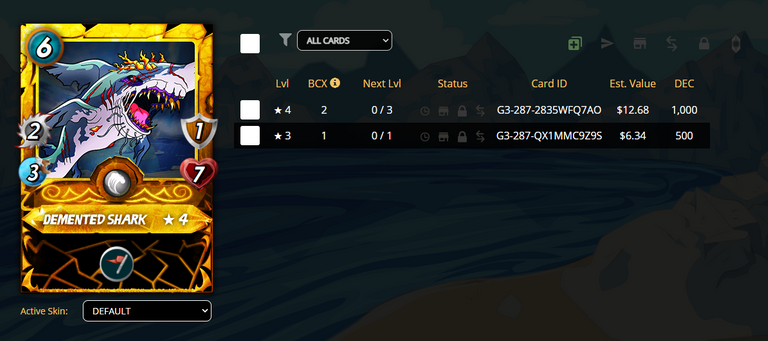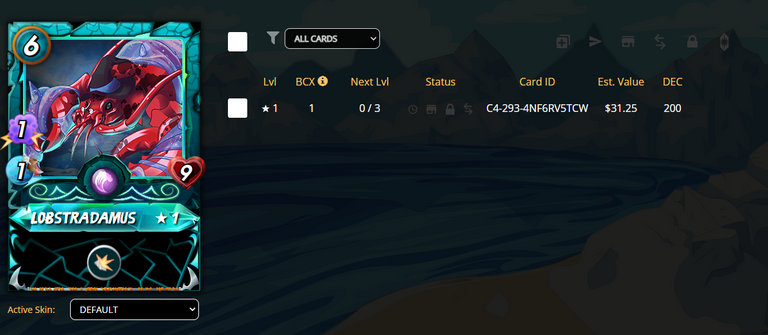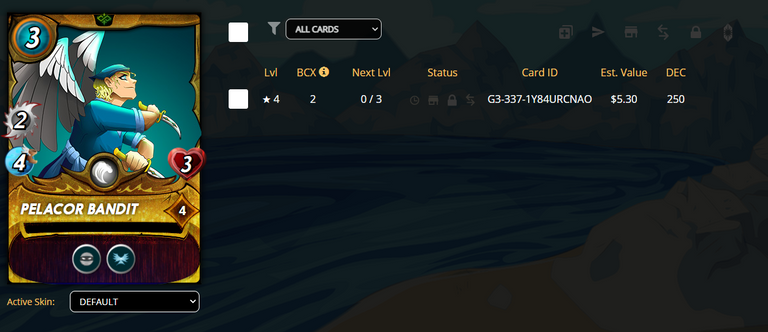 On a silver tier 2 league ranked match with the following rules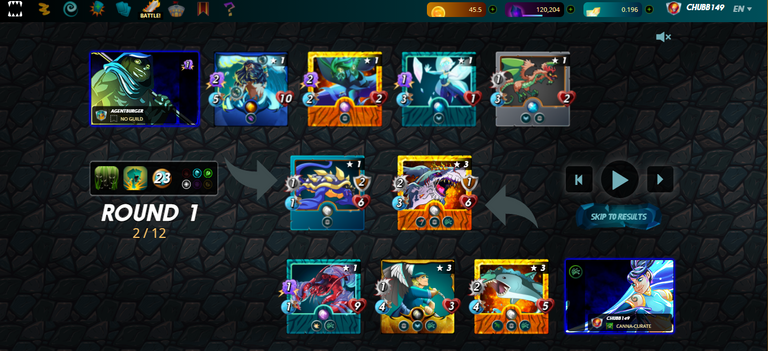 Who do you think will win? Because that new legendary for me presents a variable I haven't quite accounted for.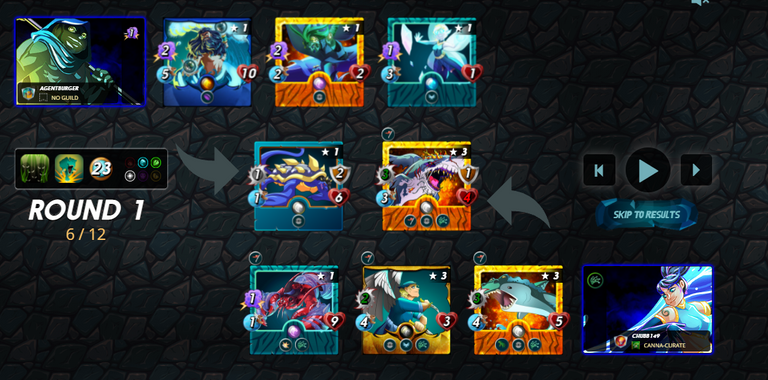 A few moves in Demented shark has taken a little damage & I have taken out their Cocatrice.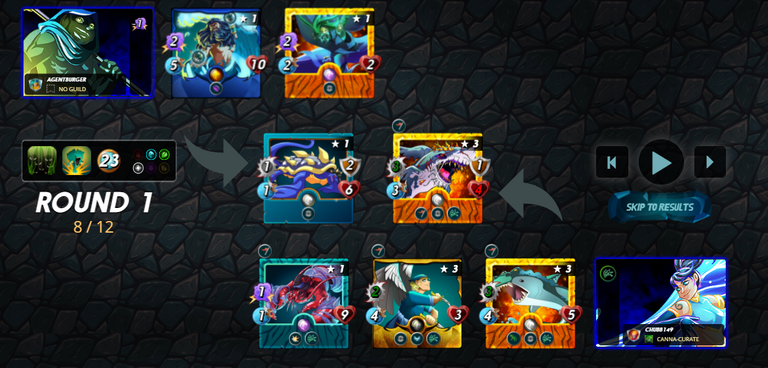 Now I have gotten 2 of their cards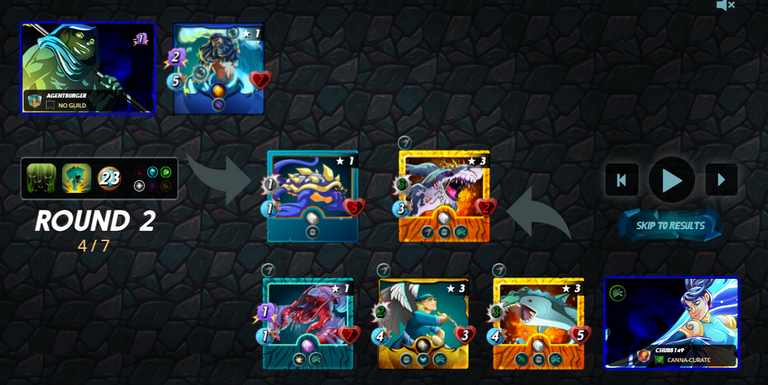 Still have my whole team the opponent has 2 cards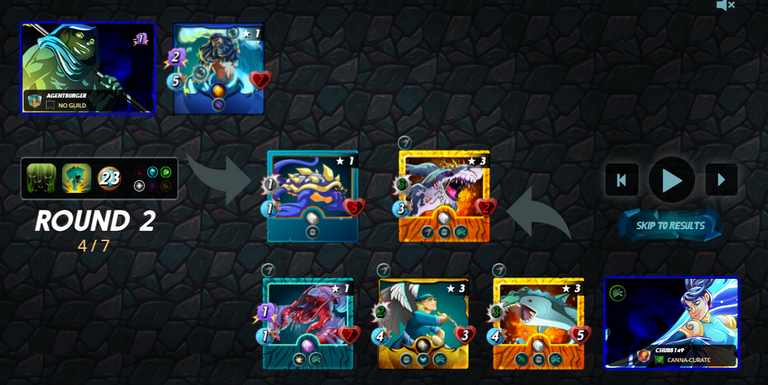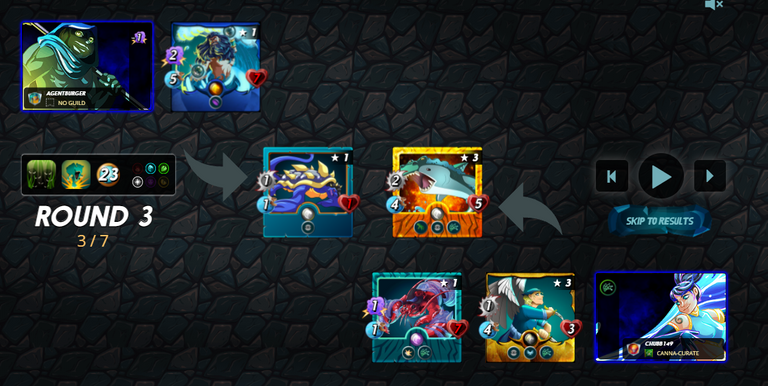 They took out demented shark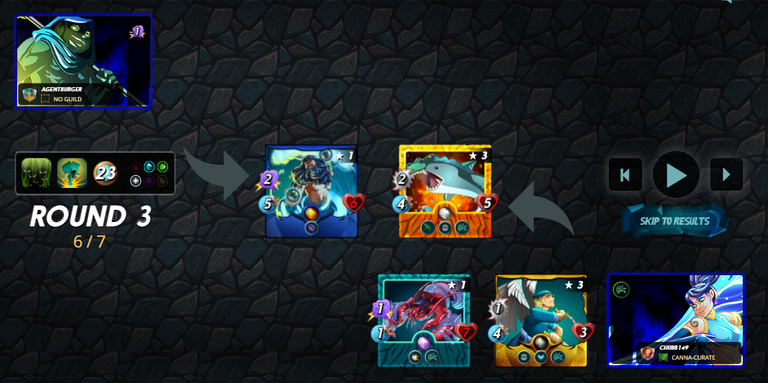 Now their down to one card their legendary, & I have 3 still at full health.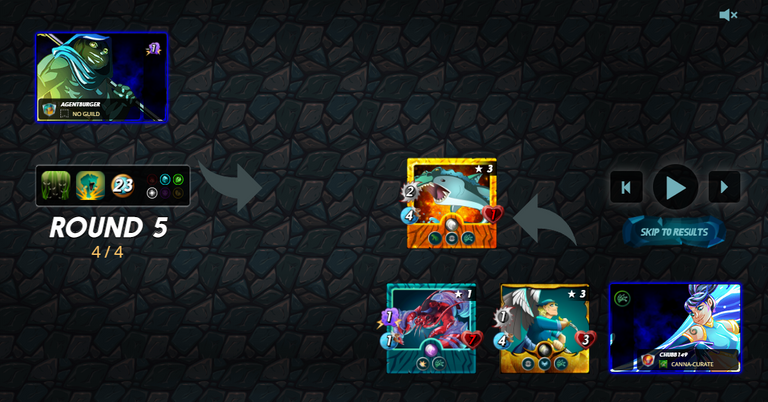 Victory but by the skin of my teeth, see my Lobstradamus cant damage their legendary due to its void armor ability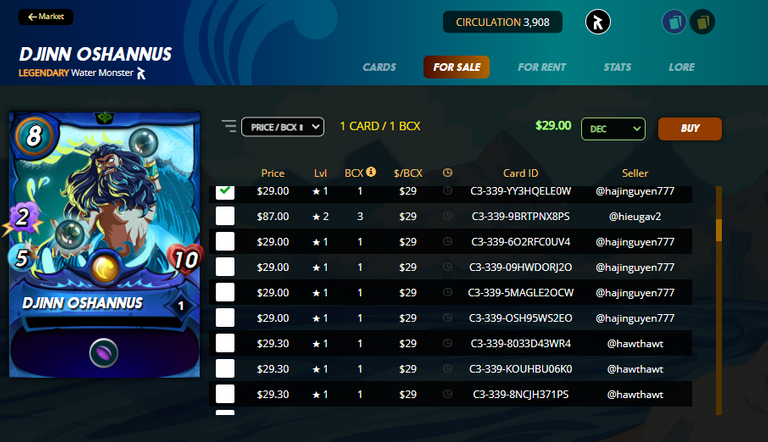 So 2 hits and my team would not be able to inflict damage, I won because the opponent did not account for the match rule set. Had they played their cards in a slightly different order they would have won.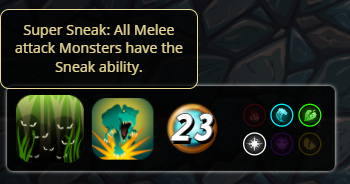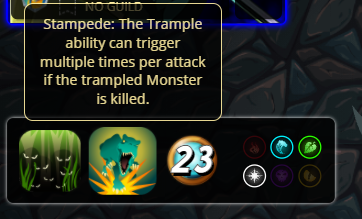 I capitalized on the sneak ability effecting my melee attack type by playing demented shark. Which boosts Melee type attack's by 1, playing wave runner as per the challenges requirements.
Then of course playing a 3rd gold card really just because, with Lobstradamus a high Health magic monster at the rear of the formation.
Doing this absorbs the likely damage caused by the super sneak ruleset, The opponent did not do this putting their weaker units at risk.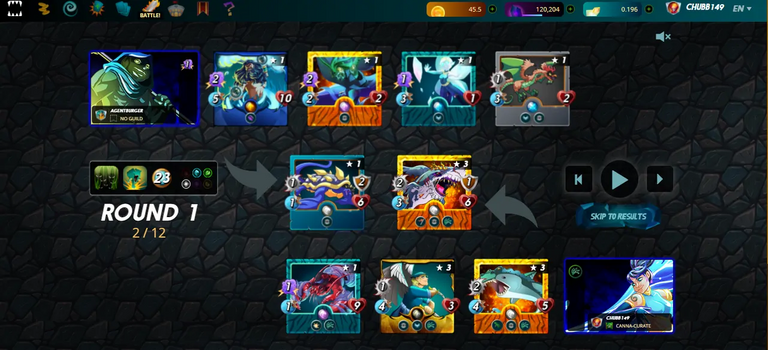 Had they played their high health legendary in the last position they would have won.



I will be sharing my battle on Torum as well brief over view & a link to this post for further clarity.
https://www.torum.com/u/chubb149
the battle link
https://splinterlands.com?p=battle&id=sl_e01b4666e000b244b5d3134742f843ff&ref=chubb149
Thank you for your support
My posts have been getting attention like never before I'm up to over 150 followers on Hive, & todays double gold Splinterlands NFT airdrop is my way of showing appreciation.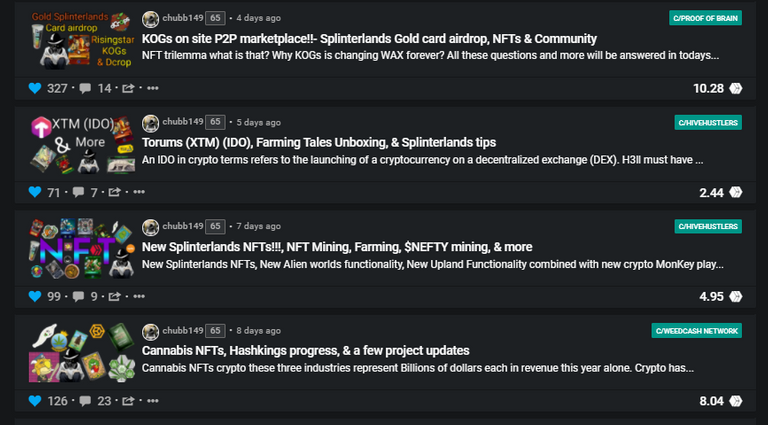 As I have stated many times before the better my posts do the airdrops get better. Not for nothing my posts are also informative but the support helps the airdrop portion immensely so thank you all.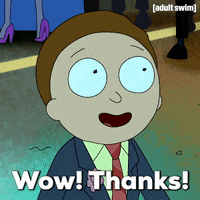 Gold Splinterlands cards Airdrop

In every post I airdrop WAX NFTs via a URL which can be claimed by the first lucky reader to click it, after its claimed once the link will no longer be active. If your the lucky reader that claims the airdrop please let other readers know in the comments it helps.
https://wax.atomichub.io/trading/link/353344?key=5J8a5v4wRwu8RgDa7pcsT1mdRbHxoD3XwhrfguGaQryJ5w6bZa6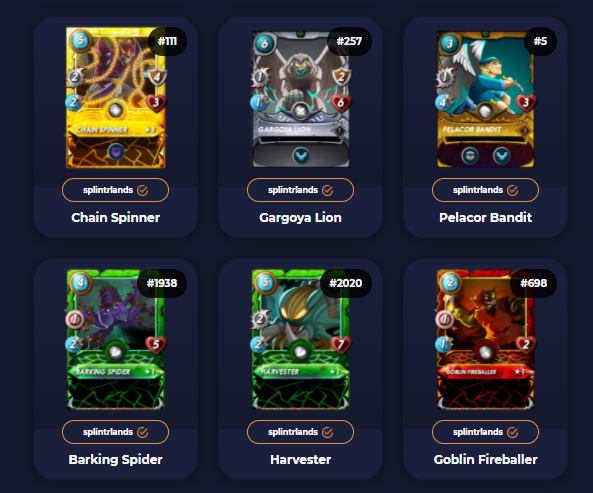 Dont forget if your the lucky reader to let the other readers know in the comments it helps. Also If you have any comments or questions about todays write up let me know in the comments.
When my posts do well airdrops get better so please re blog, like, comment, and subscribe to get larger airdrops just like this one.
Triger a Tip bot get a NFT
Given the rise of popularity of my NFT airdrops & Since there are a few forms of Hive crypto which you can trigger a bot to distribute via a command.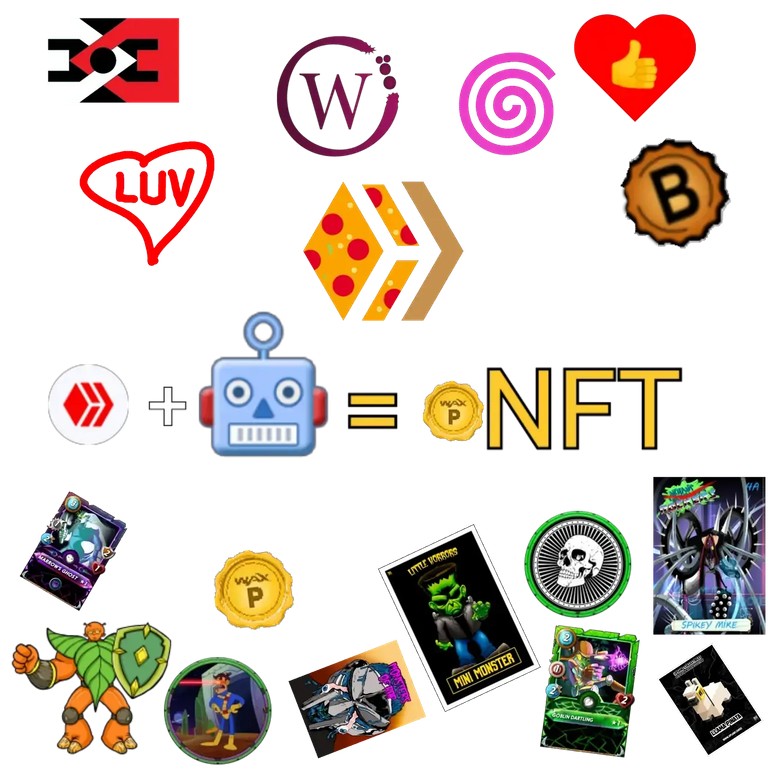 Why not do a secondary airdrop for those that want to participate simply trigger one of the (Tip bot HIVE alts) In the comments followed by your WAX wallet address.
Once I'm aware you have done so I will send a verified NFT for every coin triggered.



BERR is currently out of order but the rest should work fine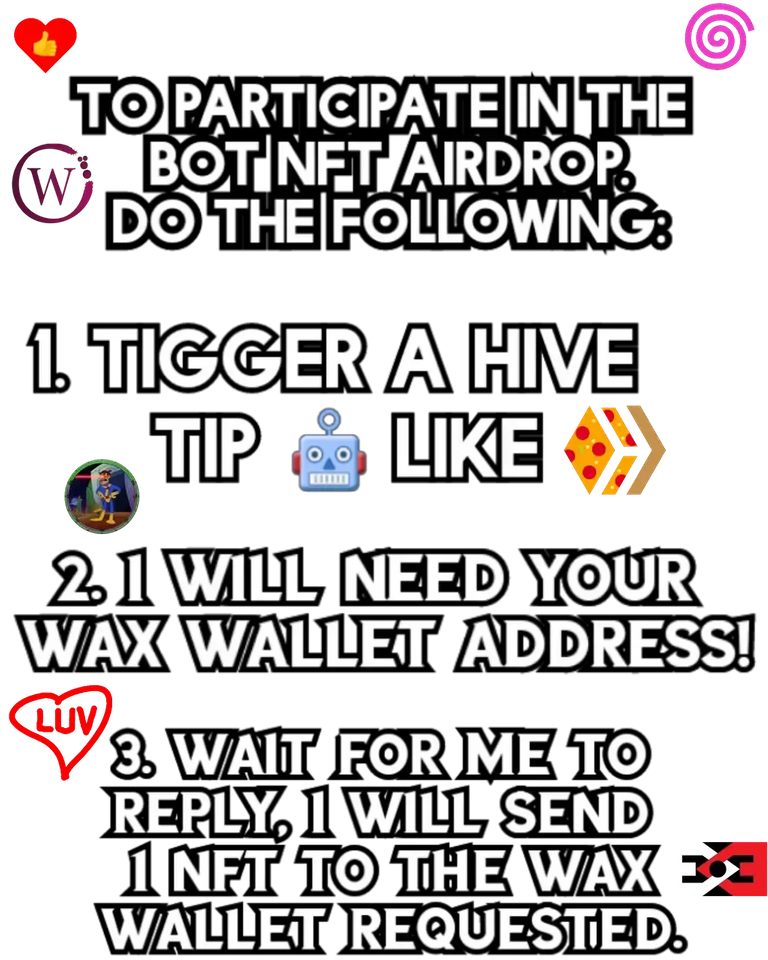 It may take a while but I will respond once the NFT(s) are sent to verify I have done so.
Links
Perhaps your interested in purchasing any of my NFTs from my ever expanding collection you may do so here.
My stock constantly rotates so it changes daily
https://wax.atomichub.io/explorer/account/akyqy.wam
Free WAX game play to earn
https://prospectors.io?waxref=akyqy.wam
https://rplanet.io/
https://collect.social/referral?r=akyqy.wam
BSC ALT tipping Social media platform
https://www.torum.com/signup?referral_code=chubb149



https://www.risingstargame.com/?referrer=chubb149
https://www.cryptobrewmaster.io/game/invite?ref=3d5efa435682425384e9aeb6236ab07e&code=AlphaBonus
https://splinterlands.com/?ref=chubb149
https://www.hashkings.app/login
https://www.dcrops.com/?ref=chubb149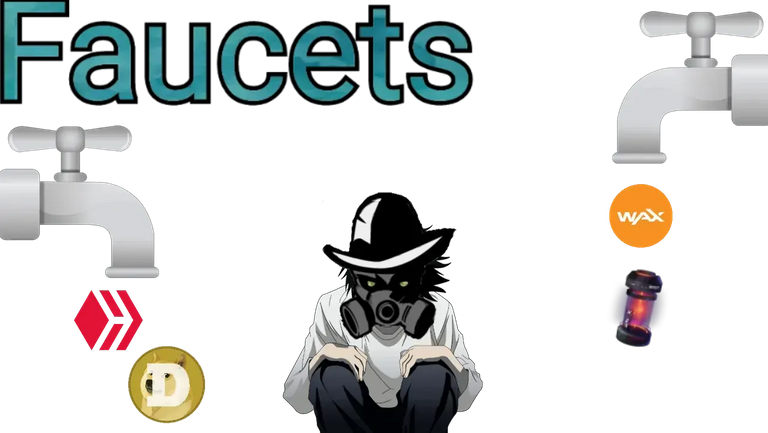 Hive direct payout
https://giftgiver.site/faucet
WAX alt direct pay out
https://caittoken.io/account/faucet/
WAX & HIVE indirect pay out also SHIB
https://coinfaucet.net/?ref=4e6a49344d54673d
Play to earn BTC ETH DOGE
https://rollercoin.com/?r=k3801qv5
DOGE + ZEC
https://pipeflare.io/r/2nh2
I also Produce NFTs on Palnet now
https://www.palnet.io/nfts/market
Currently on sale


---
---