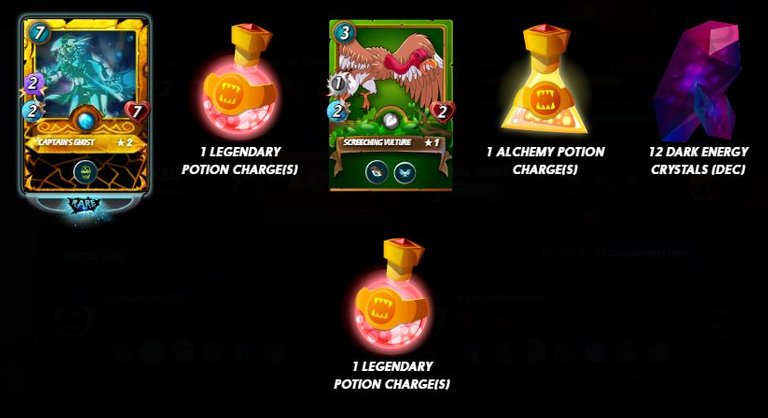 Splinterlands battles are always fun and completing daily quest is a daily routine for all of us Splinterlands battlers, isn't it?
I was fortunate to get some packs and few nice cards in my last few quests.
I was lucky to get a gold foiled card from the quest completed day before yesterday as in above screenshot and it's none other than Captain's Ghost, a Water splinter magic monster which comes with affliction ability which gives chance of stopping the healing ability on the monster the Captain's Ghost attacks.
The card is worth $2 and is on par with the regular card I have as the existing card is at level 2 as well, but the new card will be more valuable since it's a gold foiled which enables me to earn more DEC as against the existing regular one.
Other notable card was a Screeching Vulture which is known for it's opportunity ability to attack the monster with lowest health.
---
The other day, I guess couple of days back, I got another Untamed pack and the details of the monsters and other items I got from chests are as below: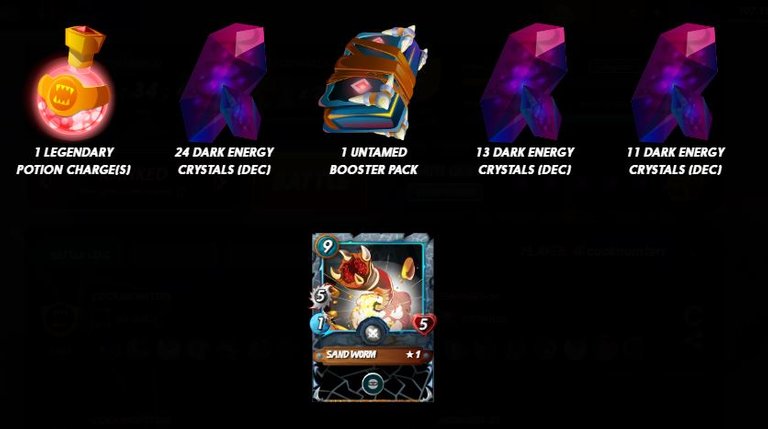 An Untamed pack is the highlight from this particular daily quest rewards and there were some decent DEC as well along with a Sandworm.
The cards I got from the Untamed pack received were: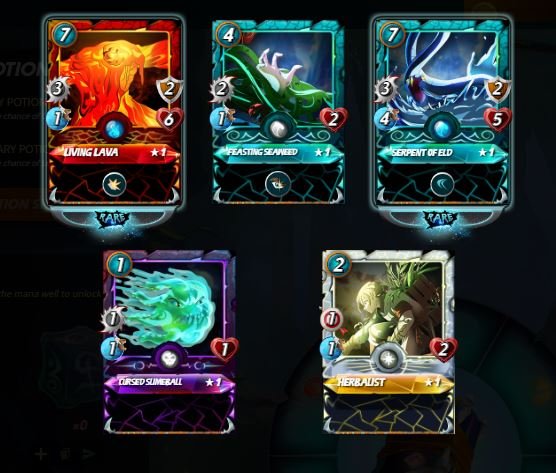 Although no Legendary or Epic ones, I got couple of solid rare cards in Living Lava and Serpent of Eld which are both used as tanks since these are the melee monsters.
The abilities of living Lava and Serpent of Eld are shield and dodge respectively and both make these a good tank as they either evade the attack (due to dodge ability) or take lesser attack (due to shield ability)
The other cards Cursed Slimeball, Feasting Seaweed and Herbalist aren't of much use until they are leveled up to have additional abilities but still they are decent ones as each of them give atleast a single attack whether it's melee or magic or ranged and Feasting Seaweed has that ability of Opportunity to attack a monster in any position with lowest health.
---
The current Splinterlands season is about to end in approximately 2 says and I have reached the highest level for the combination of Collection points and the level of rating i.e. Gold II and I am happy to achieve that 2 days before the season is ending.
Although I want to climb up in the rankings and try for few Untamed packs, but I am way below in the packs rankings at 700+ in the Gold League and doesn't stand a chance even if I acquire few cards.
Hoping for some Legendaries and Gold Foiled ones in order to reach the Gold I and subsequently Diamond leagues in upcoming seasons.
Thanks for reading this blog and supporting me always and wishing you a good season end rewards for the season ending in 2 days time.
Wishing you all wonderful day and if you are from India, wishing you Happy Makar Sankranthi/Pongal in advance :)