How The 'Play To Earn' Brand Might Be Hurting Splinterlands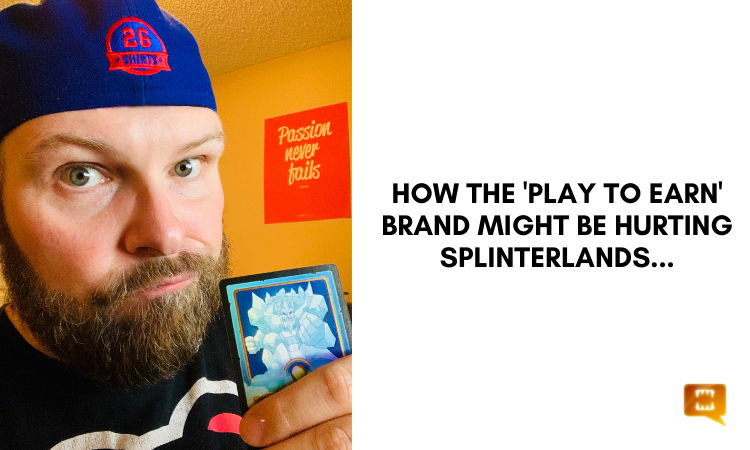 We're so early to this blockchain gaming thing...
I come from the old 'Call of Duty' gamer background that never in a million years, did I think I would be rewarded monetarily for my effort in said game. I played it, because I loved it. And built some amazing friendships with guys that I have to this day.
But being 'paid' to play Call of Duty...Was never in the cards.
Speaking of cards....
Here comes Splinterlands!
One of the 'O.G.'s' of this brand new thing called...Play To Earn. Or Play 2 Earn...Or whatever it's called lol. The general idea is that, you start owning assets in a game and are rewarded for playing the game.
Personally I think this brand does a disservice to Splinterlands because of what I'm about to share, right or wrong...This is the experience from every day players and results from 'playing...To earn'.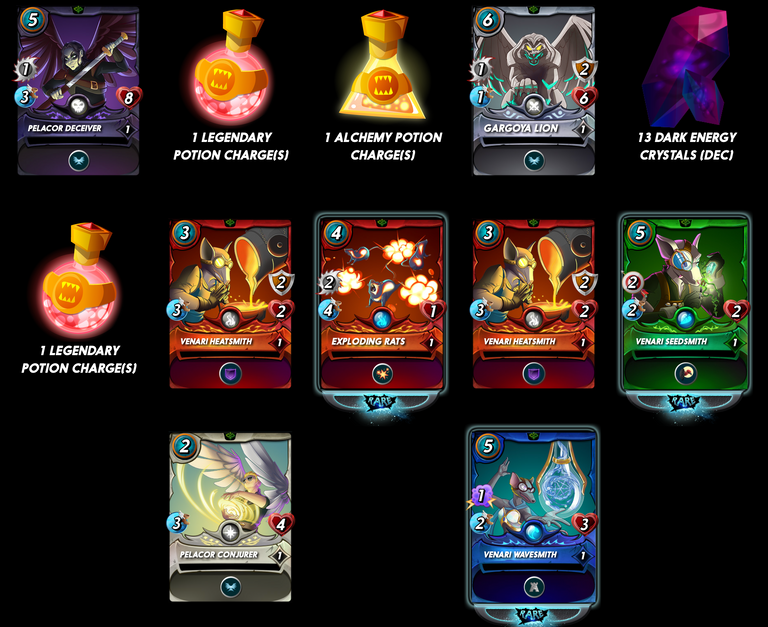 These are my daily rewards today from doing the daily quest. It was recently announced that there are major changes coming to the way these daily rewards are distributed, and should encourage more activity across the community.
But let's see why some people...Might not believe that to be the case.
I spent 750 DEC to get my extra 5 chests today, and am in the 'Gold 2' division.
I have about 2.7 million collection power, mostly because I got in at the right time in this game but for newer players jumping in...Without a sizeable investment in their cards, they won't be expecting massive returns right now.
In the future? Who knows, if you believe in the game like I do...You are thinking years down the road. But everyday people may not feel that way...
So anyways, I earned about $0.36 worth of cards, a few potions, and 13 DEC which currently is worth about a penny.
Remember I also spent about 80 cents or so to get those 750 DEC needed for the extra potions...So today, in my daily quest, I actually lost money.
Again, for someone like myself...I don't care. Because I think the bigger 'pay day' will be in a few years from now. But you can see how this doesn't really translate into 'Play 2 Earn' at all...
I then read this post on my friend's Facebook wall. This guy has spent the better part of 7 months playing the game, investing a few bucks in to it but just reading this....You can feel the frustration: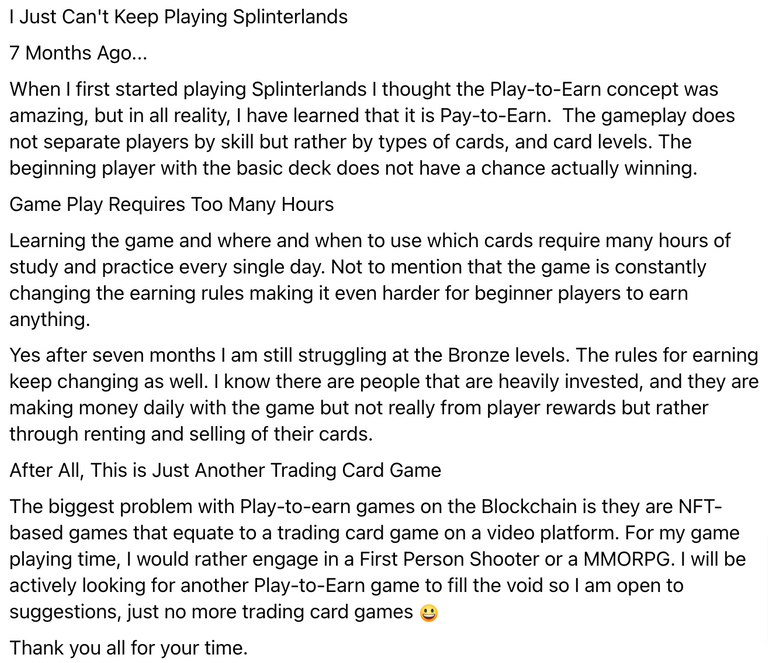 This sucks...Because this guy was a passionate creator in the Splintertalk platform and was awesome to watch as he grew in his knowledge of the game.
But can you see his concerns?
To people looking at this as a Play To Earn game...It just falls short of that description. And while it's true, some of the larger accounts will smile all the way to the bank, for games to truly become adopted by every day people it needs to cater to....Every day people. And not just the elite that have the big banks.
And no I'm not suggesting there is anything wrong with Splinterlands as a whole. I love the game. It's actually one of the only investments I've ever made in my life that's actually translated into a win for me lol But that's what most people might not understand...
There is an investment, not only in TIME but also in developing your assets in this game.
For newer players, that might just be more than they are willing to do....To play a game.
What's the solution?
I think the brand of 'play to earn' may hurt more than it helps. Because when you say..Play to earn, no one thinks....
Play to earn....(only if you have a sizeable account and have invested time and money into this game)
Again, this game is amazing. I love it, and it's something I truly believe in....
However maybe it's time, for Splinterlands to re-brand itself into something more attractive for the masses. And if anyone can do it, this game can...Heck, it's the pioneer of all these blockchain games so why the heck not ;)
What are your thoughts on...The play to earn brand?
---
---