SHARE YOUR BATTLE Weekly Challenge! ELECTRIC EELS
Good day friends! :)
This is my first time to join the Weekly Challenge With The Monster Electric Eels.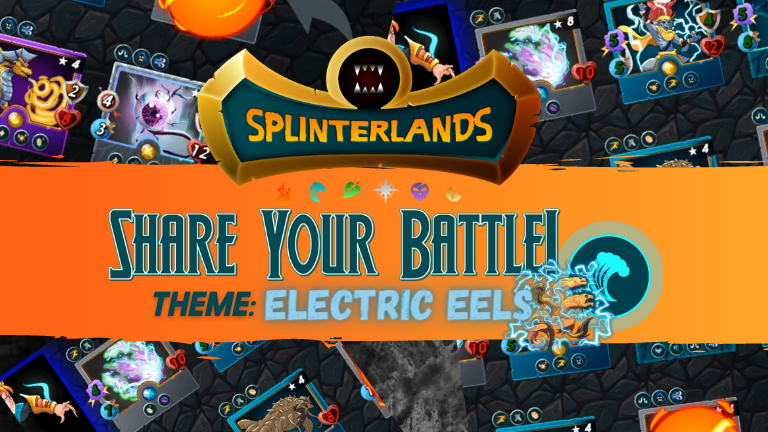 As newbie in this games and and has the rank of BRONZE 3 its hard for me to look for this monster. What I did is that I went to the Market and Rent the card, a huge thanks to the developers who suggested/make this kind of features because a newbie like me can try different kinds of cards.
** My Line Up **
** Summoner: ALRIC STORMBRINGER **
My first Card of course is Electric Eels, why this is my first card? because in every battle there is what called pawn and this is my pawn and my sacrifice to victory LOL! I'm just joking haha (not sacrifice but a TANK)

My second card is Spineback Turtle, I choose this card to be a tank also so if Electric Eels die the Spineback Turle will be my 2nd tank, it has 2 armor and 6 health so it is good for the 2nd position.

My third, fourth, fifth and sixth is Ice Pixie, Enchanted Pixie, Elven Mystic and Medusa, I choose this 4 magic attack because my summoner is Alric Stormbringer it gave +1 additional to magic attack so that thoose 4 magic type monster will give a total of 8 damage.

** Battles **
This is my video of all 5 battles with Electric Eels.
These are my replay battle.
** Did your strategy work? What will you try differently next time? **
Definitely YES! My strategy work! Next time I will try the Electric Eels in the last position because it has a high HP also.
** Do you like the ELECTRIC EELS? Why or why not? **
Honestly, ELECTRIC EELS has the advantage and disadvantage. The advantage of this card is that it has low cost of mana with high HP card with high speed (3).The disadvantage is that I wourld rather use Spineback Turtle because they have the same mana cost 2 Armor and 6 HP. So my answer is YES! I like ELECTRONIC EELS.
---
---