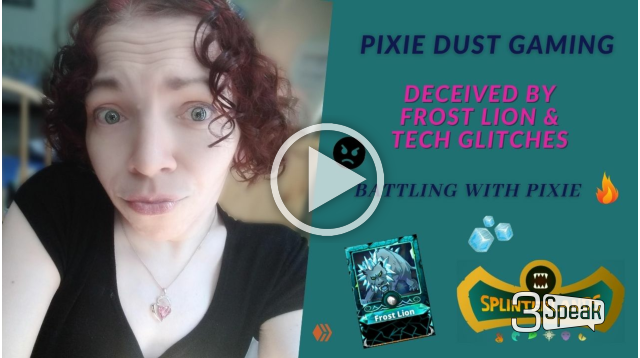 ---
#PixiePost #PixieDustGaming #Splinterlands
Oh boy, just when you think you know someone (or a monster to be more specific)...you have a cozy relationship with battling opponents & earning DEC, happily bonding in the process...and then BAM!
You are deceived. Well, Frost Lion did it to me....as I handle tech glitches & all kinds of weird energy today (due to the New Moon in Capricorn), I manage to barely maintain my composure as I continue to battle my way through the @splinterlands craziness...
We are almost at the end of this Season so now we got to pull out all our stops....
Or did I ever start? Watch the video to see what happens ;)
Thanks for your support in this gaming videos & my new found journey. There's much more to come so make sure you are subscribed so you don't miss out!
+:+:+:+:+:+:+:+:+:+:+:+:+:+:+:+:+:+:+:+:+:+:+:+:+:+:+:+:+:+:+:+:+:+
DISCLAIMER: Bad language IS uttered & my usual insanity is very present….you were warned! ;)
Not a player yet? Click here to see Splinterlands & give it a try. Let me know how you like it!
Today's Music: Final Phaze - Jerry Lacey
Do you want to be featured in the weekly shout out in my next Splinterlands video? Leave a comment to let me know what makes your content unique & one of your links below so I can see what you got. While there is no guarantee, all will be considered! :)

+:+:+:+:+:+:+:+:+:+:+:+:+:+:+:+:+:+:+:+:+:+:+:+:+:+:+:+:+:+:+:+:+:+
Enjoy my SplinterLands posts?
Follow me for videos & posts in the Splinterlands community, reblog and browse on HIVE and LBRY

+:+:+:+:+:+:+:+:+:+:+:+:+:+:+:+:+:+:+:+:+:+:+:+:+:+:+:+:+:+:+:+:+:+
---
▶️ 3Speak