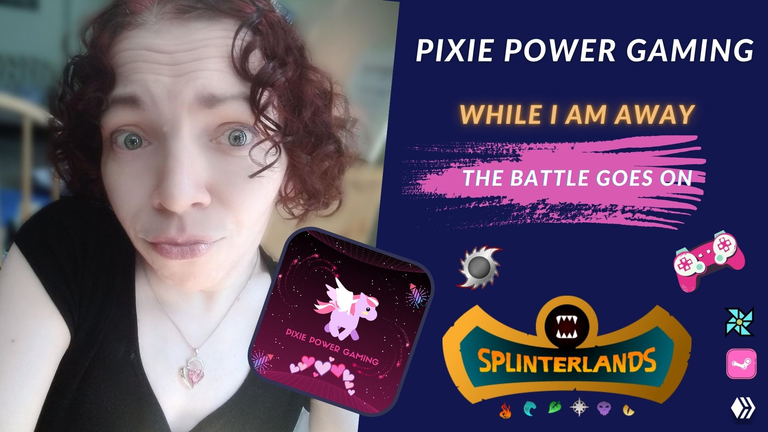 ---
#PixiePost #PixiePowerGaming #Splinterlands
Yes, it is Wednesday & yes, this week there IS a video! While there is no giveaway this time, there is still plenty of craziness with #PixiePowerGaming as always...
I may be traveling right now but there is always some remaining #battles to do on the @splinterlands battlefield... so here I am in spirit, kicking arse & taking names...
Okay, well that SOUNDS good, anyways...but nevertheless, I give it my all as I bring back some footage of other adventures I had with the Monsters! I just really need to deactivate that timer sometime... just saying...
This will be my final SL video until I return so enjoy! Keep on the good fight, my friends & let me know what you're up to during this Season! ;)
Until May.....
May the @splinterlands odds be ever in your favor! ⚔️ 🎮
+:+:+:+:+:+:+:+:+:+:+:+:+:+:+:+:+:+:+:+:+:+:+:+:+:+:+:+:+:+:+:+:+:+
PLEASE remember to add your Splinterlands name in your comments so you qualify for any of my giveaways. Ones who don't won't be eligible & assumed they are not participating! ;)
Check out the Liotes Shop to rent some Splinterlands cards & other goodies.
+:+:+:+:+:+:+:+:+:+:+:+:+:+:+:+:+:+:+:+:+:+:+:+:+:+:+:+:+:+:+:+:+:+
Do you like the crazy names that are developing in these @splinterlands videos? Let me know if you want an official list so you can be in on the naming fun. We can create names together & there may be future prizes! ;)
+:+:+:+:+:+:+:+:+:+:+:+:+:+:+:+:+:+:+:+:+:+:+:+:+:+:+:+:+:+:+:+:+:+
Thanks for your support in this gaming videos & my new found journey. There's much more to come so make sure you are subscribed so you don't miss out!
+:+:+:+:+:+:+:+:+:+:+:+:+:+:+:+:+:+:+:+:+:+:+:+:+:+:+:+:+:+:+:+:+:+
DISCLAIMER: Bad language IS uttered & my usual insanity is very present….you were warned! ;)
Not a player yet? Click here to see Splinterlands & give it a try. Let me know how you like it!
Today's Music:
Final Phaze (my theme song) - Jerry Lacey
Do you want to be featured in the weekly shout out in my next Splinterlands video? Leave a comment to let me know what makes your content unique & one of your links below so I can see what you got. While there is no guarantee, all will be considered! :)
+:+:+:+:+:+:+:+:+:+:+:+:+:+:+:+:+:+:+:+:+:+:+:+:+:+:+:+:+:+:+:+:+:+
Enjoy my SplinterLands posts?
Follow me for videos & posts in the Splinterlands community, reblog and browse on HIVE and LBRY
+:+:+:+:+:+:+:+:+:+:+:+:+:+:+:+:+:+:+:+:+:+:+:+:+:+:+:+:+:+:+:+:+:+
---
▶️ 3Speak