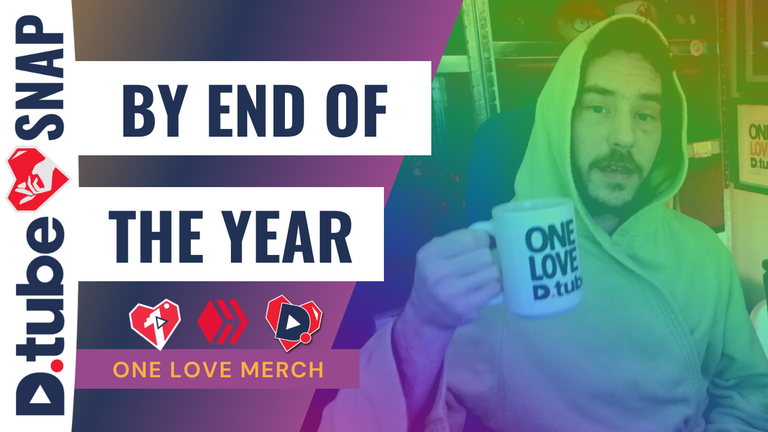 ---

What's up DTube? How you doin' Angels? My name is Cam and I go by @d00k13 most places. This video I am giving an update on Meck Designs. Super excited to say that my very first fundraiser has been a success so far! Many people have made contact with desire to help and also with leads towards families in need. Going forwards I hope to use campaigns like this to make contact within the local community in a way that inspires them to get engaged. Where I go from here is seeing this fundraiser through including the round up videos as I am doing my best to capture what I can. Meanwhile I am setting a action plan of getting at least the OneLoveDTube Merch collection listed by the New Year ... thinking just now while writing this ... would you be interested in donating to a OneLoveDTube Merch Giveaway?
Goals Previously Achieved
Create a fully functional webpage and Facebook shop accepting ETransfer/CC/Debit/Crypto/Paypal
Break even with cost of new sewing machine
Broke 1000 views on several Facebook posts
Daily Duties (research/sharing/engagements/posting) to Reminders on iPhone
Add items which can be made to order (knitting)
Goals Achieved
Make a large $100+ sale - we did x2
Goals Yet To Achieve
Make Drop Shopping Sale
Reach 100 Followers on Facebook
Have a local business endorse our product via displaying business cards or signage
Break even with expenses
Create a multi tier revenue stream digital presence
Action Plan
Create and added One Love DTube, Hive, Smoke.io, etc ... Merch - by end of year
List items on d00k13.com
Contact local privately owned business's & make regular appearances
List on Etsy
Amazon & Ebay listings
Start creating digital goods for sale, eg template and walkthrough video downloadables
Much to do ... but you know what ... it is a lot better to be too busy then not!
Let Me Know Your Thoughts In The Comments Below!!!
That's It, @D00k13 Out!!!

What is a #DTubeSnap? - Daily Affirmation
Tell us about your entrepreneurial or personal wellbeing journey with a 3-5 min video
start your vlog with "Hey DTube" or similar
ATTENTION UPDATED RULE try say your name and topic of the dtubesnap in first 5 seconds
mention what you are challenged with, recent goals accomplished, goals yet to accomplish, action plan to accomplish goals
post to "dtubesnap" tag
Share post to twitter using "dtube" & "dtubesnap" tags
drop links to tweet and dtube post in "dtubesnap" channel in #OneLoveDTube Discord
Reward:
All posts following above rules will be curated by @OneLoveDTube, @d00k13 & @ionomy
3 posts chosen weekly for DTC & OneLoveIPFS hosting reward
How Does This Challenge Help You?
challenge yourself to develop skills
build structure to your plans
be encouraged to follow through with your goals
realize your true potential
The idea of this challenge will evolve as time goes on so please remember to check these posts for the details of the week. Above is Week 3 changes, check discord channel #DTubeSnap when dropping post link for messages marking weekly cutoffs. We are not sticklers so please feel free to evolve the function of these daily affirmations for your life but please include your action plan for growth.

Tired Of Your Videos Not Playing? We Have Solutions!
An alternative way of uploading videos to DTube, a decentralized video platform built on Steem, Hive and Avalon blockchain. With a competitive $0.087/GB/month you will get full access to our creator tools including our IPFS Discord Pin Bot, DTube Uploader, Thumbnail Swap Tool.
Videos Playable Forever, Faster Playback, High Quality Thumbnails, Thumbnail Swap Tool, 0% Beneficiary (exclusive to uploader.oneloved.tube interface), Add Beneficiary To DTube Posts, Create Steem/Hive Post & Upload Images Within Our Uploader, Skip Upload & Rendering Queues, Use Up To 7 Post Tags, Resume-able Uploads.


Roadmap:
Support for Alive, a decentralized multi-chain live streaming protocol
User settings for customizing upload threads, API nodes etc
DTC payments in Shawp
Schedule videos
If you have any inquiries regarding our uploader, feel free to contact us on our Discord Server.
"We #OneLoveDTube are a group of content creators aiming to support creativity on DTube and the platform alike by manually curating content while providing IPFS backup solutions that keep videos playable forever!"


We Will Get There Together

Follow me if you wish to support the journey!
PS This post is done vie the new standalone #OneLoveIPFS v2 Uploader Check It Out Here
---
▶️ DTube
▶️ IPFS