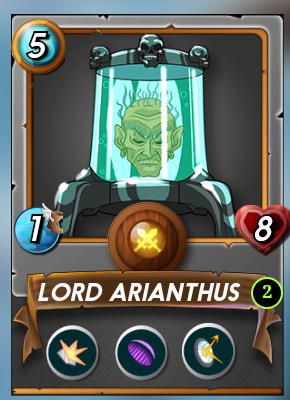 Lord Arianthus is a legendary reward monster from the old days. I only have him in my squad because my friend who barely plays the game anymore did me the kindness of leasing me the monster.
Other than being a neutral monster, it also doesn't offer any attack in battle. In fact, the monster is quite docile in level 1 but can be a game changer when you need sturdiness above attack.
Level up
From level 2 and above, things start getting interesting with the monster.
At level 2, it has the normal void and shield ability working with a magic reflector that makes it perfect for no range monsters ruleset.
At level 3, there are thorns and that's also pretty much the same with level 4.
Honestly speaking, I don't see why anybody should actually get it to level 4, seeing as the only difference between 4 and 3 is a tiny increase in health.
At level 3 and 4, it has thorns added to the mix. This makes the monster a nightmare against melee and magic users.
Despite its ability, it has a natural weakness that's ranged hits. The monster is completely hopeless against ranged users but that could be fixed if you include Our Deepswimmer, which includes blind and raged damage reflector.
Generally speaking, it is a very good card you should add to your deck. It is currently priced at $18, making it one of the most expensive monsters around but I think it is absolutely worth the investment.
If you have some.sosre cash and you want to dramatically improve your chances in battle, go ape on this card and watch how your win rate rises rapidly.
Get In The Game
If you enjoyed this post and would like to join the game, you can join with my affiliate link below and we'd both stand the chance of getting a gold foiled legendary monster that could be worth like $100
https://splinterlands.com?ref=belemo