El verdadero Valor de 1 Nivel de Vida #share-your-battle-weekly-challenge (ESP/ENG)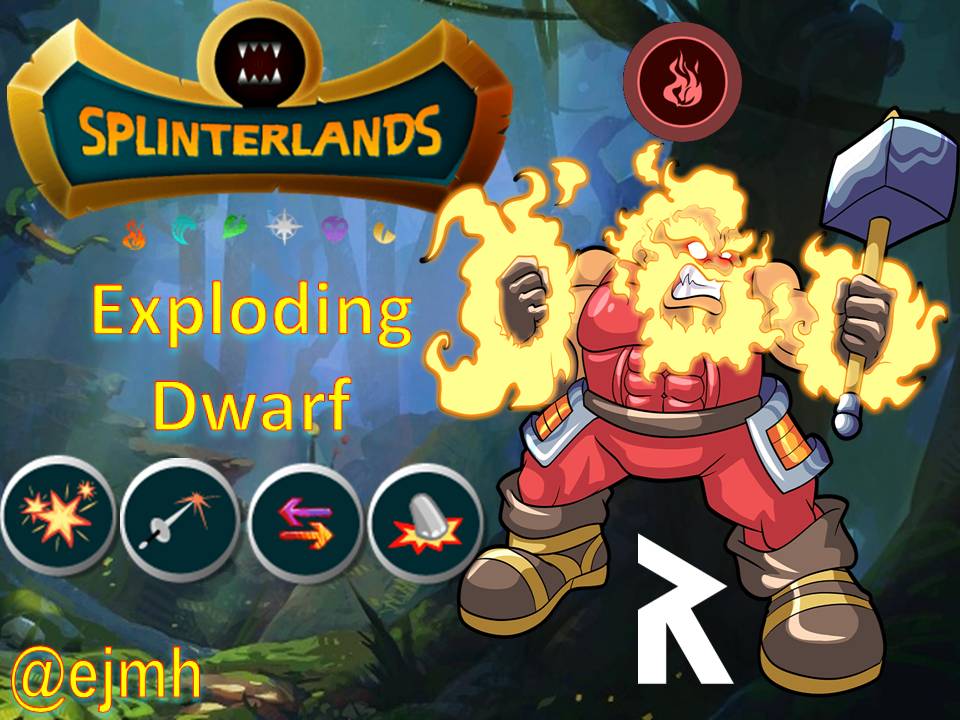 Fuente Editada en PowerPoint
Hola que tal, amigos de splinterlands, este challenge se ha vuelto muy común en mis publicaciones ya que sirve para mostrar a todos mis estrategias de batalla y ademas, poder obtener algunas recompensas por hacerlo. Cada semana se propone un monstruo diferente y todos los que participamos debemos compartir nuestras batallas.
Esta semana el elegido es este monstruo explosivo, catalogado de esa manera principalmente por su habilidad Blass que al incluirlo como recompensa era uno de los pocos que la tenían en ese momento. Es un monstruo veloz y con gran ataque pero que nos hace estudiar mucho la estrategia para utilizarlo porque tiene en contra su pequeño nivel de vida de tan solo 1, que evaluando sus virtudes es fácil entender porque tiene tan poca vida. Debido a que si este monstruo tuviera un poco mas de vida sería una masacre.
Hello there, friends of splinterlands, this challenge has become very common in my publications as it serves to show all my battle strategies and also to get some rewards for doing so. Every week a different monster is proposed and all of us who participate must share our battles.
This week the chosen one is this explosive monster, catalogued that way mainly because of its Blass skill that when including it as a reward was one of the few that had it at that moment. It is a fast monster with a great attack but it makes us study a lot the strategy to use it because it has against its small standard of life of only 1, that evaluating its virtues is easy to understand because it has so little life. Because if this monster had a little more life it would be a massacre.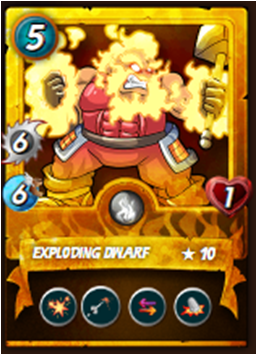 Sus habilidades son muchas y cada una mejor que la anterior, cada nivel que aumenta lo vuelven aun mas letal. Empezamos con el Blass que golpea a los monstruos cercanos a él. Tiene la habilidad de traspasar la armadura. Además la posibilidad de vengarse al ser golpeado, y pos si esto fuera poco, al golpear a un enemigo si lo elimina, golpea al siguiente. Si lo han visto en batalla se que disfrutan de él pero si es su enemigo también lo sufren.
His skills are many and each one better than the previous one, each level that increases makes him even more lethal. We start with the Blass that hits the monsters near him. He has the ability to pierce the armor. It also has the ability to take revenge when it is hit, and if this is not enough, when it hits an enemy if it eliminates them, it hits the next one. If you have seen him in battle I know that you enjoy him but if he is your enemy you also suffer him.
---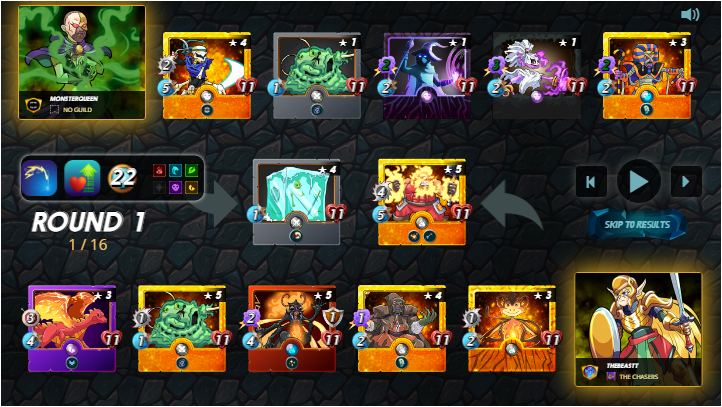 Battle
En esta batalla que les comparto, tenemos regla Equalizer que nivela los niveles de vida de todos los monstruos en el tablero y ademas los ataques mágicos golpean las armaduras.
In this battle that I share with you, we have Equalizer rule that levels the life levels of all the monsters on the board and also the magic attacks hit the armor.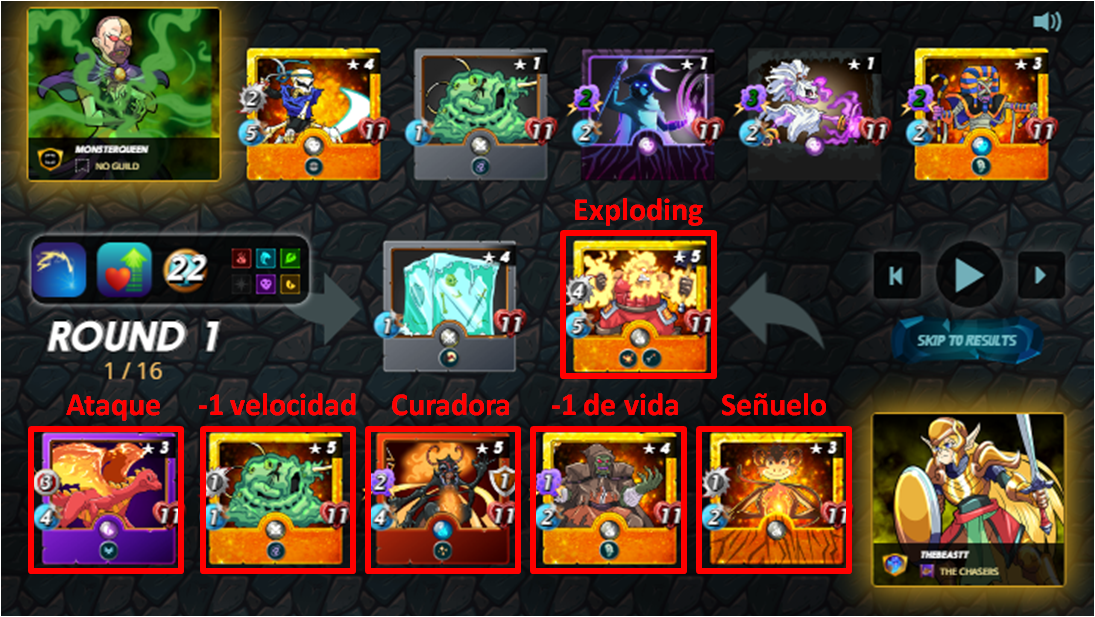 Battle
Invocador de dragón, +1 ataque cuerpo a cuerpo, para potenciar el golpe de nuestros monstruos.
En primer lugar coloco a nuestro Exploding Dwarf, para que con el Equalizer obtenga un buen nivel de vida y con su ataque y habilidades debilite a los monstruos contrarios. Lastima que con esta estrategia sea eliminado tan rápido.
En segundo lugar se encuentra nuestro señuelo, me gusta llamar asi a los monstruos de bajo mana que soportan varios ataques, solo val a morir.
En tercera posición está el monstruo con la habilidad de disminuir 1 de vida de los oponentes, siempre es bueno que nuestros enemigos tengan menos vida.
En cuarta posición esta nuestro monstruo sanador, colocado para alargar la vida de los monstruos en primer puesto.
En quinto lugar el siempre bueno -1 de velocidad, ayuda a nuestros monstruos a atacar primero.
Por último pero no menos importante el ataque mas fuerte que coloqué para eliminar a todos.
Esta es una estrategia que me gusta utilizar bajo regla equalizer porque los monstruos alargan su vida y es una excelente ocasion para mostrar las habilidades de los monstruos de baja salud.
Dragon Summoner, +1 melee attack, to boost the hit of our monsters.
First I place our Exploding Dwarf, so that with the Equalizer it obtains a good level of life and with its attack and abilities it weakens the opposite monsters. It's a pity that with this strategy he is eliminated so quickly.
In second place is our decoy, I like to call this way to the monsters of low mana that support several attacks, only val to die.
In third position is the monster with the ability to decrease 1 of life of the opponents, it's always good that our enemies have less life.
In fourth position is our healing monster, placed to extend the life of the monsters in first position.
In fifth place the always good -1 of speed, helps our monsters to attack first.
Last but not least the strongest attack I placed to eliminate all.
This is a strategy that I like to use under equalizer rule because monsters lengthen their life and it's an excellent occasion to show the skills of low health monsters.

ESTE HA SIDO MI VIAJE POR ESTA BATALLA COMPARTIDA, PUEDES MIRARLA AQUÍ, ADEMAS SI TAMBIÉN QUIERES PARTICIPAR EN EL RETO SIGUE LAS INSTRUCCIONES EN ESTE POST Y SI AUN NO JUEGAS SPLINTERLANDS TE INVITO A UNIRTE A ESTE GRAN JUEGO DESDE AQUÍ
THIS HAS BEEN MY JOURNEY IN THIS SHARED BATTLE, YOU CAN LOOK AT IT HERE, AND IF YOU WANT TO TAKE PART IN THE CHALLENGE FOLLOW THE INSTRUCTIONS IN THIS POST AND IF YOU STILL DON'T PLAY SPLINTERLANDS I INVITE YOU TO JOIN THIS GREAT GAME FROM HERE
¿TIENES DUDAS SOBRE EL JUEGO? PUEDES SEGUIR MIS GUÍAS
PARTE 1: Función de los Botones de la barra principal
PARTE 2: Cartas y sus características
PARTE 3: Batallas y Reglas
PARTE 4: Recompensas
EN LOS SIGUIENTES ENLACES PUEDES OBTENER TODA LA AYUDA QUE NECESITAS Y RESOLVER TUS DUDAS.
IN THE FOLLOWING LINKS YOU CAN GET ALL THE HELP YOU NEED AND SOLVE YOUR DOUBTS.
Telegram Español
Traducción realizada en DELP.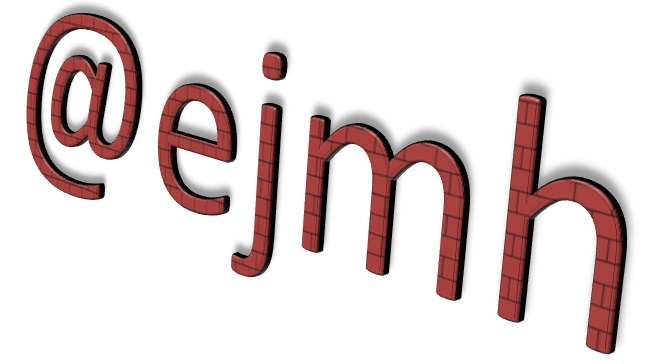 ---
---