[ES-EN] Selfie Contest: Napoleón y Las Pirámides // Napoleon and The Pyramids
Napoleón y Las Piramides
[Versión En Español]
Hola comunidad de Hive gaming, hoy quiero entrar en el concurso de Selfie con uno de nuestro juegos favoritos, en ese caso quise entrar con un juego retro que me encanta y que sigo jugando. Mi selfie en esta oportunidad es como Napoleón Bonaparte en el Juego Napoleón Total War.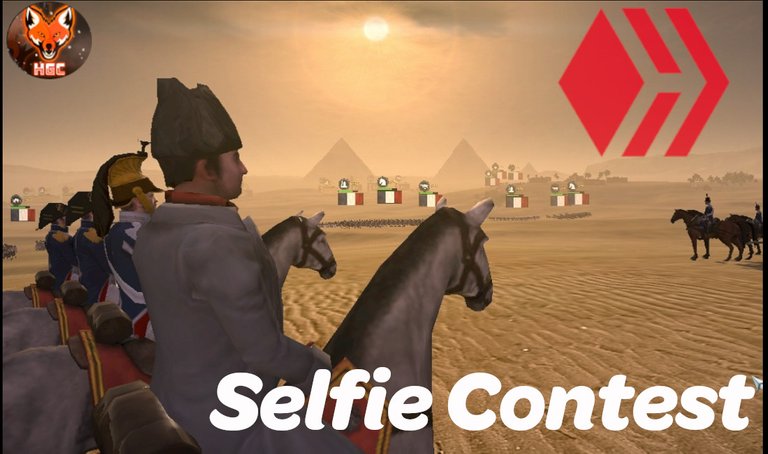 Screenshot
En esta oportunidad quise jugar una de mis batallas historias preferidas, específicamente la Batallad de las Pirámides, en la cual el emperador francés invade Egipto en su intento bloquear una ruta comercial y de ahogar económicamente a Inglaterra.
Esta histórica batalla ocurrió en la vida real el 21 de julio de 1798 a tan solo 16 kilómetros de las famosas pirámides de Egipto, donde las fuerzas francesas se enfrentan a ejércitos del imperio otomano y a tropas mamelucas, una batalla importante para la historia militar y para la humanidad en general.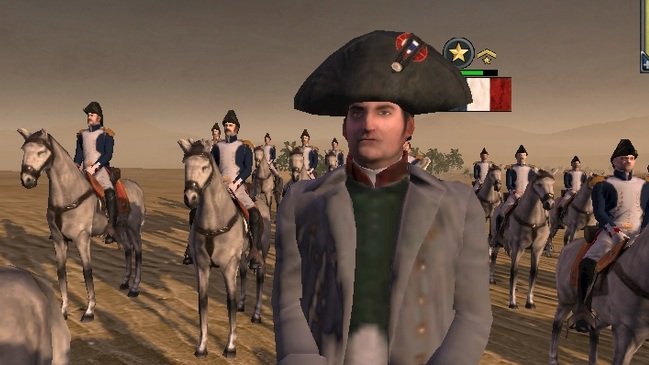 Screenshot
Recordemos que esta victoria hace que Francia tome el control de gran parte del territorio egipcio, Napoleón envía científicos y arqueólogos a tierras africanas y literalmente desentierra tesoros arqueológicos y culturales de Egipto que estaban sepultados bajo la arena, entre ellos la famosa esfinge.
Sin esta batalla en la historia probablemente conoceríamos mucho menos de los antiguos egipcios, su cultura, su filosofía, su religión incluso sus avances tecnológicos, es por esa razón que decido hacer mi entrada en un pedazo de historia de la humanidad a través de un juego que ya tiene varios años pero para los amantes de las batallas y las estrategias sigue aún vigente.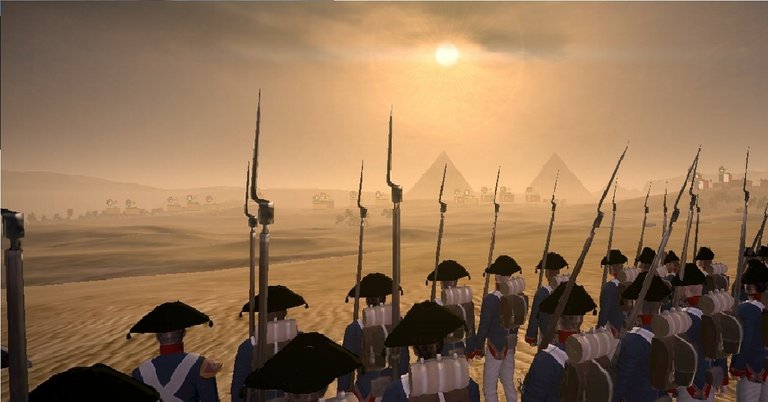 Screenshot
Si bien las pretensiones de Napoleón en suelo africano son destruidas posteriormente en la batalla del Nilo, esta batalla representa una página en la historia de toda la humanidad. Eso es lo que me gusta de este juego, recrea momentos históricos con bastante detalle, en este caso sobre las guerras napoleónicas, además de utilizar la estrategia para vencer a los enemigos podemos conocer bastante sobre historia.
Mi modo de juego favorito es en modo campaña, donde podemos conquistar toda Europa con el ejército francés, crear rutas comerciales, hacer más ejércitos, crear alianzas y acuerdos con nuevas naciones y someter a toda Europa con la posibilidad de jugar con Rusia, Prusia, Inglaterra, Austria y por supuesto Francia, sin embargo también me gusta la acción que genera este tipo de batallas.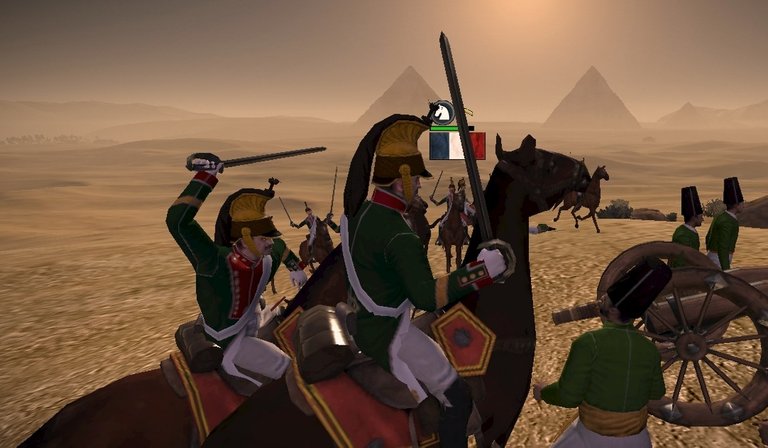 Screenshot
Un verdadero placer participar en este concurso, espero que haya sido de su agrado y un enorme saludo a todos los gamers donde quiera que estén.
Hace algún tiempo publique el video completo de esta batalla que me encanta, acompañado de más información histórica sobre lo sucedido ese día bajo la sombra de las pirámides de Egipto, les dejaré el enlace en caso de querer revisarlo.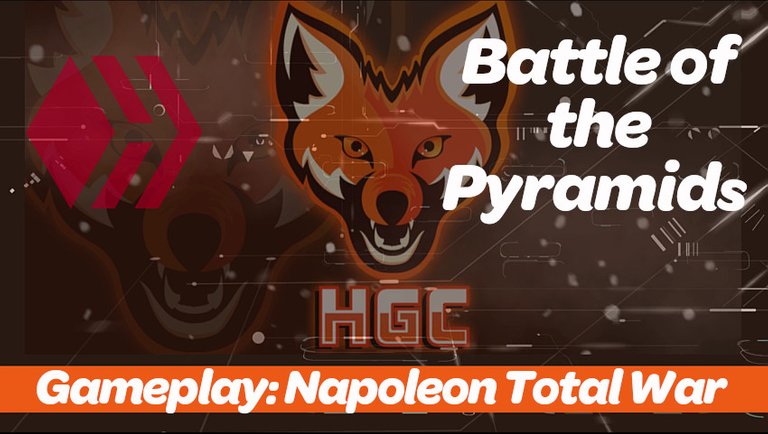 Gameplay Napoleon Total War Part 3 Battle of the Pyramids//Batalla de las Pirámides
Gracias por tu lectura, hasta la próxima


Napoleon and The Pyramids
[English Version]
Hello Hive gaming community, today I want to enter the Selfie contest with one of our favorite games, in that case I wanted to enter with a retro game that I love and that I still play. My selfie this time is like Napoleon Bonaparte in the game Napoleon Total War.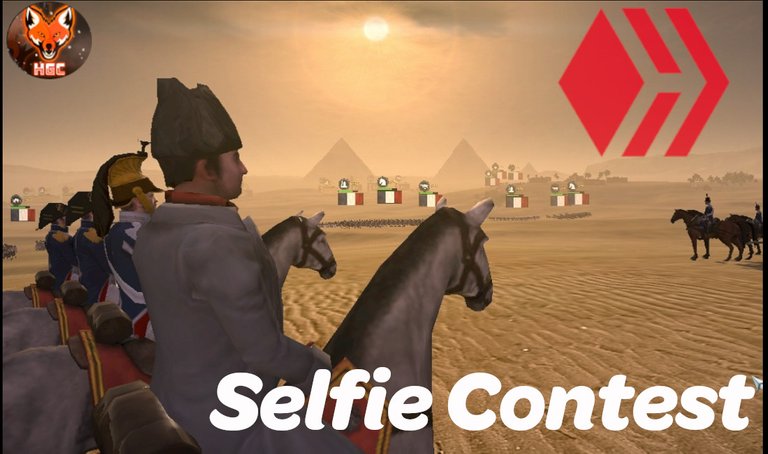 Screenshot
This time I wanted to play one of my favorite story battles, specifically the Battle of the Pyramids, in which the French emperor invades Egypt in his attempt to block a trade route and economically drown England.
This historic battle occurred in real life on July 21, 1798 just 10 miles from the famous pyramids of Egypt, where French forces face armies of the Ottoman Empire and Mameluke troops, an important battle for military history and for humanity in general.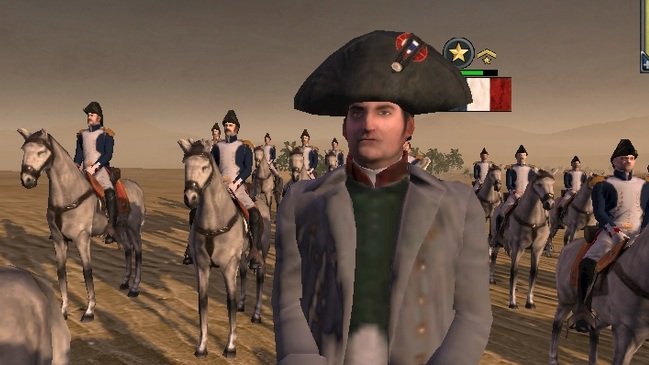 Screenshot
Remember that this victory makes France take control of much of the Egyptian territory, Napoleon sends scientists and archaeologists to African lands and literally unearth archaeological and cultural treasures of Egypt that were buried under the sand, including the famous sphinx.
Without this battle in history we would probably know much less about the ancient Egyptians, their culture, their philosophy, their religion and even their technological advances, which is why I decide to make my entry into a piece of human history through a game that is already several years old but for lovers of battles and strategies is still in force.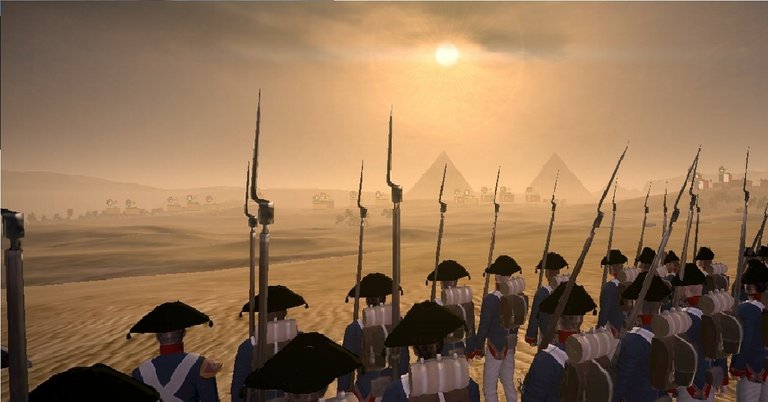 Screenshot
Although Napoleon's claims on African soil are later destroyed in the Battle of the Nile, this battle represents a page in the history of all mankind. That's what I like about this game, it recreates historical moments with enough detail, in this case about the Napoleonic wars, besides using the strategy to defeat the enemies we can know quite a lot about history.
My favorite game mode is in campaign mode, where we can conquer all Europe with the French army, create commercial routes, make more armies, create alliances and agreements with new nations and submit all Europe with the possibility of playing with Russia, Prussia, England, Austria and of course France, however I also like the action that generates this type of battles.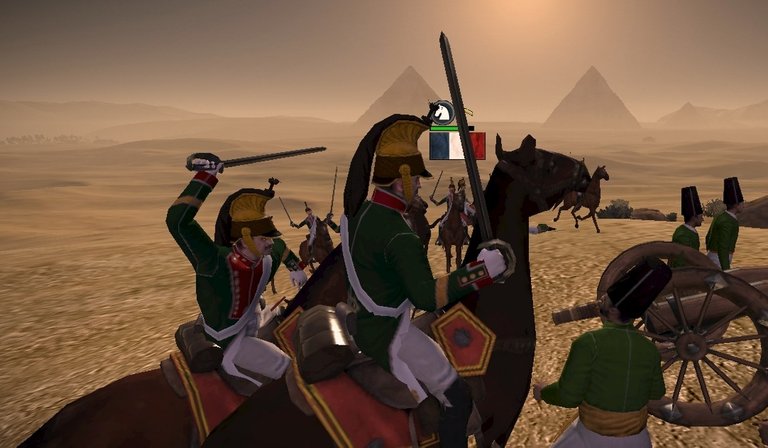 Screenshot
A real pleasure to participate in this contest, I hope it has been to your liking and a huge greeting to all the gamers wherever they are.
Some time ago I published the complete video of this battle that I love, accompanied by more historical information about what happened that day under the shadow of the pyramids of Egypt, I will leave you the link in case you want to review it.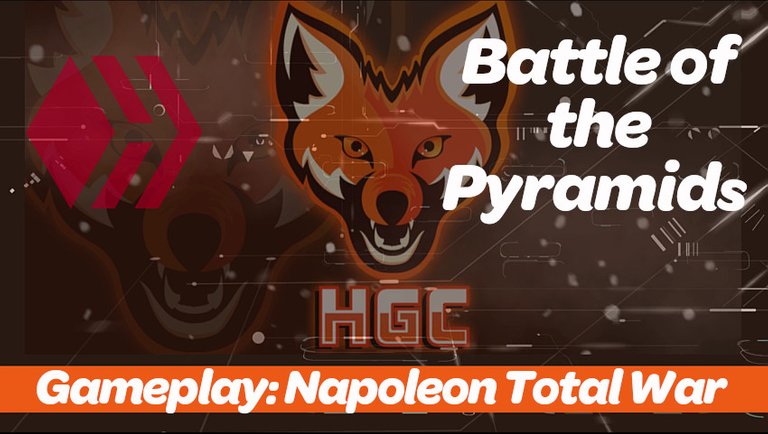 Gameplay Napoleon Total War Part 3 Battle of the Pyramids//Batalla de las Pirámides
Thank you for your reading, until next time

Translated with www.DeepL.com/Translator


---
---