Splinterlands - Review of New Rental System. (Weekly Post)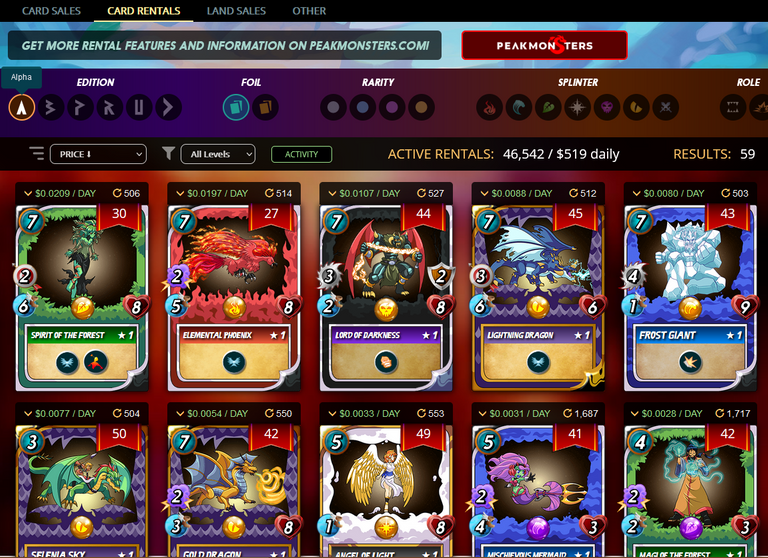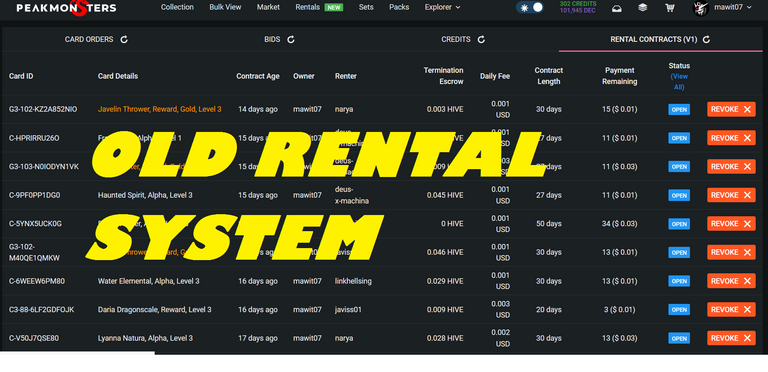 For over a year I have been using the Peakmonster.com rental system to lend out some of my unused cards. Now recently I am trying out the new internal to the game rental system that is also linked to Peakmonsters. I am use to the latter interface so forgive me to being bias on showing how I lend and rent cards only through Peakmonsters. If down the road I see it being easier or better to use the rental system in game I will definitely do so. Until then its still a learning curve for me.
First Impressions of New Rental System on Peakmonsters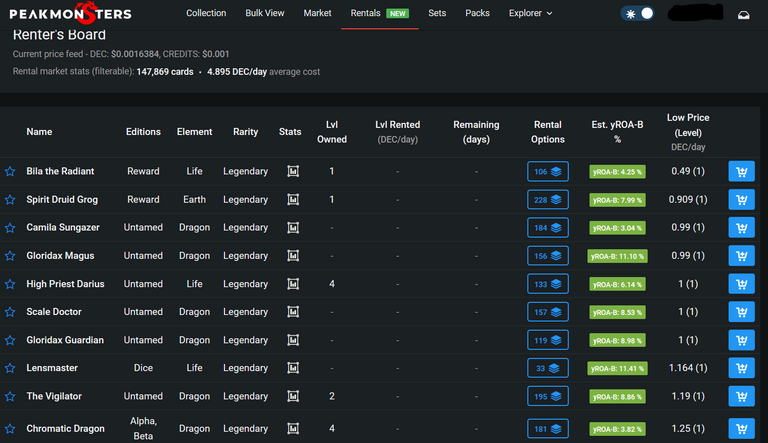 When looking at the rental page I like how quick it is to load. This is ideal for me as I can go through the database of cards much faster in search for cards. This leads to the multiple card rentals feature per a session that I also like. Users can now choose more than one card to rent and see the total daily cost of the rentals.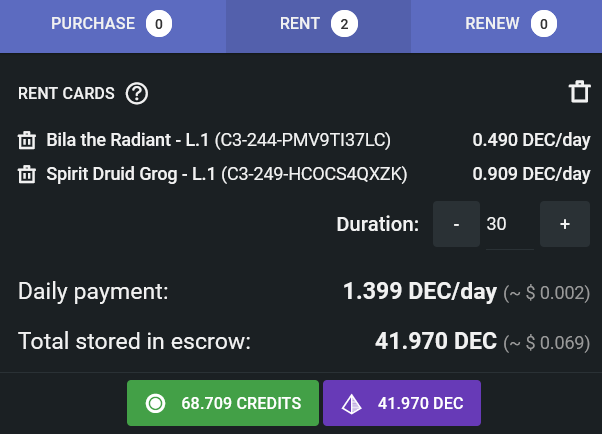 It appears by default it will set cards rental at 30 days hence there is a escrow of 30 days in total cost to rent the cards if I chose to do so. The best part about all this is that the price is in DEC which allows one additional useful application for the in game token. This in turn has likely been a reason for DEC prices to rise, almost double in the past month!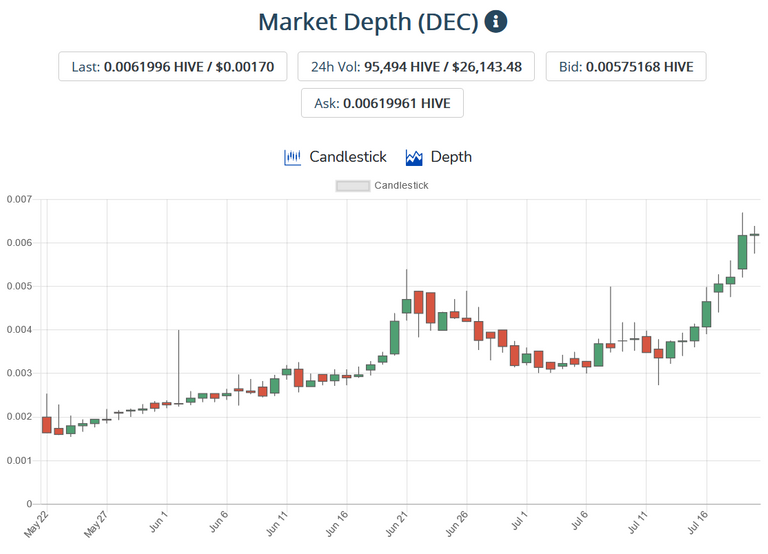 What is also cool is that when I input the amount of DEC per a day to lend out a card I basically get an ROI on the card's equivalent DEC burn value. This is amazing because users can then determine how long it takes to recoup the actual cost of the card's DEC value. However a lot of us including myself purchase the cards at much higher prices than DEC burn rate which really only tells half the story. Yet I would imagine those who started playing the game since its beginning would be reaping in its rewards now as their turn over on principal would be in months or even weeks if they can rent out cards that are in high demand such as Furious Chicken.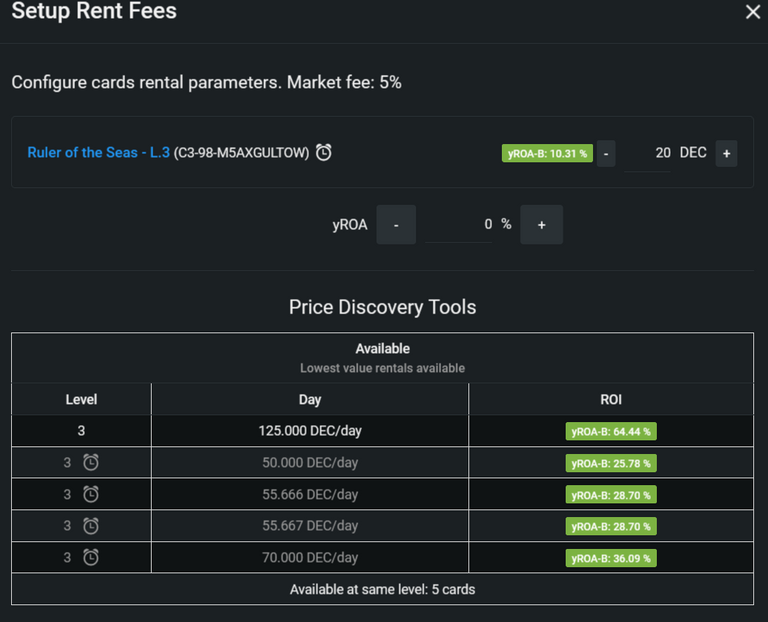 Example picture above is my example rental of a level 3 Ruler of the Sea. I went and lower my rental price to half of what was the lowest based on current rentals, 25 DEC / day. I will have to see how this plays out in the coming days and see if it rents out. I can even rent out multiple cards at individual set price or as a group per yROA.
Drawbacks or My Unknowns with the New Rental
Since I am use to the old system I like how under "Profile" I can see my overall earned Hive and HBD in total due to the accumulative rental earnings. What I do not find is the total I earned DEC in the new system. Under the "bulk view" it appears I can see how much I earn in a day and compare it to the total DEC earned from all lenders daily.

This will have to do for now but I hope in the future there will be a way to see total cumulatively earned DEC by lenders and this will help lenders to figure out when their yROA hits parity.
The rent out cards list from "bulk view" appears to be the way users now have to view all their rent out cards.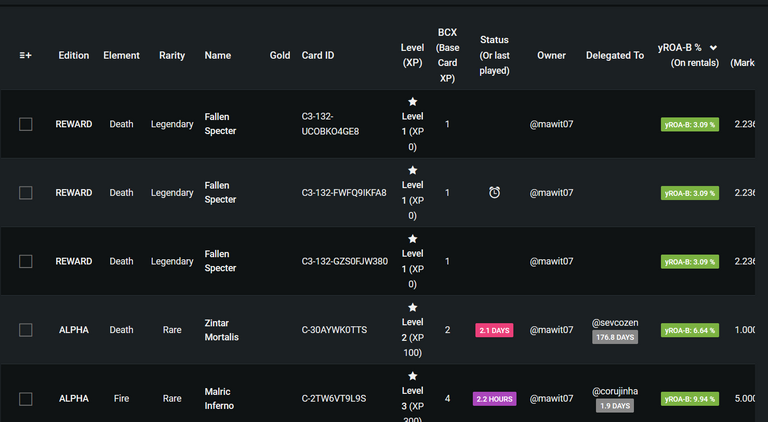 I prefer the old version where it lists out the same info but in a condensed list. In the new one format apparently with the wrap around text I can only see at most a handful of cards on the overall list and would have to continuously scroll in order to see the remainder of the list. Where in the old version due to the condensed info I was able to scroll less to read the same amount of info.
Conclusions
I only went through the new rental system just the past week as I the old system is being phased out. I had many cards in the old system that stopped lending or contracts ended therefore I had to manual set them for rent again on the new system. I went through most of my collection but have more that I wish to lend out and likely try to be at lowest rate possible to stay competitive.
I like how the in game has the same rental system as peakmonsters and how in game has the third party web page links to perform asset purchases or rentals. This helps viewership in the third party sites and allows more users to be aware of such services exists.
Overall I am excited of the new rental system in place. I still think I have more to learn with the system but for now have many cards setup ready to be lend out and played by others. With that I am also anticipating on the Plot Land Expansion to roll out soon. The game is just getting better by the day!
If you are interesting in renting out some of my cards please feel free to check my cards that are avliable here and use "For Rent", "Yes" filter.
Until next time thanks for reading!!!
I have plenty of other cards for rent! Just go on peakmonsters and check out the market place and if you are curious what I offer here is a link:
If You have yet to take part in playing this great game called Splinterlands please click on my referral link. It is free but in order to earn real assets such as cards and token you would have to invest in a starter deck or purchase game cards. Join the discord to learn more. Good luck!

THANKS FOR READING! CONTINUE TO PLAY SPLINTERLANDS!

---
---